FLORIN WEBSITE © JULIA BOLTON HOLLOWAY, AUREO ANELLO ASSOCIAZIONE, 1997-2017: MEDIEVAL: BRUNETTO LATINO, DANTE ALIGHIERI, SWEET NEW STYLE: BRUNETTO LATINO, DANTE ALIGHIERI, & GEOFFREY CHAUCER || VICTORIAN: WHITE SILENCE: FLORENCE'S 'ENGLISH' CEMETERY || ELIZABETH BARRETT BROWNING || WALTER SAVAGE LANDOR || FRANCES TROLLOPE || ABOLITION OF SLAVERY || FLORENCE IN SEPIA || CITY AND BOOK CONFERENCE PROCEEDINGS I, II, III, IV, V, VI, VII || MEDIATHECA 'FIORETTA MAZZEI' || EDITRICE AUREO ANELLO CATALOGUE || UMILTA WEBSITE || RINGOFGOLD WEBSITE || LINGUE/LANGUAGES: ITALIANO, ENGLISH || VITA
New: Dante vivo || White Silence


A FORMER SHOP IN

BORGO LA CROCE

FLORENCE



There's a narrow street, called Borgo La Croce, not for cars, just pedestrians and bicycles, between Sant'Ambrogio and Piazza Beccaria. Before the Grand Dukes of Tuscany stopped capital punishment in the eighteenth century, it used to be the road down which criminals were taken to their deaths at the gate that still stands in Piazza Beccaria.

These criminals were comforted somewhat by the tabernacle within which is painted Christ on the Cross and Mary at his feet, both leaning towards the criminals with love, with forgiveness. Today, it is glassed over for protection so when one photographs it the green shuttered windows opposite reflect in it.
ALAS, WHAT I WROTE BELOW IS NO MORE. FLORENCE CHARGES CRAFTSPEOPLE TOO HIGH RENT AND ITALY TAXES THEM TOO MUCH, SO ENZO'S STORE IS CLOSED. BUT I DO RECOMMEND BUYING THE TRADITIONAL MAIOLICA WARE SOLD AROUND THE SAN LORENZO MARKET, THAT IS MADE IN MONTELUPO.

Closer to the Sant'Ambrogio end of this street is Enzo's little shop. He is a skilled painter of ceramic ware, not Florentine but Neapolitan, just starting, so his prices are low, while his work is fine, and constantly he refers to art books to find patterns and models.
His most successful work is done on terra cotta using a white glaze with sanguine drawing. Here is his Crucifixion.
Another is of the Madonna.
He also works in blue.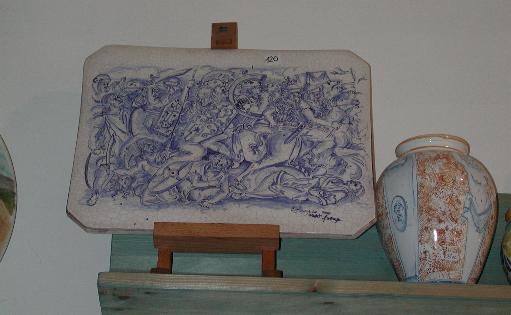 Perhaps he could do for a church a series of the Mysteries of the Rosary, the Joyful Mysteries in blue, the Sorrowful Mysteries in sanguine, the Glorious Mysteries in gold, that could be placed in prayer gardens? He is willing.
Here is Enzo at work.
He can put his hand to anything, experimenting with what will work and will be wanted. Here are some of the objects he has made. None of which repeat another.
I bought this large hand-painted plate from him today (now long ago), of Pico della Mirandola. It cost all of 16 euro.
And when I take this page to show him I shall ask if he can make a complete facsimile of the medieval pottery bowl of which we found this fragment on the right in our 'English Cemetery' in Florence.
I shall also ask Enzo if he can paint the Borgo la Croce Crucifixion Tabernacle and a head of Dante Alighieri, the fine image in the manuscript in the Riccardian Library.


I DID ASK HIM TO DO THE DANTE ON TWO PLATES WHICH I GAVE TO MY NEWLY-WED GRANDSON AND GRANDDAUGHTER. I AM SO SORRY TO LOSE HIS LITTLE SHOP.



FLORIN WEBSITE © JULIA BOLTON HOLLOWAY, AUREO ANELLO ASSOCIAZIONE, 1997-2022: ACADEMIA BESSARION || MEDIEVAL: BRUNETTO LATINO, DANTE ALIGHIERI, SWEET NEW STYLE: BRUNETTO LATINO, DANTE ALIGHIERI, & GEOFFREY CHAUCER || VICTORIAN: WHITE SILENCE: FLORENCE'S 'ENGLISH' CEMETERY || ELIZABETH BARRETT BROWNING || WALTER SAVAGE LANDOR || FRANCES TROLLOPE || ABOLITION OF SLAVERY || FLORENCE IN SEPIA || CITY AND BOOK CONFERENCE PROCEEDINGS I, II, III, IV, V, VI, VII || MEDIATHECA 'FIORETTA MAZZEI' || EDITRICE AUREO ANELLO CATALOGUE || UMILTA WEBSITE || LINGUE/LANGUAGES: ITALIANO, ENGLISH || VITA
New: Dante vivo || White Silence
LIBRARY PAGES: BIBLIOTECA E BOTTEGA FIORETTA MAZZEI || ITS ONLINE CATALOGUE || HOW TO RUN A LIBRARY || MANUSCRIPT FACSIMILES || MANUSCRIPTS || MUSEUMS || FLORENTINE LIBRARIES, MUSEUMS || HOW TO BUILD CRADLES AND LIBRARIES || BOTTEGA || PUBLICATIONS || LIMITED EDITIONS || LIBRERIA EDITRICE FIORENTINA || SISMEL EDIZIONI DEL GALLUZZO || FIERA DEL LIBRO || FLORENTINE BINDING || CALLIGRAPHY WORKSHOPS || BOOKBINDING WORKSHOPS