FLORIN WEBSITE © JULIA BOLTON HOLLOWAY, AUREO ANELLO ASSOCIAZIONE, 1997-2024 ACADEMIA BESSARION || MEDIEVAL: BRUNETTO LATINO, DANTE ALIGHIERI, SWEET NEW STYLE: BRUNETTO LATINO, DANTE ALIGHIERI, & GEOFFREY CHAUCER || VICTORIAN: WHITE SILENCE: FLORENCE'S 'ENGLISH' CEMETERY || ELIZABETH BARRETT BROWNING || WALTER SAVAGE LANDOR || FRANCES TROLLOPE || ABOLITION OF SLAVERY || FLORENCE IN SEPIA || CITY AND BOOK CONFERENCE PROCEEDINGS I, II, III, IV, V, VI, VII || MEDIATHECA 'FIORETTA MAZZEI' || EDITRICE AUREO ANELLO CATALOGUE || UMILTA WEBSITE || LINGUE/LANGUAGES: ITALIANO, ENGLISH || VITA
New: Dante vivo || White Silence



THE SONNET AND ELIZABETH BARRETT BROWNING





Sophia Eckley, who exploited Elizabeth, commissioned Michele Gordigiani to paint the portraits of Elizabeth Barrett and Robert Browning, now in London's National Portrait Gallery,




Harriet Hosmer sculpted their 'Clasped Hands',




Robert commissioned Giorgio Mignaty to paint the salone of Casa Guidi as it had been when Elizabeth wrote in it. These, with the constant re-publication of the

Sonnets from the Portuguese

, present the public picture of the Brownings' wedded love. But beneath the surface another and opposite reality lurked.

Michele Gordigiani's portrait shows Elizabeth with dark Creole features. Her family were slave owners in Jamaica, owning the great Cinnamon Hill plantation. Her grandmother returned home there following her marriage to Charles Moulton and her children therefore took the name of their maternal grandfather, Barrett Moulton Barrett, Moulton being a slave-dealer and himself part Black. Edward, Samuel and their sister were sent to England for their education, 'Pinkie' dying soon after of tuberculosis. Edward married into another slave-trading family, this time based on the Tyne, and Elizabeth and Edward were their first-born children of a total of twelve, for whom Edward Barrett Moulton Barrett constructed a Turkish-style palace plonked down in the Malvern countryside, and which was furnished by him with a magnificent library. Elizabeth and Edward studied under a brilliant Irish tutor, McSwiney, who taught them Greek and Latin, Elizabeth also studying Hebrew.(1) It was to Elizabeth that fell the task of climbing out of the stigma of their ancestry through her learning, through her poetry, through her fame, dragging her family with her. But she, like her aunt, was afflicted with tuberculosis and given the typical treatment of laudanum.

John Kenyon used to say 'In Jamaica we are all cousins', intermarriage to protect the heirs entail of large plantations being typical. Such as that arranged to be between Romney Leigh of Leigh Hall and Aurora Leigh in the eponymous poem dedicated to John Kenyon.The West Indian merchant families, when in London, particularly congregated in the St Marylebone Parish, in Wimpole Street and Devonshire Place. To his dinner parties John Kenyon would invite William Wordsworth, Walter Savage Landor, Robert Browning and Elizabeth Barrett Moulton Barrett, though not the last two to the same party. Robert's father's mother's family, the Tittles, had had Black and Jewish roots in Jamaica, then moved to St Kitts. Robert's father obsessively drew images of the Islands' inhabitants. Robert published

Paracelsus

, his poem about the inventor of laudanum, in 1835. Elizabeth was asked in 1844 to fill up a volume of her poems, which she promptly did with

Lady Geraldine's Courtship

, in which the low-born poet Bertram is wooed by the aristocratic golden-ringletted Lady Geraldine. In one scene, in Sussex, they are reading poetry together of

. . . the pastoral parts of Spenser - or the subtle interflowings
Found in Petrarch's sonnets - here's the book - the leaf is folded down!

Or at times a modern volume, - Wordsworth's solemn-thoughted idyl,
Howitt's ballad-dew, or Tennyson's enchanted reverie, -
Or from Browning some 'Pomegranate,' which, if cut deep down the middle,
Shows a heart within blod-tinctured, of a veined humanity! -

Robert, coming home from Europe found the volume given his family by John Kenyon and so dashed off his first love letter to her and thus began the courtship to be followed by their clandestine marriage amd elopement to Italy in 1845. Years later, their son Pen Browning, Robert Barrett Browning, would publish their love letters for these are exquisite, as exquisite as are the Sonnets. But one day, during that courtship, Robert had cattily spoke against women writing novels, writing sonnets. Elizabeth, who had already begun the famous cycle, did not tell him of their existence, though she quietly continued the task. It was not until after their son was born at Casa Guidi and after they had gone with the new-born Pen to the coolness of Bagni di Lucca when, one morning, Robert said something positive about women's writing and Elizabeth quietly said she had once written some things for him, and gave him these poems. Robert wrote later, after her death, about 'that strange, heavy crown, that wreath of sonnets, put on me one morning unawares, three years after it had been twined - all this delay, because I happened early to say something against putting one's loves into verse: then again, I said something else on the other side, one evening at Lucca'.

(2)



He immediately saw their publishability. Together they sought a title for the work, she wanting them half-hidden as translations 'from the Bosnian'. He, instead, being now EBB's literary agent, decided upon 'Sonnets from the Portuguese', in reference to her Creole darkness and to her similarity to the great Portuguese epic poet's love, Caterina, of whom she had written in 'Caterina to Camoens, dying in his absence abroad, and referring to the poem in which he recorded the sweetness of her eyes' (1844). But that title Robert gave the cycle carried with it also the nuance of the infamous pornographic 'Letters from a Portuguese Nun'. Later, the publication date would be called into question by the bibliographic forger, Thomas J. Wise (1858-1937), who pre-dated his 'Reading Sonnets' to 1847, though the

Sonnets from the Portuguese

had received their initial publication under Robert's auspices in 1850, along with EBB's Sonnet on 'Hiram Powers' Greek Slave'. Somehow, here, the ground work is being laid for the scandal at the heart of

The Ring and the Book

concerning the letters by, or forged as if written by, Pompilia to Caponsacchi.

The sonnets had always been published in Robert's edited version of them. My editon for Penguin returns to the manuscript, now in the British Library, that Elizabeth so shyly, with such hurt, once gave to Robert at Bagni di Lucca, and which replicates its Greek-like punctuation.(3)

To read the Sonnets in their own right, stripped of the Rialto of mercantilism, is to find illness, learning and love passionately harnessed within Petrarch's fourteen lines to achieve magnificence and healing. Elizabeth, clearly, has been at death's door. Instead, it is opened to let in, she believes, love. The first sonnets celebrate this miracle. Sonnet I, 'I thought once how Theocritus had sung', takes us to a long ago Sicilian poet writing Idylls on the loves of shepherds and shepherdesses.(4) Elizabeth had read him in the schoolroom with her now-dead brother, Edward. We find ourselves translated from English into Greek, from modernity to antiquity, then as suddenly yanked back by the hair to this moment in time where the transformation is from death to love. Sonnet II, 'But only three in all God's universe - ', also alludes to Edward's death so nearly prompting Elizabeth's, but this time in the Judaeo-Christian context, speaking of the presence of three, Robert, Elizabeth, God as their witness, though also speaking of the death-weights, coins, Rule Britannia pennies laid on Elizabeth's dead staring eyes to close them, then continuing into Apocalyptic imagery such as she had used in the sickroom drama she had written on the death of the soul,

Psyche Apocalypté

, following her brother's death at Torquay, but here as the triumphal cosmic wedding song, recalling Spenser, Shakespeare and Donne. Sonnet III, 'Unlike are, unlike, O princely Heart!', renounces Robert to the world of social pageantry, accepting her own likely dying, her 'leaning up a cypress tree',

(5)

but it had begun by speaking of their two guardian angels as the two Cherubim whose wings enshroud the Ark and which symbolize the presence of God, an image repeated in Sonnet XXIII. Sonnet IV, 'Thou hast thy calling to some palace floor', continues this abandoning of Robert to the joys of this world rather than the sorrows of hers.

Sonnet V, 'I lift my heavy heart up solemnly', is particularly profound. Elizabeth as a child with her younger brother had read Aeschylus. Here she imagines herself as Electra at her father's tomb, met not by her brother Orestes, her brother Edward, but by her poet friend Robert. She counsels him to stand farther off, at a distance from the remnants of the flames.

(6)

Interestingly, Elizabeth's maid, Lily Wilson, who would accompany them to Italy, then had two sons, naming these Orestes and Pylades. Had she had a daughter she was to be named 'Electra'. Elizabeth translated the

Agamemnon

. Later, Robert would do so.(7) And not so well. Sonnet VI, 'Go from me. Yet I feel that I shall stand', continues that admonition. While Sonnet VII, 'The face of all the world is changed I think', begins to admit hope, the sense of the footsteps on the stair. Yet Sonnets VIII, 'What can I give thee back, o liberal', and IX, 'Can it be right to give what I can give', plunge back into prohibition.

Sonnet X, 'Yet love, mere love, is beautiful indeed', again plays at the deepest level with Elizabeth's knowledge of Hebrew and of Robert with his 'Bells and Pomegranates' as High Priest Aaron, whose wife was named Elizabeth. In this sonnet she openly proclaims her love for him, and speaks of it as light and fire, as when a cedar temple burns or flax. She knows that the priestly garb of white linen could not be washed and when soiled was turned into wicks for the lamps in the Jerusalem Temple.

(8)

Sonnet XI, 'And therefore if to love can be desert', slips back into renunciation, likewise Sonnets XII, 'Indeed this very Love, which is my boast', and XIII, 'And wilt though have me fashion into speech'. But the image of the torch dropped at his feet recalls again the classic world where the downcast torch symbolizes sexual satiety as at a consummated wedding, or death as at a funeral.

(9)

Sonnets XIV, 'If thou must love me, let it be for nought', and XV, 'Accuse me not, beseech thee, that I wear', remind one of a newborn dragonfly, its wings strengthening and glistening in the sunlight. Likewise XVI, 'And yet . . because thou overcomest so', and XVII, 'My poet, thou canst touch on all the notes'. Indeed, all these sonnets are about the choice she must make now between death and love. In them she creates mandalas of healing, incorporating the entire universe and their private lives joined together in her sick room, so carefully sealed against drafts and London's polluted air.

Sonnets XVIII, 'I never gave a lock of hair away' and XIX, 'The soul's Rialto hath its merchandise' speak of her gift to Robert of a lock of her hair and his in exchange. She speaks of herself autobiographically, drawing her own self-portrait, her head to one side (the result of the childhood tuberculosis to her spine for which pain she took laudanum), her hair in spaniel locks that she had thought would have been cut first by the funeral shears (when she died sixteen years later, Robert was to cut both her hair and Pen's, making his dead wife, his living son, unrecognizable, and not give any of the locks away). She speaks obliquely of his laurel-clad locks as purply black as those of the classic poet Corinne who bested Pindar in competing with her odes (EBB's poetry, particularly in its similes, plays games with gender reversal). She lays Robert's lock of hair in a locket at her heart, expecting it to be found by those who dress her body for the tomb.

So often in these Sonnets, III, IV, VIII, XII, XXI, she speaks of Robert as regal, as princely, as clad in purple robes. Which he will be in Pen's portrait of him in his Oxford gown and in a Savonarola chair.

(10)



In Sonnet XXIV the paradoxes are ratcheted up unbearably - and laughingly. She laughs at the idea of lying dead and mouldering - and being close to Heaven, all of which she now willingly exchanges in this Rialto for Robert's love here on earth. By XXV, she is speaking of love and 'amreeta' in one and the same breath, the Indian sacred draft but also the word used by her for laudanum which she knows Robert knows, their courtship being through his

Paracelsus

, inventer of the same. In Sonnets XXVII, 'I lived with visions for all my company' and XVIII, 'My own beloved, who hast lifted me', she speaks of her drugged spiritualistic days being now replaced by love, 'That Love, as strong as Death', a phrase William Holman Hunt will himself sculpt on his wife Fanny's tomb besides Elizabeth's in the 'English' Cemetery. The words are taken from the Song of Solomon 8.6-7.

At Sonnet XXIX, 'My letters! - all dead paper , . . mute and white! - ' the two genres cross over, indeed, they were secretly simultaneous, the letters with their declarations of love, the sonnets. Sonnet XXX, 'I think of thee! - my thoughts do twine & bud', speaks of herself as the wild vine that chokes the palm tree that is Robert, both allowing nature to thrive but also fearing her deathly presence. Sonnet XXXI, 'I see thine image through my tears tonight', has her be the acolyte at the altar - who faints on the stairs, hearing as he does so the Hebrew 'Amen'. Sonnet XXXII, 'Thou comest! - all is said without a word! - ', gives us the mood swings to depression, doubt and despair ending as it does with thoughts 'Like callow birds left desert to the skies'. Sonnet XXXIII, ?the first time that the sun rose on thine oath To love me', continues that doubting. Then Sonnets XXXIV, 'Yes, call me by my pet-name . . . ', and XXXV, 'With the same heart, I said, I'll answer thee', truly admit the lovers into intimacy. 'Ba' was the name, matched by Edward's 'Bro'. She now shares that secret name by which her dead mother and brother had called her with Robert. It is also the name of the soul bird of the Egyptians that cannot return to the tomb if there is no name, no portrait.(11)

Sonnet XXXVI, 'If I leave all for

thee

, wilt thou exchange And be

all

to me?' gives us their talk of elopement, that plotting and planning in secret from her father. Sonnet XXXVII, 'When we met first and loved, I did not build Upon the event with marble', gives her fears that their hands (those sculpted by Harriet Hosmer) will unclasp, that the kiss will fall (as it did in Robert's telling of her dying) between them. Sonnet XXXVIII, 'Pardon, oh pardon, that my soul should make', ends with the exquisite simile



As if a shipwrecked pagan, safe in port,
His guardian seagod to commemorate,
Should set a sculptured porpoise . . . gills a-snort,
And vibrant tail, . . . within the temple=gate.



Sonnet XXXIX, 'First time he kissed me, he but only kissed', bears witness to their bethrothal - or affair. Perhaps Robert's comment against women's writing is from fear of compromising letters, such as would later be used against his widower father in a breach of promise suit. Sonnet XL, 'Because thou hast the power and own'st the grace', is modelled on Shakespeare's powerful Sonnet XCIV, 'They that have the power to hurt and will do none'. Sonnet XLI, 'Oh yes! - they love through all this world of ours! . -', speaks, as will Sonnet XLIV, 'Beloved, thou hast brought me many flowers', of nosegays from Robert's New Cross. She speaks of betrayals by Moslems and Giaours and of the

Odyssey

's Polyphemus whose love turns to hate. Sonnet XLII acknowledges in this private verse her fame as a great though imprisoned poet, thanking her fans and asking that they salute this enduring love.

Sonnet XLIII, 'How do I love thee? Let me count the ways', sets my teeth on edge as much as does Shakespeare's CXVI, 'Let me not to the marriage of true minds'. Far preferable to it is Sonnet XVII, '"My future will not copy fair my past . . "', in the British Library manuscript sequence, which was not published there in the Brownings' edition of the 1850

Poems

but apart from the other

Sonnets from the Portuguese

. Here, Elizabeth picks up the theme of Aaron's staff as Joseph of Arimathea's pilgrim one budding with green leaves. The sonnet cycle, though suppressed, has wrought its healing and her freedom.

The

Sonnets from the Portuguese

for decades were the only poems of Elizabeth Barrett Browning that were kept in print - and they were translated into numerous languages, Portuguese, Spanish, French, Italian, German, Czech, Hngarian.(12) But she wrote other sonnets as well, besides this cycle, always about personal autobiographical events, using, as she had observed, 'the subtle interflowings Found in Petrarch's sonnets'. She defied her friend Wordsworth's sonnet on the sonnet, 'Nuns fret not at their convent's narrow rooms'. When she and Robert came to Florence they visited Hiram Powers' studio and there saw his Greek Slave, a Christian woman auctioned off by Muslim Turks. This caused her to write against that anguish she experienced in her Wimpole Street sickroom shut up by her previously slave-owning father, who had earlier at Hope End built them a Turkish seraglio complete with crescents and minarets, that anguish she had written of in her

Sonnets from the Portuguese

, now seeing this bondage as pervading the globe, reaching to western America, to eastern Russia.



They say Ideal Beauty cannot enter
The house of anguish. On the threshold stands
An alien Image with the shackled hands,
Called the Greek Slave: as if the sculptor meant her,
(That passionless perfection which he lent her,
Shadowed, not darkened, where the sill expands)
To, so, confront men's crimes in different lands,
With man's ideal sense. Pierce to the centre,
Art's fiery finger! - and break up erelong
The serfdom of this world! Appeal, fair stone,
From God's pure heights of beauty, against man's wrong!
Catch up in thy divine face, not alone
East griefs but west, - and strike and shame the strong,
By thunders of white silence, overthrown!



In this she picks up the theme from her girlhood of her love of Lord Byron and his poetry for the freedom of Greece, and her classical studies in the schoolroom with Bro, knowing that Greek poets wrote epigrams for statues to say in

ekphrasis

. Here Elizabeth becomes Euripedes'

Alcestis

' Alcestis, becomes Shakespeare's

Winter's Tale

's Hermione, becomes alive and free.

We do not find sonnets among her earlier poetry. It is in the volume of

Poems

, 1844, that she first published in the genre, beginning with another

ekphrasis

, her lines 'On a Portrait of Wordsworth by B.R. Haydon', a portrait which Haydon gave her and which hung in her Wimpole Street sickroom, the sonnet opening 'Wordsworth upon Helvellyn!' and speaking of him as 'poet-priest'. Her second sonnet in that volume is the first version of 'My future will not copy fair my past', and well worth reading in the light of the

Sonnets from the Portuguese

. Two of these sonnets are addressed to George Sand, whom she much admired, though Robert did not. In the 1850 Poems, where her sonnet on Hiram Powers' Greek Slave appeared, she also wrote sonnets on 'Flush or Faunus', her spaniel given her by Miss Mitford to console her following brother's death by drowning and her own near-death, and three Miltonesque sonnets on her blind Grecian friend, Hugh Stuart Boyd.

Elizabeth Barrett Browning wrote in many genres, the epic in

Aurora Leigh

, the drama in her translations from the Greek, the verse essay, the romance, the lyric, but it is in the sonnet that the common public most remembers her. Her sources for her sonnets are in Petrarch, in Surrey, in Sydney, in Spenser, in Milton, in Wordsworth. Her great friend, Anna Jameson, among her many books, wrote

The Loves of the Poets

, discussing Surrey's sonnet cycle to Geraldine. It was Anna Jameson and her niece Gerardine who accompanied the two poets Elizabeth Barrett and Robert Browning on their elopement from Paris to Pisa. It was in Vaucluse on that honeymoon that Flush, EBB's alter ego with spaniel locks, dashed away from her into the fountain, being baptized, Elizabeth said, in Petrarch's name.

Greatly daring, Elizabeth, a woman, had written sonnets to a fellow but male poet, turning the tables on the genre. Greatly daring, two poets married each other. That that marriage did not continue the success that it began is not much recognized. Robert and Flush were both jealous of Elizabeth's love for Pen and Robert of the public's love for Elizabeth. Robert did not write love poetry to her, save the few lines in

The Ring and the Book

, which is the story of a husband murdering his wife. He never returned to her grave site in Florence, he interfered with Lord Leighton's design for her tomb, removing her portrait from it and placing, not her name, nor her nickname of 'Ba', but only her initials, 'E.B.B.', and her deathdate. The portrait Robert has Francesco Giovannozzi give is the exact opposite of Elizabeth, the seemingly blonde hair swept back behind her ears into a chignon, tucked away from her face, her head held up.(13)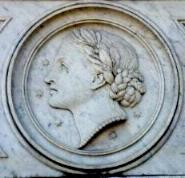 We are looking not at E.B.B., the wealthy Créole heiress from Jamaica, of the Michele Gordigiani portrait, painted across the street in his studio in Piazzale Donatello, but at the 'Lady Geraldine' this low-born poet Bertram would like to woo. Visitors to the 'English' Cemetery, who come because of the fame of Elizabeth Barrett Browning's

Sonnets from the Portuguese

, cannot identify it without help from the custodian.



Julia Bolton Holloway
'English' Cemetery, Florence


Notes

1. Jeanette Marks, The Family of the Barrett

: A Colonial Romance

(New York: The Macmillan Company, 1938)

, passim. This book carefully researched primary materials in Jamaica and St Kitts concerning the Barrett, Moulton, Tittle and Browning families. Joseph Shore and John Stewart, In Old St James (Jamaica): A Book of Parish Chronicles (

Kingston, Jamaica: Aston W. Gardner, 1911)., i

ncludes chapter on 'The Barretts of Cinnamon Hill', and 'A Book of Slaves'.



2.

Robert Browning and Julia Wedgewood, a Broken Friendship as Revealed by their Letters

, ed. Richard Curle, 1937, p. 114;


The Letters of Elizabeth Barrett Browning to her Sister Arabella

, ed. Scott Lewis (Waco, Texas: Wedgestone Press, 2002), p. 371.

3. Elizabeth Barrett Browning,

Aurora Leigh and Other Poems

, ed. John Robert Glorney Bolton and Julia Bolton Holloway (Harmondsworth: Penguin, 1995).

4. In a

Vision of Poets

, EBB wrote


Theocritus, with glittering locks
Dropt sideway, as betwixt the rocks
He watched the visonary flocks. (322-324)



From

The Complete Works of Elizabeth Barrett Browning

, ed. Charlotte Porter and Helen A. Clarke (New York: Thomas Y. Crowell, 1900; AMS reprint, 1973), II.322. At the time of Robert's courtship Elizabeth was translating Bion, Sappho, Theocritus, Apuleius, Nonnus, Hesiod, Euripides, Homer, Anacreon, ed. Porter, Clarke, VI.140-165.

5. EBB's tomb is now shaded by Etruscan cypress trees in Florence.

6. Florence's Swiss-owned so-called 'English' Cemetery uses Classical and Egyptian themes, though Judaeo-Christian, and many of its Victorian tombs are shown with urns for ashes, upon pillars (before cremation was practised or was legal), or with obelisks and hieroglyphs, influenced by the 1828 Expedition of Champollion and Rosellini made to Egypt and Nubia, funded by the Grand Duke of Tuscany.

7. Aeschylus,

Prometheus Bound

, trans. Elizabeth Barrett Browning, ed. Porter, Clarke, VI.81-134;

Agamemnon

, trans. Robert Browning,

The Poetical Works of Robert Browning,

ed. Robert Browning (London. Smith, Elder, and Co. 1889), vol XIII.

8. Rev. Dr. Edersheim,

The Temple, Its Ministry and Services as They Were at the Time of Jesus Christ

(London: Religious Tract Society, 1874), p. 74.

9. See, in this regard, particularly Milton's

Comus

. The up-ended torch is frequent on tombs in the 'English' Cemetery, particularly being shown in pairs for married couples.

10. See the frontispiece to Charles Hodell, The Old Yellow Book: Source of Browning's The Ring and the Book. Photo-Reproduction with Translation, Essay, Notes (Washington, D.C.: Carnegie Institution of Washington, 1908), giving Pen's portrait of his father in his Oxford robes, holding the Old Yellow Book.

11. R.O. Faulkner, The Ancient Egyptian Book of the Dead (London: British Museum Publications, 1990), passim, giving the Ba as the human-headed soul, partner to the mummied body, preserving it from a second death.

12. Elizabeth Barrett Browning, Sonetos Portugeuses, trans. Manuel Corrêa de Barros (Lisboa: Relogio d'Agua, 1945);

Sonnets portugais,

trad. Lauraine Jungelson (Paris: Gallimard, 1994); Sonnets from the Portuguese/ Portugalske sonety, trans. Hanna Zantovska (Bratislava: Nestor, 2001);

Portugal Szonettek

. Trans. Kardos Laszlo. Budapest: Magyar Helkon, 1976; Sonetti dal Portoghese, trad. Rina Sara Virgilito (Firenze: Libreria delle donne, 2005); Sonetti dal portoghese, trad. Bruna Dell'Agnese (Montebelluna: Amadeus, 1991); Sonnette aus dem Portugiesischen. Trans. Rainer Maria Rilke. Nachwort, Elisabeth Kiderlen (Leipzig: Insel Verlag, 1991).

13. Julia Bolton Holloway, 'An Old Yellow Book, the Documents in the Case: The Death and Burial of Elizabeth Barrett Browning': Paper given at the Armstrong Browning Library, 2006; Lecture given to the Boston Browning Society, 2008: http://www.florin.ms/ebbdeath.html



IN STOCK

Elizabeth Barrett Browning. Aurora Leigh and Other Poems.

Edited, John Robert Glorney Bolton and Julia Bolton Holloway. Harmondsworth:

Penguin Classics

, 1995. xx + 517 pp.

ISBN 0-14-043412-7


  IN STOCK

Oh Bella Libertà! Le Poesie di Elizabeth Barrett Browning. A cura di Rita Severi e Julia Bolton Holloway. Firenze: Le Lettere, 2022. 290 pp. 


To donate to the restoration by Roma of Florence's formerly abandoned English Cemetery and to its Library click on our Aureo Anello Associazione's PayPal button: 
                THANKYOU!     
FLORIN WEBSITE © JULIA BOLTON HOLLOWAY, AUREO ANELLO ASSOCIAZIONE, 1997-2024: ACADEMIA BESSARION || MEDIEVAL: BRUNETTO LATINO, DANTE ALIGHIERI, SWEET NEW STYLE: BRUNETTO LATINO, DANTE ALIGHIERI, & GEOFFREY CHAUCER || VICTORIAN: WHITE SILENCE: FLORENCE'S 'ENGLISH' CEMETERY || ELIZABETH BARRETT BROWNING || WALTER SAVAGE LANDOR || FRANCES TROLLOPE || ABOLITION OF SLAVERY || FLORENCE IN SEPIA || CITY AND BOOK CONFERENCE PROCEEDINGS I, II, III, IV, V, VI, VII || MEDIATHECA 'FIORETTA MAZZEI' || EDITRICE AUREO ANELLO CATALOGUE || UMILTA WEBSITE || LINGUE/LANGUAGES: ITALIANO, ENGLISH || VITA
New: Dante vivo || White Silence