FLORIN WEBSITE © JULIA BOLTON HOLLOWAY, AUREO ANELLO ASSOCIAZIONE, 1997-2022: ACADEMIA BESSARION || MEDIEVAL: BRUNETTO LATINO, DANTE ALIGHIERI, SWEET NEW STYLE: BRUNETTO LATINO, DANTE ALIGHIERI, & GEOFFREY CHAUCER || VICTORIAN: WHITE SILENCE: FLORENCE'S 'ENGLISH' CEMETERY || ELIZABETH BARRETT BROWNING || WALTER SAVAGE LANDOR || FRANCES TROLLOPE || ABOLITION OF SLAVERY || FLORENCE IN SEPIA || CITY AND BOOK CONFERENCE PROCEEDINGS I, II, III, IV, V, VI, VII || MEDIATHECA 'FIORETTA MAZZEI' || EDITRICE AUREO ANELLO CATALOGUE || UMILTA WEBSITE || LINGUE/LANGUAGES: ITALIANO, ENGLISH || VITA
New: Dante vivo || White Silence







ELIZABETH BARRETT BROWNING'S TOMB

BY FREDERIC, LORD LEIGHTON





Leighton Sketch Book, Royal Academy Library
____
Greek Lyre Christian Harp Hebrew Harp
Tragedy and Comedy Cross Jubilee with Broken Slave Shackle
Leighton's tomb for Elizabeth is a magnificent monument. But Robert never saw it, never returned again to Florence, though Pen did, living in the Torre di Antella, seeking to make Casa Guidi a museum, searching out memorabilia of his parents, which at his death were all dispersed in auction sales. Leighton did return to Florence and did see the work in progress, and was deeply angered by the changes made to his design by Francesco Giovannozzi and tolerated by Count Cotttrell. Lilian Whiting's biography of Kate Field, the young American writer who had been present at that funeral, tells us that on Christmas Day, 1864, nearly three and a half years later than the funeral,
Mrs Browning's monument has not yet been erected, but will shortly be so. Leighton, who was intrusted by Mr. Browning with the design, was exceedingly and very reasonably angry on coming here in the autumn to superintend the erection of the monument, to find that the sculptor had most unwarrantably changed divers parts of the design. Some of these departures from his plan Leighton insisted on having restored, and this has led to considerable delay. And I should fear that the monument, when it is put up, will not be wholly satisfactory to Mr. Browning or Mr. Leighton (Whiting, 157).
Count Cottrell, whose title was given to him for his services as Chamberlain by the Grand Duke of Lucca, had refused to go to the English Cemetery at the burial of one of his children there, Carlo Lodovico, Robert officiating for him as chief mourner (

Arabella

, II.322-323). In some of the earlier

Letters to Arabella

the relations between the Cottrells and the Brownings became decidedly strained, for Mary Trepsack had had her life savings conned from her and lost in a bankruptcy by Cottrell relatives, partly through Robert's actions, Elizabeth desperately trying to get reparations paid to her in compensation while obeying Robert in keeping secret from her brothers his involvement in the case (

Arabella

I.268-269, 271-272, 286, 305, 311, 349-350). Mary Trepsack was the beloved freed slave in the Barrett Moulton Barrett entourage who had paid for the publication of Elizabeth's second

magnum opus

,

The Essay on Mind,

in 1826; Elizabeth's first magnum opus,

The Battle of Marathon

, begun when she was eleven, having been privately printed by her father in 1820. Robert now put Count Cottrell in charge of overseeing his wife's tomb in Florence.



Browning writes, in 1866, to George Barrett, Elizabeth's younger and favourite brother (284-5):
I feel very grateful indeed for your letter, and all the kindness it is replete with. For the monument, I am simply rejoiced that you like it. You know it was just what I was able to accomplish in that direction, and no more: I meant, - that had it been of pure gold it would have gone no farther in the way of being a fit offering, - and on the other hand, if my circumstances had only allowed me to put up a wooden cross, that would have sufficed. But I was fortunate in the sympathy of Leighton, and so, I hope, have been able perhaps to manage that the little which is done, is on the whole well done. I could not be on the spot and care for the execution personally - and mistakes were made at first which have been rectified since: but, by the photographs, I judge that Leighton's work is adequately rendered, - and we must be content.
Browning writes again, in 1875, to George Moulton-Barrett (298), who has been to see the tomb in Florence, noting in a letter to Robert that it was already grimed and needing care (Sutherland Orr, 367-68):
You will certainly have wondered at the delay in replying to your kind letter: it was occasioned by the necessity of consulting with Leighton about the proper course to take in a matter which concerned him so much. I am deeply obliged to you for informing me about what I might else have long remained in ignorance; and the particulars of the damage, as well as the estimates of needful repair & expenditure are just what I should have desired. I wish every fit measure to be taken, and leave the whole in your most capable hands: but there is this difficulty, - Leighton is very averse to the destruction of his design by the substitution of black marble: he would prefer the renewal of the old work, even if one needs to begin again in another eleven years. Cannot this be managed? I wish it were as easy to replace the coarse nature of the relic-mongers by some more human and decent stuff, but that is impossible. Would a more effectual railing be any use? or would a cover, such as you mention as being made for the Demidoff monument, answer the purpose here? You have such an advantage over me who never saw the Tomb, that I accept your judgment, whatever it may be. Leighton said he would prefer letting the ornaments quite go, in process of time, and then renewing them - that is, prefer this to substituting the black stripe.
Elizabeth's absence from her own tomb is strange. There is no medallion portrait of her, only an ideal figure of Poesy, and we learn from Robert's letter from the Athenaeum Club, January 19, 1863, to Isa Blagden that the Italians, through Cottrell, sought to pre-empt Leighton's design, and in Robert's letter to Frederic Leighton, August 20, 1863, that he had sent portraits of Elizabeth to him, then he writes to Isa, October 19, 1864, about Leighton's explosion concerning the badness of the execution, and speaking of the portrait medallion as altered, particularly as to the hair, to falsely 'better' it.
It was fortunate indeed that I was saved from the addition to my annoyances which I should have had to bear had my journey been to Florence. Leighton writes to me that nothing can be more
impudently
bad than the execution of his designs - there has been no pretence at imitating some of them - and the four (
sic
., for six) capitals of the columns will have to be sawn off and carved afresh, - also two of the medallions have to be cut out and replaced - as infamous: while the third 'though indeed detestable is not quite irremediable". The Profile is "less slovenly than the rest", though open to many objections - "the hair, with that designing of which I took great pains, is entirely different: the fellow had the coolness to say that he thought I had probably done the thing hastily without nature, and that he had put up a plait, and done the thing afresh himself (if you could see it!) - also, in the ear, "
ho cercato di migliorare
!" he added that he had obtained from Cavalier Mathas [architect of the façade of Santa Croce] and Count Cottrell the sanction to improve these parts of the work - let us hope there is no truth in this. Cottrell says he saw all the criticism I make, himself - but that he thought it better to leave them to me to make, as the mischief was irremediable"- On the contrary, Cottrell wrote to me that it was "extremely well-executed", - and as he paid up the last instalment, though not due till the work was really erected, I have no sort of remedy. Don't say one word about this - I won't have any wrangling over - literally - the grave.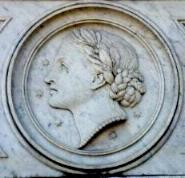 One can see in three of Hiram Powers' son Longworth Powers' photographs, preserved in the Gabinetto Vieusseux, the various stages of the tomb's building, first the white marble base, then the columns, then the whole.

Leighton changed the other errors, but Robert allowed the false portrait medallion to stand on the most visible part of the tomb. Not only is Elizabeth's name absent from her tomb, but so also is Frederic Leighton's, while 'FRANCESCO.GIOVANNOZZI.FECE' is sculpted onto its base. One wonders who paid for the tomb: Browning? Or Leighton?


On it there are no lines from her poems. There is not even her name, just the initials 'E+B+B'. Nor is there her birth date, just the death date 'OB+1861+'. However, it seems from sketches in the Royal Academy's Library that Andrew Potter has so kindly sent me that Leighton conceived it not as a classical sarcophagus so much as a medieval pilgrim tomb with space under it for pilgrims to enter, like that of Edward the Confessor's Tomb in Westminster Abbey. An aside: When Elizabeth was preparing herself for the elopement with Robert, she dared to go outside, to take walks, and on one of them visited Westminster Abbey and its Poets' Croner where her husband would come to be buried. This is how she described it, 31 July, 1846:


How grand - how solemn! Time itself seemed turned to stone there! . . . we stood where the poets were laid - oh, it is very fine - better than Laureateships and pensions. Do you remember what is written on Spenser's monument - 'Here lyeth, in expectation of the second coming of Jesus Christ, . . Edmond Spenser, having given proof of his divine spirit in his poems'.


Edward the Confessor's Tomb,
Westminster Abbey
We find that Leighton had intended a more true portrait on the tomb as he originally conceived it, these drawings being supplied by the Leighton House Museum from those in the Victoria and Albert Museum, (he even shows a togaed Robert approaching it!),
with a designated space for an inscription on it, perhaps with her poetry.

Two photographs by Longworth Powers conserved in the Gabinetto Vieusseux show first the marble base only, then the whole tomb. It took four years to construct.


When the ivy-covered medieval wall was still standing.
As it became later, before the thefts of the vase and the plaque, which were not original to the tomb's design.
Needing to be restored.

In an earlier paper, I lamented the lack of the major symbol Elizabeth and Robert shared in their poetry on her tomb, that of the pomegranate. It ws my hope, if we could restore and landscape the 'English' Cemetery, that we would plant a pomegranate beside it. This dott. Vieri Torrigiani Malaspina did, planting three pomegranates beside our three great poets, Elizabeth Barrett Browning, Walter Savage Landor and Arthur Hugh Clough. In the winter they go dead, in the spring, delicate green leaves appear, in the summer scarlet blossoms, in the fall the splendid rich red fruit. We had already rectified the lack of her name with a stele by the tomb.

One can still see here the need for restoration work. The pillars were crumbling into powder. These are now consolidated.

Following the restoration by Alberto Casciani, 2006.




FLORIN WEBSITE © JULIA BOLTON HOLLOWAY, AUREO ANELLO ASSOCIAZIONE, 1997-2022: ACADEMIA BESSARION || MEDIEVAL: BRUNETTO LATINO, DANTE ALIGHIERI, SWEET NEW STYLE: BRUNETTO LATINO, DANTE ALIGHIERI, & GEOFFREY CHAUCER || VICTORIAN: WHITE SILENCE: FLORENCE'S 'ENGLISH' CEMETERY || ELIZABETH BARRETT BROWNING || WALTER SAVAGE LANDOR || FRANCES TROLLOPE || ABOLITION OF SLAVERY || FLORENCE IN SEPIA || CITY AND BOOK CONFERENCE PROCEEDINGS I, II, III, IV, V, VI, VII || MEDIATHECA 'FIORETTA MAZZEI' || EDITRICE AUREO ANELLO CATALOGUE || UMILTA WEBSITE || LINGUE/LANGUAGES: ITALIANO, ENGLISH || VITA
New: Dante vivo || White Silence