FLORIN WEBSITE © JULIA BOLTON HOLLOWAY, AUREO ANELLO ASSOCIAZIONE, 1997-2022: ACADEMIA BESSARION || MEDIEVAL: BRUNETTO LATINO, DANTE ALIGHIERI, SWEET NEW STYLE: BRUNETTO LATINO, DANTE ALIGHIERI, & GEOFFREY CHAUCER || VICTORIAN: WHITE SILENCE: FLORENCE'S 'ENGLISH' CEMETERY || ELIZABETH BARRETT BROWNING || WALTER SAVAGE LANDOR || FRANCES TROLLOPE || ABOLITION OF SLAVERY || FLORENCE IN SEPIA || CITY AND BOOK CONFERENCE PROCEEDINGS I, II, III, IV, V, VI, VII || MEDIATHECA 'FIORETTA MAZZEI' || EDITRICE AUREO ANELLO CATALOGUE || UMILTA WEBSITE || LINGUE/LANGUAGES: ITALIANO, ENGLISH || VITA
New: Dante vivo || White Silence



PORTAL FOR FACSIMILE EDITIONS

OF MEDIEVAL MANUSCRIPTS

Brunetto Latino, Li Livre dou Tresor, St Petersburg Manuscript, M.Moliero, Barcelona, Facsimile


Addison Pubblications, Ltd, England, publish facsimiles of Lindisfarne Gospels, Domesday Book, Phoebus Gaston, Book of St Albans, Bedford Book of Hours, etc. http://www.addisonpublications.com/

Adeva Facsimiles Com, Vienna: Vatican Library Virgil, Codex Purpureus Rossanensis, Utrecht Psalter, Oxford Bestiary, Frederic II's De arte venandi cum avibus, Oxford Apocalypse, Robert of Anjou, the Ramsey Psalter, and other Facsimiles, http://www.adeva.com
ArtCodex Editions, Modena: Facsimiles of Manuscripts in the Biblioteca Estense e Biblioteca Riccardiana, Riccardian Virgil, http://www.artcodex.it/
Brepols, Tournhout; editions, quasi-facsimiles, Hildegardis Bingensis, http://www.brepols.net/
D.S. Brewer, Cambridge, sometimes publishes half facsimiles, such as the Bury Bible, http://www.boydellandbrewer.com/
Early English Text Society, Oxford, Beowulf, Sir Gawain and the Green Knight, Malory, etc., http://www.eets.org.uk/
Edilan, Madrid, Alfonso el Sabio, Las Cantigas de Santa Maria, http://www.edilan.es
Facsimile Editions Limited, Michael and Linda Falter, http://www.facsimile-editions.com

British Library, Barcelona Haggadah, exhibited in 'Sacred: Discover What We Share'
Faksimile Verlag Luzern, Lucerne, Book of Kells, Lindisfarne Gospels, http://www.faksimile.ch
Giunti Gruppo Editoriale, Florence, Leonardo da Vinci Notebooks, http://www.teatrionline.com/giunti.html
Il Bulino edizioni d'arte, Modena, http://www.ilbulino.com/
La Meta, Florence, Codex Amiatinus, http://www.lametaeditore.com/
Le Lettere, Florence, Dante, Divina Commedia, illustrated, Sandro Botticelli (search 'Divina Commedia'), http://www.lelettere.it/
M.Moleiro, Barcelona, Beatus Apocalypse, Brunetto Latino, St Petersburg Li Livres dou Tresor, http://www.moleiro.com
Patrimonio Ediciones, Valencia, Ashburnham Pentateuch, Beatus Apocalypse, Vatican Decameron, Frederic II's Medical Codex, etc., http://www.patrimonio-ediciones.com/
Scriptorium S.L., Valencia, Beatus Apocalypse, http://www.scriptorium.net/html/2-e.html
SISMEL Edizioni del Galluzzo, http://www.sismel.it
Canzonieri della lirica italiana delle origini
Breviario di Girolamo Savonarola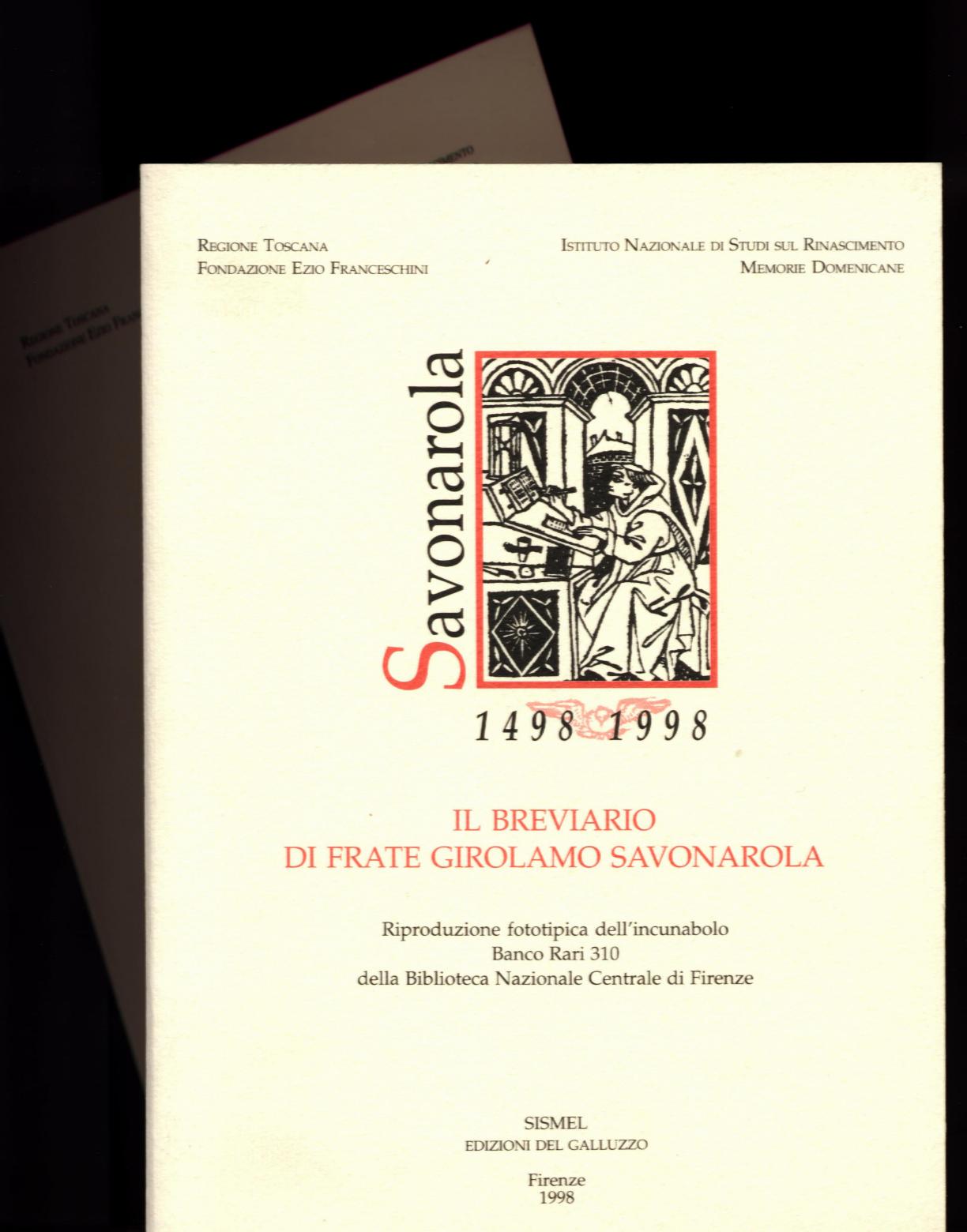 Testimonio Compania Editorial, Madrid, Beatus Apocalypse, AlfonsioX, Escorial Cantigas http://www.testimonio.com/
Vicent Garcia, Editores, Valencia, http://www.vgesa.com/


To Julian of Norwich, Showing of Love, translation in paperback (ISBN: 0-8146-5169-0), xxxiv- 133 pp, three colour printing: in America, The Liturgical Press, St John's Abbey; in England, etc., Darton, Longman and Todd, 2003, available at bookshops and from Blackwell's.


To see inside this book, where God's words are in red, Julian's
in black, her editor's in grey, click here.

Julian of Norwich, Showing of Love , definitive edition and translation, Firenze: SISMEL, 2001, available from SISMEL or from Julia Bolton Holloway ;
aaTo see an example of a page inside with parallel text in Middle
English and Modern English, variants and explanatory notes,
click here.
To Julian of Norwich, Showing of Love: Extant Texts and Translation, ed. Sister Anna Maria Reynolds, C.P. and Julia Bolton Holloway (ISBN 88-8450-095-8), 848 pages, 18 full colour plates of the manuscripts, from University of Florence, SISMEL Edizioni del Galluzzo, 2001, e-mail
order@sismel.itaor holloway.julia@tiscali.it


Julian of Norwich, Showing of Love, Westminster Text, translated into Modern English, set in William Morris typefont, hand bound with marbled paper end papers within vellum covers, in limited, signed edition. A similar version available in Italian translation. Can be accompanied by CD of a reading of the text. To view sample copies, actual size, click here. To order, click here.

Donations for above CDs and Portfolios benefit the Mediatheca Fioretta Mazzei (of which you become a member through the gift to the library of a book), and the historic "English Cemetery ", Piazzale Donatello 38, I-50132 Florence, Italy

We are affiliated with Linda and Michael Falter
who make exquisite Hebrew manuscript facsimiles.




FLORIN WEBSITE © JULIA BOLTON HOLLOWAY, AUREO ANELLO ASSOCIAZIONE, 1997-2022: ACADEMIA BESSARION || MEDIEVAL: BRUNETTO LATINO, DANTE ALIGHIERI, SWEET NEW STYLE: BRUNETTO LATINO, DANTE ALIGHIERI, & GEOFFREY CHAUCER || VICTORIAN: WHITE SILENCE: FLORENCE'S 'ENGLISH' CEMETERY || ELIZABETH BARRETT BROWNING || WALTER SAVAGE LANDOR || FRANCES TROLLOPE || ABOLITION OF SLAVERY || FLORENCE IN SEPIA || CITY AND BOOK CONFERENCE PROCEEDINGS I, II, III, IV, V, VI, VII || MEDIATHECA 'FIORETTA MAZZEI' || EDITRICE AUREO ANELLO CATALOGUE || UMILTA WEBSITE || LINGUE/LANGUAGES: ITALIANO, ENGLISH || VITA
New: Dante vivo || White Silence

LIBRARY PAGES: MEDIATHECA 'FIORETTA MAZZEI' || ITS ONLINE CATALOGUE || HOW TO RUN A LIBRARY || MANUSCRIPT FACSIMILES || MANUSCRIPTS || MUSEUMS || FLORENTINE LIBRARIES, MUSEUMS || HOW TO BUILD CRADLES AND LIBRARIES || BOTTEGA || PUBLICATIONS || LIMITED EDITIONS || LIBRERIA EDITRICE FIORENTINA || SISMEL EDIZIONI DEL GALLUZZO || FIERA DEL LIBRO || FLORENTINE BINDING || CALLIGRAPHY WORKSHOPS || BOOKBINDING WORKSHOPS