FLORIN WEBSITE © JULIA BOLTON HOLLOWAY, AUREO ANELLO ASSOCIAZIONE, 1997-2022: MEDIEVAL: BRUNETTO LATINO, DANTE ALIGHIERI, SWEET NEW STYLE: BRUNETTO LATINO, DANTE ALIGHIERI, & GEOFFREY CHAUCER || VICTORIAN: WHITE SILENCE: FLORENCE'S 'ENGLISH' CEMETERY || ELIZABETH BARRETT BROWNING || WALTER SAVAGE LANDOR || FRANCES TROLLOPE || || HIRAM POWERS || ABOLITION OF SLAVERY || FLORENCE IN SEPIA || CITY AND BOOK CONFERENCE PROCEEDINGS I, II, III, IV, V, VI, VII || MEDIATHECA 'FIORETTA MAZZEI' || EDITRICE AUREO ANELLO CATALOGUE || FLORIN WEBSITE || UMILTA WEBSITE || LINGUE/LANGUAGES: ITALIANO, ENGLISH || VITA
New: Dante vivo || White Silence
JAMES ROTHERHAM
PAINTINGS BY COMMISSION


James Rotherham, a young artist from Yorkshire has come to Florence. He paints like the Old Masters, and uses models, his paintings being life-size. He seeks commissions and all too briefly found hospitality in the cloister of the Santissima Annunziata beside the Ospedale degli Innocenti, a place famous for Leonardo da Vinci, Andrea del Sarto, Domenico Ghirlandaio, the Della Robbia.
These are samples of his paintings:
The Torturing of Christ


The Prodigal Son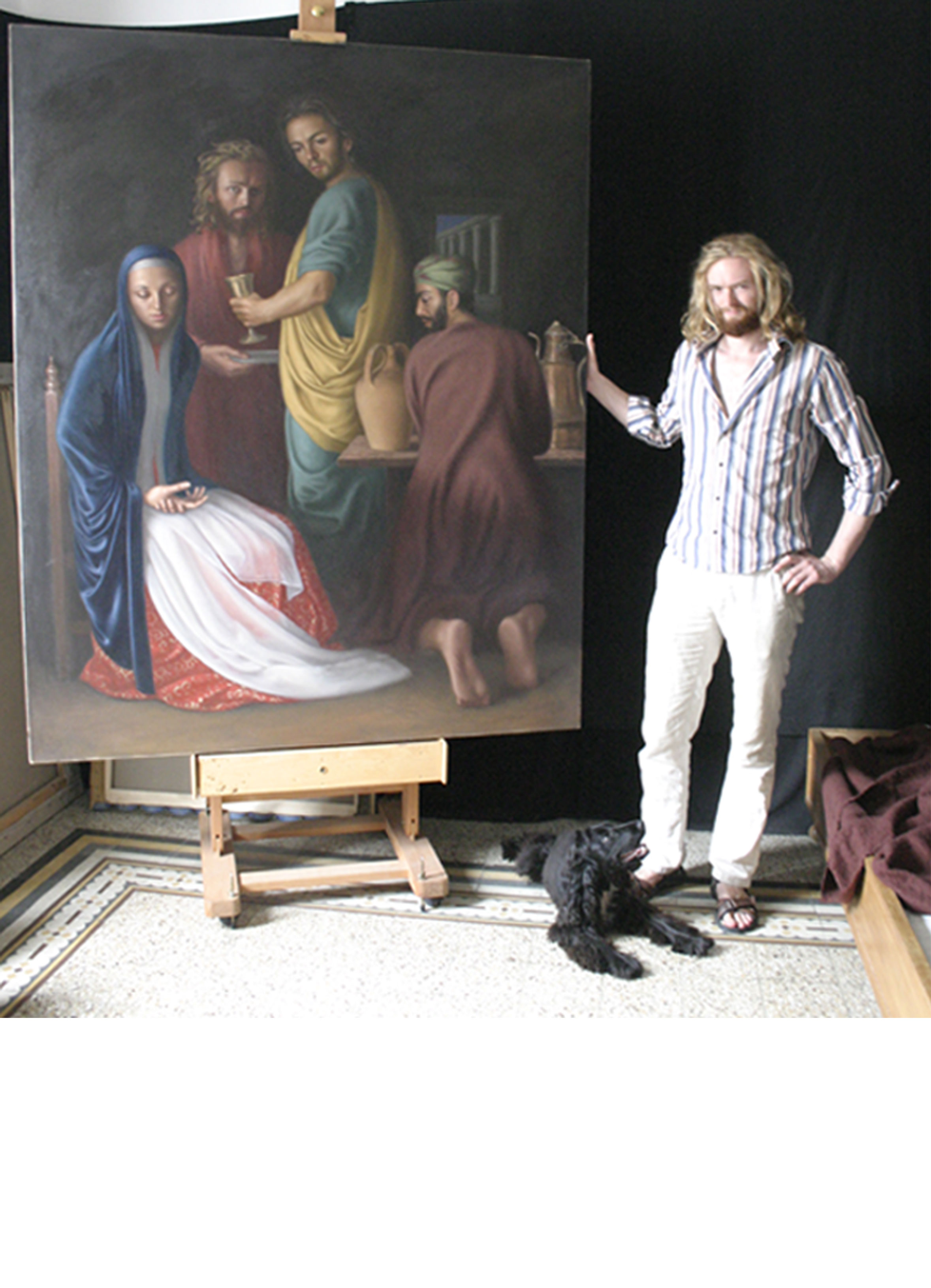 Mary at the Eucharist

To communicate with James Rotherham, contact Julia Bolton Holloway or telephone 0044 7968 919885.


Detail, The Prodigal Son


FLORIN WEBSITE © JULIA BOLTON HOLLOWAY, AUREO ANELLO ASSOCIAZIONE, 1997-2022: MEDIEVAL: BRUNETTO LATINO, DANTE ALIGHIERI, SWEET NEW STYLE: BRUNETTO LATINO, DANTE ALIGHIERI, & GEOFFREY CHAUCER || VICTORIAN: WHITE SILENCE: FLORENCE'S 'ENGLISH' CEMETERY || ELIZABETH BARRETT BROWNING || WALTER SAVAGE LANDOR || FRANCES TROLLOPE || || HIRAM POWERS || ABOLITION OF SLAVERY || FLORENCE IN SEPIA || CITY AND BOOK CONFERENCE PROCEEDINGS I, II, III, IV, V, VI, VII || MEDIATHECA 'FIORETTA MAZZEI' || EDITRICE AUREO ANELLO CATALOGUE || FLORIN WEBSITE || UMILTA WEBSITE || LINGUE/LANGUAGES: ITALIANO, ENGLISH || VITA
New: Dante vivo || White Silence
LIBRARY PAGES: BIBLIOTECA E BOTTEGA FIORETTA MAZZEI || ITS ONLINE CATALOGUE || HOW TO RUN A LIBRARY || MANUSCRIPT FACSIMILES || MANUSCRIPTS || MUSEUMS || FLORENTINE LIBRARIES, MUSEUMS || HOW TO BUILD CRADLES AND LIBRARIES || BOTTEGA || PUBLICATIONS || LIMITED EDITIONS || LIBRERIA EDITRICE FIORENTINA || SISMEL EDIZIONI DEL GALLUZZO || FIERA DEL LIBRO || FLORENTINE BINDING || CALLIGRAPHY WORKSHOPS || BOOKBINDING WORKSHOPS these paintings © James Rotherham