FLORIN WEBSITE © JULIA BOLTON HOLLOWAY, AUREO ANELLO ASSOCIAZIONE1997-2022: MEDIEVAL: BRUNETTO LATINODANTE ALIGHIERISWEET NEW STYLE: BRUNETTO LATINODANTE ALIGHIERI& GEOFFREY CHAUCER || VICTORIAN: WHITE SILENCE: FLORENCE'S 'ENGLISH' CEMETERY || ELIZABETH BARRETT BROWNING || WALTER SAVAGE LANDOR || FRANCES TROLLOPE || || HIRAM POWERS || ABOLITION OF SLAVERY || FLORENCE IN SEPIA || CITY AND BOOK CONFERENCE PROCEEDINGS I, IIIIIIVVVI VII || MEDIATHECA 'FIORETTA MAZZEI' || EDITRICE AUREO ANELLO CATALOGUE || FLORIN WEBSITE || UMILTA WEBSITE || LINGUE/LANGUAGES: ITALIANO ENGLISH || VITA
New: Dante vivo || White Silence
HOLMAN HUNT AND SPENCER STANHOPE
ST MARK'S ENGLISH CHURCH IN FLORENCE
re-Raphaelite artists in Florence greatly enriched both Anglican churches of Holy Trinity in via Marmora and St Mark's in via Maggio. When Holy Trinity was sold to the Valdensians many of the treasures came to St Mark's or they were sold off. Nic Peeters and Judy Oberhausen are tracing the whereabouts of Spencer Stanhope's paintings for Holy Trinity, several of which have been re-discovered and displayed in the Uffizi at 'The Queens' Gardens' exhibition.
Among the treasures from Holy Trinity that came to St Marks are a silver chalice and paten.
aa

Fanny/ Waugh/ Holman Hunt/ Died in Florence/ December 20 1866

Blessed are the pure in heart
In dear and grateful remembrance of CYRIL BENONI HOLMAN HUNT born in Florence Oct 27 1866 died in Bridport 25 July 1934
If you are needing to read the inscriptionsin 'Edit' define the imagethen in 'Image'change back to 'Original Size'.

Their inscriptions tell their story. Of Holman Hunt's wife Fanny Waugh who died following childbirthand of her child Cyril Benoni Holman Hunt who survived her. Mrs Patricia O'Connor, when Chairman of the Pre-Raphaelite Society, presented a moving account of this tragedy in Florence at The City and the Book III international conference held in the Gabinetto Vieusseux's Sala Ferri of the Palazzo Strozzi, June 2004. It can be read at http://www.florin.ms/gimeld.html#oconnor

These are Holman Hunt's potraits of his first wife Fanny: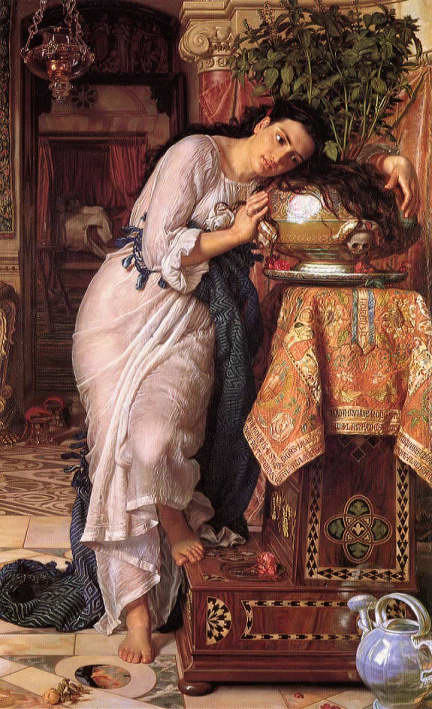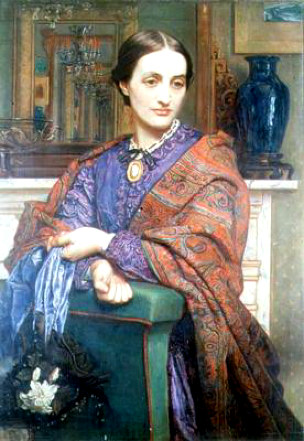 Holman Huntup at the Villa Medici in Fiesolethen sculpted his wife's tombplacing it beside that of Elizabeth Barrett Browningin the 'English' Cemetery in the form of an arc on waves of marble.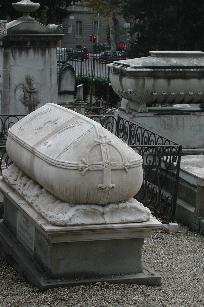 WHEN THOU
PASSEST THRO
THE WATERS
I WILL BE WITH THEE
AND THRO THE FLOODS
THEY SHALL NOT
OVERFLOW
THEE

IT IS
I

BE NOT AFRAID

LOVE
IS STRONG AS
DEATH
MANY WATERS CANNOT
QUENCH LOVE
NEITHER CAN THE
FLOODS DROWN
IT
[Isaiah 43.2] [Matthew 14.27] [Song of Solomon 8.6-7EBB Sonnet XXVIII]

Inscriptions on the tomb

Portraits of Cyril Benoni Hunt by his father

Following Patricia O'Connor's paper was that given by Nic Peeters and Judy Oberhausen on the Pre-Raphaelite painter and sculptor John Roddam Spencer Stanhope. It also can be read at http://www.florin.ms/gimeld.html#peetersoberhausen
The Embroidery Case with Original Stenciling at Top
Though his paintings for Holy Trinity have been dispersed, Spencer Stanhope's delicate brocade stencil wall paintings in St Mark's can still just be seen. It is our hope that this essay as appeal will enable their restoration.
St Marks was badly flooded in 1966. Its structure needing reinforcing, wider columns were built and the lower walls and columns painted an ugly modern chemical and unfading version of Herculaneum red. Already there had been unsightly over painting to bring the church more in keeping with Anglican Victorian pseudo-Medieval taste. But if one looks at the silvery blue and deep red damask stenciling one finds there the original beauty and glory of St Marks.
The bottom of the left arch shows original stencilingthe remainderoverpainting.
aa

Silver damask stencilling
aa
St Mark's English Church Florence John Roddam Spencer Stanhope MemorialYorkshire

Spencer Stanhope's Memorial Plaqueto rightshaped like his tomb and that for his daughterboth of which he had sculpted himself. The red square to the leftwhere there had been a plaquehas the Spencer Stanhope damask stenciling. Its pigments are natural and deepnot chemical and harsh as are the modern column decorating.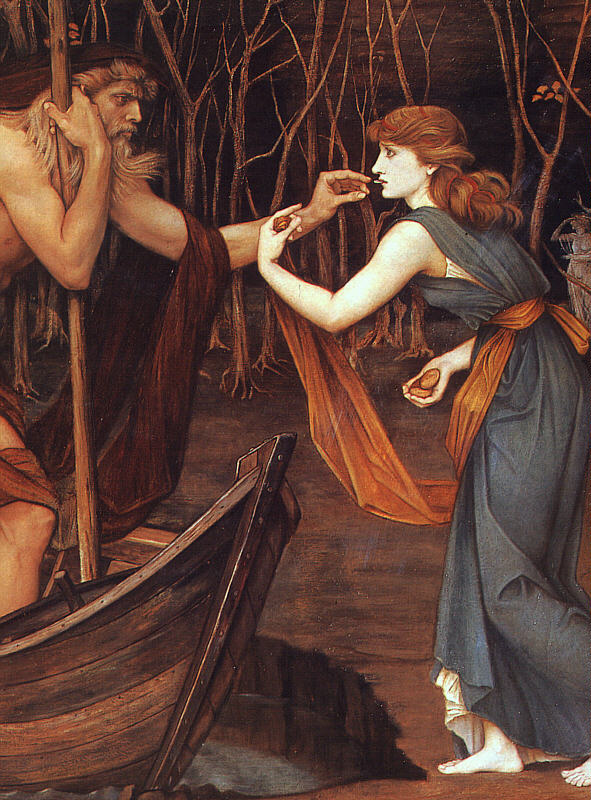 Mary Spencer StanhopeTomb: Front Back Spencer Stanhope Mary as Psyche with Charon

The Pulpit
The Embroidery Case and the Font.
The floor is beautiful and harmonious with the original designbut in major need of restoration (grinding down and polishing)of its pietra serena octagons and terra cotta square tiles.

The English Church of St.Mark's, Florence is committed to the restoration of its beautiful church, a masterpiece of 19th Century architecture.

Father William Lister
The English Church of St.Mark's Florence,
Via Maggio16
50125 Florence
Italy

Website: http://www.stmarksitaly.com/
e-mail: Father William Lister

FLORIN WEBSITE © JULIA BOLTON HOLLOWAY, AUREO ANELLO ASSOCIAZIONE1997-2022: MEDIEVAL: BRUNETTO LATINODANTE ALIGHIERISWEET NEW STYLE: BRUNETTO LATINODANTE ALIGHIERI& GEOFFREY CHAUCER || VICTORIAN: WHITE SILENCE: FLORENCE'S 'ENGLISH' CEMETERY || ELIZABETH BARRETT BROWNING || WALTER SAVAGE LANDOR || FRANCES TROLLOPE || || HIRAM POWERS || ABOLITION OF SLAVERY || FLORENCE IN SEPIA || CITY AND BOOK CONFERENCE PROCEEDINGS I, IIIIIIVVVI VII || MEDIATHECA 'FIORETTA MAZZEI' || EDITRICE AUREO ANELLO CATALOGUE || FLORIN WEBSITE || UMILTA WEBSITE || LINGUE/LANGUAGES: ITALIANO ENGLISH || VITA
New: Dante vivo || White Silence
LIBRARY PAGES: MEDIATHECA 'FIORETTA MAZZEI' || ITS ONLINE CATALOGUE || HOW TO RUN A LIBRARY || MANUSCRIPT FACSIMILES || MANUSCRIPTS || MUSEUMS || FLORENTINE LIBRARIESMUSEUMS || HOW TO BUILD CRADLES AND LIBRARIES || BOTTEGA || PUBLICATIONS || LIMITED EDITIONS || LIBRERIA EDITRICE FIORENTINA || SISMEL EDIZIONI DEL GALLUZZO || FIERA DEL LIBRO || FLORENTINE BINDING || CALLIGRAPHY WORKSHOPS || BOOKBINDING WORKSHOPS