FLORIN WEBSITE

IN ITALIANO:

♫ Click on red arrows below for the soundtracks of the readings

APP - ELIZABETH BARRETT BROWNING'S

FLORENCE



Elizabeth Barrett Browning, Engraved, Dante Gabriel Rossetti
Casa Guidi (1), by George Mignaty, 1861


(1) Casa Guidi, (2) Palazzo Pitti, (3) towards San Miniato al Monte, (4) Ponte Vecchio, (5) Uffizi, (6) Palazzo Vecchio, (7) Bargello, (8) Borgo Allegri, Santa Croce, (9) Santa Maria del Fiore, (10) Giotto Tower, (11) Santa Maria Novella, (12) Capella Medicea, (13) San Lorenzo, (14) Accademia di Belle Arti, (15) Santissima Annunziata, (16) Englsih Cemetery, (17) towards Bellosguardo, (18) towards Vallombrosa. You can also explore these places using Google Earth.

These hypertexted numbers signify places that can be found on map. Casa Guidi (1) is open on Monday, Wednesday and Friday from 3:00 until 6:00, except in winter. The English Cemetery (16), is open Monday morning, 9:00-12:00, Tuesday through Friday afternoons, summer, 3:00-6:00 p.m., winter, 2:00-5:00 p.m.


AUDIO FILES OF ELIZABETH BARRETT BROWNING'S FLORENCE
♫ CASA GUIDI WINDOWS
♫ AURORA LEIGH & POLITICAL POEMS
to accompany Elizabeth Barrett Browning's Florence


♫
PREFACE
Elizabeth Barrett Moulton Barrett, crippled by childhood tuberculosis and already a successful poet, eloped at forty with Robert Browning, her entourage including Lily Wilson, her maid, and the spaniel Flush, coming, by way of Paris, Vaucluse and Pisa, September, 1846, reaching Florence in April 1847, then going to Vallombrosa in July, on their returning finding Casa Guidi in Via Maggio (1) which became their home for the rest of their marriage, immediately meeting Hiram Powers, the great American sculptor, and soon after the French sculptress, Félicie de Fauveau.


Miss Mitford gives Flush to Elizabeth Barrett in Wimpole Street, Marylbourn, London, drawings by Vanessa Bell, as endpapers to her sister Virginia Woolf's book, Flush


Elizabeth Barrett Browning at Casa Guidi (1) in Florence with Flush, but which actually does not have a view of the Duomo and its Giotto Bell Tower, only the wall of the San Felice church.

Casa Guidi is in the Oltrarno, the other side of the Arno river and best reached by the Ponte Santa Trinità with its sculptures of Spring, Summer, Autumn and shivering Winter, then up the Via Maggio to the little square with its great column by Casa Guidi the church of San Felice. On its other side is the the huge and grim Pitti Palace, then Florence's political centre as the residence first of the Grand Duke Leopold, then of King Victor Emanuel. The plaque above the door on the left proclaims that Elizabeth's poetry made a golden ring between Italy and England. In Casa Guidi Windows I she describe seeing the joyous procession up the Via Maggio from the Ponte Santa Trinita to the Grand duke's palace, in Casa Guidi Windows II she describes seeing the invading Austrian army in their white uniforms with their cannons coming up the street by Santa Felicita's church.


Via Maggio, Piazza San Felice



Casa Guidi Balcony



Casa Guidi Balcony



San Felice Church, 12 April 1848, the Austrian army came down this street in their white uniforms and their great cannons


Elizabeth became friends with Margaret Fuller, her presumed husband and their child Angelo who, fleeing the disaster of Giuseppe Mazzini's Roman Republic came to Florence in April 1850, shortly before their deaths by drowning in the ship 'Elizabeth' off Fire Island, on 19 July of that year. Elizabeth would turn her into the character of Aurora of her Aurora Leigh. Another of their American friends was Harriet Beecher Stowe, who wrote Uncle Tom's Cabin against slavery in America, while others included the Hawthornes and the young Kate Field, journalist for the Atlantic Monthly, and Harriet Hosmer, sculptress, who sculpted their 'Clasped Hands' when they were staying in Rome.





Harriet Hosmer's Clasped Hands of Elizabeth Barrett and Robert Browning


Copied by Amalia Ciardi DuPrè


Their English friends included Walter Savage Landor, whom they would eventually care for in his senile dementia, Elizabeth speaking of him having 'the most beautiful sea-foam of a beard you ever saw, all in a curl and white bubblement of beauty'; Seymour Kirkup, who discovered Giotto's portrait of Dante in the Bargello Magdalen Chapel (7); John Ruskin, who wrote Mornings in Florence; Tennyson's brother, Frederick Tennyson; Robert Lytton, who became Viceroy of India; and - at a distance - the Trollopes. Elizabeth also kept George Eliot at a distance when that novelist came to Italy to research the period of Savonarola for Romola.

Elizabeth placed on the Casa Guidi marble mantelpiece the two engravings from Hengist Horne's New Spirit of the Age, which she helped edit in her Wimpole Street sickroom, of Lord Tennyson, Poet Laureate, and Robert Browning, author of Paracelsus. She had jokingly proposed to both of them in her 1844 poem, Lady Geraldine's Courtship, before meeting either poet, when speaking of her heroine reading with her lover hero, of
Tennyson's enchanted reverie, -
Or from Browning some 'Pomegranate', which if cut deep down the middle
Shows a heart within blood-tinctured, of a veined humanity! -


aaa
And these images would be joined on the mantelpiece in Casa Guidi (1) by Dante Gabriel Rossetti's sketch of Tennyson reading 'Maud', about which event Elizabeth wrote in October 1855.
Robert, meanwhile, furnished the vast room in which Elizabeth wrote (and which she said was 'like a room in a novel') with antiques, including its great gold-framed mirror, and paintings, many pieces resulting from the suppression of monasteries, bought in San Lorenzo Market (13) where, one day, he found 'The Old Yellow Book' about a man's murder of his wife.

The visit to Vallombrosa was succeeded by stays in Bagni di Lucca where, one morning in 1849, Elizabeth shyly gave Robert her sonnets she had written of their love, now years ago, in her Wimpole Street sickroom. And which he promptly published as Sonnets from the Portuguese. It was here in Casa Guidi (1), 9 March 1849, that Pen Browning, their child, was born, about whom Elizabeth would write in both Casa Guidi Windows II and in Aurora Leigh. It was here that Elizabeth saw the Grand Duke come back with the Austrian Army, 12 April 1848, to oppress the Florentine people, forbidding their flag of red, white and green, from Dante's Beatrice in Purgatorio. Elizabeth defiantly furnished her salon with white and red curtains against its green walls, those colours of the Italian flag forbidden by the Grand Duke. She would write in the low deckchair in the foreground of George Mignaty's painting, stuffing the sheets between the cushions when visitors called. It was here in the bedroom, 29 June 1861, that Elizabeth Barrett Browning died, his father cutting off Pen's curls and also hers and journeying back to England with the boy, after commissioning George Mignaty to paint the room in which she had written so many of her letters and her major poems.



When I was Custodian of Casa Guidi in 1987-88 we found the walls of the entry hall had been frescoed in the Eighteenth Century with laurel wreaths and Greek keys which I sketched in water colour. These frescoes were then whitewashed.

Sophia Peabody Hawthorne described Casa Guidi (1):

. . . at eight we went to the illustrious Casa Guidi. We found a little boy in an upper hall . . . . In the dim light he looked like a waif of poetry, drifted up into the dark corner, with long, curling, brown hair, and buff silk tunic, embroidered with white. He took us through an anteroom, into the drawing room, and out upon the balcony. In a brighter light he was lovelier still, with brown eyes, fair skin, and a slender, graceful figure. In a moment, Mr Browning appeared, and welcomed us cordially. In a church near by, opposite the house, a melodious choir was chanting . . . . The music, the stars, the flowers, Mr. Browning and his child, all combined to entrance my wits. Then Mrs. Browning came out to us - very small, delicate, dark and expressive. She looked like a spirit. A cloud of hair falls on each side of her face in curls, so as partly to veil her features. But out of the veil looked sweet, sad eyes, musing and farseeing and weird. Her fairy fingers seem airy to hold, and yet their pressure was very firm and strong. The smallest possible amount of substance encloses her soul, and every particle of it is infused with heart and intellect. I was never conscious of so little unredeemed perishable dust in any human being . . . . We soon returned to the drawing room . . . . a lofty, spacious apartment, hung with gobelin tapestry and pictures, and filled with carved furniture and objects of vertu. Everything harmonized - poet, poetess, child, house, the rich air and the starry night . . . . Tea was brought and served on a long narrow table, placed before a sofa, and Mrs. Brownign presided . . . Mr. Browning introduced the subject of spiritualism, and there was an animated talk. Mr. Browning cannot believe, and Mrs. Browning cannot help believing.

Elizabeth's Casa Guidi Windows was published in Italian in 1851 and then re-translated by us in 2017:


Robert after her death went on to write the murder story of The Ring and the Book, from the 'Old Yellow Book' he had found in San Lorenzo Market, beginning it and ending it speaking of his wife. Their son Pen when he grew up preferred the Continent to England, became a painter and a sculptor, studying under Rodin, one bronze bust he made being of 'Pompilia', his model, his illegitimate Breton daughter, Ginevra, and thus Elizabeth's granddaughter. Robert and Elizabeth had shared a friendship with Isa Blagden, which Robert continued following his wife's death. Elizabeth had used the landscape from Isa's Bellosguardo terrace for the setting of Aurora's house in Florence - though its interior is that of via Maggio's Casa Guidi (1).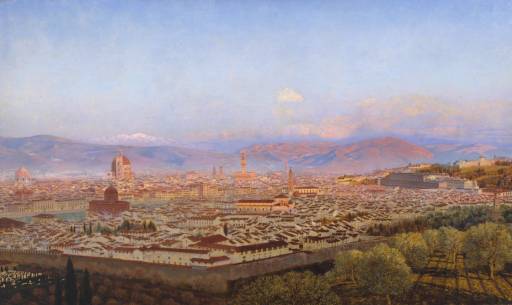 The View from Bellosguardo (17), reached by way of the Oltrarno (beyond the Arno and beyond this map) Porta Romana and turning right and climbing up the hill. This painting by the Pre-Raphaelite John Brett of Bellosguardo shows the medieval walls before Giuseppe Poggi tore them down to make the viale, modeled on Parisian boulevards, at the Risorgimento when Florence briefly became capital of Italy. The Jewish Cemetery can be seen at the extreme left outside the wall, just as the Protestant Cemetery (16) was just outside the medieval wall but on the opposite side of Florence.

Though from a Jamaican family whose wealth came from slaves, Elizabeth hated slavery and oppression, using her poetry to write for the liberation of slaves, children, women, nations, Greece, and also Italy, in her day ground under by the Austrians, the Spanish, the French, the Pope. She witnessed the Austrian army passing beneath her Casa Guidi windows. She, as a woman, was barred from reading newspapers and novels at the Gabinetto Vieusseux, though her husband and Fedor Dosteivsky had that liberty. She joked that the periodicals are guarded there like Hesperian apples by the dragons of the place. She did not live to see the freedom of Rome with Italy. Her support of Italy's Risorgimento is acknowledged in the plaque on Casa Guidi which proclaims in Italian that she 'made of her verse a golden ring wedding Italy to England'. Leighton, who studied at the Accademia di Belle Arti (14), designed her tomb in the English Cemetery (16), 1861, with a broken slave shackle upon a garlanded harp.
One could have wished Robert Browning and Lord Leighton had seen fit to include pomegranates on Elizabeth's tomb in the Piazzale Donatello. Robert was to wed his poetry to Elizabeth's in The Ring and the Book through Castellani's lilied ring. Elizabeth had powerfully wed her poetry to Robert's through her embroidering of the High Priestly pomegranate into Lady Geraldine's Courtship, into her Letters to Robert Browning, and, later, in Aurora Leigh.
Elizabeth Barrett Browning's Tomb, 'English Cemetery'


a

Frederic Lord Leighton, Self-Portraits, In Youth, In Maturity, Uffizi Gallery (5)
Instead, Leighton's tomb has the thistle, rose and shamrock of the British Isles, the lily of Florence, the laurel of the poet's crown, and the three lyres of poetry, one with the broken slave shackle and roses, shown above, the two others with olive branches.
The Brownings had been accompanied on their honeymoon by Anna Jameson, a fine art historian, and John Ruskin was sketching in Pisa when they arrived there. Anna Jameson's father painted miniatures on ivory of the paintings in Windsor Castle and his red-haired daughter knew these paintings well and others and wrote about them in books. Among them would have been Johann Zoffany's painting of the Uffizi's Tribune (5) which we shall see below. The Brownings numbered among their friends the Pre-Raphaelite Dante Gabriel Rossetti,
a
Robert Browning by Dante Gabriel Rossetti

and Holman Hunt's wife Fanny would come to be buried beside Elizabeth in the English Cemetery in a tomb Hunt sculpted. The Brownings were an important link between Italy and England's Pre-Raphaelites, also her Anglican Oxford Movement which sought likewise to return to the Catholicism of medieval England. The Brownings were English in Italy. While Dante Gabriel Rossetti's father was exiled from Italy, teaching Dante in London. His son imagined the Florence he never saw in his early and most self-referential painting of 'Dante painting Angels', a scene he took from Dante Alighieri's Vita Nuova, and which gives the Arno and its bridges (4).
Dante Gabriel Rossetti,
Dante Painting Angels, Ashmolean Museum

A similar self-referential painting was executed by the similarly very young, but academic painter, Frederic Leighton, who had studied at Florence's Accademia di Belle Arti (14).
Elizabeth had written the note to Casa Guidi Windows, I. 334 [1848], about Cimabue's Madonna, 'A king stood bare before its sovran grace: Charles of Anjou, whom, in his passage through Florence Cimabue allowed to see this picture while yet in his "Bottega". The populace followed the royal visitor, and, in the universal delight and admiration, the quarter of the city in which the artist lived was called "Borgo Allegri". The picture was carried in triumph to the church, and deposited there. E.B.B.' In Elizabeth Barrett Browning's day the Cimabue painting was still in Santa Maria Novella (11). Thus she tells the story that will become the painting. Then she wrote joyously in a 13 May 1855 letter about Queen Victoria purchasing the not yet twenty-five-year-old Frederic Leighton's 'Carrying Cimabue's Madonna through the Borgo Allegri' (8). (If one looks with care to the top of the scene on the right, one can see San Miniato. (3)) In July-August of that year Robert Browning introduced Frederic Leighton to John Ruskin.
Elizabeth filled her letters and poems with Florence, giving as it were, a guidebook to Florentine art. One finds her in the letters speaking of the 'golden Arno', at sunset, a 'silver arrow' cleaving the palaces (4), of strolling with Robert on moonlit evenings to the Loggia to look at the 'Perseus' (6).

Recently, Florentine churches have been scrubbed clean. In Elizabeth's day they were lit with candles which darkened the walls but made the gold leaf gleam. Our selection of images are partly taken from an English water colourist, Colonel C. Goff, because these evoke what Elizabeth herself saw. Then I had no sooner started drafting together this book than in walked a tall young Yorkshire artist, James Rotherham, with portfolio, - including a drawing of Cellini's 'Perseus' in the Loggia dei Lanzi (6). I had met him at Mass morning after morning at the Santissima Annunziata (15) in Florence. Together we plotted how best to illustrate Elizabeth Barrett Browning's poetry about Florence and his art. His second contribution - the Santissima Annunziata's 'Madonna of the Seven Sorrows'. All this editorializing transpired in the English Cemetery in Piazzale Donatello (17), where Elizabeth Barrett Browning is buried and beside which is Michele Gordigiani's studio.
Elizabeth besides filled her letters with Italian politics, European politics, filtered through her passionate love of liberty, functioning to her large circle of friends as a journalist, much as had also Jessie White Mario and Margaret Fuller and Kate Field. Though she lamented being forbidden to enter, as a woman, the Gabinetto Vieusseux (sacred to men such as Robert Browning, John Ruskin and Fedor Dostoevsky), and thus was denied access to newspapers, censored during that period by the Grand Duke. Her letters and her poetry witness the birth, the freeing, of a nation, whose capital for a brief while came to be her Florence.
In the pages that follow Elizabeth uses the Italian forms of terza rima for Casa Guidi Windows, and the sonnet, for 'Hiram Powers' Greek Slave', and the Sonnets from the Portuguese, English blank verse for Aurora Leigh, the ballad form for 'An August Voice', as well as 'The Runaway Slave at Pilgrim's Point', and the classical Pindaric Ode for her eulogy on Camille Cavour, recalling that Corinna won the garland for that form in ancient Greece. This book is anthology and guide, an anthology of Elizabeth Barrett Browning's verse, a historical guide for us now to her beloved city of Florence, the 'golden ring between Italy and England'.

Lord Leighton's Florentine Lily on Elizabeth Barrett Browning's Tomb


♫
ELIZABETH BARRETT BROWNING'S FLORENCE

HER POETRY ABOUT FLORENCE I



a

Elizabeth Barrett Browning,
Michele Gordigiani, 1858

[Hypertexted numbers signify places that can be found on map. Call up both files and cycle between them. Casa Guidi (1) is open on Monday, Wednesday and Friday from 3:00 until 6:00, except in winter. The English Cemetery (16), is open Monday morning, 9:00-12:00, Tuesday through Friday afternoons, summer, 3:00-6:00 p.m., winter, 2:00-5:00 p.m.]



AUDIO FILE OF ELIZABETH BARRETT BROWNING'S FLORENCE, ♫
CASA GUIDI WINDOWS, to accompany Elizabeth Barrett Browning's Florence and Map of Florence.


. . .



CASA GUIDI WINDOWS I [1848]
I
I heard last night a little child go singing
'Neath Casa Guidi windows (1), by the church,
'O bella libertà, O bella!' stringing
The same words still on notes he went in search
So high for, you concluded the upspringing
Of such a nimble bird to sky from perch
Must leave the whole bush in a tremble green;
And that the heart of Italy must beat,
While such a voice had leave to rise serene
'Twixt church and palace of a Florence street!
A little child, too, who not long had been
By mother's finger steadied on his feet;
And still O bella libertà he sang.

Pen Browning, Elizabeth's son, born in Florence, 9 March 1849
It was he who arranged for the above plaque to be placed on Casa guidi



III


. . .
I can but muse in hope upon this shore
Of golden Arno as it shoots away
Straight through the heart of Florence, 'neath the four
Bent bridges (4), seeming to strain off like bows,
And tremble, while the arrowy undertide
Shoots on and cleaves the marble as it goes,
And strikes up palace-walls on either side,
And froths the cornice out in glittering rows,
. . .

How beautiful! The mountains from without
In silence listen for the word said next,
(What word will men say?) here where Giotto planted
His campanile (10), like an unperplexed
Question to Heaven, concerning the things granted
To a great people.
Colonel Goff, Water Colour, Prior to 1905

What word says God? The sculptor's Night and Day
And Dawn and Twilight, wait in marble scorn,
. . .


Michelangelo, Aurora, Medici Tombs, San Lorenzo


In Florence and the great world outside his Florence,
That's Michel Angelo! His statues wait
In the small chapel of the dim St Lawrence! (12)
Day's eyes are breaking bold and passionate
Over his shoulder, and will flash aborrence
On darkness, and with level looks meet fate,
When once loose from that marble film of theirs:
The Night has wild dreams in her sleep, the Dawn
Is haggard as the sleepless: Twilight wears
A sort of horror: as the veil withdrawn
'Twixt the artist's soul and works had left them heirs
Of the deep thoughts which would not quail nor fawn,
Of angers and contempts, of hope and love;
For not without a meaning did he place
The princely Urbino on the seat above
With everlasting shadow on his face;
While the slow dawns and twilights disapprove
The aches of his long-exhausted race,
Which never more shall clog the feet of men.
X
Or enter, in your Florence wanderings,
The church of St. Maria Novella (11). You pass
The left stair, where, at plague-time. Machiavel
Saw one with set fair face as in a glass,
Dressed out against the fear of death and hell,
Rustling her silks in pauses of the mass,
To keep the thought off how her husband fell,
When she left home, stark dead across her feet, -
The stair leads up to what Orgagna gave
Of Dante's daemons; but you, passing it,
Ascend the right stair from the farther nave,
To muse in a small chapel scarcely lit
By Cimabue's Virgin.

Colonel Goff, Water Colour, Santa Maria Novella Madonna and Child, Cimabue, actually the Rucellai Madonna
Bright and brave,
That picture was accounted, mark of old:
A king stood bare before its sovran grace,
A reverent people shouted to behold
The picture, not the king, and even the place
Containing such a miracle grew bold,
Named the Glad Borgo (8) from that beauteous face . . . . . . .


XIV
. . .
In the Loggia? Where is set
Cellini's godlike Perseus, bronze - or gold –
(How name the metal, when the statue flings
Its soul so in your eyes?) with brow and sword
Superbly calm, as all opposing things,
Slain with the Gorgon, were no more abhorred
Since ended? (6)



Perseus, Loggia, Benvenuto Cellini, drawn by James Rotherham (6)


No the people sought no wings
From Perseus in the Loggia, nor implored
An inspiration in the place beside,
From that dim bust of Brutus (7), jagged and grand,
Where Buonarotti passionately tried
Out of the clenched marble to demand
The head of Rome's sublimest homicide,
Then dropt the quivering mallet from his hand,
Despairing he could find no model stuff
Of Brutus, in all Florence . . .

Michelangelo, Bust of Brutus, Bargello Museum (7)

XXVIII
. . .
England claims, by trump of poetry,
Verona, Venice, the Ravenna-shore
And dearer holds her Milton's Fiesole
Than Langland's Malvern with the stars in flower
. . .

XXIX
And Vallombrosa (18), we two went to see
Last June, beloved companion, - where sublime
The mountains live in holy families,
And the slow pinewoods ever climb and climb
Half way up their breasts, just stagger as they seize
Some grey crag - drop back with it many a time,
And straggle blindly down the precipice!
The Vallombrosan brooks were strewn as thick
That June-day, knee-deep, with dead beechen leaves,
As Milton saw them ere his heart grew sick,
And his eyes blind. . . .
O waterfalls
And forests! Sound and silence! Mountains bare,
That leap up peak by peak, and catch the palls
Of purple and silver mist to rend and share
With one another, at electric calls
Of life in the sunbeams, - til we cannot dare
Fix your shapes, learn your number! We must think
Your beauty and your glory helped to fill
The cup of Milton's soul so to the brink,
That he no more was thirsty when God's will
Had shattered to his sense the last chain-link
By which he had drawn from Nature's visible
The fresh well-water. Satisfied by this,
He sang of Adam's paradise and smiled,
Remembering Vallombrosa. Therefore is
The place divine to English man and child –
We all love Italy.

XXX
. . .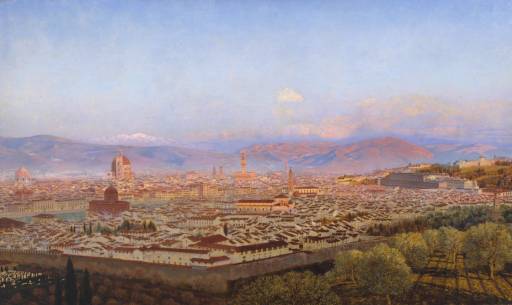 The sights which thou and I see afterward
From Tuscan Bellosguardo (17), wide awake,
When standing on the actual, blessed sward
Where Galileo stood at nights to take
The vision of the earth and heaven, to make
A choice of beauty.

. . .


CASA GUIDI WINDOWS II [1851]

XXV
The sun strikes, through the windows, up the floor (1)
Stand out in it, my own young Florentine,
Not two years old, and let me see thee more!
It grows along thy amber curls, to shine
Brighter than elsewhere. Now, look straight before,
And fix thy brave blue English eyes on mine,
And from thy soul, which fronts the future so,
With unabashed and unabated gaze,
Teach me to hope for, what the Angels know
When they smile clear as thou dost.


Pen Browning

XXX
'Here's sculpture! Ah, we live too! Why not throw
Our life into our marbles? Art has place
For other artists after Angelo.' (7,12,14)


HIRAM POWERS' GREEK SLAVE [1850]
Elizabeth saw this statue in Hiram Powers' studio in Florence, prior to its presence in the 1851 Crystal Palace Exhibition, and wrote this powerful sonnet to it against Slavery.


Hiram Powers, Greek Slave


They say Ideal Beauty cannot enter
The house of anguish. On the threshold stands
An alien Image with the shackled hands,
Called the Greek Slave: as if the sculptor meant her,
(That passionless perfection which he lent her,
Shadowed, not darkened, where the sill expands)
To, so, confront men's crimes in different lands,
With man's ideal sense. Pierce to the centre,
Art's fiery finger! - and break up erelong
The serfdom of this world! Appeal, fair stone,
From God's pure heights of beauty, against man's wrong!
Catch up in thy divine face, not alone
East griefs but west, - and strike and shame the strong,
By thunders of white silence, overthrown!




Longworth Powers' Photograph of Hiram Powers. EBB spoke of Powers' expressive black eyes.
He is buried near Elizabeth Barrett Browning in Florence's English Cemetery (16)

♫
ELIZABETH BARRETT BROWNING'S FLORENCE
HER POETRY ABOUT FLORENCE II



a

Elizabeth Barrett Browning, Michele Gordigiani, 1858

[Hpyertext numbers signify places that can be found on map. Casa Guidi (1) is open on Monday, Wednesday and Friday from 3:00 until 6:00, except in winter. The English Cemetery

(16)

, is open Monday morning, 9:00-12:00, Tuesday through Friday afternoons, summer, 3:00-6:00 p.m., winter, 2:00-5:00 p.m.]

AUDIO FILE OF ELIZABETH BARRETT BROWNING'S FLORENCE,

AURORA LEIGH

& POLITICAL POEMS to accompany Elizabeth Barrett Browning's Florence and Map of Florence.




AURORA LEIGH I [1856]


My father was an austere Englishman . . .
In the alien sun
In that great square of the Santissima (15),
There drifted past him . . .

The Piazza of the Santissima Annunziata


A train of priestly banners, cross and psalm, -
The white-veiled rose-crowned maidens holding up
Tall tapers, weighty for such wrists, aslant
To the blue luminous tremor of the air,
And letting drop the white wax as they went
To eat the bishop's wafer in the church;



Colonel Goff, First Communion, Fiesole
. . . There's a verse he set
In Santa Croce (8) to her memory,
'Weep for an infant too young to weep much
when death removed this mother' - stops the mirth
To-day on women's faces when they walk
With rosy children hanging on their gowns,
Under the cloister, to escape the sun
That scorches in the piazza.

Colonel Goff, Santa Croce (8)
The child Aurora gazes on the painting of her dead mother:

A dauntless Muse who eyes a dreadful Fate,
A loving Psyche who loses sight of Love,
A still Medusa, with mild milky brows
All curdled and all clothed upon with snakes
Whose slime falls fast as sweat will (5); or, anon,
Our Lady of the Passion, stabbed with swords
Where the Babe sucked (15);
Madonna of the Seven Sorrows, Santissima Annunziata, Water Colour, James Rotherham (15)
or, Lamia in her first
Moonlighted pallor, ere she shrunk and blinked,
And, shuddering, wriggled down to the unclean;
Or, my own mother, leaving her last smile
In her last kiss, upon the baby-mouth
My father pushed down on the bed for that, -
Or my dead mother, without smile or kiss,
Buried at Florence (8,16).


VI
Marian and Aurora gaze on the sleeping child, who is both Elizabeth's Penini and Margaret Fuller's Angelo:

I saw the whole room, I and Marian there
Alone.
Alone? She threw her bonnet off,
Then, sighing as 'twere sighing the last time,
Approached the bed, and drew a shawl away:
You could not peel a fruit you fear to bruise
More calmly and more carefully than so, -
Nor would you find within, a rosier flushed
Pomegranate -
There he lay upon his back,
The yearling creature, warm and moist with life
To the bottom of his dimples, - to the ends
Of the lovely tumbled curls about his face . . .


Sandro Botticelli, Madonna della Melagrana, Detail of Child with Pomegranate

VII
I found a house, at Florence, on the hill
Of Bellosguardo (17). 'Tis a tower that keeps
A post of double observation o'er
The valley of Arno (holding as a hand
The outspread city (4)) straight toward Fiesole
And Mount Morello and the setting sun, -
The Vallombrosan mountains to the right,
Which sunrise fills as full as crystal cups
Wine-filled, and red to the brim because it's red.
No sun could die, not yet be born, unseen
By dwellers at my villa: morn and eve
Were magnified before us in the pure
Illimitable space and pause of sky,
Intense as angels' garments blanched with God,
Less blue than radiant. From the outer wall
Of the garden, dropped the mystic floating grey
Of olive-trees, (with interruptions green
From maize and vine) until 'twas caught and torn
On that abrupt black line of cypresses
Which signed the way to Florence. Beautiful
The city lay along the ample vale,
Cathedral, tower and palace, piazza and street;
The river trailing like a silver cord
Through all, and curling loosely, both before
And after, over the whole stretch of land
Sown whitely up and down its opposite slopes
With farms and villas.
Engraving of Bellosguardo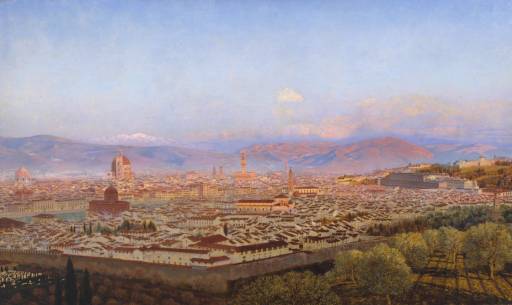 The noon was hot; the air scorched like the sun,
And was shut out. The closed persiani threw
Their long-scored shadows on my villa-floor,
And interlined the golden atmosphere
Straight, still, - across the pictures on the wall,
The statuette on the console, (of young Love
And Psyche made one marble by a kiss) (5)
The low couch were I leaned, the table near,
The vase of lilies, Marian pulled last night
. . .
aaa

Canova, Cupid and Psyche, Louvre Amore and Psyche, Uffizi (5)

. . .
Here Elizabeth describes Casa Guidi rather than Bellosguardo, and, with the statue imagined as on the console, she remembers her translation of Apuleius, Metamorphoses IV. Giorgio Mignaty's painting of Casa Guidi for Robert Browning at EBB's death. (1)
She has appropriated the statue of Cupid and Psyche from the Uffizi, seen here to the left in Johann Zoffany, 'The Tribune of the Uffizi', 1772-78. (5)
And only once, at the Santissima (15),
I almost chanced upon a man I knew.
He saw me certainly.
I slipped so quick behind the porphyry plinth,
And left him dubious if 'twas really I.

Engraving of Miracle of Blind Girl Recovering her Sight at Santissima Annunziata

VIII
Gradually
The purple and transparent shadows slow
Had filled up the whole valley to the brim,
And flooded all the city, which you saw
As some drowned city in some enchanted sea . . .
The duomo bell (9,10)
Strikes ten, as if it struck ten fathoms down,
So deep; and fifty churches answer it
The same, with fifty various instances.
Some gaslights tremble along squares and streets;
The Pitti's palace-front is drawn in fire (2);


And, past the quays, Maria Novella's Place (11),
In which the mystic obelisks stand up
Triangular, pyramidal, each based
On a single trine of brazen tortoises,
To guard that fair church, Buonarotti's Bride,
That stares out from her large blind dial-eyes,
Her quadrant and armillary dials, black
With rhythms of many suns and moons
. . .

Colonel Goff, Santa Maria Novella
IX
Elizabeth ends Aurora Leigh imagining the then twelve-gated Florence as the heavenly Jerusalem, from the Book of Revelation, while Aurora and Romney (who is now blind), gaze down upon it from Bellosguardo (17)
. . . .

Upon the thought of perfect noon. - 'Jasper first,' I said,
'And second, sapphire; third, chalcedony;
The rest in order, - last, an amethyst.'


From POEMS BEFORE CONGRESS [1860]

AN AUGUST VOICE

You'll take back your Grand-duke?
I made the treaty upon it.
Just venture a quiet rebuke;
Dall'Ongaro write him a sonnet;
Ricasoli gently explain
Some need of the constitution:
He'll swear to it over again,
Providing an "easy solution."
You'll call back the Grand-duke.
. . . .

You'll take back your Grand-duke?


He is not pure altogether.
For instance, the oath which he took
(In the Forty-eight rough weather)
He'd "nail your flag to his mast,"
Then softly scuttled the boat you
Hoped to escape in at last

. . . .

You'll take back your Grand-duke?
There are some things to object to,
He cheated, betrayed, and forsook,
Then called in the foe to protect you.
He taxed you for wines and for meats
Throughout that eight years' pastime
Of Austria's drum in your streets -
Of course you remember the last time
You called back your Grand-duke?
. . . .
His love of kin you discern
By his hate of your flag and me -
So decidedly apt to turn
All colours at the sight of the Three.
You'll call back the Grand-duke.


You'll take back your Grand-duke?
'Twas weak that he fled from the Pitti (2);
But consider how little he shook
At thought of bombarding your city!
. . . .
You'll call back the Grand-duke.


From LAST POEMS [1862]
KING VICTOR EMANUEL ENTERING FLORENCE, APRIL, 1860
King of us all, we cried to thee, cried to thee,
Trampled to earth by the beasts impure,
Dragged by the chariots which shame as they roll:
The dust of our torment far and wide to thee
Went up, dark'ning thy royal soul.
Be witness, Cavour,
That the King was sad for the people in thrall,
This King of us all!
a
Camille, Count Cavour, by Michele Gordigiani who also painted the portraits of Robert and Elizabeth in his studio by the English Cemetery (16)
. . . .
This is our beautiful Italy's birthday;
High-thoughted souls, whether many or fewer,
Bring her the gift, and wish her the good,
While Heaven presents on this sunny earth-day
The noble King to the land renewed:
Be witness, Cavour!
Roar, cannon-mouths! Proclaim, install
The King of us all!
Grave he rides through the Florence gateway,
Clenching his face into calm, to immure
His struggling heart till it half disappears;
If he relaxed for a moment, straightway
He would break out into passionate tears -
(Be witness, Cavour!)
While rings the cry without interval,
"Live, King of us all!"
. . . .
Flowers, flowers, from the flowery city!
Such innocent thanks for a deed so pure,
As, melting away for joy into flowers,
The nation invites him to enter his Pitti (2)
And evermore reign in this Florence of ours.
Be witness, Cavour!
He'll stand where the reptiles were used to crawl,
This King of us all.
. . . .

[Hpertexted numbers signify places that can be found on map. Casa Guidi (1) is open on Monday, Wednesday and Friday from 3:00 until 6:00, except in winter. The English Cemetery (16), is open Monday morning, 9:00-12:00, Tuesday through Friday afternoons, summer, 3:00-6:00 p.m., winter, 2:00-5:00 p.m.]




Elizabeth Barrett Browning twice describes the silver arrow of the Arno River (4) shooting through the city of Florence. In Casa Guidi Windows I.52-59

I can but muse in hope upon this shore
Of golden Arno as it shoots away
Straight through the heart of Florence, 'neath the four
Bent bridges (4), seeming to strain off like bows,
And tremble, while the arrowy undertide
Shoots on and cleaves the marble as it goes,
And strikes up palace-walls on either side,
And froths the cornice out in glittering rows,
With doors and windows quaintly multiplied,
And terrace-sweeps, and gazers upon all,
By whom if flower or kerchief were thrown out
From any lattice there, the same would fall
Into the river underneath no doubt,
It runs so close and fast, 'twixt wall and wall.
How beautiful.
And in Aurora Leigh VII.534-537:
Beautiful
The city lay along the ample vale,
Cathedral, tower and palace, piazza and street,
The river trailing like a silver cord
Through all (4), and curling loosely, both before
And after, over the whole stretch of land
Sown whitely up and down its opposite slopes
With farms and villas.



Harmondsworth: Penguin, 1995. In English



Florence, Aureo Anello Books, 2017. In italiano



Florence: Le Lettere, 2022. In italiano

Also recommended:


Robert Browning, The Ring and the Book

Virginia Woolf, Flush: A Biography

Flush: Una biografia. in italiano


Before the Risorgimento, Florence's walls and city gates, built first by Arnolfo di Cambio, then by Michelangelo, had enclosed her. This map shows Florence as it was in the earlier nineteenth century, from Augustus Hare's Florence:
Protestant Cemetery
Before 1877


Take the number 12 and 13 buses to reach the Piazzale Michelangelo and San Miniato (3) to see Florence at your feet; similarly take the number 7 to reach Fiesole, and from there take the two little buses into the Tuscan countryside; take the number 11 to reach Settignano. Bellosguardo (17) is best reached on foot from Porta Romana. A bus goes to Vallombrosa (18) You can reach Pisa, Lucca, Siena by train. Bagni di Lucca can also be reached by train. This is where Elizabeth shyly presented Robert the Sonnets from the Portuguese she had written during their courtship, now after their elopement and the birth of their child Pen. And above all hire a horse-drawn carriage in the Piazza San Giovanni by the Cathedral to best experience the Brownings' Florence as it was.

'ENGLISH' CEMETERY, CLICK MAP

(16)





Harper's

, XLVII (1873) 509,

circa

1865 Engraving of the 'English' Cemetery

Click on a tomb to find its information. The landscape is essentially unchanged though the medieval wall to the left and the Porta a' Pinti/Porta Fiesolan gate at the back, built by Arnolfo di Cambio in the thirteenth century, have since been torn down by Giuseppe Poggi. The hill itself may be an Etruscan tomb.


Temple
Southwood Smith
Elton
Browne
Oldham
Berg
Moore
Smith
Jaffray
Routh
Somerville
Lumley
Yelverton
Yelverton
Kellett
Barrett Browning
Beck
Hart
Vieusseux
Sapte
Tighe
Goedke
Golikova
Trotman
Capei
Holt
Kelson
Levitsky
19 Lay not up for yourselves treasures upon earth, where moth and rust doth corrupt, and where thieves break through and steal: 20 But lay up for yourselves treasures in heaven, where neither moth nor rust doth corrupt, and where thieves do not break through nor steal:21 For where your treasure is, there will your heart be also. Matthew 6.19-21.
Dante Alighieri, Girolamo Savonarola, Elizabeth Barrett Browning and Giorgio La Pira all saw Florence as potentially a new Jerusalem. It's not money, but knowledge, it's the Seven Acts of Mercy, that made her beautiful,
IN STOCK

Elizabeth Barrett Browning. Aurora Leigh and Other Poems.

Edited, John Robert Glorney Bolton and Julia Bolton Holloway. Harmondsworth:

Penguin Classics

, 1995. xx + 517 pp.

ISBN 0-14-043412-7


    IN STOCK

Oh Bella Libertà! Le Poesie di Elizabeth Barrett Browning. A cura di Rita Severi e Julia Bolton Holloway. Firenze: Le Lettere, 2022. 290 pp. 


For other Florence guides/Per altre guide di Firenze: https://www.florin.ms/GoldenRingGuides.html



To donate to the restoration by Roma of Florence's formerly abandoned English Cemetery and to its Library click on our Aureo Anello Associazione's PayPal button: 
                THANKYOU!     



FLORIN WEBSITE © JULIA BOLTON HOLLOWAY, AUREO ANELLO ASSOCIAZIONE, 1997-2024: ACADEMIA BESSARION || MEDIEVAL: BRUNETTO LATINO, DANTE ALIGHIERI, SWEET NEW STYLE: BRUNETTO LATINO, DANTE ALIGHIERI, & GEOFFREY CHAUCER || VICTORIAN: WHITE SILENCE: FLORENCE'S 'ENGLISH' CEMETERY || ELIZABETH BARRETT BROWNING || WALTER SAVAGE LANDOR || FRANCES TROLLOPE || ABOLITION OF SLAVERY || FLORENCE IN SEPIA || CITY AND BOOK CONFERENCE PROCEEDINGS I, II, III, IV, V, VI, VII || MEDIATHECA 'FIORETTA MAZZEI' || EDITRICE AUREO ANELLO CATALOGUE || UMILTA WEBSITE || LINGUE/LANGUAGES: ITALIANO, ENGLISH || VITA
New: Dante vivo || White Silence



Newest: Abbreviated Virtual Guide: VirtualGuide.html to the English Cemetery, in italiano GuidaVirtuale.html
Dante's Florence and in Italian la Firenze di Dante