EBBCircleapp © Julia Bolton Holloway

ELIZABETH BARRETT BROWNING AND HER FLORENCE CIRCLE




Elizabeth Barrett Browning eloped at forty with her fellow poet and husband, Robert Browning, coming to Florence where she lived and wrote splendid poetry, her Casa Guidi Windows an eye witness to Italy's Risorgimento, her feminist epic, Aurora Leigh, longer than the Odyssey, and her political Poems before Congress. She had learned classical Greek and Biblical Hebrew as a child, reading Homer, Aeschylus, Sophocles, Apuleius, Plutarch, and used these in her poems but not pedantically, instead breathing new life into them.



There's not a crime
But takes it proper change out still in crime,
If once rung on the counter of this world;
Let sinners look to it. (Aurora Leigh III.869-72)

Earth's crammed with heaven
And every common bush afire with God. (VII.821-2)

I . . . beheld his heaven
As blue as Aaron's priestly robe appeared
To Aaron when he took it off to die. (IX.252-5)

And blow all class-walls level as Jericho's. (IX.932)



Of her two heroines, Aurora Leigh is based on her friend Margaret Fuller who had drowned with her illegitimate baby Angelo and the baby's Italian father in the shipwreck of the 'Elizabeth', and Marian Erle, who is herself, with spaniel ringlets, and whom she has as a poor abandoned illiterate gypsy child. Robert, who wrote of husbands murdering their wives, tended to control her and her money, lying to her in saying that the Gabinetto Vieusseux, where she could have read the European newspapers, forbade women to enter, disparaging her poetry after Aurora Leigh, and blocking her socializing while increasing her dosages of laudanum, which eventually killed her. But at least their elopement gave her fifteen more years of the greatest creativity, and the birth of their beloved son, Pen, whom she dressed like herself, as her male and healthy alter ego, instead of being a woman ill with tuberculosis, addicted from childhood to laudanum, and controlled first by her father, then by her husband. She joyously describes Pen at the end of Casa Guidi Windows, standing in the sunlight.



She loathed her family's owning of slaves on the Jamaican plantation, Cinnamon Hill, and when she was in Pisa on their honeymoon and already pregnant, though she would lose that child, wrote the impassioned Runaway Slave at Pilgrim's Point. In Florence she would see Hiram Power's 'Greek Slave' in his studio before his exhibiting it at the centre of the 1861 Cristal Palace Exhibition in London, and she wrote a magnificent sonnet to it against slavery. Both she and Robert were part Black and he part Jewish for which she greatly loved him though he denied his heritage in his quest to be acceptable in snobby English society, her family being from Jamaica, his from St Kitts in the Caribbean. It was the family slave, Treppy, who paid for the printing of twenty-year-old Elizabeth's poem, Essay on Mind. One can see in Michele Gordigiani's portrait of her, painted in his studio across the street in Piazzale Donatello, that she is not a blue-eyed, blonde-haired English woman.




She, like her Jamaican forbears, was a Dissenter, protesting against the State Church of England, having her child instead be baptized in the Swiss Evangelical Church by Pastor Droise so that it was fitting that she is now forever in the Protestant Cemetery they owned. Robert arranged that that burial be in an obscure corner and carried out by the Church of England priest, Frederick Lord Leighton protesting against this and arranging for her body to be exhumed and placed more conspicuously under a tomb of his design, with her portrait and her name. Robert's friend Count Cottrell, who already had bilked the Barrett family slave Treppy out of all her money to Elizabeth's great distress, had the portrait of Leighton's drawing changed to one the total opposite of her, and just the initial, E.B.B., with Robert's approval, so no one can find her tomb. Alas, he was jealous of her then greater fame.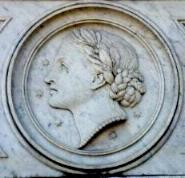 As we visit the tombs of Elizabeth Barrett Browning and her circle in this oval of a cemetery, so shaped like the mind, the brain, with its two hemispheres, we first pass by the library housing books about her and the Anglo-Florentines of her circle. On our right behind Arthur Hugh Clough's tomb we see that for


F48/ GIOVAN PIETRO VIEUSSEUX/ SVIZZERA/ PX/ A GIAMPIETRO VIEUSSEUX/ NATO IN ONEGLIA DI FAMIGLIA GINEVRINA/ IL XXVIIII DI SETTEMBRE MDCCLXXVIIII/ MANCATO IN FIRENZE IL XXVIII D'APRILE MDCCCLXIII/ GLI AMICI ED ESTIMATORI/ DEI MOLTI SUOI MERITI VERSO LA CIVILTA' ITALIANA/ POSERO QUESTO MONUMENTO/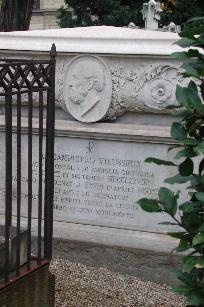 Then, on our right, behind the tomb of the poet Arthur Hugh Clough, is that of the Swiss Giampiero Vieusseux, the founder of the library where persons like John Ruskin, Fyodor Dosteivsky and Robert Browning, and also women though not Elizabeth, could read the foreign newspapers despite the Austrians and the Grand Duke's censorship of the Press.

Next we take the path on our left with its view of the Duomo. At its end under the mimosa tree we find the cemetery's second great English poet and also the great friend of Elizabeth Barrett and Robert Browning, the irascible but wonderful Walter Savage Landor




A29/ WALTER SAVAGE LANDOR/ ENGLAND/ IN MEMORY OF/ WALTER SAVAGE LANDOR/ BORN 30th OF JANUARY 1775/ DIED 17th OF SEPTEMBER 1864/ AND THOU HIS FLORENCE TO THY TRUST/ RECEIVE AND KEEP/ KEEP SAFE HIS DEDICATED DUST/ HIS SACRED SLEEP/ SO SHALL THY LOVERS COME FROM FAR/ MIX WITH THY NAME/ MORNING STAR WITH EVENING STAR/ HIS FAULTLESS FAME/ A.G. SWINBURNE/



Walter Savage Landor Landor Celebration, 2007


Daniel Willard Fiske's photographs at Cornell of the Villa Landor in San Domenico

He was a contemporary of Keats, Shelley and Byron, but who outlived them into the Victorian period. An essay on him, possibly written by himself, had appeared in Hengist Horne's collection, a New Spirit of the Age. His wife hated him, threw him out of their villa in San Domenico, Fiesole, now the School of Music, so that the Brownings had to arrange lodgings for him with their dismissed servant, Lily Wilson, and she paid so little for his burial and tomb that it had to be replaced in 1945, with Swinburne's epitaph on it.

By the edge of the hill, now in Sector B, we see a tomb with a cross lying on a garland of sculpted flowers.


B42/ ISABELLA BLAGDEN/ ENGLAND/INDIA?/ ISABELLA BLAGDEN/ BORN . . . DIED . . . 1873/ THY WILL BE DONE . . .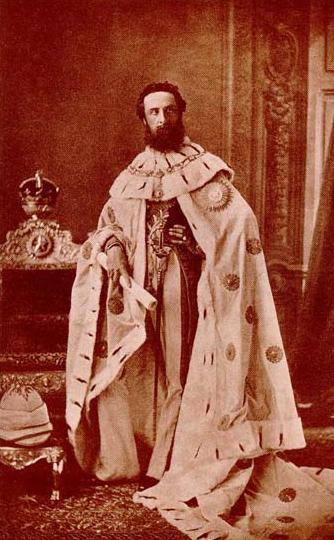 Florence from Bellosguardo, Hebrew Cemetery to left, beneath wall Isa Blagden Lord Lytton, Viceroy of India Countess of Lytton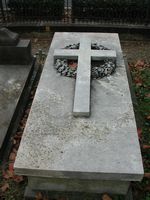 Isa Blagden, the Browning's great friend and indeed the friend of everyone in the Anglo-Florentine circle, usually lived in Bellosguardo with its magnificent view overlooking Florence that Elizabeth would place in Aurora Leigh. In John Brett's painting of Bellosguardo for Aurora Leigh you can just glimpse the Jewish Cemetery nestled against the wall to the left. Isa saved the life of Robert Lytton, the poet who became the first Viceroy of India, but he could not marry her according to stuffy English social conventions as she was part East Indian and part Jewish. Instead he married a proper English girl Edith Villiers. He wrote a poem to Isa called Lucile and she wrote a novel to him called Agnes Tremorne, and I wish someone would write a book about them both. They were present at EBB's funeral, and Isa then cared for the twelve-year-old Pen mourning his mother's death until his father dragged him off to England. She was part of the Swedenborgian/Spiritualist circle Robert detested.

B80/ FRANCES (MILTON) TROLLOPE/ ENGLAND/ FRANCESCAE TROLLOPE/ QUOD MORTALE FUIT/ HIC IACET/ . . . / MEMORIA/ NULLUM MARMOR QUAERIT/ APUD STAPLETON/ IN AGRO SOMERSET ANGLORUM/ A.D. 1780 NATA/ FLORENTIAE/ TUMULUM A.D.1863/ NACTA EST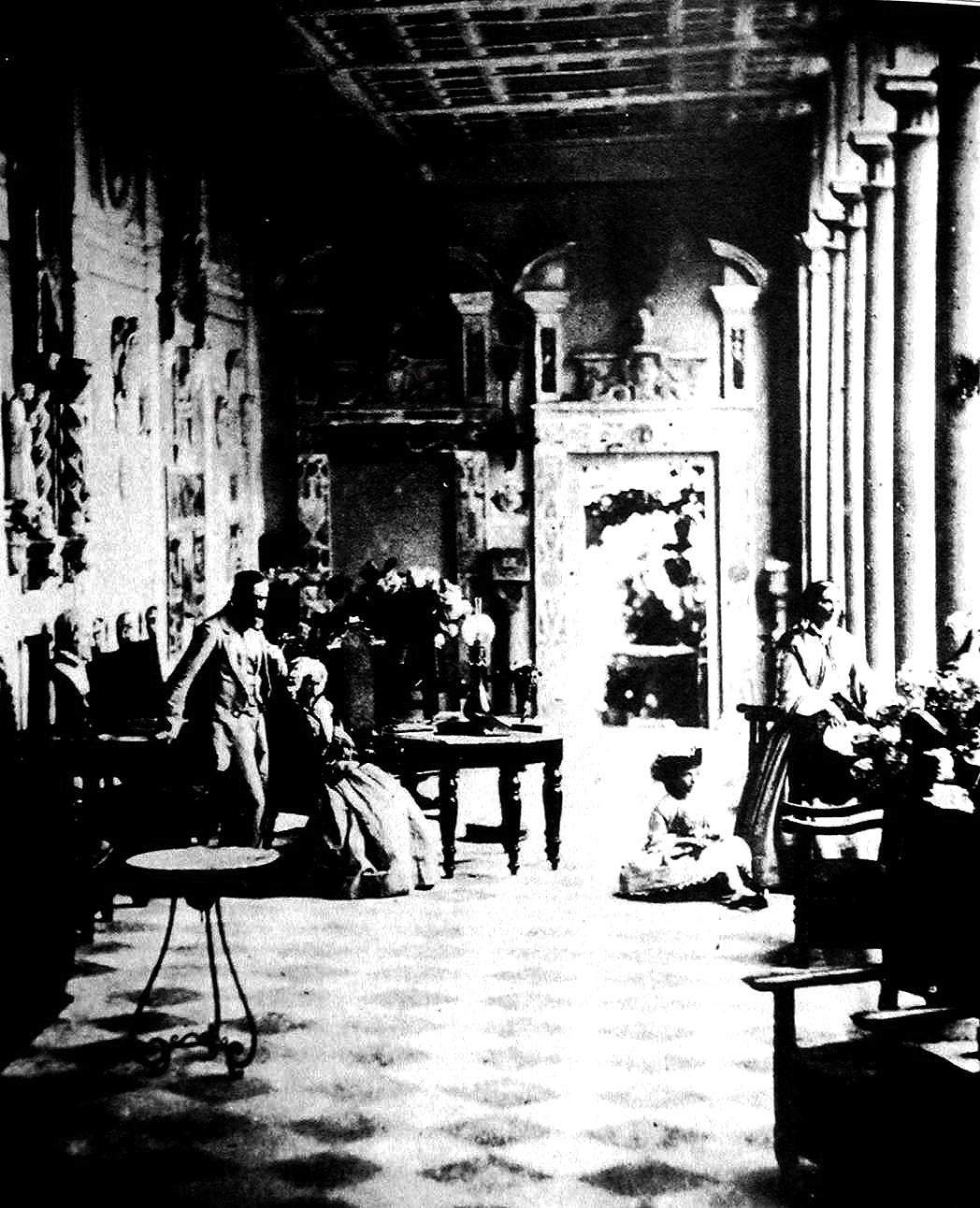 Auguste Hervieu Villino Trollope

Then we have Frances Trollope and her daughter-in-law Theodosia Trollope, whose father's tomb is also nearby. On 28 December 1827, the ship 'Edward' had set sail from the Port of London for the Port of New Orleans. On board were Frances Trollope, 40, Cecilia Trollope, 12, Emily Trollope, 10, Henry Trollope, 14, all English, Frances Wright, 28, American, and August Hervieu, 23, French. Frances Wright, associated with Lafayette, had invited the Trollopes to Nashoba where she had a settlement for the education of Negro slaves. Auguste Hervieu, a brilliant young artist, was the children's tutor and companion. With them also were Hester Rust and William Abbott, their servants. Often Hervieu had to sell his art to feed and house them all. Elizabeth was jealous of Frances and wrote scathingly of her in her essay in New Spirit of the Age, perhaps because of Fanny writing of a heroine suiciding on laudanum when disinherited in Louisiana on account of one drop of Black blood. Frances, the mother of Anthony, wrote prolific travel books, like The Domestic Manners of the Americans, and also the novel against slavery, Jonathan Jefferson Whitlaw, another against children's employment in mines and factories, Michael Armstrong Factory Boy, and another against clerical abuse, The Vicar of Wrexhill. She is like Jane Austen and of her generation, but writing with vinegar and a heart of gold, her villains modelled on Henry Fielding's anti-heroes. In her American travels before Victoria was on the throne, up the Mississippi to Cincinnati Ohio, she witnessed racism against Blacks first hand, and worked with a young part Native-American, Hiram Powers, producing Dante's Commedia in waxworks on that frontier town. He would also come to Florence and eventually be buried near her. Her son's autobiography, What I Remember (London, 1887), is a window on cosmopolitan Florence.

B85/ THEODOSIA (GARROW) TROLLOPE/ ENGLAND/ THEODOSIAE TROLLOPE/ T. ADOLFI TROLLOPE CONIUGIS/ QUOD MORTALE FUIT/ HIC IACET/ OBITUM EIUS FLEVERUNT OMNES/ QUANTUM AUTEM FIERI MERUIT/ VIR EUGUI SCRIPTORES/ SCIT SOLUS/ JOSEFE GARROW ARMr FILIA/ APUD TORQEY IN AGRORUM DEVON ANGLORUM NATA/ FLORENTIAE NOMEN AGENS LUSTRUM/ AD PLURES DIVINAE . . ./ MENSES APRILES A.D. 1865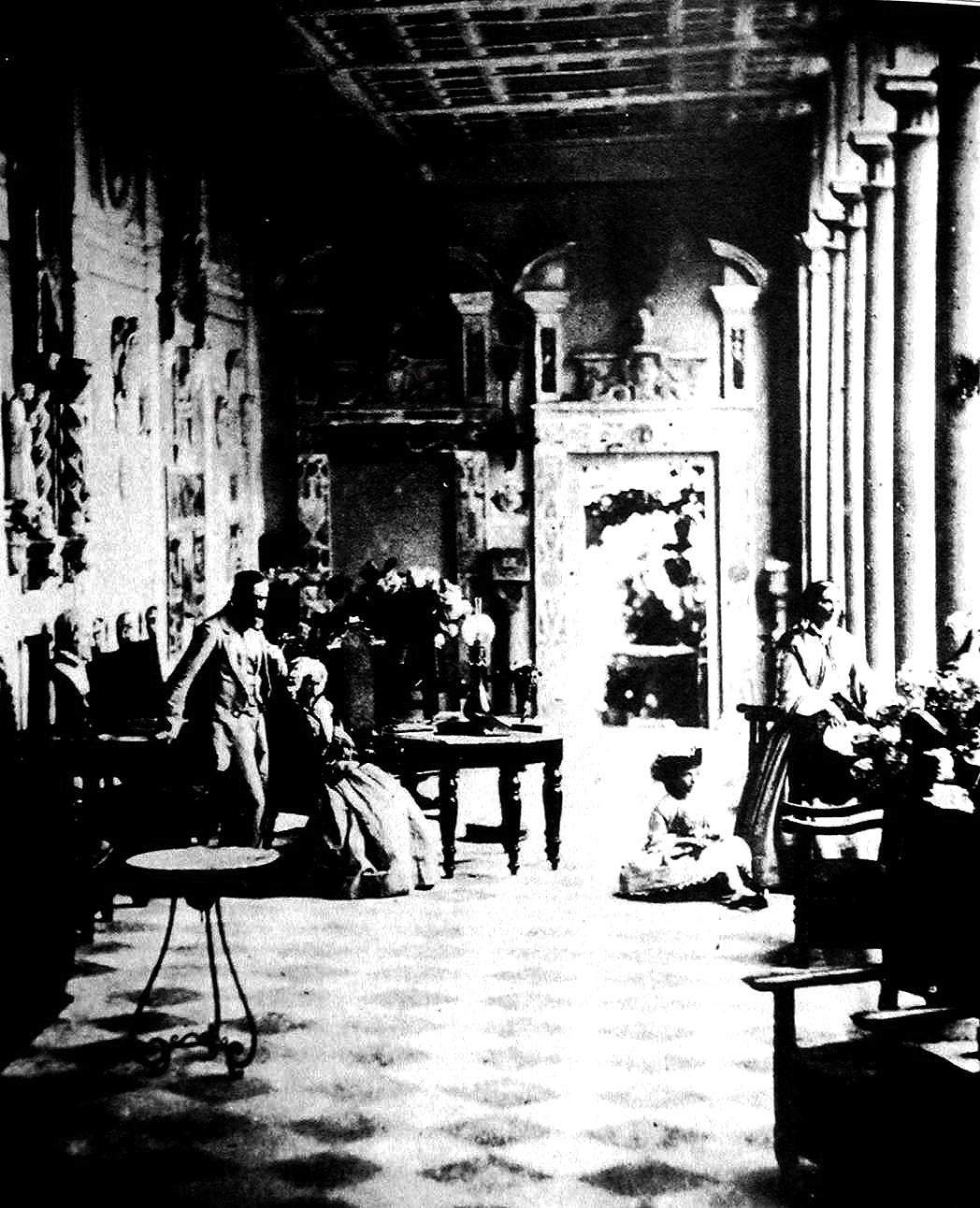 Villino Trollope, Thomas, Fanny, The day 13 April 1865/ died in this house/ Theodosia Garrovv-Trollope/
Bice, Theodosia who wrote in English with an Italian spirit/ of the struggle and the triumph of Liberty

Her daughter-in-law Theodosia Garrow Trollope is like Isa Blagden, from an exotic background, her father, Joseph Garrow, the son of an Indian princess, her mother a Jewess, she herself passionately writing for Italy's Risorgimento. She had already known Elizabeth Barrett Browning when they were young and convalescing with tuberculosis at the seaside town of Torquay, where their doctor forbade either of them paper and ink for writing, carrying these out of their rooms, before EBB was brought in a couch with a thousand springs to Wimpole Street to be sealed into her sickroom there. Theodosia's daughter Bice would also be cared for by Isa Blagden along with Pen when Theodosia died young. NDNB entries for Theodosia Trollope, James Archibald Stuart-Wortley, whose grandson married first Theodosia's daughter, Bice, then Millais' daughter, Caroline. See Garrow, Trollope, Shinner, Fisher entries and the Villino Trollope photograph below, on which is placed this plaque. Thomas Adolphus Trollope composes the Latin on his mother's, on his wife's father's, and on his wife's tombs.
Theodosia's father, Joseph, is buried beneath a now-replaced tomb behind the three great Irish ones.

B108/ JOSEPH GARROW/ INDIA/ HIC JACET IOSEPHUS GARROW/ ARMr/ DE BRADDONS IN AGRO DEVON/ APUD INDOS NATUS/ A.D. 1789/ FLORENTIAN DENATUS/ A.D. 1857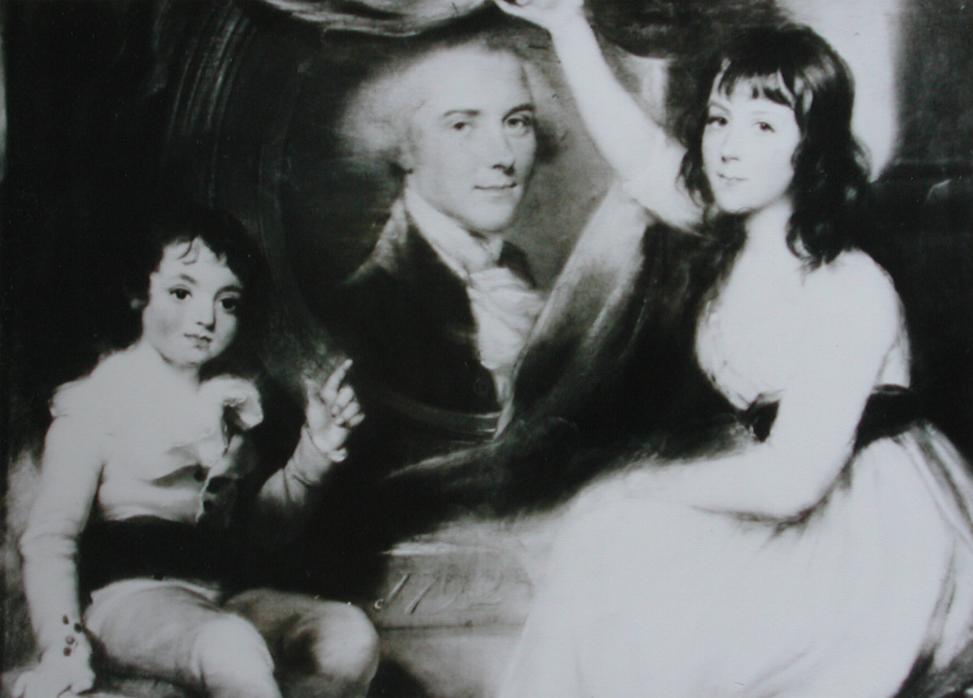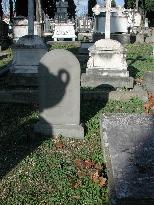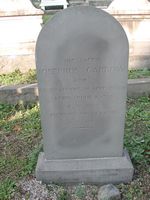 Joseph Garrow, Joseph [or, less likely, Sir William] Garrow, Eleanor, his aunt



Thomas Adolphus Trollope, What I Remember, II.150-159: The little boy was born to the Indian Civil Servant's wife, Sultana, who was said to be an Indian princess. Joseph Garrow senior left his son Joseph £5,000, the interest to be used for his education 'which I desire may be as good as he is capable of receiving in Europe'. He left his sister Eleanora Garrow £2,000 and a further £1,000 on condition that she 'takes care of and attends to the education' of his son. Eleanora certainly seems to have been Joseph's affectionate aunt, and in her will, proved in July 1805, she left him £1,000 in 4% stock, to be given to him when he was 21. She also left £1,000 and some silver items to John Wright, her father's nephew who was at Caius College, Cambridge, 'in expectation he will continue as far as lies in his power to be a kind Friend to the dear Son of my late worthy Brother Joseph'. John Wright was in his early 30s and was about to take deacon's orders. Joseph Garrow translated, The early life of Dante Alighieri, which he published with the Italian and English on facing pages. It was printed in Florence by Felix Le Monnier in 1846. Times Literary Supplement 17/5/1920, remarked 'but it is a curious footnote to the literary annals of Anglo-India which proves that the son of an Indian mother lived to translate Dante and to move in a circle where the Brownings and Landor were the greater lights'. JLMaquay, Diaries 13/11/1857 'old Garrow wretched man died on Tuesday paralytic stroke.' Theodosia's half sister and the family servant are buried in Sector C, giving us five Trollopes in all in the English Cemetery.

As we go farther up the cemetery in its B Sector on our right we find a cluster of tombs, one urgently needing repair, of the circle of Swedenborgians and Spiritualists, from whom EBB sought consolation but whom Robert utterly despised. Among them we see a tiny but very beautiful tomb with a swag of flowers on it, for the child, Florence Oldham, sculpted by Hiram Powers. These Swedenborgians/Spiritualists, included Isa Blagden and Elizabeth Barrett Browning but also


B97/ HUGH MACDONELL/ SCOTLAND/ CANADA/ SACRED TO THE MEMORY OF HUGH MACDONELL ESQ DIED AT FLORENCE ON THE 3RD JUNE 1847


His daughter, Ida MacDonell Ulrich Kleinkauf, later marries Augusto Conte y Lerdo de Tejada.

whose tomb is within a wrought iron enclosure, together with his son-law and a baby. JLMaquay, Diaries 5/6/1847 'Saturday Attended the funeral of Mr Hugh MacDonell this morning at 6, fine weather and a large attendance. Bank & home for the remainder of the day.' Webbs note that he was a young Jacobite exile, who emigrated to America with his father and uncles, 1773, moving to Canada after US Independence, returning to England, 1804, becoming Consul at Algiers, 1813-1820, marrying in 1815 as second wife Ida Louise Ullic, daughter of Danish Consul. In 1816 he was arrested, tortured and enslaved by the Dey of Algiers, leading to the bombardment by Lord Exmouth, the father of A112 ADMIRAL THE HON. FLEETWOOD BROUGHTON REYNOLDS PELLEW who is buried in Sector A. Their daughter Ida married the Austrian B96/ FREDERICK ADOLPH KLEINKAUF, an officer in the Emperor's army, during the Austrian occupation of Tuscany, their baby daughter, named Ida in turn, dying six hours after her birth. Thus the name 'Ida' is shared through three generations. Another daughter, B135/ LOUISE CATHERINE ADELAIDE (MACDONELL) CUMBERLAND, born in Algiers, buried near by, who is noted as having as parents Hugh and Ida MacDonell. While yet another daughter, Emily became the wife of the Marquis d'Aguado, one of the richest men in Spain, and was a lady in waiting to the Empress Eugenie of France. Their father bought the Oltrarno ex-convent, the Casa Annalena, and he appointed the Polish princes Poniatowski and the Marchese Luigi Torrigiani as guardians for his minor children, while his wife would marry the Duc de Talleyrand, Tallyrand's nephew, following his death.




B98/

MAJOR FRANCIS CHARLES GREGORIE/ ENGLAND/ MA FRANCES CHARLES C. GRE . . LATE CAPTAIN 13 LIGHT DRAGOONS, DIED OCTOBER 16, 1858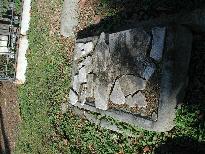 'GREGORIE,

Charles (or Gregory) Lt 4 Aug 1808. Captain. 72nd Highland Regiment. 15 Sep 1808. Captain 6th Dragoon Guards 10 May 1810. Captain 13th Light Dragoons 20 Jun 1811. Served in the Peninsula with 13th Light Dragoons from Sep 1811 - Jan 1814. Present at Arroyo dos Molinos, Vittoria, Nivelle, Nive and Garris. Awarded the Military General Service medal for Vittoria, Nivelle and Nive. Also served at Waterloo. Left the regiment by 1818'. Waterloo Committee: Listed in Charles Dalton, Waterloo Roll Call, p. 78. Mentioned by Thomas Adolphus Trollope, What I Remember, and Sophia Peabody Hawthorne, Notes in Italy, and in the Cemetery's Alphabetical Register as Major with spelling of Gregorie, the first two stating he was at Waterloo, while Nathaniel Hawthorne, Italian Notebooks,

mentions this Waterloo veteran as living at Bellosquardo in the Villa Columbaia, a former convent, with his

family

.

He was actually unmarried, living with somewhat distant relatives, the Crossmans, for which see Rev George Brickdale Crossman

,

B32.

The tombs of

B42/ ISABELLA BLAGDEN, B98

/

MAJOR FRANCIS CHARLES GREGORIE, B99/ REVD GEORGE BRICKDALE CROSSMAN, B32/ HIRAM POWERS, B103/ ELEANOR AUGUSTA TULK,

as spiritualists and Swedenborgians, are clustered together near that of Nadezhda, the Nubian/ Russian former slave

.



B103/ ELEANOR AUGUSTA TULK/ ENGLAND/ ELEANOR AUGUSTA TULK/ AND HE, CASTING AWAY HIS GARMENT/ ROSE AND CAME TO JESUS/ S. MARK X 50/ THE LORD BLESS AND KEEP THEE/ THE LORD MAKES HIS FACE SHINE UPON THEE AND BE/ GRACIOUS UNTO THEE; THE LORD LIFT UP HIS/ COUNTENANCE UPON THEE AND GIVE THEE/ PEACE




NDNB entry for her father, Charles Augustus Tulk, prominent Swedenborgian, who stayed with the family in Florence, was friends with the Brownings, discussing Coleridge, Blake and Beethoven with them. She is mother to Sophia Augusta (Tulk) Cottrell and to B102A

/

GEORGIANA CLEMENTINA (TULK) SLOPER.

B99/ REVD GEORGE BRICKDALE CROSSMAN/ IRELAND/ SACRED TO THE MEMORY OF THE REVD GEORGE BRICKDALE CROSSMAN DIED THE 27TH OF FEBRUARY 1854 AGED 62 HE IS NOT DEAD BUT SLEEPETH




GenForum: George Brickdale Crossman matriculated at Magdalen College in 1812 at the age of twenty one, MA, ordained in 1814, according to the Clergy of the Church of England database. He succeeded his father as rector of Blagdon in Somerset in 1815 but seems to have resigned the benefice four years later. What I would really like to know about him is the name - that is, surname - of his wife Anne. They turn up living in Florence in the 1840s and 1850s - the Rev George died there on 7 February 1854. They had had two daughters, Anne and Georgina, and for years had lived at Bellosguardo overlooking Florence with a Major Charles Gregorie who was certainly some kind of relative. But was he Mrs Crossman's brother, as has been suggested by some Browning scholars? I think not, but I'd love to know what her maiden name was [it was Oakes].' JLMaquay, Diaries 28/2/1854 'Yesterday after Bank went up to the Colombaia having heard of the sudden death of poor Crossman who died sudenly between 9 and 10 a.m. Saw Georgina Baker.' Ann Crossman buys plot next to her husband but is not buried here, last recorded in Italy in subscription book at Bagni di Lucca, 1863.

Then we come on the left hand side to a simple but massive tomb in an iron railing of Hiram Powers, for which his son copied the one his father sculpted for three other children of the Powers, who are buried in Sector E:

B32/ HIRAM POWERS/ AMERICA/ HIRAM POWERS/ DIED JUNE 27TH 1873/ AGED 68/


Contemporary Photograph in the Diary of Susan Horner, 1861-1862. See entries for Horner and Zileri family members.

Greek Slave Last of her Tribe America

Hiram Powers, also a Swedenborgian, became Professor of Sculpture at Florence's Accademia di Belle Arti. Sophia Peabody Hawthorne describes him teaching her that one must not sculpt eyes as perfectly round, which makes them seem blind, but instead with a slight protruberance, that gives them expression, which he learned himself from direct observation, not from formal teaching. Elizabeth adored him, especially for his works against slavery and racism, his 'Greek Slave', his 'Last of her Tribe', his 'America', this last rejected by Congress because she is trampling on slave chains, but which is more beautiful than the Statue of Liberty.
Elizabeth wrote this sonnet on his Greek Slave, she saw in his studio and which you can hear read if you click on WhiteSilence:

They say Ideal Beauty cannot enter
The house of anguish. On the threshold stands
An alien Image with the shackled hands,
Called the Greek Slave: as if the sculptor meant her,
(That passionless perfection which he lent her,
Shadowed, not darkened, where the sill expands)
To, so, confront men's crimes in different lands,
With man's ideal sense. Pierce to the centre,
Art's fiery finger! - and break up erelong
The serfdom of this world! Appeal, fair stone,
From God's pure heights of beauty, against man's wrong!
Catch up in thy divine face, not alone
East griefs but west, - and strike and shame the strong,
By thunders of white silence, overthrown!

Close by is the tomb of the Black Nubian slave

B58/ KALIMA NADEZHDA DE SANTIS/ NUBIA/RUSSIA/



Kalima, born in Nubia, a black slave, was brought to Florence in 1827 when she was 14, her freedom purchased by Rosellini's uncle of the Champollion and Rosellini Expedition, who was baptised 'Nadezhda', 'Hope', in a Russian Orthodox family, and who died a lady in Florence. Her tomb with the only Orthodox cross in the cemetery, the Swiss forbidding any cross other than the plain Latin one. The Russian Orthodox cross has the third and slanting bar to signify the salvation of the Good Thief, the damnation of the Bad Thief, at the Crucifixion. The inscription in Cyrillic telling her story is near that of B32/ HIRAM POWERS, American, and part Native American, sculptor of the 'Greek Slave', and also near that of B93/ HOPE HAYWARD, 'OUR HOPE', while in Sector E we have the great statue of Hope by Odoardo Fantacchiotti, E25/ SAMUEL REGINALD ROUTH. Nadezhda exemplifies the spirit of the Cemetery, the Abolition of Slavery, the ending of young children's employment in mines and factories, the freeing of women, the freeing of nations. A very similar story is manifested with F53/ HENRIETTA MARIA HAY, whose Greek mother, Kalitza Psaraki, captured by Ottoman Turks in the Greek War of Independence, was purchased in Alexandria's slave market by the Scots Egyptologist, Robert Hay, and whom he married on Malta in 1828. Nubian Kalima's death at 38 occurs in the year of the Crystal Palace Exhibition in London, in the centre of which was Hiram Powers' 'Greek Slave'.



Rosellini and Champollion Expedition to Egypt and Nubiabrought to Florence in Champollion and Rosellini's expedition to Florence and Nubia funded by the Grand Duke, whose freedom was bought by Rosellini's uncle and who was baptised with the name 'Nadezhda', meaning Hope, in a Russian Orthodox family, her epitaph written in beautiful pre-Revolution Cyrillic on the marble Orthodox cross' base. While we also have, in Sector F, the tomb of Henrietta Mary Hay, the daughter of a Greek Slave, who was purchased by a Scottish Egyptologist in the slave market on Crete, who then married his purchase.

As we come to the path and turn right at the corner in Sector C by the cross erected at the centre of the cemetery for King Frederick William of Prussia we see the fine obelisk in marble erected for Thomas Southwood Smith.


C3/ THOMAS SOUTHWOOD SMITH/ ENGLAND/ In Memory of SOUTHWOOD SMITH, Physician/ who through the promotion of sanitary/ reform in the principles of which he was/ the first to discover and through other/ philanthropic and literary labours was/ distinguished as a benefactor of Mankind/ Born at Martock, Somersetshire, England/ Dec 21, 1788, Died at Florence/ Dec 10, 1861// + THEN SHALL THE RIGHTEOUS SHINE FORTH AS THE SUN IN THE KINGDOM/ OF THEIR FATHER/ MATTHEW XII v.43// [Below Joel T. Hart's sculpted portrait medallion] / Ages shall honor, in their hearts enshrined, thee, SOUTHWOOD SMITH, Physician of Mankind/ Bringer of Air, Light, Health into the home/ Of the rich Poor of happier years to come/ Leigh Hunt/
Harper's Monthly engraving

Southwood Smith, like Walter Savage Landor, Elizabeth Barrett Browning, Robert Browning and Frances Trollope, is given an essay, a long one paired with Lord Ashley, concerning their work against children in mines and factories. He with Horne asked Elizabeth to write Cru of the Children and Frances Trollope, Michael Armstrong Factory Boy, EBB's poem being read in the House of Lords and effecting legislation forbidding children to work under the age of twelve. Southwood Smith raised his granddaughter, Octavia Hill, who shared his concern for decent housing for the poor, reflected in Leigh Hunt's epitaph.He also embalmed his friend Jeremy Bentham, as Bentham wished, that effigy to preside over the University of London, to which Robert Browning's dissenting father subscribed, though which Robert only attended for one day.



The University of London's 'auto-icon' of Jeremy Bentham, embalmed at his request by Thomas Southwood Smith, Bentham being the University's founder.

In 1887, on May 11, Frederick Douglass, the American ex-slave, visited the tombs of Elizabeth Barrett Browning, Theodore Parker and Richard Hildreth to honour their work against slavery, writing about them in his diary.



Bibliography
Giuliana Artom Treves. The Golden Ring: The Anglo-Florentines, 1847-1862. London: Longmans, Green, 1956.
'A Book of Slaves', in In Old St James, Jamaica, A Book of Parish Chronicles. Ed. Joseph Shore and John Stewart. Kingston, Jamaica: Aston Gardner, 1911. Gift, Tony Moulton-Barrett.
Elizabeth Barrett Browning. Aurora Leigh and Other Poems. Ed. John Robert Glorney Bolton and Julia Bolton Holloway. Harmondsworth: Penguin, 1995.
Dennis Looney.

Freedom Readers: The African-American Reception of Dante Alighieri and the Divine Comedy

. Notre Dame: University of Notre Dame Press, 2011.
Jeanette Marks. The Family of the Barrett: A Colonial Romance. New York: MacMillan, 1938.
Virginia Woolf. Flush: A Biography. London: Hogarth Press, 1933.




IN STOCK

Elizabeth Barrett Browning. Aurora Leigh and Other Poems.

Edited, John Robert Glorney Bolton and Julia Bolton Holloway. Harmondsworth:

Penguin Classics

, 1995. xx + 517 pp.

ISBN 0-14-043412-7


  IN STOCK

Oh Bella Libertà! Le Poesie di Elizabeth Barrett Browning. A cura di Rita Severi e Julia Bolton Holloway. Firenze: Le Lettere, 2022. 290 pp. 



To donate to the restoration by Roma of Florence's formerly abandoned English Cemetery and to its Library click on our Aureo Anello Associazione's PayPal button: 
                THANKYOU!     

FLORIN WEBSITE © JULIA BOLTON HOLLOWAY, AUREO ANELLO ASSOCIAZIONE, 1997-2024: ACADEMIA BESSARION || MEDIEVAL: BRUNETTO LATINO, DANTE ALIGHIERI, SWEET NEW STYLE: BRUNETTO LATINO, DANTE ALIGHIERI, & GEOFFREY CHAUCER || VICTORIAN: WHITE SILENCE: FLORENCE'S 'ENGLISH' CEMETERY || ELIZABETH BARRETT BROWNING || WALTER SAVAGE LANDOR || FRANCES TROLLOPE || ABOLITION OF SLAVERY || FLORENCE IN SEPIA || CITY AND BOOK CONFERENCE PROCEEDINGS I, II, III, IV, V, VI, VII || MEDIATHECA 'FIORETTA MAZZEI' || EDITRICE AUREO ANELLO CATALOGUE || UMILTA WEBSITE || LINGUE/LANGUAGES: ITALIANO, ENGLISH || VITA
New: Dante vivo || White Silence
Newest: Abbreviated Virtual Guide: VirtualGuide.html to the English Cemetery, in italiano GuidaVirtuale.html
The Stones of Florence StonesofFlorence.html in italiano, LapidiDantesche.html
Emio Latini, Daniel in the Island of the Dead, https://vimeo.com/139962781
https://once-and-future-classroom.org/the-dante-vivo-project-florence-italy/




Aureo Anello Associazione