florin.ms Virtual Guide©Julia Bolton Holloway ♫ Click on the arrows for the sound tracks. White Silence

Maps by Architect Francesco Torrini

of the University of Florence





VIRTUAL GUIDE TO FLORENCE'S
ENGLISH CEMETERY

Versione in italiano

1. ♫ (click on arrows for sound tracks)



This app is a virtual guided tour by the Cemetery's Custodian. Florence's English Cemetery in Piazzale Donatello is dense with history. The hill with its cypress trees was perhaps an Etruscan tomb. Arnolfo di Cambio in the Middle Ages built the wall to the city to which it clung, Michelangelo in the Renaissance building a second wall against the Medici's return to Florence. Rubbish was thrown over the first wall on to it, and we still find shards of hand-painted medieval and Renaissance pottery. Non-Catholics were forbidden burial if they died in Florence, having to be transported by ox-cart without refrigeration to Livorno for their Cemetery of the Nations. In 1827 the Swiss Evangelical Reformed Church with Horace Hall acquired this hill, this potter's field, for a cemetery, a camposanto, God's Acre, for Protestants, Anglicans, Orthodox, suicides, atheists, Freemasons, debtors, deserters, nobles, slaves, serfs, servants, paupers, etc. Giuseppe Poggi then tore down the two walls by Arnolfo di Cambio and Michelangelo Buonarotti to make Florence, briefly capital of Italy, like Paris with great boulevards, but he placed on the cemetery's back wall the two shields of the city, the Cross and the Lily, that Arnolfo di Cambio had placed on the now destroyed Porta Fiesolana or Porta a' Pinti. The cemetery was in use until 1877, just fifty years, of a time of great creativity and energy in the foreign community which supported Italy's Risorgimento.


'ENGLISH' CEMETERY, CLICK MAP



Harper's

, XLVII (1873) 509,

circa

1865 Engraving of the 'English' Cemetery

Click on a tomb to find its information. The landscape is essentially unchanged though the medieval wall to the left and the Porta a' Pinti/Porta Fiesolan gate at the back, built by Arnolfo di Cambio in the thirteenth century, have since been torn down by Giuseppe Poggi. The hill itself may be an Etruscan tomb.


Temple
Southwood Smith
Elton
Browne
Oldham
Berg
Moore
Smith
Jaffray
Routh
Somerville
Lumley
Yelverton
Yelverton
Kellett
Barrett Browning
Beck
Hart
Vieusseux
Sapte
Tighe
Goedke
Golikova
Trotman
Capei
Holt
Kelson
Levitsky



2. ♫
The Comune of Florence built its great iron railing, 1869-70, and placed a gardener in the Gatehouse, enlarging it for his family, 1877, who continued to garden it until the 1950s, following which it was abandoned and closed. In 2000 it was opened again, and after some time the weed-killing with chemicals was stopped, the garden re-started with Florence's lily, her wild pale purple irises, the tombs restored, and loculi built for ashes, again becoming lovely and prosperous, thanks to its skilled Romanian Roma workers.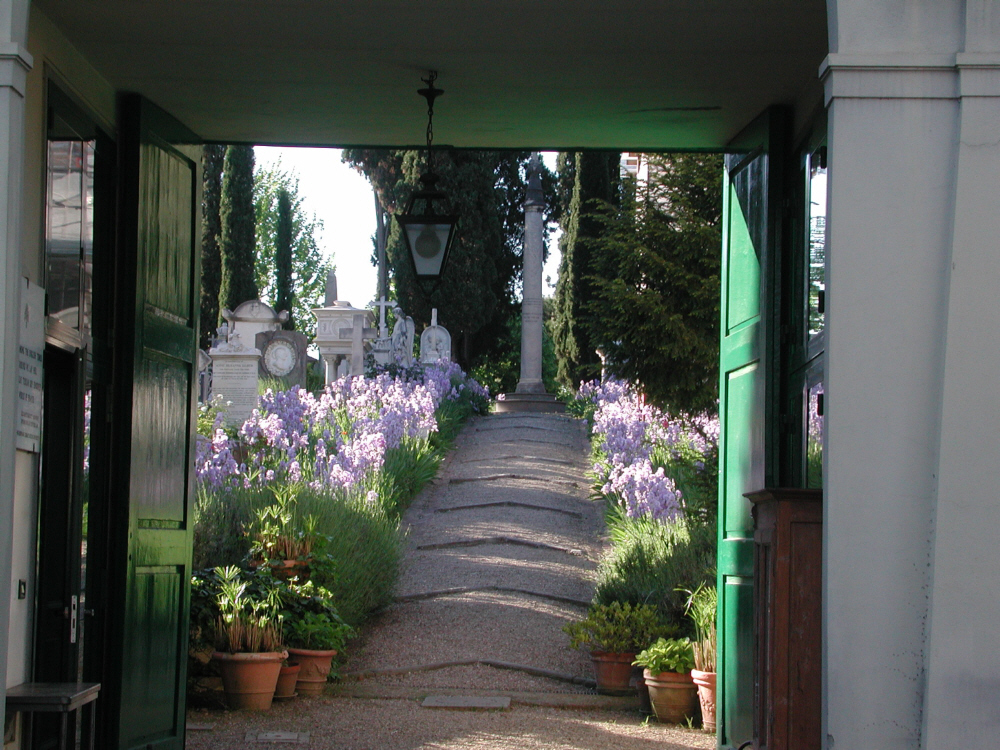 30 years ago Today

A complete virtual interactive guide listing all the tombs, circa 700, and even all the burials, circa 1400, can be found at http://www.florin.ms/White Silence.html to which this portable guide is hypertexted, and which gives abundant information from archives, descendants, scholars, etc. For the sound tracks click on the section numbers. Descendants and scholars are welcome to make additions, contacting the Custodian/Webmaster. From the engraving, the photographs and the map you can see the central path created for the King of Prussia's entry and his cross on the column at the top of it in 1858, and also the oval, instead of the original square, that Giuseppe Poggi created in circa 1869-70, shaping it like the human brain with two hemispheres, as we see in the map.






3. ♫ As you walk up this central path (which Frederick William IV, King of Prussia, and Frederick Douglass, ex-slave, also did), on your left hand side in Sector A,




you can see the great sarcophagus for the Scottish Protestant wife, Robinia Wilson (A3), of a noble Catholic Cavalcanti who laments on the tomb in both English and Italian that he was never separated from her during their marriage but in death he must be, at that period Catholics and Protestants not being allowed burial together. The sarcophagus at the entrance of a Protestant cemetery imitates the Renaissance tomb for the Catholic Cardinal of Portugal at San Miniato. Many of our tombs pretend to be Greek cinerary urns and Roman sarcophagi (marble containers holding the cadavre until the flesh rotted away, leaving just the bones), while the bodies are all buried in the ground six feet under in the Judaeo-Christian manner.





On your left side, Sector F, you can see a garlanded broken column, for the tomb of the Tsar of Russia's beloved Polish page boy, Leontiev Levitsky (F6), who likely was sent to Florence to die too young of tuberculosis. Next to him is the tomb of Severinus Zimbowsky (F7), who died of his wounds fighting against the Tsar for Poland's freedom, the two now forever side by side.




Then the tomb of the English poet, Arthur Hugh Clough (F8), with its pomegranate and its Egyptian symbol of the winged globe, which was directly traced from Champollion and Rosellini's book on their Expedition to Egypt and Nubia, funded by the Grand Duke Leopoldo, at the same time as the Cemetery's founding, the book borrowed from the Marchese Torrigiani.





WhiteSilence ♫

Say not the struggle naught availeth,


The labour and the wounds are vain,




The enemy faints not, nor faileth,




And as things have been they remain.





If hopes were dupes, fears may be liars;




It may be, in yon smoke conceal'd,




Your comrades chase e'en now the fliers,




And, but for you, possess the field.





For while the tired waves, vainly breaking,




Seem here no painful inch to gain,




Far back, through creeks and inlets making,




Comes silent, flooding in, the main.





And not by eastern windows only,




When daylight comes, comes in the light;




In front the sun climbs slow, how slowly!




But westward, look, the land is bright!



Arthur Hugh Clough, F8

White Silence ♫



It irk'd him to be here, he could not rest.

He loved each simple joy the country yields,

He loved his mates; but yet he could not keep,

For that a shadow lour'd on the fields,

Here with the shepherds and the silly sheep.

Some life of men unblest

He knew, which made him droop, and fill'd his head.

He went; his piping took a troubled sound

Of storms that rage outside our happy ground;

He could not wait their passing, he is dead.

. . .


Alack, for Corydon no rival now!—

But when Sicilian shepherds lost a mate,

Some good survivor with his flute would go,

Piping a ditty sad for Bion's fate;

And cross the unpermitted ferry's flow,

And relax Pluto's brow,

And make leap up with joy the beauteous head

Of Proserpine, among whose crowned hair

Are flowers first open'd on Sicilian air,

And flute his friend, like Orpheus, from the dead.



From Matthew Arnold, Thyrsis
Epitaph for Arthur Hugh Clough, F8

Behind their tombs is that of Giampietro Vieusseux (F48), who founded the Gabinetto Vieusseux, where Florentines and others, like John Ruskin and Feodor Dosteivsky, could read the Press censored by the Grand Duke. Elizabeth Barrett Browning desperately wanted to be a reader but Robert Browning lied to her, saying the reading room did not allow women entry, thus effectively censoring her entry into European politics, in the 1840s a hot bed of revolutions by nation states against empires, Greece against Turkey's Ottoman Empire, Ireland against the British Empire, Poland against Russia's Empire, Hungary against Austria's Empire, Italy against Austria, France and the Pope, and, for Garibaldi, Uruguay against Brazil's Empire and the Argentinian Federation.




4. ♫ On your left is a path with a view of the Duomo and which goes past three huge Irish landowners' tombs to that of Walter Savage Landor (A29) lying under the mimosa tree and our second pomegranate, given us by dott. Vieri Torrigiani Malaspina, in Sector A, this tombstone replacing the older one in 1945,






WhiteSilence

♫

Death stands above me, whispering low

I know not what into my ear;

Of his strange language all I know

Is there is not a word of fear.


Walter Savage Landor

AND THOU HIS FLORENCE TO THY TRUST
RECEIVE AND KEEP
KEEP SAFE HIS DEDICATED DUST
HIS SACRED SLEEP
SO SHALL THY LOVERS COME FROM FAR
MIX WITH THY NAME
MORNING STAR WITH EVENING STAR
HIS FAULTLESS FAME
A.G. SWINBURNE





then the tombs of Isa Blagden (B42),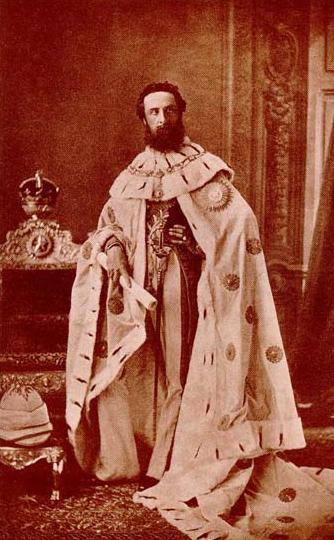 The view from Isa's Bellosguardo used in Aurora Leigh Isa Blagden Robert Lytton, Viceroy of India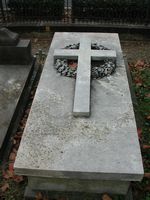 Frances Trollope (B80),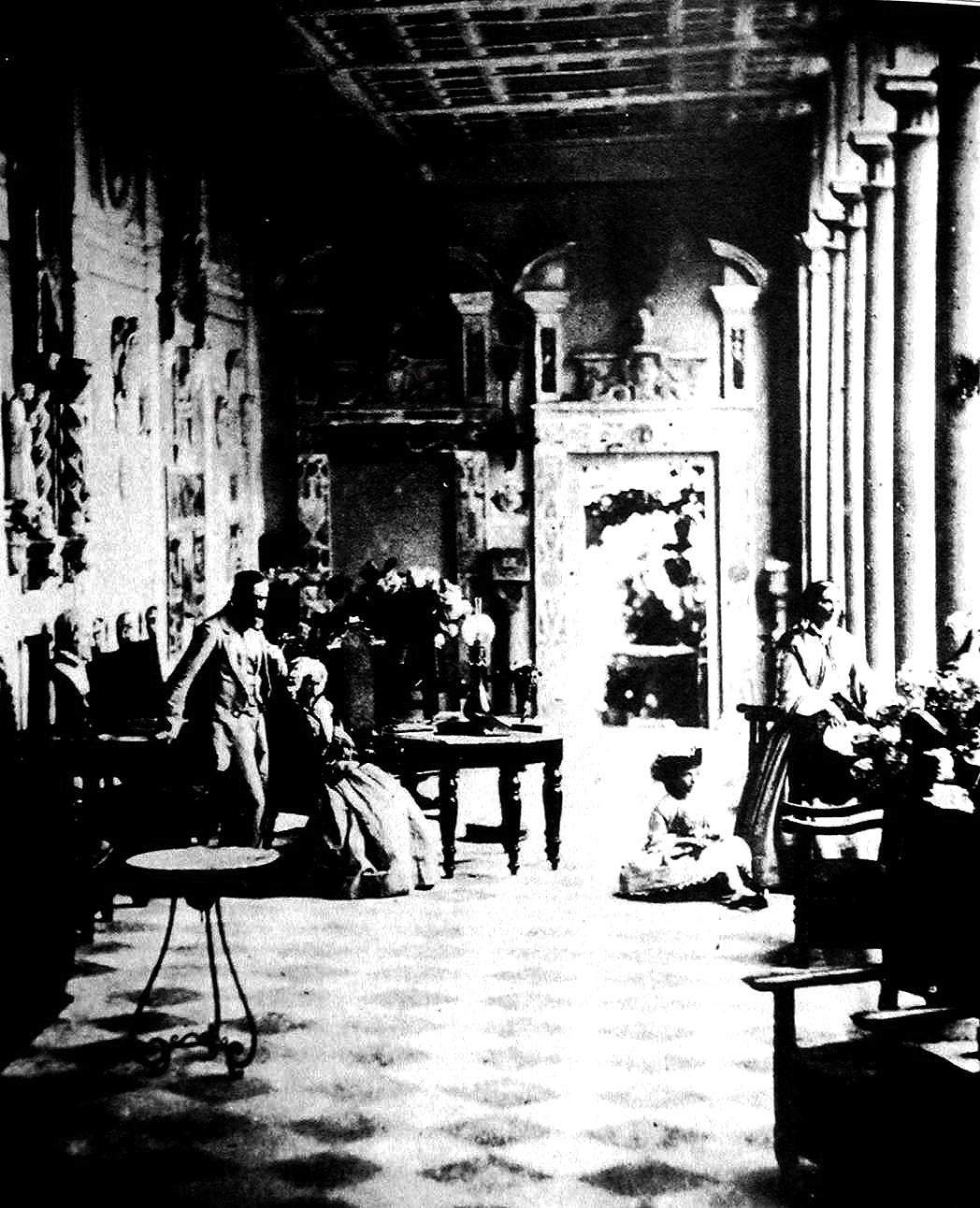 Painted, Auguste Hervieu Villino Trollope


| | |
| --- | --- |
| | Jonathan Jefferson Whitlaw, by |


Theodosia Garrow Trollope (B85), her daughter in law,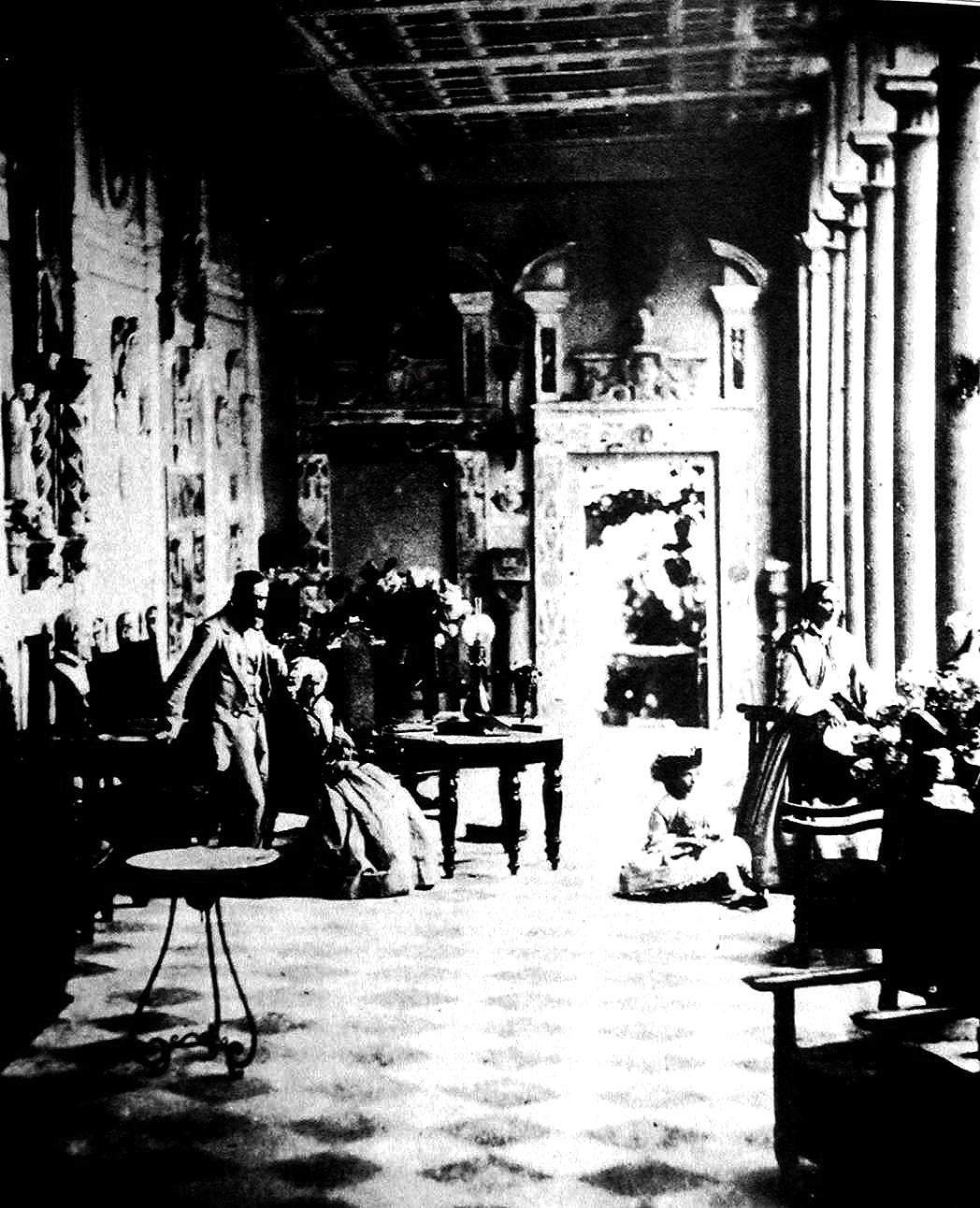 Villino Trollope, Thomas, Fanny, The day 13 April 1865
Bice, Theodosia died in this house
Theodosia Garrovv-Trollope
who wrote in English with an Italian spirit
of the struggle and the triumph of Liberty

and Theodosia's father, Joseph Garrow (B108),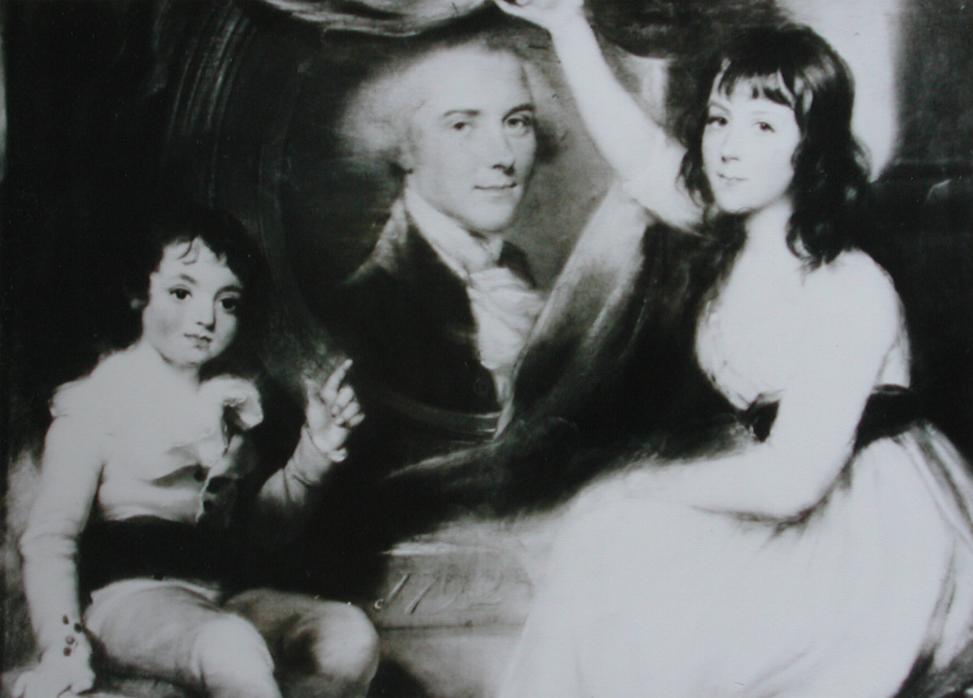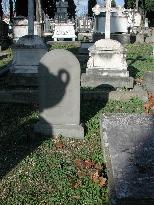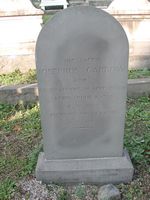 Joseph Garrow, Joseph [or, less likely, Sir William Garrow], Eleanor

these in Sector B. The Trollope tombs all have Latin inscriptions written by Thomas Adolphus Trollope. Isa, Theodosia and Joseph were all of mixed race, Joseph the son of an Indian princess who married a Jewess and Isa of the same mixture, Isa and Theodosia being models for Nathaniel Hawthorne's Miriam in The Marble Faun. Frances Trollope, Anthony Trollope's mother, had journeyed up the Mississippi from New Orleans to Cincinnati and there met a young Hiram Powers with whom she had created a waxworks on the American Frontier of Dante's Commedia. They would end their days in Florence, he as professor of sculpture at the Academia di Belle Arti.

5. ♫ If you look back towards the path, from beneath the magnificent statue of Death scything poppies and lilies for the tomb of the half English, half Italian teenager, Andrea Casentini (B76), sculpted by Professor Giuseppe Lazzerini of Carrara, restored by the Opificio delle Pietre Dure who exhibited it in Rome's Castel Sant'Angelo.




you can see the harp of Exodus with a broken slave shackle designed by Lord Leighton on the back of Elizabeth Barrett Browning's tomb (B8),




before it the tomb sculpted by the PreRaphaelite William Holman Hunt of a rounded pregnant arc floating on waves, with scriptural quotations concerning water and a pregnant dove with an olive branch evoking also a 'pelican in its piety' on its side, that Hunt created for his wife Fanny Holman Hunt (B9) who died in Florence of fever following childbirth. They didn't know to wash their hands when delivering Victorian babies. The child Benoni lived, Hunt giving him the name of dying Rachel's surviving baby in the Bible.

Fanny Holman Hunt William Holman Hunt
WHEN THOU
PASSEST THRO
THE WATERS
I WILL BE WITH THEE
AND THRO THE FLOODS
THEY SHALL NOT
OVERFLOW
THEE

IT IS
I

BE NOT AFRAID

LOVE
IS STRONG AS
DEATH
MANY WATERS CANNOT
QUENCH LOVE
NEITHER CAN THE
FLOODS DROWN
IT
Cyril Benoni Hunt

6. ♫ We return to the central path, on the right the huge and beautiful figure of Hope by the sculptor Oduardo Fantacchiotti (E25),

   
and behind it, with a rose in front of it, the tomb of William Somerville (E29), husband to the great mathematician and astronomer. Mary Somerville, who instead is buried in Naples. Mary taught Lord Byron's daughter, Countess Ada Lovelace, mathematics, and Ada in turn aided Charles Babbage build his analytic machine, telling him to use Jacquard loom cards with holes punched in them and the binomial theorem, concepts IBM then used for the computer.



Mary Somerville Ada Lovelace, Lord Byron's daughter William Somerville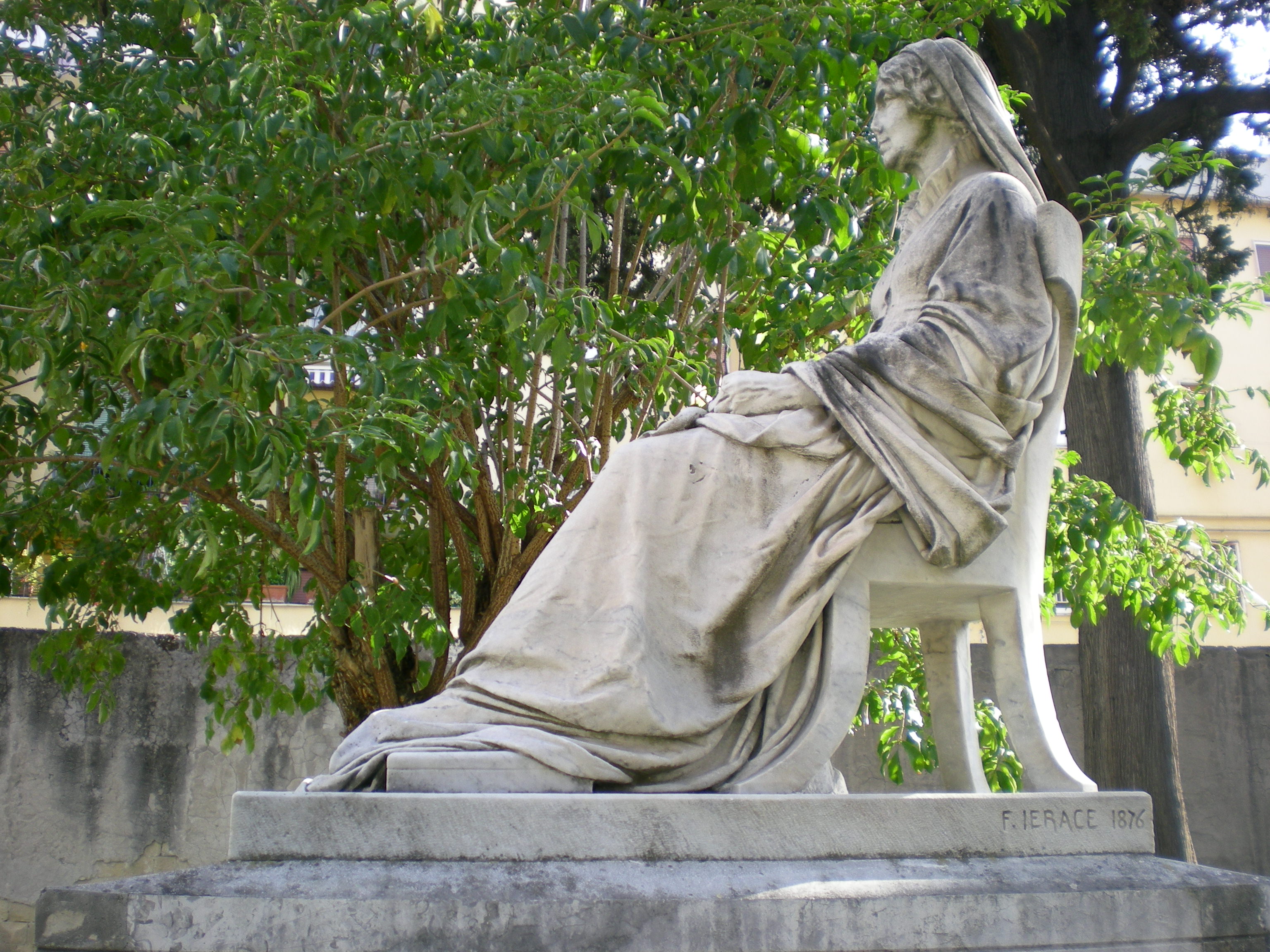 Mary Somerville's tomb in Naples, the name no longer there to identify her

WhiteSilence ♫
'These formulae, emblematic of Omniscience, condense into a few symbols the immutable laws of the universe. This mighty instrument of human power itself originates in the primitive constitution of the human mind, and rests upon a few fundamental axioms, which have eternally existed in Him who implanted them in the breast of man when he created him after His own image'. Mary Somerville (E29), The Connexions of the Physical Sciences, 1837.




7. ♫ Now on our left is our most famous and most beautiful tomb, a sarcophagus on six columns, for England's almost Poet Laureate, Elizabeth Barrett Browning (B8). Lord Leighton wanted it to have Elizabeth Barrett Browning's portrait, her head bowed down in pain, her spaniel ringlets, but the sculptor, Francesco Giovannozzi, Count Cottrell, Robert's friend, and Robert Browning himself all decided against her portrait, showing instead a blonde haired blue-eyed figure, her head held high, her hair carefully coiled behind her ears, the exact opposite of Elizabeth whom Govannozzi and Cottrell said was ugly. Robert only paid for the initials, E.B.B., and her death date of 'Obit.1861'. No one recognizes the tomb as hers. Leighton was furious, livid with rage, when he saw the changes made to his design.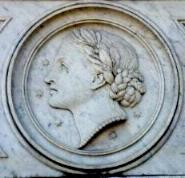 Oh Bella Libertà: Le Poesie di Elizabeth Barrett Browning. A cura di Rita Severi e Julia Bolton Holloway. Florence: Le Lettere, 290 pp.
Elizabeth Barrett Browning. Aurora Leigh and Other Poems. Ed. John Robert Glorney Bolton and Julia Bolton Holloway. Harmondsworth: Penguin Classics, 1995. xx + 517 pp. ISBN 0-14-043412-7


8. ♫ Behind it is Holman Hunt's tomb to his wife, Fanny Holman Hunt (B9) and next to both of them, the tomb sculpted by John Roddam Spencer Stanhope (B10) for his seven-year-old daughter, Mary, whom he would paint as Psyche as if seventeen with Charon. He sculpted his own tomb in the same shape but much larger in the Allori Cemetery that was built by the Swiss when this cemetery closed in 1877.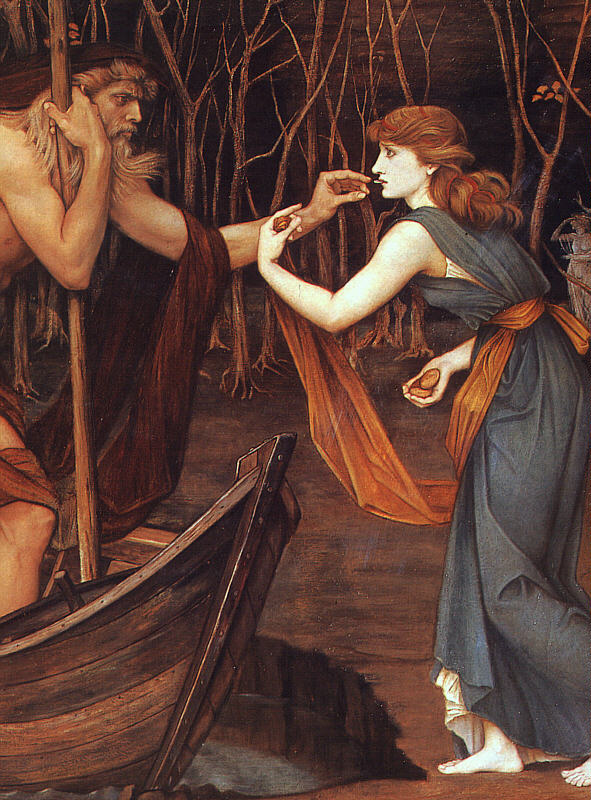 9. ♫ Within this Sector B are also the tombs of little Florence Oldham (B101), sculpted by Hiram Powers,




the American friend of Frances Trollope, and his own tomb (B32),




plus that of Nadezhda De Santis (B58), under a Russian Orthodox cross in marble, her story told on it in Cyrillic, her name meaning 'Hope'. She came at 14, a black slave from Nubia, her freedom bought by Rosellini's uncle, Champollion and Rosellini having gone to Egypt and Nubia at the same time the cemetery was founded, bringing their loot back for Florence's Archeological Museum and the Louvre, many of our tombs having Egyptian motifs as a result.



Hiram Powers sculpted the 'Greek Slave' to which Elizabeth Barrett Browning wrote an impassioned sonnet against slavery, she herself being part black, the statue being at the very centre of the Crystal Palace Exhibition in 1851.



Greek Slave Last of Her Tribe America

WhiteSilence ♫

They say Ideal Beauty cannot enter
The house of anguish. On the threshold stands
An alien Image with the shackled hands,
Called the Greek Slave: as if the sculptor meant her,
(That passionless perfection which he lent her,
Shadowed, not darkened, where the sill expands)
To, so, confront men's crimes in different lands,
With man's ideal sense. Pierce to the centre,
Art's fiery finger! - and break up erelong
The serfdom of this world! Appeal, fair stone,
From God's pure heights of beauty, against man's wrong!
Catch up in thy divine face, not alone
East griefs but west, - and strike and shame the strong,
By thunders of white silence, overthrown!

Elizabeth Barrett Browning, 'Hiram Powers' Greek Slave', 1850

Hiram Powers' children, Florence, Frances and James (E56), are buried in a similar tomb in 1863, in Sector E, beside the tomb for the natural son of England's King William IV, Major General Sir William Henry Sewell, his wife Georgina, Lady Sewell, and their servant, James Bansfield, all buried in equal tombs.

10. ♫ When we come to the King of Prussia's cross,

Harper's Monthly engraving

look up at the great cypress trees that Arnold Bōcklin painted five times in his 'Island of the Dead', mixing together Venice's San Michele, Ischia and this by that time symmetrical cemetery, for he buried his six-month old baby daughter, Maria Anna, here (unfortunately it was Hitler's favourite painting).




Sergei Rachmaninoff composed music for the painting and you can click on the URL to listen to the symphonic poem for this cemetery: http://www.78s.ch/wp-content/uploads/2007/11/01-sergei-rachmaninov-the-isle-of-the-dead-symphonic-poem-op29.mp3.

11. ♫ To our left from the cross in Section C we see an obelisk in marble with a portrait, the tomb of Dr Thomas Southwood Smith (C3), who showed London's slums to Charles Dickens, who had Elizabeth write 'Cry of the Children' and Frances Trollope, Michael Armstrong Factory Boy (which changed legislation in Parliament and henceforth prohibited children from working in mines and factories under the age of twelve), and who raised his granddaughter Octavia Hill who would work to clear slums and provide decent housing for the poor. Leigh Hunt's epitaph on the tomb speaks for his plea for fresh air and sunlight in the homes of the poor.




WhiteSilence ♫

Ages shall honor, in their hearts enshrined, thee,
Southwood Smith, Physician of Mankind
Bringer of Air, Light, Health into the home
Of the rich Poor of happier years to come

Leigh Hunt

Near him is the great historian of medieval Florence, Robert Davidsohn (C1), from Gdansk who died in 1937, after 1877 only cremated remains being allowed burial here.




12. ♫ To our right is the tomb of Ann Sophia Tennant (D18), the wife of a Royal Navy sea captain, which Sir Franco Zeffirelli used, pretending it was Elizabeth Barrett Browning's with her full name on it, in his wonderful autobiographical film, Tea with Mussolini.




Then, Swiss tombs to our right and left, one of them, the young man's bust on a column, the cemetery's first burial in 1828 of Jean David Marc Gonin (C106), the fifteen year old son of the President of the Swiss Church. Bazzanti, who sculpted many of the Neo-Classical tombs in the Cemetery and whose shop is still on the Arno in the Corsini Palace, sculpted him some years later as if 18, while Solomon Counis (D13), the Swiss painter to our right, painted him as if 22.



2008 2010 Solomon Counis, portrait of Jean David Marc Gonin at 22

13. ♫ Now we go down the right-hand path from the cross, seeing Sector D, passing two clusters of Swiss tombs, the Salvetti (D67-69,D71) and Gilli (D62-66) families, and also the path with the Russian Row where Russian and Romanian noblemen lie, who owned serfs and slaves, human beings they bought and sold for their labour, counting them as so many souls. Among them is the tomb of the Romanian Joan Kantakuzin (D81), descended from the Emperor of Constantinople, who owned the Roma as slaves, who now restore this cemetery having been freed when Uncle Tom's Cabin was translated by Theodor Codrescu into Romanian in 1853, the year after its American publication in 1852.



14. ♫ Then we see the tomb of Theodore Parker (D108), commissioned by Frederick Douglass, the ex-slave, of William Wetmore Story, whose biography Henry James wrote. Parker preached in Boston against slavery, a loaded gun at the pulpit against the slave catchers seeking to assassinate him. It was he who originally wrote that 'government is by the people, for the people, of the people' which Abraham Lincoln then used in the Gettysburg Address, and he also wrote that the arc of the moral compass bends slowly but it bends towards justice, used by Martin Luther King, Jr., and by Barack Obama at Nelson Mandela's funeral and placed by him on the Oval Office carpet, since thrown out by Trump. Frederick Douglass' inscription reads: 'THEODORE PARKER . . ./ HIS NAME IS ENGRAVED IN MARBLE/ HIS VIRTUES IN THE HEARTS OF THOSE HE/ HELPED TO FREE FROM SLAVERY/ AND SUPERSTITION'



Next we come to the simple tomb of Richard Hildreth (D110). The Englishwoman, Frances Trollope (B80), whose tomb we saw in Sector B, had written the first anti-slavery novel, Jonathan Jefferson Whitlaw, describing what she actually saw of slavery before Queen Victoria was on the throne while journeying with her children up the Mississippi from New Orleans to Cincinnati. Richard Hildreth, American, wrote the second anti-slavery novel, The Memoirs of Archie Moore, both books first published in 1836, his again in 1852, followed by Harriet Beecher Stowe's Uncle Tom's Cabin in that year, she copying the other two books. Frederick Douglass carefully wrote in his Diary in beautiful handwriting of his visit to the tombs of Elizabeth Barrett Browning, Theodore Parker and Richard Hildreth of his gratitude for their work for the Abolition of Slavery and who also wrote the moving inscription on Theodore Parker's tomb.




15. ♫ In Sector E, on our right hand side at the bottom of the path we come to the tomb we are currently restoring of Catherine Louisa Adams Kuhn (E1), the sister of Henry Adams of the American presidential family, whose death from tetanus following a carriage accident in Bagni di Lucca he describes in the 'Chaos' chapter of The Education of Henry Adams. We are grateful to the Massachusetts Historical Society and others for this tome's restoration.




Next to her tomb are the two Temple Bowdoin sisters, Christine (E141), who patented the telegraphic printing press, ancestor of the Olivetti typewriter,




and Laura (E142), who married the Sicilian Prince Pandolfino who presented the Crown of Sicily, which was rejected, to Victor Emanuel's brother, Carlo Alberto.




The most burials in the so-called 'English' Cemetery, owned by the Swiss and a quarter paid for by the English, are English burials, next Swiss, then 100 American burials, following that, Russians, Scandinavians and many other nations.




16. ♫ Now we turn back towards the gatehouse of the cemetery along the bottom path, coming towards the end with the tomb of Joel Tanner Hart (F28), the American from Kentucky who sculpted the tomb of Dr Thomas Southwood Smith and the original tomb for Theodore Parker replaced by Frederick Douglass' commissioned tomb by William Wetmore Story. Joel Hart's nephew, Robert Hart (F11), also from Kentucky and a stonemason sculptor, is buried under a masonic pyramid in fragile pietra serena near the central path.


a

Southwood Smith, sculpted, Joel Tanner Hart. Joel Tanner Hart, Portrait Joel Hart's provisional grave
for Theodore Parker, replaced by that by William Wetmore Story

Following that is the tomb of Rosa Madiai (F129), the Italian woman translator of the Bible into her language, and who, for becoming Protestant with her husband Francesco, were both imprisoned in separate places by the Austrian-supported Grand Duke Leopoldo. Walter Savage Landor (A29), besides poetry, wrote wonderful Imaginary Conversations, his final one being between the Archbishop Cardinal of Florence and the imprisoned Francesco Madiai where the Archbishop offers Francesco his freedom and his wife if he will return to Catholicism, Francesco replying that he loved his wife, but he loved God more.


Next to Rosa's simple tomb is the most lavish one in the cemetery, to Arnold Savage Landor (F128), commissioned by his mother, Julia Savage Landor of the sculptor Michele Auteri Pomar, giving her life-size effigy in grief, every bobble observed. We recall she had thrown her husband out of the house he gave her in San Domenico, now the School of Music, twice, and paid nothing for his gravestone, which had to be replaced in 1945, while spending a fortune on the tomb of their ne'er-do-well son. But then, before Walter had met her at a dance in Bath, he had been in love with Rose Aylmer, an Earl's daughter who went out to India and died there, his poem on her tomb.



+
17. ♫ At the corner is the large simple tomb of the Countess Giulia Guicciardini (F34), she and her brother Piero both becoming Protestant, he having to live in exile because of this as Italians were treated far more harshly than were foreigners in this period. In defiance of the then law against the Bible in languages other than Latin, many tombs in this cemetery flaunt Biblical phrases in the vernacular languages, English, Italian, Russian, Greek, Rumantsch.




Nestled behind this tomb is that of the four-year-old Russian princess, Vera Leonidovna Urosova (F122), whose family were friends of the Tolstoys.




18. ♫ Turning towards the Gatehouse we see the tombs of Hugh James Rose (F35), who began the Oxford Movement to bring Anglicans and Catholics together (Anglo-Catholics, the Pre-Raphaelites and the Anglo-Italians, such as the Rossettis, the Holman Hunts, the Brownings, were strongly linked),




also of Mary Elizabeth Guppy (F36), daughter of Sarah Guppy, inventor of the Clifton Suspension Bridge,




of the Irish General John Locke (F38), who fought against Napoleon at the Battle of Waterloo and whose daughter became a German princess,




of a young Swedish scholar of philosophy from Uppsala, Ernst Jonas Fredrik Kjellander (F39), who died of tuberculosis,




of Saxon Cocker (F1, stand in front of his tomb, lining it up with that for Ann Holt to see the Egyptian motifs, from Champollion and Rosellini, of the ourobouros, or serpent devouring its tail, for eternity, and the winged hourglass with serpents and roots),




and of Mary Anne Salisbury (F2), the English servant to Rosa Buonarroti married into Michelangelo's family.




19. ♫ On the other side of the path from the Gatehouse, in Sector A, we see the tomb of George Augustus Wallis (A64), whose son, Trajan Wallis, had painted the portraits of Julia, with her children, Julia and Arnold Savage Landor (F128),




and of Guyla Pulszky (A60), whose father, Ferenc Pulszky. the Hungarian patriot under sentence of death from Vienna, lived in Florence, the boy with a sister named Polixena, a brother named Garibaldi, and who flies up to heaven, at his feet the view of Florence from the family's villa in Santa Margherita a Montici.




20. ♫ Walking up the path we come to the tomb of Sir David Dumbreck (A48), head of the hospitals in the Crimea, with all his medals sculpted on it,



Sir David Dumbreck Commander of the Order of Bath Crimea medal with 4 clasps Turkish medal, Crimea Order of the Medjidie



and next to him the tomb of Dr Bartolomeo Odicini (A47), physician to Anita Garibaldi and her starving children in Montevideo, Garibaldi having such integrity he never accepted pay, and after Aspramonte Odicini was one of the doctors treating Garibaldi's injured leg.



Il dott. Odicini e suoi figli, Uruguay

21. ♫ We now come back to the Gatehouse, seeing on its wall two terra cotta medalions of Elizabeth (right) and Robert (left), the first with her written full name, 'Elizabeth Barrett Browning', the second with the initials, 'R.B.', correcting the problem of her tombstone no one can find. Her nickname in her family and with Robert, who is buried in the Poets' Corner in Westminster Abbey, was 'Ba', which they knew was the Egyptian soul as a bird which cannot return to its tomb unless it has its portrait and its name.




22. ♫ We have placed on the inner walls of the Gatehouse two quotations from Elizabeth Barrett Browning's poetry, paid for by the Armstrong Browning Library, Baylor University:

WhiteSilence ♫

And here among the English tombs
In Tuscan ground we lay her,
While the blue Tuscan sky endomes
Our English words of prayer.
Epitaph for Lily Cottrell 1849, B102

There's a verse he set
In Santa Croce to her memory,
'Weep for an infant too young to weep much
When Death removed this mother,' stops the mirth
Today on women's faces when they walk
With rosy children hanging on their gowns,
Under the cloister to escape the sun
That scorches in the piazza.
Aurora Leigh I.101-8 1857 (B8)

And also the plaque honouring Frederick Douglass's visit to the graves of Theodore Parker, Richard Hildreth and Elizabeth Barrett Browning, 11 May 1887:




Next we hope to have this plaque, also incised by hand by Daniel-Claudiu Dumitrescu (whose ancestors were slaves in Romania in Europe for longer than were Africans in the Americas), placed on a nineteenth-century part of Santa Maria Nuova Hospital, honoring the African American Abolitionist, Sarah Parker Remond, Frederick Douglass' friend, who became the first recognized woman M.D., studying obstetrics in Florence with a letter of introduction from Giuseppe Mazzini. This cemetery believes in breaking glass ceilings! Oh Bella Libertà!




Igiaba Scego, La Linea del Colore, Bompiani, 2021. She writes of Frederick Douglass, Sarah Parker Remond and the English Cemetery




Florence's English Cemetery, Piazzale Donatello, 38, 50132 Firenze, Italy
Visiting Hours: Mondays, 9,00-12,00
Tuesdays through Fridays:
Summer, 3,00-6,00; Winter, 2,00-5,00



©Julia Bolton Holloway, Custodian
President, Aureo Anello Associazione
Florentine interview: https://www.youtube.com/watch?v=dAEhTEZHXHE


We thank Architect Fabrizia Scassellati Sforzolini for her fine maps




Aureo Anello Associazione


FLORIN WEBSITE A WEBSITE ON FLORENCE © JULIA BOLTON HOLLOWAY, AUREO ANELLO ASSOCIAZIONE, 1997-2024: ACADEMIA BESSARION || MEDIEVAL: BRUNETTO LATINO, DANTE ALIGHIERI, SWEET NEW STYLE: BRUNETTO LATINO, DANTE ALIGHIERI, & GEOFFREY CHAUCER || VICTORIAN: WHITE SILENCE: FLORENCE'S 'ENGLISH' CEMETERY || ELIZABETH BARRETT BROWNING || WALTER SAVAGE LANDOR || FRANCES TROLLOPE || ABOLITION OF SLAVERY || FLORENCE IN SEPIA || CITY AND BOOK CONFERENCE PROCEEDINGS I, II, III, IV, V, VI, VII , VIII, IX, X || MEDIATHECA 'FIORETTA MAZZEI' || EDITRICE AUREO ANELLO CATALOGUE || UMILTA WEBSITE || LINGUE/LANGUAGES: ITALIANO, ENGLISH || VITA
New: Opere Brunetto Latino || Dante vivo || White Silence
Newest: Abbreviated Virtual Guide: http://www.florin.ms/VirtualGuide.html to the English Cemetery, in italiano http://www.florin.ms/GuidaVirtuale.html
Dante's Florence and in Italian, la Firenze di Dante Medieval Florence
GeorgeEliotFlorence Her novel Romola and the Florence of the Renaissance
EBBFlorence Elizabeth Barrett Browning's Victorian Florence
Emio Latini, Daniel in the Island of the Dead,
The English and Napoleon in Florence's 'English' Cemetery http://www.florin.ms/Napoleonapp.html
Tombs associated with Slavery in Florence 'English Cemetery http://www.florin.ms/SlaveryTombsapp.html
Fanous Women Associated with Florence's 'English' Cemetery http://www.florin.ms/FamousWomenapp.html
History of Medicine in Florence's 'English' Cemetery http://www.florin.ms/MedicalHistoryapp.html



To donate to the restoration by Roma of Florence's formerly abandoned English Cemetery and to its Library click on our Aureo Anello Associazione's PayPal button:
THANKYOU!