Napoleonapp©Julia Bolton Holloway

THE ENGLISH AND NAPOLEON IN A FLORENTINE CEMETERY,
TO CELEBRATE THE BATTLE OF TRAFALGAR, 21 OCTOBER 1805
AND THE BATTLE OF WATERLOO, 18 JUNE 1815




Many of our burials in Florence's 'English' Cemetery in Piazzale Donatello, have connections to England's resistance to Napoleon and his Empire. This app gives you a guided tour of these. If you want to accompany this virtual guide musically I recommend the following on YouTube: https://www.youtube.com/watch?v=A5p_fplluZ8. 18 June 2018, we shall celebrate the anniversary of the 1815 Battle of Waterloo at the Collezione Predieri of toy lead soldiers demonstrating that Battle at the Cassa di Risparmio di Firenze, via Buffalini, 6, at 5,00 p.m.; then, at 6,00 p.m. visiting the tombs of participants in the Napoleonic wars at the English Cemetery in Piazzale Donatello, 38, 50132 Firenze./Florence. On 24 June 2018 at the English Cemetery we will do the same, visiting the tombs of doctors and understanding the history of medicine shown in the cemetery, using the anniversary date of the Risorgimento's 1859 Battle of Solferino which began the Red Cross and the Geneva Conventions, from the Swiss Henri Dunant seeing the terrible carnage on that battlefield. The two events being as if Tolstoy's War and Peace, trauma and healing.


Click to enlarge maps

As we go up the central path, on our left in Sector A, we see the largest plot in the cemetery, which is now vacant, but which had had the remains of:

A107/ COLONEL THOMAS STIBBERT/ ENGLAND/ QUI IACQUIRO LE SALME DI TOMMASO STIBBERT E LA SUA FIGLIA ERMINIA CHE DA FEDERIGO STIBBERT FIGLIO E FRATELLO FURANO TRASPORTATE NELLA CAPELLE DA LUI ERETTA NEL CIMITERO DEGLI ALLORI
Pastor Luigi Santini wrote: 'A colonel in the British army, he was staying in Florence when his son Frederick (1838-1906), who would make Florence his second home, was born. At Villa Davanzati, in Montughi, the son and brother was to invest his learning and his wealth to bring to life the largest museum of antique arms in the world, and then to donate it to the city'. Colonel Thomas Stibbert of the Coldstream Guards, whose wealth largely came from the family's involvement in the East India Company, is one of the Cemetery's many participants in the Peninsula and Waterloo battles against Napoleon. Formerly buried here, their two bodies were exhumed to the Allori Cemetery, where their chapel became ruinous. Their portraits are in the Museo Stibbert. One wishes their chapel could be rebuilt here. The Casa di Risparmio di Firenze also has a fine exhibit of lead soldiers showing the Battle of Waterloo. A now lone oleander grows beside the memorial stone.




Then, at the left hand corner, along the path at the end of which we see the dome of Florence's great cathedral, we find the following tomb under a mimosa tree (he had asked for four for his tomb, I said one was enough!), is:

A29/ WALTER SAVAGE LANDOR/ ENGLAND/ IN MEMORY OF/ WALTER SAVAGE LANDOR/ BORN 30th OF JANUARY 1775/ DIED 17th OF SEPTEMBER 1864/ AND THOU HIS FLORENCE TO THY TRUST/ RECEIVE AND KEEP/ KEEP SAFE HIS DEDICATED DUST/ HIS SACRED SLEEP/ SO SHALL THY LOVERS COME FROM FAR/ MIX WITH THY NAME/ MORNING STAR WITH EVENING STAR/ HIS FAULTLESS FAME/ A.G. SWINBURNE/
Born in Warwick, he is the same generation as Keats, Shelley and Byron, but outlived them. His childhood love, the daughter of an Earl, and sister of another, the Honourable Rose Whitworth Aylmer, is buried in India, 1800, at 20. In 1910, BACSA (British Association of Cemeteries in South Asia), tells us, Walter Savage Landor's epitaph was added to her tomb:

Ah, what avails the sceptred race!
Ah, what thy form divine!
What every virtue, every grace!
Rose Aylmer, all were thine.


Rose Aylmer, whom these wakeful eyes
May weep, but never see,
A night of memories and sighs
I consecrate to thee.

He had witnessed in Paris the ceremony where Napoleon was elected Consul for life. He next romantically sought to participate in the Peninsula battles against Napoleon as a volunteer. Having lost his childhood sweetheart to fever in India, while others, including 'Ianthe', rejected him, he proposed marriage to Julia Thuillier, the daughter of a bankrupt Swiss banker whom he met at a dance in Bath, the marriage an unhappy one. They first lived at Llanthony Abbey in Wales, then came to Italy. Pastor Luigi Santini wrote: 'An aristocrat, a Republican and a rebel, Landor left England for Florence in 1821, and arrived with a full-fledged reputation as an artist: his poems and prose attest to his great classical learning and his epigrams are forceful and moving. He was restless and eccentric, changed residence several times. Also extravagant and generous, he succeeded in amusing the Florentines (when he didn't terrify them) with his wit. In 1835 he bequeathed his Villa Gherardesca home to his son, Arnold, and returned to London, only to reappear in Florence in 1858. Finally, turned out by his wife and family, like a mad King Lear, he found refuge for a while with the compassionate ISA BLAGDEN (Sector B, B42), but finished his days in squalor, in lodgings arranged for him by Robert Browning, in via della Chiesa, then the haunt of artists, under the care of Elizabeth Barrett Browning's former maid, Elizabeth (Lily) Wilson. A leader of the early English Romantic movement, his literary production was considerable. He was a fervent supporter of the Italian cause, to which the Brownings introduced him, and raised funds for the 'Garibaldini'. He lived to a ripe old age, all but forgotten by the younger generation, but his name, as Swinburne wrote for his tombstone, is now forever united with that of Florence, his chosen home'. [See Giuliana Artom Treves, Golden Ring, pp. 38-53.] He collected Tuscan 'Primitive' paintings before Bernard Berenson did so. He was also a great lover of landscape gardening, not liking gardens to be too neat, too precise. His wife (jealous of Rose Aylmer?) did not attend his funeral and a stone was placed on his tomb that was so cheap it disintegrated and was replaced in 1946. His son ARNOLD SAVAGE LANDOR (1819-1871) is buried in a magnificent tomb with a full-size sculpture of Walter's shrewish wife, Julia, on top of it in Sector F, F128, for which she must have paid a fortune. Later Professor Fiske of Cornell, the great Italian and Icelandic scholar, would acquire his villa (now the School of Music in San Domenico, Fiesole) and carefully photograph it as it was. For which see Patrick J. Stevens, 'Jennie's Gift' and Kristìn Bragadottìr, William Morris and Iceland. We are profoundly grateful for Jean Field's gift to us of the many volumes of Walter Savage Landor's writings, which we carried to his tomb in 2007, and to that of ROSA MADIAI (F128), next to his son's, her imprisoned husband Francesco being the subject of WSL's last 'Imaginary Conversation', these now shelved in the Mediatheca 'Fioretta Mazzei'.


Walter Savage Landor Landor Celebration, 2007


Daniel Willard Fiske's photographs at Cornell of the Villa Landor in San Domenico


Nestled behind his tomb is another, now in sad disrepair, of an Admiral who fought against Napoleon by sea. The French Royalist sculptress in exile, Felicie de Fauveau, created a tomb stone for him that was not used:

A112/ ADMIRAL THE HON. FLEETWOOD BROUGHTON REYNOLDS PELLEW/ ENGLAND/ HONOURABLE FLEETWOOD BROUGHTON REYNOLDS PELLEW SECOND SON OF EDWARD VISCOUNT EXMOUTH ADMIRAL OF THE BLUE KCE CB BORN . . . DIED AT MARSEILLES THOU . . . / HARRIET FRANKES PELLEW
Harriet Frankes Webster Pellew is the daughter of the wealthy and beautiful Creole Lady Holland by her first marriage to Sir Godfrey Webster of Battle Abbey and Powdermill, Sussex, while her husband served as an officer of the Royal Navy during the French Revolutionary and Napoleonic Wars, and was the son of Edward Pellew, Viscount Exmouth, who stopped Algerian pirates from selling Europeans into slavery, among them the Consul in Algiers, B97/ HUGH MACDONELL, Sector B. NDNB & Wikipedia entries. The Hon. Peter I. Pellew adds: Harriet Frances Pellew and her husband Admiral the Hon. Sir Fleetwood Broughton Reynolds Pellew, had a daughter called Harriet Bettina Frances Pellew (who died 9 November 1886 and who is also buried in Florence), who through her marriage to the Earl of Orford had 2 daughters, Lady Dorothy Elizabeth Mary Pellew Walpole and Lady Maude Mary Pellew Walpole, both of whom married Italians, the Duke of Balzo and the Prince of Palagonia, and are both buried in Italy'. The Pellews' memorial slab has not weathered well at all and it seems the monument for the husband sculpted by Félicie de Fauveau, see photograph in her album, now owned by Lord Crawford, was never put in place. I copied the Romney painting of Lady Holland and gave it to Godfrey Webster, an Old Etonian, then residing at the Fazenda de Nova Vida he built in the jungle of Minas Gerais, the Trust having sold Powdermill House where we grew up together, and the family portraits by Lely, Van Dyke, Romney, etc, being forbidden to leave Britain. Godfrey died following a tractor accident before my letter telling him I was now looking after his relatives' graves could reach him. When I had visited him at Minas Gerais I saw the school Godfrey Webster founded after the manner of Paulo Freire and met its 14-year-old school teacher. An Australian convict ship was named the 'Sir Godfrey Webster'.



Young Pellew Felicie de Fauveau

In Sector B we find the following tombs, beginning with that of

B82/ SIR THOMAS SEVESTRE/ ENGLAND/ SACRED TO THE MEMORY/ OF/

SIR THOMAS SE

. . .

BART

/ WHO . . . / . . .
He is a Knight of the Portuguese Order of the Tower and the Sword for his participation as surgeon on the H.M.S. 'Confiance' at the capture of Cayenne. He and Raffles visit Napoleon on St Helena. Thomas Adolphus Trollope, What I Remember, II.146-147, describes Sir Thomas Sevestre, as an old India Army surgeon called on at the Baths of Lucca to attend a dying duellist.




Next is the huge tomb to Walter Bentinck Yelverton who did not fight at Waterloo: B2/ WALTER BENTINCK YELVERTON/ IRELAND/ & ANNA MARIA (BINGHAM) YELVERTON/ IRELAND/ IN AFFECTIONATE MEMORY OF/ BENTINK YELVERTON/ AND HIS WIFE/ THE HON.BLE ANNA BINGHAM. Bentinck Walter, at nine, Frederick and two girls, Mary and Cecilia, were left orphans by the death of their mother. Their father, Walter Yelverton, had now left politics and was cursitor in the Court of Chancery in Ireland. In 1808, 17-year-old Bentinck was admitted to Trinity College Dublin as a Fellow Commoner. He attained a Bachelor of Arts in the summer of 1814. He subsequently secured a commission in the 6th (or 1st Warwickshire) Regiment of Foot but narrowly missed service in the Napoleonic Wars. He was with the regiment in Cape Town when word arrived that his father had died in Ireland in June 1824. Bentinck Walter Yelverton duly succeeded to Belle Isle but his attempts to manage his father's affairs and to look after his two unmarried sisters earned him an unfortunate blot in his copy book when the Adjutant's Roll noted he had been 'Absent without Leave from 31 March 1826'. We have an enchanting essay on his regimental spoon contributed by Michael Ayrton: yelvertons.html. He subsequently retired on half-pay. In June 1829, he married his cousin, the Hon. Anna Maria Bingham, eldest daughter of John Bingham, 1st Baron Clanmorris of Newbrook, County Mayo. Their daughter Anna Maria Cecilia was born in 1833. Bentinck died in Florence in 1837, aged forty-five, and was interred in the Swiss-owned 'English' Cemetery. His daughter died in Nice aged just 13 in 1846 (B3).



Crest, Lion passant regardant


The 1870s Harper's Monthly shows this Yelverton tomb

Above that, to the right and near to Elizabeth Barrett Browning's, is the tomb of

B110/ LIEUT. COL. GERARD DE COURCY/ IRELAND/ SACRED/ TO THE MEMORY OF/ LIEUT. COL. GERARD COURCY/ SON OF THE RIGHTHONOURABLE JOHN COURCY/ . . . AND SUSANNA HIS WIFE/ DIED AT FLORENCE OCTOBER 20 1848
Burke's Peerage:

Lt.-Col. Hon.

Gerald

de

Courcy

was born after 1776. He was the son of

John

de

Courcy

,

19th Lord Kingsale

and

Susan

Blennerhassett

. He married

Elizabeth Carlyon

Bishop

, daughter of

John

Bishop

, on 29 January 1807. JLMaquay, Diaries 19/10/1848 'to deCourcy who appears dying made out his will and had it signed' 20/10/1848 'deCourcy died today at 11 o'clock.' 22/10/1848 'went in early to deCourcy's funeral.' Their children were

Susannah

de

Courcy

d. 9 Jan 1884,

Geraldine

de

Courcy,

Frederica Maitland

de

Courcy,

Henrietta Jane Paulet

de

Courcy

d. 1 Jul 1906,

Colonel

John Fitzroy

de

Courcy

,

24th Lord Kingsale

b. 30 Mar 1821, d. 20 Nov 1890. For a descendant's obituary, see http://www.kingsmeadschool.co.uk/decourcyobituary.htm




His wife lies with him: B114/ 560/ HONOURABLE ELIZABETH (CARLYON BISHOP) DE COURCY/ IRELAND/

SACRED/ TO THE MEMORY OF THE HON./ ELIZABETH

. .

Elizabeth Carlyon

Bishop

, daughter of

John

Bishop

, had married the Honourable Gerard de Courcy on 29 January 1807. He died in October 1848, leaving her a widow. Their children were

Susannah

de

Courcy

d. 9 Jan 1884,

Geraldine

de

Courcy,

Frederica Maitland

de

Courcy,

Henrietta Jane Paulet

de

Courcy

d. 1 Jul 1906,

Colonel

John Fitzroy

de

Courcy

,

24th Lord Kingsale

b. 30 Mar 1821, d. 20 Nov 1890.




Next, buried with his son and his wife, the surviving daughter erecting a huge tomb to her Scottish mother, is

B112/ CAPTAIN ROBERT NAPIER KELLETT/ SCOTLAND/ SACRED/ TO THE MEMORY OF ROBERT/ NAPIER KELLETT LATE CAPTAIN/ ROYAL HIGHLANDERS OF RENFREWSHIRE/ SCOTLAND, NEPHEW OF SIR RICHARD/ KELLETT BART/ DIED AT FLORENCE NOVEMBER 2ND 18[53]/ AGED 56 YEARS/ - . - / REQUIESCAT IN PACE/ - . - / 517


Participant at Battle of Waterloo, well-connected Scottish relatives, but immediate family suffering from tuberculosis, his son and wife buried beside him, only the daughter, Jemima (Hunter Kellett) Melhado, inheriting all the wealth, surviving. JLMaquay, Diaries 6/11/1853 'I attended Captain Kellett's funeral.'

Their descendants have visited these tombs and the Waterloo Society lists them. Jemima of a Scottish father and thus with a stronger legal backing for sexual equality than from an English father nursed her son and her husband while they were dying of tuberculosis, then died herself. She thus briefly became the legal head of their family. JLMaquay, Diaries 7/9/1854 'up early to attend funeral of Mrs Napier Kellett. Father mother and son have all died within 16 months.' Her daughter, Jemima Hunter Kellett, places the magnificent tombstone with its armorial bearings for her mother: she will marry the following year the Portuguese Jew Elias Henrriques Melhado, the son of Daniel and Judith Melhado, and whose family, like the Barretts, were also in Jamaica. There is careful documentation in the Scottish archives protecting Jemima's property against Elias, nor do we find him violating those terms. Jemima Melhado died at 75 in 1908, Elias Melhado at 91 in 1918, both in the Jamaican region of London, St Marylebone. See Peter Brunning, Cambridge, http://www.brunning47.demon.co.uk/kellett/florence.html



B8/ ELIZABETH BARRETT BROWNING/ JAMAICA/ENGLAND/ E.B.B./ OB.1861//

FRANCESCO GIOVANNOZZI FECE,

who never told her husband her parents took her to see the battlefield of Waterloo when she was a child as that would have given her age away. But she places fearsome lines into Aurora Leigh about that memory.

Would you leave
That child to wander in a battle-field
And push his innocent smile against the guns? Book I,772-774

Now we must enter into Sector B, amongst the tombs, to find the following:

B68/ REAR ADMIRAL EDWARD AUGUSTUS FRANKLAND/ ENGLAND/ SACRED/ TO THE MEMORY OF/ REAR ADMIRAL/ EDWARD AUGUSTUS FRANKLAND/ WHO DIED AT FLORENCE/ 2 JANUARY 1862/ AGED 67 YEARS/ BELOVED AND REGRETTED
He has a biography in John Marshall, Royal Naval Biography, Or Memoirs of the Services of all the Flag Officers, accessible on Google Books. Many members of his family connected with the Royal Navy. He seems never to have married. This tomb urgently needs consolidation, was damaged by a British bomb in WWII..


B98/
MAJOR FRANCIS CHARLES GREGORIE/ ENGLAND/ MA FRANCES CHARLES C. GRE . . LATE CAPTAIN 13 LIGHT DRAGOONS, DIED OCTOBER 16, 1858
'GREGORIE, Charles (or Gregory) Lt 4 Aug 1808. Captain. 72nd Highland Regiment. 15 Sep 1808. Captain 6th Dragoon Guards 10 May 1810. Captain 13th Light Dragoons 20 Jun 1811. Served in the Peninsula with 13th Light Dragoons from Sep 1811 - Jan 1814. Present at Arroyo dos Molinos, Vittoria, Nivelle, Nive and Garris. Awarded the Military General Service medal for Vittoria, Nivelle and Nive. Also served at Waterloo. Left the regiment by 1818'. Waterloo Committee: Listed in Charles Dalton, Waterloo Roll Call, p. 78. Mentioned by Thomas Adolphus Trollope, What I Remember, and Sophia Peabody Hawthorne, Notes in Italy, and in the Cemetery's Alphabetical Register as Major with spelling of Gregorie, the first two stating he was at Waterloo, while Nathaniel Hawthorne, Italian Notebooks, mentions this Waterloo veteran as living at Bellosquardo in the Villa Columbaia, a former convent, with his family. He was actually unmarried, living with somewhat distant relatives, the Crossmans, for which see Rev George Brickdale Crossman,
B32. The tombs of B42/ ISABELLA BLAGDEN, B98

/

MAJOR FRANCIS CHARLES GREGORIE, B99/ REVD GEORGE BRICKDALE CROSSMAN, B32/ HIRAM POWERS, B103/ ELEANOR AUGUSTA TULK, B131/

HONOURABLE FRANCES TOLLEY, as spiritualists and Swedenborgians, are clustered together near that of Nadezhda, the Nubian/ Russian former slave.
Daniel Claudiu-Dumitrescu has consolidated this tomb which urgently needed it.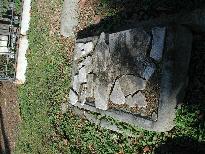 B65/ EDWARD PORTEUS/ ENGLAND/ SACRED TO THE MEMORY OF/ EDWARD PORTEUS ESQRE DEPUTY INSPECTOR GENERAL OF ARMY HOSITALS IN H.B. MAJESTY'S SERVICE/ NEPHEW TO THE LATE RIGHT REVD RECTOR BEILBY PORTEUS/ LATE BISHOP OF LONDON DEPARTED THIS LIFE AT FLORENCE/ ON THE 12 SEPT 1845 AGED 68 YEARS/ THIS MONUMENT TO THE MEMORY OF AN AFFECTIONATE HUSBAND A GOOD FATHER AND AN ABLE FRIEND/ IS ERECTED BY HIS DISCONSOLATE WIDOW DOMENICA AND SURVIVING ONLY SON GEORGE/ P.BAZZANTI.F This Waterloo participant's uncle, Bishop of London Beilby Porteous, of Scottish ancestry, was from Virginia, an Anglican divine deeply opposed to slavery: Wikipedia http://en.wikipedia.org/wiki/Beilby_Porteus. Edward Porteous has married an Italian wife and has only one surviving son. The tomb was badly vandalized but is now well restored and cleaned by Daniel-Claudiu Dumitrescu and Nicolae Ovrei.




B63/ COLONEL ARTHUR HELSHAM GORDON/ ENGLAND/ SACRED TO THE MEMORY OF/ COLONEL ARTHUR HELSHAM GORDON OF H.R.M'S SERVICE/ HE DIED AT ORVIETO ON THE WAY HOME 12 MAY 1865 AGED 84 YEARS// HE SERVED UNDER WELLINGTON IN THE PENINSULAR CAMPAIGNS/ COMMANDED THE 5TH OR PRINCESS CHARLOTTE OF WALES'S DRAGOON GUARDS 8 YEARS/ AND RETIRED FROM THE ARMY AS/ COLONEL IN THE GRENADIER GUARDS
Participant in the Peninsula battles against Napoleon; Served in Peninsula September 1811 to June 1813; ADC to Major-General Ponsonby, November 1812 to May 1813; Major in 5th Dragoon Guards 8 April 1813; Lieutenant-Colonel 8 February 1816. He died at Orvieto while returning home.





B58/ KALIMA NADEZHDA DE SANTIS/ NUBIA/RUSSIA/ITALIA


Jean-François Champollion, 1790-1832, the French philologist who deciphered the Rosetta Stone discovered by Captain Pierre-François Bouchard during Napoleon's campaign in Egypt, was enabled to go to Egypt and Nubia with the Pisan Ippolito Rosellini by the Tuscan Grand Duke Leopold in 1828. Kalima, born in Nubia, a black slave, was brought to Florence with that expedition when she was 14, her freedom purchased by Rosellini's uncle and was baptised 'Nadezhda', 'Hope', in a Russian Orthodox family, and who died a lady in Florence. Her tomb with the only Orthodox cross in the cemetery, the Swiss forbidding any cross other than the plain Latin one. The Russian Orthodox cross has the third and slanting bar to signify the salvation of the Good Thief, the damnation of the Bad Thief, at the Crucifixion. The inscription in Cyrillic telling her story is near that of B32/ HIRAM POWERS, American, and part Native American, sculptor of the 'Greek Slave', and also near that of B93/ HOPE HAYWARD, 'OUR HOPE', while in Sector E we have the great statue of Hope by Odoardo Fantacchiotti, E25/ SAMUEL REGINALD ROUTH. Nadezhda exemplifies the spirit of the Cemetery, the Abolition of Slavery, the ending of young children's employment in mines and factories, the freeing of women, the freeing of nations. A very similar story is manifested with F53/ HENRIETTA MARIA HAY, whose Greek mother, Kalitza Psaraki, captured by Ottoman Turks in the Greek War of Independence, was purchased in Alexandria's slave market by the Scots Egyptologist, Robert Hay, and whom he married on Malta in 1828. Nubian Kalima's death at 38 occurs in the year of the Crystal Palace Exhibition in London, in the centre of which was Hiram Powers' 'Greek Slave'.



Rosellini and Champollion Expedition to Egypt and Nubia

In Sector C at the left top of the Cemetery we find these two tombs:






C93/ COLONEL JAMES HUGHES/ WALES/ SACRED TO THE MEMORY OF/ COLONEL JAMES HUGHES CB/ THIRD SON OF THE REVEREND EDWARD HUGHES KINMEL/ PARK IN THE COUNTY OF DENBIGH AND OF LLISDULAS IN THE COUNTY/ OF ANGLESEA HE DIED ON THE 29TH DECEMBER 1845/ THIS MEMORIAL IN TOKEN OF HIS GREAT AFFECTION WAS ERECTED/ BY HIS ONLY SURVIVING BROTHER WILLIAM LEWIS LORD DINORBEN/ COLONEL HUGHES ENTERED THE ARMY AT AN EARLY AGE AS CORNET IN THE 16TH LANCERS/ HAVING BEEN PROMOTED INTO THE 15TH HE ENTERED IN THAT REGIMENT/ IN PORTUGAL AND SPAIN UNDER THE COMMAND OF LT GEN MOORE HE WAS WITH/ THE ADVANCED GUARD AT THE ESCURIAL AND PRESENT AT THE DIFFERENT AFFAIRS/ WHICH WERE HAD DURING THE RETREAT AND AT THE MEMORABLE ACTION OF/ CORUNNA WHERE THE BRAVE SIR JOHN MOORE FELL EARLY IN 1813. THE COLONEL/ JOINED THE ARMY IN SPAIN COMMANDED BY THE DUKE OF WELLINGTON HE/ WAS PRESENT AT THE BATTLE OF MORALES AND HAD THE GOOD FORTUNE/ TO COMMAND THE 18TH AT THOSE OF VICTORIA, NIVELLE, NIVELLE AND HORTHES/ ON THE 28TH OF MARCH 1814 AT THE HEAD OF ONE SQUADRON OF THIS/ DISTINGUISHED REGIMENT HE CHARGED AND DROVE A FRENCH REGIMENT/ OF DRAGOONS UNDER THE GUNS OF ST CYPRIAN AND ON THE 18TH APRIL/ FOLLOWING HE ATTACKED AND CARRIED THE BRIDGE OF CROIX D'ORADE/ DEFENDED BY VIAL'S DRAGOON WHILST THE OPPOSITE BANKS WERE/ LINED WITH DISMOUNTED CARBINIERS. THIS SUCCESS SECURED THE/ COMMUNICATION OF THE ALLIED COLUMNS AND OPENED THE ROAD TO TOLOUSE/ THE COLONEL WAS SEVERELY WOUNDED IN AN AFFAIR AT ELLITE/ FOR HIS SEVERAL SERVICES HE WAS REWARDED WITH DISTIN/GUISHING CROSSES//

P.BAZZANTI.F.


Unable to be present at Waterloo due to his wounds this Welshman participated in all the other Peninsula battles against Napoleon, resulting in this very lengthy inscription. He died in Poggibonsi. His brother, William Lewis, Lord Dinorben, the philanthropist, who founds a school for girls and was an M.P. orders the finely sculpted tomb, echoing that of A77/ MAJOR MICHELANGELO GALEAZZI. The family had great wealth from owning the largest copper mine in Europe.


C22I/ C96/ 76/
CAPTAIN CHARLES MONTAGUE (HUDLESTON) WALKER/ ENGLAND
/



He is a Captain in the Royal Navy,

who was present at the siege of Toulon in 1793 and served as midshipman on the 'Fortitude', 74, in operations against Corsica, including the attack on Mortella Tower in 1794 which prompted the adoption of 'Martello' towers in England for coastal defence. Subsequently in the West Indies, he was at the capture of St Lucia in May 1796 and Trinidad, February 1797. Under Captain William Hotham in the 'Adamant', 50, at the Cape of Good Hope, he took part in the destruction of the French frigate 'La Preneuse' on 11 December 1799, and (with the 'Lancaster') in a cutting-out operation at Port Louis, Mauritius. Commissioned lieutenant in January 1803, he was appointed second of the 74-gun 'Spencer' under Robert Stopford, which in 1805 took part in Nelson's pre-Trafalgar chase to the West Indies, though not the battle itself. He was still in her in Duckworth's victory at San Domingo in 1806 and Gambier's reduction of Copenhagen in 1807, and in the blockade of Lisbon that winter. From there he brought back a surrendered Russian sloop after the Convention of Cintra and was subsequently appointed (1809-11) to the 'Barfleur' , 98, flagship of Rear-Admiral Charles Tyler and then the 'Colossus', 74, which was part of Sir Richard Keats's squadron defending Cadiz. He was promoted to commander on 1 February 1812 but did not serve again until February 1824, when appointed to the 20-gun, 6th-rate, 'Medina' in the Mediterranean. One of his duties there was conveying Lord Strangford, British Ambassador to Turkey, back from Constantinople to Trieste. He became a captain in the general promotion of 27 May 1825 but without further service. On 5 October 1811 at St George's, Hanover Square, London, Charles married Anna Maria Riddell, daughter of the improvident Walter Riddell of Glen Riddell, Scotland (Dumfriesshire). C97/
ANNA MARIA (RIDDELL) WALKER
and Charles had eight children. See Sector F for F30/
FLORENCE (FLETCHER WALKER) WHYTE
, their daughter, F13/
FLORENCE EVELYN JULIA FLEETWOOD WILSON
, their granddaughter, this Sector for C69/
EDWARD MARCUS WHYTE
their grandson, the family being connected to the Moysers, Whytes, Fleetwood Wilsons and Chichesters.



In Sector D, to the right at the top of the Cemetery we have the following tombs:




D13/ SALOMON GUILLAUME COUNIS/ SWITZERLAND



Self-Portrait Empress Marie Louise

One of the best Genevan painters on enamel, he worked in Paris before coming to Florence where the Lisa Bonaparte Bacciocchi, Princess of Lucca and Piombino, Grand Duchess of Tuscany, until 1814, Napoleon's sister, appointed him Court Painter. After a sojourn in Geneva he returned to Florence and earned a reputation as a portraitist, drawer and lithographer, and also wrote a treatise on enamel painting (1842). His work was in demand by foreigners restoring noble old residences who wished to ornament them with terra cottas in the manner of Della Robbia.


D12B/ ELISA LE COMTE COUNIS/ SVIZZERA/

ICI REPOSE/ ELISA LE COMTE/ NEE COUNIS/ F

MATTEI



Buried with them is their daughter, who is listed in the Archives as having no profession. In actual fact, Elisa/Louise was a gifted painter like her father, her self-portrait showing her with the cameo Elisa Bonaparte gave her, her orphaned daughter Lisine, following her death in childbirth, being raised by her grandparents: Dizionario Biografico degli Italiani 30 (1984); Wikipedia: https://it.wikipedia.org/wiki/Elisa_Counis#Biografia.




Another row of tombs below those of the Swiss, in Sector D, gives us

D21/ CAPTAIN ROBERT GEORGE SUCKLING SMITH/ SCOTLAND/ SACRED TO THE MEMORY OF CAPTAIN ROBERT GEORGE SUCKLING SMITH OF THE ROYAL ARTILLERY YOUNGEST AND LAST REMAINING SON OF THE LATE COLONEL WILLIAM PETER SMITH COMMANDANT OF THE ROYAL ARTILLERY IN NORTH BRITAIN AND ANNA ELIZABETH ROOMER HIS WIFE WHO DEPARTED THIS LIFE AT THE BATHS OF LUCCA ON THE 16 SEPT 1840 AGED 47 THIS MONUMENT TO THE MEMORY OF A BELOVED BROTHER IS ERECTED BY HIS ONLY SURVIVING SISTER LOUISA SMITH/ 207
His father was Colonel William P. Smith, Major in RA 25 April 1796; Lieutenant-Colonel 8 January 1799; Colonel 20 July 1804; died Leith 1806, whose 'youngest and last remaining son' dies at Bagni di Lucca, his sole surviving and spinster sister burying him in Florence. Waterloo participant. The letters of the inscription are no longer distinct and are now transcribed with the help of the N&Q one made a hundred years ago.




and

D25/ HARCOURT POPHAM/ ENGLAND/ SACRED TO THE MEMORY OF/ HARCOURT POPHAM/ OF THE ROYAL HORSE ARTILLERY/ YOUNGEST SON OF THE LATE ADMIRAL/ SIR HOME POPHAM WHO DIED/ 31 DECEMBER 1840 AGED 28/ N° 209
Youngest son of Sir Home Riggs Popham, who, in Bengal, had married Elizabeth Moffat Prince daughter of Captain Prince of the East India's military service. NDNB, Oxford University Press, gives permission for the entry for his father, Sir Home Riggs Popham (who invented the flag code used by Nelson at Trafalgar, 'England expects that every man to do his duty'), entry written by Hugh Popham, to be retrieved at http://www.oxforddnb.com/public/dnb/22541.html. His sister marries Admiral John Pakenham and is buried in Sector E (E118/
CAROLINE EMILY (THOMPSON/POPHAM) PAKENHAM
) with his 21 year-old niece (E118/
ELIZABETH ISABELLA PAKENHAM
). JLMaquay Diaries: 31/12/1840 'Harcourt Popham died of apoplexy at 6 having been complaining for a few days' 2/1/1841 'Harcourt Popham buried this morning but I did not attend as the family wished nobody to do so.' Maquays and Pophams were great friends, Webbs noting Popham (D25), Moffatt (E135), Pakenham (E118), Brooks (E114), Maquay (D1) connections. The broken column signifies he has died too young, at only 28.
Next we turn down the path for the Russian and Romanian burials to find those of
D87/ MAJOR ALEXANDER TOMKINS/ ENGLAND/
SACRED TO THE MEMORY OF/ MAJOR ALEXANDER TOMKINS 77 HIGH/ YOUNGEST SON OF THE LATE BORGOYNE TOMKINS/ PHYSICIAN AT THE TOWER OF LONDON/ DEPARTED THIS LIFE ON THE 2ND OF NOVEMBER 1852 AGED 52 YEARS/ 494
Major Alexander Tomkins was in the 77th Infantry. A descendant writes: 'Burgoyne Tomkins (c. 1761-1836), was a physician, not a mere surgeon as his father had been. He took an MD at St Andrews and was a Fellow of Peterhouse, Cambridge, and held the sinecure post of Physician to the Tower of London garrison for over 50 years (Burgoyne's sons were officers in the Army and the Royal Navy, one dying at Waterloo, while two of his daughters married Army officers)'.




D136/

DR JOHN WILLIAMS

/

ENGLAND

/

IOANNI WILLIAMS LONDINENSI/ SANCTIS MORIBUS HUMANIS LITTERIS/ NATURA ET PHILOSOPHIA PRAETARO/ CUI AD MEDICAM ET CHIRUGIAM/ MILIT BRITANNIC . . ./RELICTO MEDICA / DOCTOR XXXV ANNOS PERITUM . . . /. . . AL AD AMORE/ MORBIS RAPITOS/ HONESTA MISSIONI DONATVS FLORENTIAE/ VBI LENIRE COARCTATIONIS MAGNORUM CORDIS VASORUM/ INCREMENTVM PASSVS/ DIEM OBIIT EXTREMVM/ XV FEBRVARI ANNO MDCCCXXXX1 AET SVAE LVIII/ RESVRRECTIONEM A.D.J. CHRISTO PROMISSAM EXPECTANS/ CONIVGI DILECTISSIMO PAVLA VXOR CVM LACRYMIS
He is one of our Waterloo participants. Has he instructed before his death that his tombstone carry this lengthy Latin inscription? His wife Paula carries out his desire in tears.




Now we go back up the path to the cross to find in Sector E at the corner that we have the tomb of




E11B/ THOMAS HAMILTON/ SCOTLAND/ IN LOVE AND RESPECT/ TO THE MEMORY OF/ THOMAS HAMILTON, ESQUIRE/ WHO HERE LIES BURIED/ DIED AT PISA ON THE/ SEVENTH OF DECEMBER 1842/ IN HIS FIFTY THIRD YEAR/ M.F./
Annette Hamilton(E11A)'s widower was born in Pisa to a Scottish physician, educated in Scotland, then served in the Peninsular battles, was wounded, later writing novels and travel books, including the novel Cyril Thornton and the 1829-1831 Annals of the Peninsular Campaigns: From MDCCCVIII to MDCCCXIV, contributing to Blackwoods: http://en.wikipedia.org/wiki/Thomas_Hamilton_%28writer%29 He married a second time and became friends with William Wordsworth. Falling ill he chose to have his body brought from Pisa to Florence to be buried beside his first wife. Funds continued to be paid for the upkeep of these two tombs for many years.




And then, turning down by the statue of Speranza, we have the very touching and equal tombs of a King of England's son, his servant and his wife, next to the tombs for American Hiram Powers' three children.

E57/ LADY GEORGINA HACKING HAMILTON SEWELL/ ENGLAND/

IN MEMORY OF GEORGINA HACKING SEWELL/ WIDOW OF GEN. SIR W.H. SEWELL K.C.B. WHO FELL ASLEEP ON 1 MAY 1872//1172
She dies at Richmond but arranges to have her body brought to Florence to lie beside her husband.




E58/ SIR WILLIAM HENRY SEWELL/ ENGLAND/ Beneath this sacred symbol of salvation repose the mortal remains of/ General Sir William Henry Sewell, C.B., Colonel of 79 Highlanders/ who departed this life at Florence on/ the 13 March 1862// Blessed are the dead which die in the Lord from henceforth/ Yea, saith the Saviour, . . . rest from their Labours And their Works do follow them./ Rev. 14. 13 verse//778
Waterloo Committee: SEWELL, William Henry/ Brevet Major, 16th (Queen's) Light Dragoons; Ensign 60th Foot 1806, Exchanged to 16th Light Dragoons 1806. Lt 1807. Capt 1812. Capt 6oth Foot 1813. Bt Major Mar 1814. Lt Colonel 1817. Colonel 1837. Major General 1846. Lt General 1854./ Served in the Peninsula Aug 1808 - Jan 1809 and Mar 1809 - May 1812. On the Staff of the Portuguese Army May 1812 - Apr 1814. Served throughout the campaign as ADC to Lord Beresford. Present at the Corunna campaign, Talavera, Coa, Agueda, Busaco, Cuidad Rodrigo, Badajoz, San Sebastian, Nivelle, Nive, Orthes, Bayonne and Toulouse. MGS , medal with ten clasps for Corunna, Talavera, Busaco, Cuidad Rodrigo, Badajoz, San Sebastian, Nivelle, Nive, Orthes and Toulouse. CB. Also in Maida and South America, 1807, on the staff of Lord Beresford. Commanded a Portuguese Cavalry regiment 1816. From 1828 - 54 served in India as Deputy Master General, then in command at Bangalore, then divisional commander at Madras and finally Commander-in-Chief of the Madras Army. Returned to England in 1854 and became Colonel of the 79th Cameron Highlanders. Made KCB in 1861. Retired in 1856. Educated at Westminster and Eton, he was W.H. Robertson. On entering the army he took the name of Sewell. Reference: Jameson, Robert. Historical record of the 79th Regiment of Foot, or Cameron Highlanders. 1863'. P. 136. Sewell descendants note he was godson and natural son of King William IV and that Queen Victoria kept him out of the country. Captain Jack Sewell rang the Cemetery's bell in 1945 to see the tombs and took this photograph. I have insisted on preserving this bell intact and in working order, and I have the children burying their parents ring it in order for them to have some control over the chaos at that moment in their lives. In the photograph one can still see the chalice intact on the tomb sculpted by Felicie de Fauveau for E48 SIR CHARLES LYON HERBERT's tomb. One can also see the damage done by a rusting paperclip. Here is part of his letter home to England:

Dearest People, . . . At the moment I'm on leave in Florence & enjoying it a lot. . . I found the General's grave yesterday and his wife's side by side, & took a photo. . . I don't suppose another member of the family will have the opportunity for a long time. What I did decipher was as follows:- 'Beneath this sacred symbol of salvation repose the mortal remains of Gen. Sir. W.H.S., K.E.B., Colonel of 79 Highlanders, who departed this life at Florence 13th March 1862. His wife Georgina Hacking, died on 1 May 1872. His tomb is No 778. The graveyard is in the centre of the Piazza Donatello, in the main boulevard, the Viale Principe Amadeo, Viale Principe Eugenio. It took some time to find the grave once I had looked up the caretaker's book & found his name, as there was no plan . . . The grave is on the right of the central pathway as you go toward the centre of the cemetery, about 5 yards from the path, & almost opposite E.B.B.'s . . . It is closed to the dead now, but the living may enter by pulling on the bell rope at the main gate & waiting till the caretaker or his wife comes to open.


Captain Jack Sewell, 1945

E12O/ E59/ 771/ JAMES BANSFIELD/ ENGLAND/

"NOT NOW AS A SERVANT ABOVE A SERVANT A BROTHER BELOVED" PHILEMON 16 VERSE/ SACRED TO THE MEMORY OF JAMES BANSFIELD PRIVATE IN THE 11TH HUSSARS/ WHO DEPARTED THIS LIFE ON THE 11TH OF JANUARY 1862/ HE WAS FOR 20 YEARS THE FAITHFUL AND DEVOTED SERVANT OF GENERAL SIR W.H. SEWELL K.C.B. BY WHOSE WIDOW THIS TOMB WAS RAISED// 771

His tomb and that of King William IV's son's wife (E57/ LADY GEORGINA HACKING HAMILTON SEWELL), lie on either side of the king's natural son (E58/ SIR WILLIAM HENRY SEWELL), each being equal. We witness amongst many of these tombs the great affection and respect their masters and mistresses paid to servants under their roof: CHARLES CROSBIE, A20 to MARY DUVALL, A80; the friends of the late WILLIAM READER, A23 to HENRY AUSTIN, E34; FRANCES (MILTON) TROLLOPE, B80, THEODOSIA (GARROW) TROLLOPE, B85, and HARRIET THEODOSIA FISHER (GARROW), C77, to ELIZABETH SHINNER, C71; ISABELLA BOUILLON LANZONI, D29, to ANNA ROFFY, C61; SIR WILLIAM HENRY SEWELL, E58, to JAMES BANSFIELD, E59; Prince Demidoff to GEORGE FREDERIC WAIHINGER, E64; Rosina Buonarotti Simoni to MARY ANNE SALISBURY, F2.



Going down to the bottom path in Sector F we find the tombs of two Russians:


F131/ VLADIMIR FEDOROVICH RADECKIJ/ RUSSIA
          

              
This Russian Radetsky is an engineer, likely of the telegraph, and also a government advisor. His name would not be exactly popular during the Risorgimento 
as it is shared with the Czech General who served Austria against Italy, defeating both Napoleon and Carlo Alberto, and for whom the Radetsky March was 
composed by Strauss.

F122/ PRINCESS VERA LEONIDOVNA UROSOVA/ RUSSIA 
    
This four-year-old Russian princess buried beneath the now-felled great cedar of Lebanon comes from a family who were great friends with the Tolstoy family, 
Prince Leonid Dmitrievic Urosov being Vice-Governor of Tula. Princess Selene-Maria A. Obelensky explains that Vera is only distantly connected to her 
grandmother, Princess Orussov. We include her in this app because of Tolstoy's epic novel, War and Peace, on Russia's defense against Napoleon's army.

        

                        

At the end we find this rather grand tomb:

F38/ LIEUTENANT GENERAL JOHN LOCKE/ IRELAND/ SACRED TO THE MEMORY OF LIEUT GENERAL JOHN LOCKE/ OF NEWCASTLE IRELAND/ WHO DEPARTED THIS LIFE THE 28 OF FEBRUARY 1837 AGED 67/ -.- / THE JUST PASSETH THROUGH DEATH UNTO LIFE// F.POZZI.F


This Irish participant in the Battle of Waterloo had a daughter who had married a German prince in Florence in 1834: Prince Henry LXLIV of Reuss-Schleiz-Joestritz married Matilda Henrietta Elizabeth born 12 May 1804, daughter of Lieutenant General John Locke and granddaughter of William, Viscount Courtenay, of Devon. It is likely she who raises this large monument with its shamrocks and armorial bearings, its 'Pelican in its Piety'. The iconography of the 'Pelican in its Piety' also appears on the tombs of

B13I/ B9/

959

/ FANNY WAUGH HUNT/ ENGLAND, sculpted by the Pre-Raphaelite William Holman Hunt, and of D23R/ D121/ 422/ GAUDENZIO WITAL/ SVIZZERA.


  



We only have 700 tombs of the original 1400 burials. Amongst the now lost tombs was that for Emma Carew, Emma Hamilton's first child, her second being Horatia Nelson, the child's father defeating Napoleon at the Battle of Trafalgar. My great great grandfather, whom I learned recently could only sign his name with a cross, was a soldier at Waterloo. His son, my great grandfather, whose teacher was Patrick Bronte and who met Charlotte, walked barefoot at 11 across the Moors from Haworth to Bradford to work in the Mills, becoming manager at 18, fluent in Russian, trading wool and cloth in St Petersburg, then buying the model mill town, Saltaire, doubling it in size with beautiful Russo-Italian architecture, now a UNESCO World Heritage Site, buying Haworth Parsonage for the Nation, endowing the Chair of Russian at Leeds University, becoming Sir James Roberts, 1st Baronet, and proposed as a Veto Peer.

We advise visits to the Villa Stibbert and its museum, and to the Cassa di Risparmio di Firenze's Predieri exhibition of lead soldiers . We thank the Waterloo Society and the Landor Society of Warwick for their support and help in this research.




Booklet and app created, 11 May 2018, Aurello Anello Book
s
FLORIN WEBSITE © JULIA BOLTON HOLLOWAY, AUREO ANELLO ASSOCIAZIONE, 1997-2019: MEDIEVAL: BRUNETTO LATINO, DANTE ALIGHIERI, SWEET NEW STYLE: BRUNETTO LATINO, DANTE ALIGHIERI, & GEOFFREY CHAUCER || VICTORIAN: WHITE SILENCE: FLORENCE'S 'ENGLISH' CEMETERY || ELIZABETH BARRETT BROWNING || WALTER SAVAGE LANDOR || FRANCES TROLLOPE || HIRAM POWERS || ABOLITION OF SLAVERY || FLORENCE IN SEPIA || CITY AND BOOK CONFERENCE PROCEEDINGS I, II, III, IV, V, VI, VII, VIII|| MEDIATHECA 'FIORETTA MAZZEI' || EDITRICE AUREO ANELLO CATALOGUE || FLORIN WEBSITE || UMILTA WEBSITE || RINGOFGOLD WEBSITE || LINGUE/LANGUAGES: ITALIANO, ENGLISH || VITA
New: Dante vivo || White Silence
Newest: Abbreviated Virtual Guide: http://www.florin.ms/VirtualGuide.html to the English Cemetery, in italiano http://www.florin.ms/GuidaVirtuale.html
The Stones of Florence http://www.florin.ms/StonesofFlorence.html in italiano, http://www.florin.ms/LapidiDantesche.html
Emio Latini, Daniel in the Island of the Dead, https://vimeo.com/139962781
https://once-and-future-classroom.org/the-dante-vivo-project-florence-italy/
The English and Napoleon in Florence's 'English' Cemetery http://www.florin.ms/Napoleonapp.html
Tombs associated with Slavery in Florence 'English Cemetery http://www.florin.ms/SlaveryTombsapp.html
Fanous Women Associated with Florence's 'English' Cemetery http://www.florin.ms/FamousWomenapp.html
History of Medicine in Florence's 'English' Cemetery http://www.florin.ms/MedicalHistoryapp.html


: