FamousWomenapp©Julia Bolton Holloway

OUTSTANDING WOMEN ASSOCIATED WITH FLORENCE'S ENGLISH CEMETERY

RED=persons in the Cemetery; BLUE=friends, associates, role models

Florence's 'English' Cemetery, owned by the Swiss Evangelical Reformed Church, was in use for only fifty years, from 1827 to 1887. A time when women could not be formally educated but who subversively taught each other, and who became governesses, became sculptors, ran hospitals, founded schools, churches, translated the Bible, wrote novels, composed poems, invented a suspension bridge, the keyboards for Morse code, which then became the typewriter, discovered planets and, for us today, most important of all, invented the computer. While men tended to sculpt and paint them as idealized but distant objects, in paradoxical 'thunders of white silence'. This oval of this cemetery contains all this.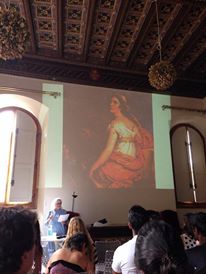 Lecturing for the University of California at Berkeley in the Palazzo Guadagni on the Swiss/English MADAME DE STAËL (whose biological father was Edward Gibbon) and other women associated with Florence's 'English' Cemetery. It was she who gave Victorian women in her novel Corinne the right to travel and to write, to oppose tyranny and fight for the freedom of nations from empires, and who particularly opposed Napoleon. The French woman novelist GEORGE SAND (Aurore Dudevant) became for Elizabeth Barrett Browning a further model, the character of Corinne becoming the Aurora of the epic poem/Victorian novel, Aurora Leigh.

Sector A


A15/
ANNE SUSANNA (LLOYD) HORNER/ ENGLAND
The descendants in England own this plaster cast
Francesco Jerace, who sculpted the tomb of Mary Somerville 1873, also created this medallion of his parents

IN REMEMBRANCE OF/ ANNE SUSANNA LLOYD,/ FOR FIFTY-SIX YEARS THE WIFE OF LEONARD HORNER ESQr OF LONDON, F.R.S../ SHE DIED IN FLORENCE ON THE 22d OF MAY 1862,/ IN THE 76th YEAR OF HER AGE./ - / SHE CAME FOR THE RECOVERY OF HER HEALTH, WITH/ HER HUSBAND AND DAUGHTERS SUSAN AND JOANNA/ AFTER THEY AND FOUR MARRIED DAUGHTERS FROM WHOM SHE HAD BEEN PARTED IN ENGLAND/ HAD BEEN BLESSED BY THE UNSPEAKABLE COMFORT OF HER RECOVERY WHICH ENABLED HER TO ENJOY/ BEAUTIFUL FLORENCE FOR SEVEN MONTHS,/ IT PLEASED GOD TO AFFLICT THEM BY HER/ ALMOST SUDDEN DEATH/ "THE LORD GAVE AND THE LORD HATH TAKEN AWAY; BLESSED BY THE NAME OF THE LORD" [Job1.21]/ "THUS DO WE WALK WITH HER, AND KEEP UNBROKEN/ THE BOND WHICH NATURE GIVES,/ THINKING THAT OUR REMEMBRANCE, THOUGH UNSPOKEN,/ MAY REACH HER WHERE SHE LIVES" // MARITI VOTUM PER FILIAS SOLUTUM/ THIS MEDALLION IS PLACED HERE BY THE DESIRE OF/ LEONARD HORNER F.R.S./ HE WAS PREPARING TO REVISIT THE GRAVE/ WHEN HE DIED LOVING - AND BELOVED/ IN THE 80TH YEAR OF HIS AGE IN LONDON/ 5 MARCH 1864/ AND WAS BURIED IN THE CEMETERY AT WOKING/ THE FRUIT OF THE SPIRIT IS LOVE, JOY, PEACE, LONGSUFFERING, GENTLENESS, GOODNESS, FAITH/ GAL. V.22/

Anna Susanna Lloyd Horner, daughter of a Yorkshire landowner, and her circle are of great interest. Alyson Price notes that her daughters Joanna and Susan Horner accompanied her to Florence, where her husband, Leonard Horner, who is mentioned in Hengist Horne's New Spirit of the Age, translated Pasquale Villari's book on Savonarola. Earlier he had worked with Lord Ashley and Thomas Southwood Smith (who is buried in Sector C, C3) against the employment of children in mines and factories. Susan wrote a diary and the two daughters together published a travel guide to Florence, filled with historical and artistic information. They were also friends with Mary Somerville and her two daughters, Martha and Mary, who were to commission a statue of their mother for her tomb in Naples. The Horners had already had their mother's tomb constructed; now they commissioned the young Francesco Jerace from Calabria and working in Naples, to also do the medallion portrait of their mother, as well as his sculpting the life sized effigy of Mary Somerville. In Holman Hunt's portrait of his wife and in this sculpture of Anne Susanna we can see motives of Etruscan and Egyptian jewellery, in the case of Mrs Horner, of the ourbouros featured on her bracelet. The plaster cast of this medallion is owned by the family in London. We know from Susan's diary that they planted a white rose on her mother's tomb from the Torrigiani Garden. We asked Dr Vieri Torrigiani Malaspina for such a rose and he planted a particularly lovely one there.

A6/
MARY (AUCRUM) YOUNG/ SCOTLAND


HOLD [Anchor] FAST/ TO THE MEMORY OF/ MARY YOUNG/ DAUGHTER OF THE LATE/ JOHN STROTHER ANCRUM OF ROXBURGH/ AND WIDOW OF THE REV. ROBERT YOUNG DD MINISTER OF THE/ SCOTS CHURCH LONDON WALL/ ENDOWED WITH SUPERIOR AND REFINED INTELLECT/ FIRM CHARACTER AND ARDENT AFFECTIONS/ SHE WAS BY GOD'S GRACE ENABLED TO SPEND HER WHOLE LIFE IN HIS SERVICE/ AND IN SE. . E . .ING EFFORTS FOR THE GOOD OF OTHERS/ HER FAITH WAS SIMPLE AND UNWAVERING/ SUPPORTED BY THIS FAITH AND CHEERED BY THE HOPE OF GLORY/ SHE ENDURED WITH FORTITUDE THE DECAY OF HER EARTHLY/ TABERNACLE AND JOYFULLY WELCOMED THE SUMMONS/ WHICH CALLED HER HENCE/ ON THE 27 DAY OF SEP 1867/ AGED 77/ AMEN. SO LET IT BE // QUI RIPOSANO LE SPOGLIE MORTALI/ DI / MARIA YOUNG/ VISSE MOLTI ANNI IN ITALIA/ RACCOLSE NEGLI ARCHIVI NOTIZIE STORICHE/ CON CUI COMPOSE UN LIBRO ASSAI STIMATO/ LA VITA DI AONIO PALEARIO E I SUOI TEMPI/ DIMORO LONGAMENTE IN PISA DOVE EDIFICO/ UNA CHIESA EVANGELICA E UNA SCUOLA/ SOCCORSE SEMPRE I POVERI AMO LO STUDIO E SI/ . . SE PER IL RISORGIMENTO DELLA LIBERTA ITALIANA/ MORIVA IN FIRENZE ALL'ETA DI 77 ANNI/ IL 27 SETTEMBRE 1867/ FRA LE BRACCIA DELLA INCONSOLABILE FIGLIA/ ALLA SUA CARA MEMORIA CONSACRONO QUESTA PIETRA/ CARLO E ROBINIA MATTEUCCI/

This tomb of a Scotswoman, Mary Young, historian, archivist, school and church founder, is especially interesting. In its Italian inscription, of the dual language inscriptions such as we see with Robina Wilson and Catherine Jane Penfold, we learn that this widow of the minister of the Scots Church on London Wall came to Pisa where she founded a church and a school, always helping the poor, supported the freeing of Italy, as a scholar spent long hours in archives studying the life of Aonio Paleario, the Italian Renaissance Protestant who was hanged and burned as a heretic in Rome, 1570, publishing a book on him, of which our Mediatheca has one of its two volumes. Count Pietro Guicciardini was among those influenced by Paleario to study and contemplate upon the Bible, and who in turn had to pay the price of first imprisonment, then exile. Mary Young is much loved by her adopted daughter and her Italian son-in-law Carlo Matteucci. The tomb is sculpted with an anchor, a palm branch and an open book, representing both the Bible and her own published work. We have planted a palm at its base to honour her, and Daniel-Claudiu Dumitrescu has conserved its ironwork and cleaned its marble.historian, archivist, school and church founder, educator, A6

A95/ ISABELLA SCOTT/ SCOTLAND




Isabella Scott of Gala N.B./ Died at Florence/ April 4th 1867/ My God and your God/ 976/

Isabella Scott, spinster, is the daughter of John Scott and sister of Hugh Scott of Gala, kinsmen of SIR WALTER SCOTT. In August 1815 John Scott of Gala, an intimate friend of his kinsman Sir Walter Scott, accompanied him on his visit to the field of Waterloo, and returned with him to Scotland. His reminiscences of Sir Walter in London in 1841, are published in Lockhart's Life of Scott. John Scott of Gala died at Edinburgh, April 19, 1840, and was succeeded by his son, Hugh Scott of Gala, born in 1822, at one time Captain 92d Highlanders, and Major of Militia, appointed in 1848 one of the deputy lieutenants of Selkirkshire, who married in 1857 Elizabeth Isabella Johnstone-Gordon, daughter of Capt. Charles Johnstone of Alba and Elizabeth Gordon of Craig, with issue, heir, his son, John Henry Francis Kinnaird Scott, born in 1859.

A111/A112/ HARRIET FRANKES (WEBSTER) PELLEW/ADMIRAL THE HON. FLEETWOOD BROUGHTON REYNOLDS PELLEW/ ENGLAND/



Young Pellew Felicie de Fauveau Caricature, Lord and Lady Holland

HONOURABLE FLEETWOOD BROUGHTON REYNOLDS PELLEW SECOND SON OF EDWARD VISCOUNT EXMOUTH ADMIRAL OF THE BLUE KCE CB BORN . . . DIED AT MARSEILLES THOU . . . / HARRIET FRANKES PELLEW

Harriet Frankes Webster Pellew is the daughter of the wealthy and beautiful Créole ELIZABETH VASSALL WEBSTER FOX, LADY HOLLAND by her first marriage to Sir Godfrey Webster of Battle Abbey and Powdermill, Sussex, while her husband is the son of Edward Pellew, Viscount Exmouth, who stopped Algerian pirates from selling Europeans into slavery, among them the Consul in Algiers, B97/ HUGH MACDONELL, Sector B. NDNB entry. The Hon. Peter I. Pellew adds: Harriet Frances Pellew and her husband Admiral the Hon. Sir Fleetwood Broughton Reynolds Pellew had a daughter called Harriet Bettina Frances Pellew (who died 9 November 1886 and who is also buried in Florence), who through her marriage to the Earl of Orford had 2 daughters, Lady Dorothy Elizabeth Mary Pellew Walpole and Lady Maude Mary Pellew Walpole, both of whom married Italians, the Duke of Balzo and the Prince of Palagonia, and are both buried in Italy'. The Pellews' memorial slab has not weathered well at all and it seems the monument for the husband sculpted by Félicie de Fauveau, see photograph in her album, now owned by Lord Crawford, was never put in place. I copied the Romney painting of Lady Holland and gave it to Godfrey Webster, an Old Etonian, then residing at the Fazenda de Nova Vida he built in the jungle of Minas Gerais, the Trust having sold Powdermill House where we grew up together, and the family portraits by Lely, Van Dyke, Romney, etc, being forbidden to leave Britain. Godfrey died following a tractor accident before my letter telling him I was now looking after his relatives' graves could reach him. When I had visited him at Minas Gerais I saw the school Godfrey Webster founded after the manner of Paulo Freire and met its 14-year-old school teacher. An Australian convict ship was named the 'Sir Godfrey Webster'.
https://en.wikipedia.org/wiki/Elizabeth_Fox,_Baroness_Holland

A45/ CHARLOTTE EMILIA PLUMPTRE/ ENGLAND



John Brett, 'Aurora Leigh'

TO THE PRAISE OF/ HIS LOVE/ WHO GAVE PEACE IN LIFE/ AND JOY IN DEATH TO/ CHARLOTTE EMILIA PLUMPTRE/ THE BELOVED DAUGHTER OF/ WILLIAM H.W. PLUMPTRE/ RECTOR OF EASTWOOD NOTTS ENGLAND/ BORN MARCH 27 1843/ TAKEN HOME FROM BELLOSGUARDO FLORENCE/ NOVEMBER 22 1872/ THEY HAVE WASHED THEIR ROBES AND HAVE/ MADE THEM WHITE IN THE BLOOD OF THE LAMB/ THEREFORE THEY ARE BEFORE THE THRONE OF GOD/ AND SERVE HIM DAY AND NIGHT IN HIS TEMPLE



Charlotte Emilia Plumptre, who is related to

JANE AUSTEN (see Roland Dunning's http://wc.rootsweb.ancestry.com/cgi-bin/igm.cgi?op=GET&db=janeausten),

has died at Isa Blagden's Bellosguardo. She, like Elizabeth Barrett Browning, may be part of the Spiritualists group which clustered there. Elizabeth Barrett Browning's Aurora Leigh ends with the scene at Bellosguardo where Romney and Aurora recite from the Book of Revelations, equating Florence with Jerusalem. Jane Gordon's tomb (A49) will also borrow this passage. See also Thomas Hill Spencer, D27.

D27/ THOMAS HILL SPENCER/ ENGLAND/
An elderly Englishman in Florence who has come from Chawton House in Hampshire, famous for its connections with Jane Austen, as it was inherited by her brother, Edward Austen Knight, and their mother, Cassandra and she lived in its cottage for the last eight years of her life and from where she revised and published her novels.

A48/ SIR DAVID DUMBRECK/ SCOTLAND

Sir David Dumbreck Commander of the Order of Bath Crimea medal with 4 clasps Turkish medal, Crimea Order of the Medjidie



Florence Nightingale

SIR DAVID DUMBRECK K.C.B./ BORN IN ABERDEENSHIRE 1805/ INSPECTOR GENERAL OF ARMY HOSPITALS AND/ HONORARY PHYSICIAN TO THE QUEEN SERVED WITH/ DISTINCTION IN THE CRIMEA WAS PRESENT AT THE BATTLES OF ALMA BALACLAVA INKERMANN AND THE SEIGE OF SEBASTOPOL, FOR WHICH HE/ RECEIVED THE CRIMEA MEDAL WITH 4 CLASSES/ THE TURKISH MEDAL AND THE KNIGHTHOOD OF/ THE ORDER OF THE MEDJIDIE/ HE DEPARTED THIS LIFE AT FLORENCE JAN 24 1876/ / UNIVERSALLY REGRETTED/ THIS MONUMENT HAS BEEN ERECTED TO/ HIS MEMORY BY HIS SORROWING WIDOW/ BLESSED ARE THE DEAD WHICH DIE IN THE LORD/ REV. XIV.15/

FLORENCE NIGHTINGALE worked under him in the Crimea. NDNB/Wikipedia entries: Prior to the breaking out of the Crimean War he was dispatched on a special mission early in 1854 to the expected seat of war, and traversed on his mission Serbia, Bulgaria, and part of

Roumelia

, crossing the Balkans on his route. He was subsequently for a short time principal medical officer with the army, and served with it in the field as senior deputy inspector-general, and was present in this capacity and attached to headquarters at the time of the affair of Bulganac, the Alma, capture of Balaklava, battles of Balaklava and Inkerman, and siege of Sebastopol. His rewards were a medal with four clasps, the fourth class of the Medjidie, and the Turkish medal. He was gazetted C.B. on 4 February 1856, became K.C.B. on 20 May 1871, and was named honorary physician to QUEEN VICTORIA on 21 November 1865. On 19 July 1859 he was promoted to be an inspector-general of the medical department in Cape Town, and on 1 May in the following year was placed on half-pay and received a special pension for distinguished services. He had married, on 27 February 1844, Elizabeth Campbell, only daughter of George Gibson of Leith. He died at 34 Via Montebello, Florence, on 24 January 1876, and his will was proved on 21 March under £12,000. His widow has lent his medals from the Crimea to the sculptor for his tomb and they are replicated exactly, only in white marble, not colour. These photographs come from his descendant, Robin Dumbreck. Sir David and Florence Nightingale would have known each other.

A47/ DOTT. BARTOLOMEO ODICINI/ ITALIA/URUGUAY



Il dott. Odicini e suoi figli, Uruguay Anita Garibaldi

AQUI DESCANSA EL DOCTOR BARTOLOME ODICINI / MDCCCLXXVI// 1341

This doctor, born in Genova, treated ANITA GARIBALDI and her starving children in Montevideo, Uruguay, and, later, Garibaldi himself after the Battle of Aspramonte. It is interesting that the two doctors, Sir David Dumbreck and Bartolomeo Odicini, are buried side by side. ELIZABETH BARRETT BROWNING describes Anita's death in childbirth during Garibaldi's retreat from Rome, heartbreakingly. Mediatheca Fioretta Mazzei has his pamphlet:

A Roma il Papato risposto di Bartolomeo Odicini al Papato a Roma

, Firenze, Bartolomeo Odicini, 1861, also Mario De Carolis, Garibaldi ferito i Aspramonte, 2011

A29/WALTER SAVAGE LANDOR/ ENGLAND



Walter Savage Landor Landor Celebration, 2007


Daniel Willard Fiske's photographs at Cornell of the Villa Landor in San Domenico

IN MEMORY OF/ WALTER SAVAGE LANDOR/ BORN 30th OF JANUARY 1775/ DIED 17th OF SEPTEMBER 1864/ AND THOU HIS FLORENCE TO THY TRUST/ RECEIVE AND KEEP/ KEEP SAFE HIS DEDICATED DUST/ HIS SACRED SLEEP/ SO SHALL THY LOVERS COME FROM FAR/ MIX WITH THY NAME/ MORNING STAR WITH EVENING STAR/ HIS FAULTLESS FAME/ A.G. SWINBURNE/
Born in Warwick, Walter Savage Landor is of the same generation as Keats, Shelley and Byron, but outlived them. His childhood love, the daughter of an Earl, and sister of another, the Honourable ROSE WHITWORTH AYLMER, is buried in India, 1800, at 20. In 1910, BACSA (British Association of Cemeteries in South Asia), tells us, Walter Savage Landor's epitaph was added to her tomb:

Ah, what avails the sceptred race!
Ah, what thy form divine!
What every virtue, every grace!
Rose Aylmer, all were thine.


Rose Aylmer, whom these wakeful eyes
May weep, but never see,
A night of memories and sighs
I consecrate to thee.

Landor romantically sought to participate in the Peninsula battles against Napoleon as a volunteer. Having lost his childhood sweetheart to fever in India, while others, including 'Ianthe', rejected him, he proposed marriage to Julia Thuillier, the daughter of a bankrupt Swiss banker whom he met at a dance in Bath, the marriage an unhappy one. They first lived at Llanthony Abbey in Wales, then came to Italy. He wrote Gebir, exquisite quatrains and, in prose, Imaginary Conversations, the finest being the intensely feminist Pericles and Aspasia. Pastor Luigi Santini wrote: 'An aristocrat, a Republican and a rebel, Landor left England for Florence in 1821, and arrived with a full-fledged reputation as an artist: his poems and prose attest to his great classical learning and his epigrams are forceful and moving. He was restless and eccentric, changed residence several times. Also extravagant and generous, he succeeded in amusing the Florentines (when he didn't terrify them) with his wit. In 1835 he bequeathed his Villa Gherardesca home to his son, Arnold, and returned to London, only to reappear in Florence in 1858. Finally, turned out by his wife and family, like a mad King Lear, he found refuge for a while with the compassionate Isa Blagden (Sector B, B42), admired by the young American KATE FIELD, but finished his days in poverty, in lodgings arranged for him by Robert Browning, in via della Chiesa, then the haunt of artists, under the care of ELIZABETH BARRETT BROWNING's former maid, ELIZABETH (LILY) WILSON. A leader of the early English Romantic movement, his literary production was considerable. He was a fervent supporter of the Italian cause, to which the Brownings introduced him, and raised funds for the 'Garibaldini'. He lived to a ripe old age, all but forgotten by the younger generation, but his name, as Swinburne wrote for his tombstone, is now forever united with that of Florence, his chosen home'. [See Giuliana Artom Treves, Golden Ring, pp. 38-53.] He collected Tuscan 'Primitive' paintings before Bernard Berenson did so. He was also a great lover of landscape gardening, not liking gardens to be too neat, too precise. His wife (jealous of Rose Aylmer?) did not attend his funeral and a stone was placed on his tomb that was so cheap it disintegrated and was replaced in 1946. His son Arnold (1819-1871) is buried in a magnificent tomb with a full-size sculpture of Walter's shrewish wife, Julia, on top of it in Sector F, F128, for which she must have paid a fortune. Later Professor Fiske of Cornell, the great Italian and Icelandic scholar, would acquire his villa (now the School of Music in San Domenico, Fiesole) and carefully photograph it as it was. For which see Patrick J. Stevens, 'Jennie's Gift' and Kristìn Bragadottìr, William Morris and Iceland. We are profoundly grateful for Jean Field's gift to us of the many volumes of Walter Savage Landor's writings, which we carried to his tomb in 2007, and to that of ROSA MADIAI (F128), next to it, her imprisoned husband FRANCESCO MADIAI being the subject of WSL's last 'Imaginary Conversation', these now shelved in the Mediatheca 'Fioretta Mazzei'.


In the Sector AB on our left below the wall we find





AB27/ SALVATORE FERRETTI/ ITALIA/




A PERPETUARE LA MEMORIA/ DI SALVATORE FERRETTI/ LA MOGLIE I FIGLI ED AMICI INGLESI/ CHE TANTO LO AMARONO/ QUESTO MONUMENTO ERESSERO// SALVATORE FERRETTI/ NACQUE IN FIRENZE IL 15 SETTEMBRE 1817/ DA OPEROSA E SANTA CARITA SPIRIATO/ NEL SOCCORRERE AI MISERI SPESE LA VITA/ NELLA OSPITALE INGHILTERRA/ DOVE VENT'ANNI DIMORO'/ PRESO DE DESIDERIO DELLA PATRIA DILETTA/ RACCOLSE IN ASILI I FANCIULLI/ DA SNATURATI GENITORI VENDUTI/ LE FIGLIE DEGLI INFELICI CHE IN ESILIO LANGUIVANO/ CACCIATI DALL'ITALIA DIVISA/ IN OPERA DI TANTA MISERICORDIA/ DA PIE PERSONE LARGAMENTE SOCCORSO/ E DOPO CHE A LIBERATA L'ITALIA RISORSE/ TORNATO IN FIRENZE/ APRI FRA ORFANE CASA DI RIFUGIO E DI EDUCAZIONE/ QUI ARRIVATO DALLA FEDE IN CRISTO SALVATORE/ DALL'AFFETTO DEI SUOI E DEGLI AMICI CONFORTATO/ MORI' 14 MAGGIO 1874

This Italian Protestant, exiled to England for twenty years for his faith, founded an orphanage there for the ragged Italian children he saw begging in the streets, especially rescuing the young girls driven by poverty to prostitute themselves. For his music: http://www.hymntime.com/tch/htm/o/c/t/octhascn.htm. With the Risorgimento he returned to Florence and founded another educational orphanage which still exists in the Piazza Massimo d'Azeglio, its villa given by a member of the Protestant Baldelli Walker family who have so many burials here (see, for example, F14/ BIANCA [WALKER] BALDELLI). Thomas Adolphus Trollope, What I Remember, II.264, gives letter from US Consul George P. Marsh enclosing a Ferretti pamphlet. His English friends arranged his burial in the Swiss-owned so-called 'English' Cemetery. The missing lead letters of its inscription have been replaced by Roma who beg now in the streets of Florence and who attend Alphabet School in the Cemetery on Sundays.

AB28/ WALTER ELDREDGE ALEXANDER/ AMERICA




IN TENDER MEMORY OF/ WALTER ELDREDGE ALEXANDER/ SON OF WALTER S. AND CONSTANCE ELDREDGE ALEXANDER/ DIED APRIL 25 1874/ AGED 7 YEARS// A LITTLE LOVING LAD/ HE PASSED// FROM THE BRIEF JOY/ OF THIS LIFE TO/ THE ENDLESS FELICITY OF/ PARADISE//1262

His Yale-educated father was sent to Florence as a Congregational minister and missioner to twelve free churches in Italy in 1871. In 1877 he became President of Straight University in New Orleans, founded to educate newly-freed African Americans, where his wife also taught. He returned to Massachusetts on his retirement. The parents were present at CORNELIA LORING (AB5)'s funeral. A daughter, this child's sister, CONSTANCE GROSVENOR ALEXANDER, became a teacher at the Latin School, Cambridge. Already widowed, when dying he said to her: 'Two things are eternal---the Saviour's love, and my love for you.': http://www.drbronsontours.com/centralrevwaltersalexander.html

We now retrace our steps from Sector AB to regain the path towards the cross at the centre of the Cemetery, and turn down the one leading towards the view of Florence's domed Cathedral. Here we find several of the Trollope family.


B85/ THEODOSIA (GARROW) TROLLOPE/ ENGLAND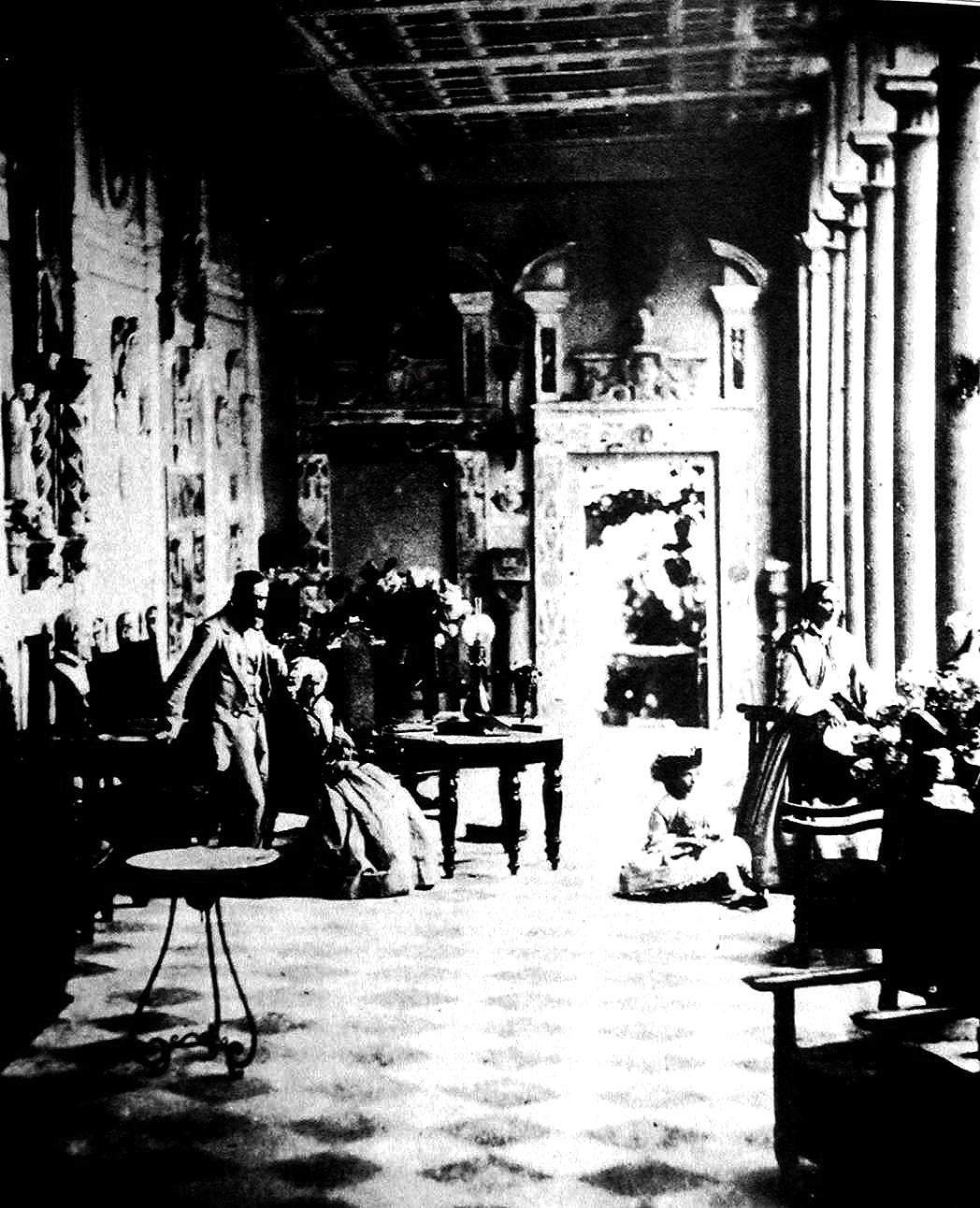 Villino Trollope, Thomas, Fanny, The day 13 April 1865/ died in this house/ Theodosia Garrovv-Trollope/
Bice, Theodosia who wrote in English with an Italian spirit/ of the struggle and the triumph of Liberty

THEODOSIAE TROLLOPE/ T. ADOLFI TROLLOPE CONIUGIS/ QUOD MORTALE FUIT/ HIC IACET/ OBITUM EIUS FLEVERUNT OMNES/ QUANTUM AUTEM FIERI MERUIT/ VIR EUGUI SCRIPTORES/ SCIT SOLUS/ JOSEFE GARROW ARMr FILIA/ APUD TORQEY IN AGRORUM DEVON ANGLORUM NATA/ FLORENTIAE NOMEN AGENS LUSTRUM/ AD PLURES DIVINAE . . ./ MENSES APRILES A.D. 1865

When an invalid child in Torquay, she had known ELIZABETH BARRETT, likewise a young invalid, both with tuberculosis. https://en.wikipedia.org/wiki/Theodosia_Trollope; 'Theodosia Garrow Trollope', Laurel Garland. Pastore Luigi Santini: 'She arrived in Florence in 1845 with her father [B108/ JOSEPH GARROW, who is buried near her tomb], an able violinist, and her mother, who became friendly with their neighbours, the Trollopes, as a result of a visit by their mutual friend Charles Dickens. She married Thomas Adolphus Trollope and moved to the Piazza Barbano in 1848. She was a talented writer with a wonderful mastery of Italian and translated works by Giusti and G.B. Nicolini. A fanatic supporter of the cause of Italian independence, she published a history of the Tuscan Revolution in the Athenaeum'. Thomas Adolphus Trollope, What I Remember, II.150-159, 166-168, & Chapter XVIII, describes her as Florence's new Corinne; pp. 171-173. she was used by Hawthorne as a model for Miriam in his Marble Faun.

Theodosia (T. Garrow on the title page) made a translation of Giovanni Batista Niccolini's,

Arnold of Brescia, a tragedy

, and this was published in London in 1846,

also wrote History of the Tuscan Revolution. Elizabeth Shinner (C71), her maid, is mentioned in Harriet Fisher's will, made on 10 July 1846. She wrote: 'To Eliz.th. Shinner maid servant the sum of 30£ my gold watch and whatever wearing apparel my sister Theodosia Garrow may not wish to retain'. This half-sister, C77/ HARRIET THEODOSIA FISHER (GARROW), is buried with C71/ ELIZABETH SHINNER, their maid, in Sector C. We witness amongst many of these tombs the great affection and respect their masters and mistresses paid to servants under their roof: CHARLES CROSBIE, A20 to MARY DUVALL, A80; the friends of the late WILLIAM READER, A23 to HENRY AUSTIN, E34; FRANCES (MILTON) TROLLOPE, B80, THEODOSIA (GARROW) TROLLOPE, B85, and HARRIET THEODOSIA FISHER (GARROW), C77, to ELIZABETH SHINNER, C71; ISABELLA BOUILLON LANZONI, D29, to ANNA ROFFY, C61; SIR WILLIAM HENRY SEWELL, E58, to JAMES BANSFIELD, E59; Prince Demidoff to GEORGE FREDERIC WAIHINGER, E64; Rosina Buonarotti Simoni to MARY ANNE SALISBURY, F2. B42/ ISABELLA BLAGDEN (in this sector B), cares first for motherless Pen Browning, then for Bice Trollope on the deaths of their mothers from tuberculosis. NDNB entries for Theodosia Trollope, James Archibald Stuart-Wortley, whose grandson married first Theodosia's daughter, Bice, then Millais' daughter, Caroline. See Garrow, Trollope, Shinner, Fisher entries and the Villino Trollope photograph below, on which is placed this plaque. Thomas Adolphus Trollope composes the Latin on his mother's tomb, B80/ FRANCES (MILTON) TROLLOPE, on his wife's father's, B108/ JOSEPH GARROW, and on his wife's, B85/ THEODOSIA (GARROW) TROLLOPE.

B80/ FRANCES (MILTON) TROLLOPE/ ENGLAND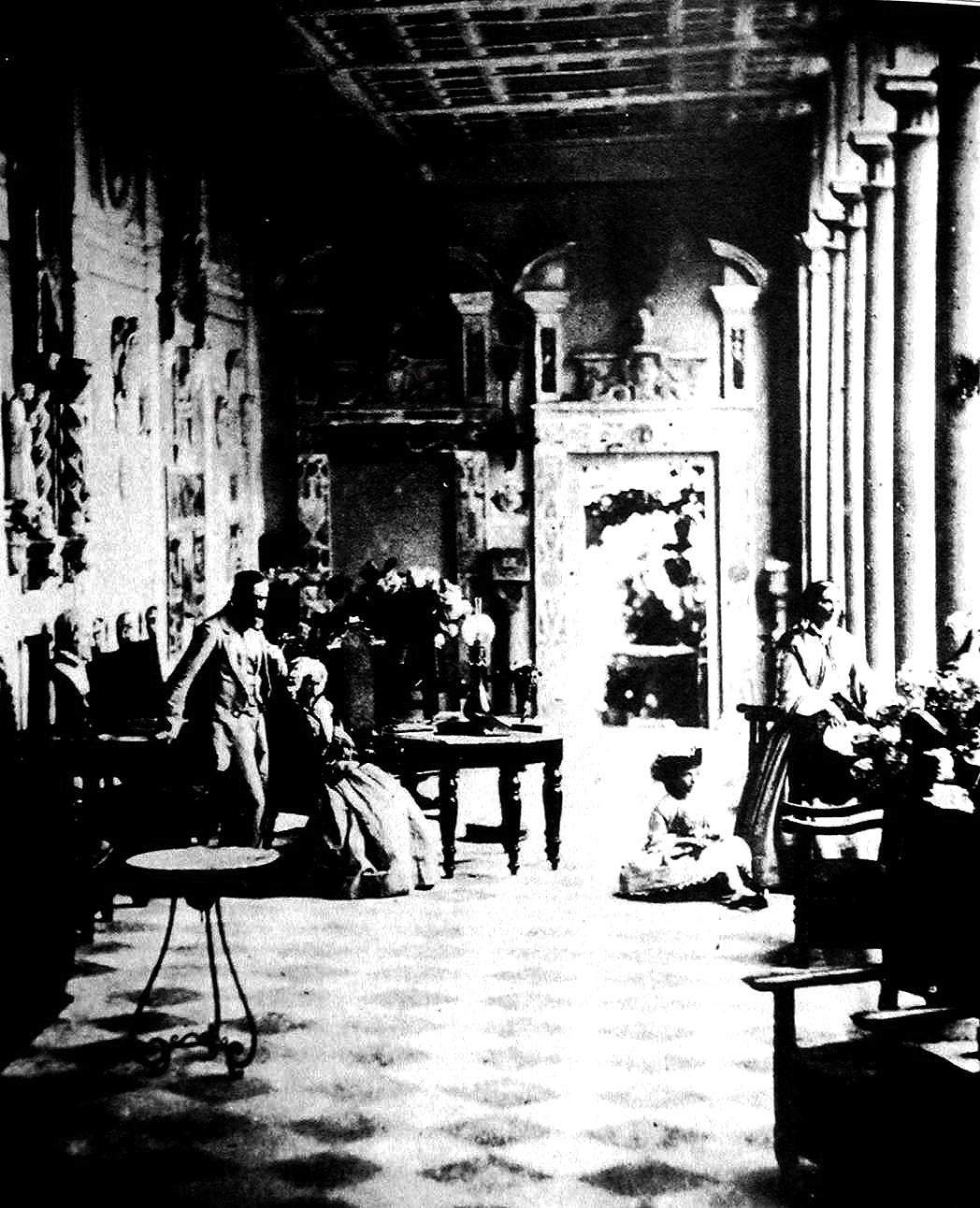 Auguste Hervieu Villino Trollope

FRANCESCAE TROLLOPE/ QUOD MORTALE FUIT/ HIC IACET/ . . . / MEMORIA/ NULLUM MARMOR QUAERIT/ APUD STAPLETON/ IN AGRO SOMERSET ANGLORUM/ A.D. 1780 NATA/ FLORENTIAE/ TUMULUM A.D.1863/ NACTA EST

On 28 December 1827, the ship 'Edward' had set sail from the Port of London for the Port of New Orleans. On board were Frances Trollope, 40, Abolitionist, entrepreneur, writer, and the mother of Cecilia Trollope, 12, Emily Trollope, 10, Henry Trollope, 14, all English, Frances Wright, 28, American, and August Hervieu, 23, French. Frances Wright, associated with Lafayette, had invited the Trollopes to Nashoba where she had a settlement for the education of Negro slaves. Auguste Hervieu, a brilliant young artist, was the children's tutor and companion. With them also were Hester Rust and William Abbott, their servants. Often Hervieu had to sell his art to feed and house them all'. In Cincinatti she had engaged the young B32/ HIRAM POWERS to do Dante's Commedia in wax, starting his career as a sculptor. Pastore Luigi Santini wrote of her presence in Florence: 'She was the matriarch of a clan of writers; herself, two sons and two daughters-in-law. She arrived in Florence with her son Thomas Adolphus in 1843 and took up residence in Piazza Santa Croce, immediately entering into friendly relations with notables of the Court and the British community. In 1849 she moved with her son and daughter-in-law Theodosia Garrow to a little house, Villino Trollope, in Piazza Barbano (now Indipendenza). She dedicated herself to the theatre, organized Anglo-Florentine social life, and wrote prolifically, and her house became a meeting place and obligatory reference point even for such writers as Charles Dickens, Thomas Hardy and Thackeray. Her son's autobiography, What I Remember (London, 1887), is a window on cosmopolitan and cultivated Florence'. https://en.wikipedia.org/wiki/Frances_Milton_Trollope; Frances Trollope, Jonathan Jefferson Whitlaw; Iron Chain and Golden Ring;



B42/ ISABELLA BLAGDEN/ ENGLAND/INDIA?

In John Brett's painting of Aurora Leigh you can just glimpse the Jewish Cemetery nestled against the wall to the left.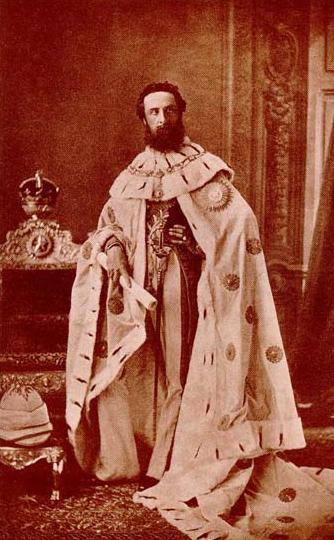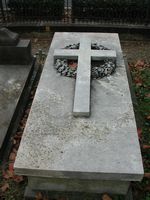 Florence from Bellosguardo, Hebrew Cemetery to left, beneath wall Isa Blagden Lord Lytton, Viceroy of India

ISABELLA BLAGDEN/ BORN . . . DIED . . . 1873/ THY WILL BE DONE . . .

NDNB, Thomas Adolphus Trollope, What I Remember, II.173-175. Isa, the 'Madonna of Bellosguardo', was much beloved in the Anglo-Italian community. Impoverished, she lived by the sale of her novels, Agnes Tremorne (1861), The Cost of a Secret (1863), The Woman I Loved and the Woman who Loved Me (1865), Nora and Archibald Lee (1867),The Crown of a Life (1869), her essays, such as one on the exiled French sculptress Félicie de Fauveau, and her various lodgers, among them the admiring Henry James. https://en.wikipedia.org/wiki/Isa_Blagden; 'Isa Blagden', Laurel Garland Hélène Koehl-Krebs (Aries 7 (2007), 185-206, places her squarely in the Villa Colombaia circle of Spiritualists. There was some mystery over her background, was she Jewish, was she East-Indian, was she part Black, in this being like Theodosia Trollope and Elizabeth Barrett Browning, and this gets into Nathaniel Hawthorne's Marble Faun in his description of Miriam, who is a composite of Isa and THEODOSIA TROLLOPE (B85). She saved the life of Robert Lytton when he was at Bagni di Lucca through her careful nursing of him. Elizabeth and Robert hoped they would marry. He wrote the poem Lucile about her, she the novel Agnes Tremorne about him. He became Viceroy of India and married a proper English girl for consort. Isa and Robert were both present at ELIZABETH BARRETT BROWNING (B8)'s funeral, KATE FIELD tells us, along with the POWERS (B32) and STORY families, but not WALTER SAVAGE LANDOR (A29), as they forgot to send a carriage for him. Caring for others, Lytton, Pen, Bice, she neglected her own health. Henry James, John Brett, Elizabeth Barrett Browning all appreciated her and her Bellosguardo, which Elizabeth uses for her apocalyptic scene in Aurora Leigh. This was among her own poems:

WhiteSilence

O'er the old tower, like red flame curled
Which leapeth sudden to the sky
Its emblem hues all wide unfurled
Upsprings the flag of Italy

Its emblem hues! the brave blood shed
The true life blood by heroes given,
The green palms of the martyred dead,
The snowy robes they wear in Heaven.
. . .

My Florence, which so fair doth be
A dream of beauty at my feet
While smiles above that dappled sky
While glows around that rip'ning wheat

As fair, as peaceful and as bright
Art thou as she we hear came down
From Heaven in bridal robes of light
Thy new Jerusalem St. John!



B9/
FANNY WAUGH HUNT/
ENGLAND

Photograph, Frederick Hollyer
WHEN THOU
PASSEST THRO
THE WATERS
I WILL BE WITH THEE
AND THRO THE FLOODS
THEY SHALL NOT
OVERFLOW
THEE

IT IS
I

BE NOT AFRAID

LOVE
IS STRONG AS
DEATH
MANY WATERS CANNOT
QUENCH LOVE
NEITHER CAN THE
FLOODS DROWN
IT



// FANNY/ THE WIFE OF/ W. HOLMAN HUNT/ DIED AT FLORENCE DEC 20 1866/ IN THE FIRST YEAR OF HER MARRIAGE

Five years after ELIZABETH BARRETT BROWNING's burial another grieving husband himself sculpted his wife's tomb up in Fiesole to be beside that of Elizabeth. Fanny, wife to Holman Hunt, died in Florence following childbirth. Their child, Cyril Benoni Hunt (Benoni, 'son of sorrow' being name of the dying Rachel's child in Genesis), was born at via Montebello, 22, baptised by Rev Tottenham the day of his birth, who registered it two months later, eight days after his mother's death. A silver chalice and later a silver patten in their names eventually came to St Mark's English Church from the earlier Holy Trinity Church in Florence.

aa

Fanny/ Waugh/ Holman Hunt/ Died in Florence/ December 20 1866
1. Blessed are the pure in heart 2. In dear and grateful remembrance of CYRIL BENONI HOLMAN HUNT born in Florence Oct 27 1866 died in Bridport 25 July 1934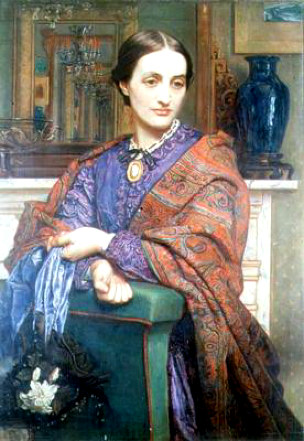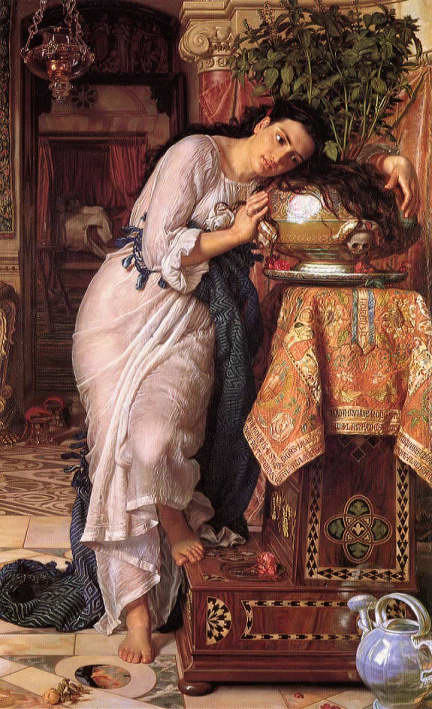 1. Fanny Holman Hunt, painted by her husband, Holman Hunt, during her pregnancy in Florence.


2. Holman Hunt's wife seen as John Keats' Isabella and the Pot of Basil.

He created for her an ark, complete with dove and olive branch doing double duty as a pelican in its piety, and adorned with lilies (copied from those on Elizabeth's tomb), which forever floats on waves sculpted from marble. On it he placed the three scriptural passages above from Isaiah, the Gospels and the Song of Solomon, one of these echoing Elizabeth Barrett Browning's Sonnet XXVII to her husband, within Florentine triangled roundels. One can learn the context from his autobiographical study of the PreRaphaelites:

William Holman Hunt,

PreRaphaelitism and the PreRaphaelite Brotherhood




page:

199 On December 28th, 1865, I married Miss Waugh.

There had been substantial reasons for my long delay in returning to the East, I had to accept the lesson of my experiences with the Temple

page:

200

picture and come to the conclusion that I must not go without sufficient funds to bring my new picture to a complete end.

My wife and I started in August 1866 for the East. At Marseilles, where I was intending to take the boat to Alexandria, I learnt that quarantine was established on account of the cholera, but as the secretary of the "P. and O." assured me that the next departing boat would probably be allowed to enter Alexandria with a clean bill of health, we waited for this. In the meantime there were mournful crowds in the streets following the funeral processions, and the people brought out their furniture, making bonfires of it after dark. The next steamer from Egypt brought news that no boat from Marseilles would yet be allowed to enter. Accordingly we proceeded over the Maritime Alps for Leghorn, whence we heard it was possible to reach Egypt via Malta. We rested a night at Florence, intending to continue our journey the next morning, but learning that intercourse with Egypt was stopped, we had no choice for the present but to remain in Florence.

On December 20th, 1866, my wife died and my dear friends Spencer Stanhope (

B10

) and his wife took charge of my motherless son under their roof for a time. Necessitous labours were now my blessings. I remained in Florence to put up a monument to my wife (

B9

), and I at once set to work on a design of "Isabella mourning over her Basil Pot." I took a studio, the best I could find, and started on the work. In September of the next year I returned to England with my child. My picture was bought by Gambart and exhibited by itself, and an engraving of it was made by Blanchard.



When at Fiesole, I painted a damsel as a Tuscan straw-plaiter of the type of gentle features peculiar to the cities of the Apennines
As the marble carver now made it clear that his chiselling of the monument to my wife would never be brought to a conclusion, I took up his tools and finished the work, to the best of my power and departed from the city of flowers, which had been so sad a resting-place to me. Occasionally I made hasty sketches for my infant son at home; notwithstanding their slightness they may stand as records of passing interest.


He also discussed the Brownings at length (see passages given above), and he chose to place his wife's tomb next to Robert's wife, pages. 96-96. He then married his wife's sister, Edith, abroad, as this was forbidden in the Church of England's Table of Kindred and Affinity, so that she could raise Cyril Benoni.



Holman Hunt, Self Portrait, Uffizi Holman Hunt painting 'Scapegoat' Cyril Benoni Hunt Cyril Benoni Hunt, Fitzwilliam Museum, Cambridge




B8/

ELIZABETH BARRETT BROWNING/ JAMAICA/ENGLAND/


Harper's Monthly engraving of EBB's tomb

E.B.B./ OB.1861// FRANCESCO GIOVANNOZZI FECE

I have written elsewhere on Elizabeth Barrett Browning, as Poet and Abolitionist, championing the rights of slaves, children, women, nations: https://en.wikipedia.org/wiki/Elizabeth_Barrett_Browning; The Elizabeth Barrett Browning Website Portal, and especially in the notes to our edition for Penguin of Aurora Leigh and Other Poems, also in the essay on her death and burial, ebbdeath.html of which the following excerpt is relevant to this virtual app on our tombs. In her last letter, which breaks off unfinished, Robert halting it, we witness exhaustion (Kenyon, II.448-450).
In 1860, posing with her son Penini, she could still smile.
The last photograph taken in Rome show her with emaciated deathhead, despite the crinoline and curls. In 1861, the year of her death, we see a prematurely aged Corinne in front of a painted backdrop of Rome's Colosseum (Arabella II.533). She was only fifty-five, though pretending to the even younger forty-five, and having packed into those years the writing of an epic poem longer than Homer's Odyssey, marriage, and a son. In May of that year, Hans Christian Andersen visited them, commenting on how ill Elizabeth looked (Arabella II.536). Her last poem, 'North and South', was about him, for the children played with Robert his Pied Piper of Hamelyn, processing through the rooms, and listened to Andersen's Ugly Duckling. Robert felt Elizabeth's poetic gift had ended, saying to her brother George in a letter written from Asolo, 22 October, 1889, 'the publication of "Aurora Leigh" preceded by five years the death of its writer - who was never likely to produce such another work', he being her literary agent during their marriage and following her death. But between these two dates, 1860-1861, is also the publication of her poem, 'A Musical Instrument', illustrated by Frederick, Lord Leighton who would next design her tomb.

Among her friends and acquantances who are not buried here were LILY WILSON Elizabeth Barrett Browning's maid, who witnessed the Brownings' marriage, and without whom she could not have eloped nor born a child, and who, along with herself, is model for the lost gypsy girl, Marian Erle, in Aurora Leigh 'Lily Wilson', Laurel Garland and ANNA JAMESON art historian, writer, friend, who also accompanied the Brownings in therir elopement from Paris to Pisa: https://en.wikipedia.org/wiki/Anna_Brownell_Jameson; Anna Jameson, Sacred and Legendary Art; Anna Jameson, Laurel Garland



MARGARET FULLER, guest and friend, and the model following her death by drowning in the shipwreck of the 'Elizabeth', for the character and the inspiration for poem, Aurora Leigh: https://en.wikipedia.org/wiki/Margaret_Fuller; Elizabeth Barrett Browning's Risorgimento; 'Margaret Fuller', Laurel Garland


,

HARRIET BEECHER STOWE writer, Abolitionist, friend, Elizabeth Barrett Browning, B8: https://en.wikipedia.org/wiki/Harriet_Beecher_Stowe; Florence's 'English' Cemetery and the Abolition of Slavery; Iron Chain, Golden Ring


,

SOPHIA PEABODY HAWTHORNE, writer, educator, and Nathanael Hawthorne's wife: https://en.wikipedia.org/wiki/Sophia_Hawthorne; Sophia Hawthorne, 'Florence': Extracts from Notes in Italy


,
and two women sculptresses, the American Republican HARRIET HOSMER



Harriet Hosmer Her 'Clasped Hands' of Elizabeth Barrett & Robert Browning

and the French Royalist FELICIE DE FAUVEAU, sculptress of the tombs for ADMIRAL PELLEW and DAVID LYON HERBERT E48: https://en.wikipedia.org/wiki/F%C3%A9licie_de_Fauveau; Isa Blagden, 'Félicie de Fauveau'; 'Félicie de Fauveau', Laurel Garland: Women of the Risorgimento; Silvia Mascalchi, 'Due Sepolture al Cimitero 'degli Inglesi', La Citta e il Libro III.




We could also mention a third sculptress, the Black and Native American EDMONIA LEWIS, whose works are included with Hiram Powers' in the Smithsonian Museum in Washington, D.C.




B32/ HIRAM POWERS/ AMERICA/



Contemporary Photograph in the Diary of Susan Horner, 1861-1862. See entries for Horner and Zileri family members.

HIRAM POWERS/ DIED JUNE 27TH 1873/ AGED 68/

Pastore Luigi Santini: 'Hiram Powers (1805-1873), an American, came to Florence in 1837 to study and work, and settled in Via Serragli, the artists' street of the day, with his wife and two children. He earned an international reputation for his statuary, for which he liked to choose the marble and supervise its quarrying himself, and he received considerable acclaim for the busts he did of several presidents of the United States. The cemetery also contains evidence of his grief: James (+1838), Frances (+1857) and Florence (+1857), his children, who died at five, eight and seventeen years of age in this their adopted land (E56)'. Frederic Leighton studied at Florence's Accademia di Belle Arti; Hiram Powers was a professor of sculpture there. B8

/

ELIZABETH BARRETT BROWNING, who wrote of his American Indian eyes, writes an impassioned sonnet to his 'Greek Slave', which was exhibited at the centre of the 1851 Crystal Palace Exhibition, in which she draws the analogy also to American enslavement of Africans, Russian enslavement of serfs. This book's title uses a line from the poem on the statue. Hiram Powers' 'The Last of Her Tribe', shows a Native American woman fleeing her captors. Every detail is observed down to the delicate sewing of the mocassins. The theme repeats that of 'The Greek Slave', a woman representing freedom against male oppressors. Hiram Powers' statue of America is more truly American and more beautiful than the Statue of Liberty, the gift of France, but was rejected by Congress before the Civil War because she tramples on slave chains. It burned in a warehouse fire. This plaster cast was discovered in his Florentine studio in 1966, along with many others, which were purchased by museums in Washington, D.C. Among Powers' other works is the head of the Princess Matilde Buonaparte Demidoff. Hiram Powers' sculpture career had begun with his modelling Dante's Commedia in wax in Cincinatti, Ohio, for B80/ FRANCES (MILTON) TROLLOPE. Near Hiram Powers' tomb is that of B58/ KALIMA NADEZHDA DE SANTIS, a black Nubian slave baptized Orthodox (Nadezhda' meaning 'Hope'), who died in Florence in freedom. A similar story is manifested with F53/ HENRIETTA MARIA HAY, whose Greek mother's freedom was purchased by the Scots Egyptologist, Robert Hay, in the slave market of Alexandria, and whom he married on Malta in 1828. Margaret Fuller's death, along with her husband and baby in the shipwreck of the Elizabeth off Fire Island was partly caused by the colossal statue by Hiram Powers in its hold. Sophia Hawthorne describes Hiram Powers movingly in her diary. Nathanael Hawthorne observed him and his studio for the writing of The Marble Faun. He acted as an unpaid American Consul, for which see James Lorimer Graham, Consular Records. The tombs of B42/ ISABELLA BLAGDEN, B98

/

MAJOR FRANCIS CHARLES GREGORIE, B99/ REVD GEORGE BRICKDALE CROSSMAN, B32/ HIRAM POWERS, B103/ ELEANOR AUGUSTA TULK, B131/

HONOURABLE FRANCES TOLLEY, as spiritualists and Swedenborgians, are all clustered together near that of Nadezhda, the Nubian/Russian former slave. Powers' son, Preston, also became a sculptor (B37), while another son, Longworth, became a photographer. Hiram Powers' wife, Elizabeth Gibson Powers, and other children, Nicholas Longworth Powers, Louisa Greenough Powers, Georgiana Rose Powers, and William Preston Powers are all buried in the Allori Cemetery, the remains of Preston (who sculpted Lily Nye's tomb) now lying in their Ossario Comune. Kathryn P. Richards cited http://www.famousamericans.net/hirampowers/



Greek Slave Last of her Tribe America


WhiteSilence Elizabeth Barrett Browning, 'Hiram Powers' Greek Slave' 1850



They say Ideal Beauty cannot enter
The house of anguish. On the threshold stands
An alien Image with the shackled hands,
Called the Greek Slave: as if the sculptor meant her,
(That passionless perfection which he lent her,
Shadowed, not darkened, where the sill expands)
To, so, confront men's crimes in different lands,
With man's ideal sense. Pierce to the centre,
Art's fiery finger! - and break up erelong
The serfdom of this world! Appeal, fair stone,
From God's pure heights of beauty, against man's wrong!
Catch up in thy divine face, not alone
East griefs but west, - and strike and shame the strong,
By thunders of white silence, overthrown!



B58/ KALIMA NADEZHDA DE SANTIS/ NUBIA/RUSSIA/


Rosellini and Champollion Expedition to Egypt and Nubia


'Zdes' pokoitsja telo/ negritjank Kalimy/ vo Sv. Kresenii Nadezdy/ privezennoj vo Florenciju/ iz Nubii v 1827 godu/ Primi mja Gospodi/ vo Carstvie Tvoe'/Qui giace il corpo nella negretta Kalima, nel Santo/ Battesimo chiamata Nadezda (Speranza) portata a Firenze dalla Nubia nel 1827, Accoglila Signore nel Tuo Regno/

Kalima, born in Nubia, a black slave, was brought to Florence in 1827 when she was 14, her freedom purchased by Rosellini's uncle of the Champollion and Rosellini Expedition, who was baptised 'Nadezhda', 'Hope', in a Russian Orthodox family, and who died a lady in Florence. Her tomb with the only Orthodox cross in the cemetery, the Swiss forbidding any cross other than the plain Latin one. The Russian Orthodox cross has the third and slanting bar to signify the salvation of the Good Thief, the damnation of the Bad Thief, at the Crucifixion. The inscription in Cyrillic telling her story is near that of B32/ HIRAM POWERS, American, and part Native American, sculptor of the 'Greek Slave', and also near that of B93/ HOPE HAYWARD, 'OUR HOPE', while in Sector E we have the great statue of Hope by Odoardo Fantacchiotti, E25/ SAMUEL REGINALD ROUTH. Nadezhda exemplifies the spirit of the Cemetery, the Abolition of Slavery, the ending of young children's employment in mines and factories, the freeing of women, the freeing of nations. A very similar story is manifested with F53/ HENRIETTA MARIA HAY, whose Greek mother, Kalitza Psaraki, captured by Ottoman Turks in the Greek War of Independence, was purchased in Alexandria's slave market by the Scots Egyptologist, Robert Hay, and whom he married on Malta in 1828. Nubian Kalima's death at 38 occurs in the year of the Crystal Palace Exhibition in London, in the centre of which was Hiram Powers' 'Greek Slave'.

B20/ JOHAN CLAES LAGERSVARD/ SVEZIA/


ICI.REPOSE.JEAN.CLAUDE.DE.LAGERSVARD/ DERNIER.REJETON.DE.SA.FAMILLE/ MINISTRE DE S.M. LE ROI.DE. SUEDE.ET.DE.NORVEGE/ PRES. DES. COURS. D'ITALIE/ ET CONSEILLER DE SA CHANCELLERIE/ NE LA IV AOUT MDCCLVI/ MORT LE XII.DECEMBRE.MDCCCXXVI/SUEDOIS DE COEUR ET D'AME/ HABITANT L'ITALIE DEPUIS 11 JUILLIET MDCCLXXXIX/ COMME SECRETAIRE DE LEGATION/ CHARGE D'AFFAIRES. ET. MINISTRE/ SOUS QUATRE DIFFERENTS REGNES EN SUEDE/ ET PENDANT LES REVOLUTIONS DE L'EUROPE/

He is the last descendant of his noble Swedish family, and has served in the Swedish and Norwegian Legation during the reigns of four Swedish monarchs and the Revolutions in Europe. With him, much later, is buried his wife SOPHIE HUGHUES LAGERSWARD, who had already been sculpted on the tomb as sadly taking leave of her husband, both in classical garb. Nearby is the tomb of B92/ AURORE (GRÅBERG DE HEMSO) ECKHARDT DURCKHEIM MONTMARTIN, the adopted daughter of Brigitte Hugues, Sophie Hugues's sister. The Lagersvard tomb is sculpted by the Swedish sculptor, Johan Niklas Bystrom, who worked in Rome with the Icelandic Danish sculptor, Bertel Thorvaldsen (Þorvaldsson). Within an ourobouros (a serpent devouring its tail, for eternity) is a bee. Kelly Searsmith wrote, noting that the bee is the Egyptian hieroglyph for royalty, and that Pliny described bee hives being floated down the Nile so they could pollinate crops. (Monsanto pesticides kill bees.) Anna Porcinai sent a van-load of lavender plants which the Roma planted and now the cemetery is filled with contented bees, pollinating busily amongst these fragrant bushes. The Cemetery was subject to thirty years of weed-killer usage and no birds sang. When we stopped it six years ago, the blackbirds took to singing gloriously. Was the marble for Lagersvard's tomb transported from Carrara to Rome, by way of Livorno, then back again to Tuscany?



Sector C


C2/ EMILY SOUTHWOOD SMITH/ ENGLAND


Emily Thomas Southwood Smith

SACRED TO THE MEMORY OF/ EMILY/ DAUGHTER OF D. SOUTHWOOD SMITH/ DIED DECEMBER 8 1872/ - / WITH THEE IS THE FOUNTAIN/ OF LIFE IN THY LIGHT SHALL WE SEE/ LIGHT/ PSALM XXXVI V.IX

THOMAS SOUTHWOOD SMITH's daughter and aunt to Octavia Hill, whom her father raised with her, EMILY SOUTHWOOD SMITH resided in Florence where she established a school and was friends with Giuseppe Mazzini. This is extracted from his granddaughter's 1898 book on Thomas Southwood Smith: 'The beauty of Italy thus came before him with full freshness at the age of seventy, and he returned strengthened and invigorated. The following year my grandfather lost his wife. She died at The Pines, at Weybridge, after a short illness, in the summer of 1858. Two years later he was able to carry out his cherished hope of returning to Italy, and we went to Florence, where his daughter Emily had been living for some years. She welcomed us to the rooms she had secured in an old palace beyond the Arno — to the artistic Italian surroundings of which she had added something of the atmosphere of an English home. His delight in the art and nature of Florence and its environs was intense, and the beauty of land and sky seems to make a fitting setting for the end of such a life as his. He stood on the old jeweller's bridge, one autumn evening late in November, and watched the sun go down behind the western hill of the rushing Arno; and the sunset of his own life came soon after. Perhaps he had lingered too long gazing at this beautiful scene; for a chill, producing rapid bronchitis, took him from us on the 10th December 1861. Towards the end, when he knew he was passing away, after other gentle loving words, almost his last were — with a sweet triumphant smile — " Draw up the blind and let me see the stars ; for I still love the beauty." At the cemetery at Porta Pinti are some sombre gates with, over them, the words "ils se reposent de leurs travaux, et leurs oeuvres les suivent." [They shall rest from their labours and the their works shall follow them.] Those black gates opened one sunny December morning and showed a sloping avenue of marble tombs, tangles of pink and of white China roses in full flower falling over them, and at the end a tall white cross shining in the sunlight against the blue Italian sky, — fit type of the black gates of death, which had rolled back to let him pass into the Eternal Light beyond. There we left him in completest trust, our "Knight Errant," after his life's warfare'. https://en.wikipedia.org/wiki/Thomas_Southwood_Smith; 'Thomas Southwood Smith', New Spirit of the Age and Florence's 'English' Cemetery

C97/ ANNA MARIA (RIDDELL) WALKER/ SCOTLAND




Anna Maria Riddell Walker, 1813


IN MEMORY/ OF/ ANNA MARIA RIDDELL/ BORN 31 AUGUST 179
. . ./ . . .
D 21 FEBRUARY 18 . . . / DAUGHTER OF/
. . .
TER AND MARIA RIDDELL/
. . .
F GLENRIDDELL N.B./ WIDOW OF/
. . .
PTAIN C.M. WALKER


Glenriddell is in Roxburghshire, Scotland.

She outlives her husband,
C96
/
CAPTAIN CHARLES MONTAGUE (HUDLESTON) WALKER
, by a quarter of a century, following bearing him eight children.
One of these, Arthur de Noe, is arrested in 1851 as a Protestant evangelical with Rosa Madiai and Pietro Guicciardini during the Austrian occupation and crackdown. Their daughter Henrietta Gertrude married first
E30/ ROLAND JAMES MCDOUALL, son of a laird, and second, Count Antonio Baldelli, and was described in the Times as a woman of remarkable personality and exceptional beauty, a friend of Walter Savage Landor (A29).
F30/ FLORENCE (FLETCHER WALKER) WHYTE married the widower Robert Edward Marcus Whyte. Harriet Horatia married Fleetwood Wilson, of whom the Anglo-Celt, publishing the wedding details noted that he was late of the 8th Hussars and of Knowle Hall in the County of Warwick. He had connections with the Barbadoes, their daughter being
F13
/ FLORENCE EVELYN JULIA FLEETWOOD WILSON.
While her grandson,
C69/ EDWARD MARCUS WHYTE, child of Florence Fletcher Walker Whyte and Robert Edward Marcus Whyte, is with his other grandmother,
C69/ MARY WHYTE MOYSER, in this Sector.
Peter Butler and Webbs have much material on family tree, baptisms and marriages of children, grandchildren, partly gleaned from Sir Guy Arthur Douglas Fleetwood Wilson, Letters to Somebody: A Retrospect, Cassell, 1922.
C18/ ELENA RAFFALOVIC COMPARETTI/ RUSSIA/ITALY

ELENA COMPARETTI/ RAFFALOVICH/ ODESSA 1842/ FIRENZE 1918/
She married, unhappily, Domenico Comparetti, the great Catholic medievalist. Mikhail Talalay notes that she was a feminist and educator, daughter of the banker Lev Anisimovic Rafalovic, her mother a Polyakov, and that Samojlovna, the wife of her uncle Rafalovic Ljubov', is buried in the Allori Cemetery. Bibl.: Storia di Elena, a cura di E. Frontali Montali, Torino, La Rosa, 1980; M.A. Manacorda, 'La breve illusione pedagogica di Elena Comparetti' in L'educazione delle donne: Scuola e modello di vita femminile nell'Italia dell'800, a cura di S. Soldoni, Milano, Angeli, 1989. She is of the family of Don Lorenzo Milani Comparetti, likewise an educator.
C19/ COUNTESS EDITH MARGARET (MOZLEY) GIGLIUCCI/ ENGLAND

The musical Novello family Edith Margaret Gigliucci
John Gibson, R.A. Royal Academy of Arts, London

EDITH MARGARET/ MOGLIE DEL CONTE MARIO GIGLIUCCI/ NATA LIVERPOOL IL 26 AGOSTO 1847/ MORTA IN FIRENZE IL 16 NOVEMBRE 1909//

CHARITATEM/ DILEXIT//

C20/ CONTE MARIO GIGLIUCCI/ ITALIA/

ENGLAND

CONTE MARIO GIGLIUCCI/ PATRIZIO FERMANO/ NATO A FERMO IL 19 NOVEMBRE 1847/ MORTO A FIRENZE IL 13 GENNAIO 1937/ RECTE ET SUAVITER

The two Counts Gigliucci are the sons of Clara Novello, the English singer of the great music publishing family. Her father, Vincent Novello, was an Italian who married an Englishwoman. Clara Novello opened the 1851 Crystal Palace Exhibition her voice filling the whole vast hall without electronic support, B32/ HIRAM POWERS' 'Greek Slave' being placed at the centre of that Crystal Palace. Mary Somerville in her autobiography gives a fine account of listening to Clara Novello, in old age, still singing exquisitely. The counts in turn marry two sisters, daughters of the Jewish Lord Mayor of Liverpool, Charles Mozley. Garibaldi was frequently a visitor to Clara and her son, Count Mario, who fought for him during the Risorgimento. Clara (like Eleanora Duse) had to resume her singing career to support her family when their property was lost. Based in Fermo, except when in exile, their Florentine residence was the Villa Rosa which now houses Syracuse University in Piazza Savonarola, Florence. The American University paid for the restoration of these tombs, whose pietra serena was crumbling into sand, by Alberto Casciani, and Aureo Anello contributed the work of Daniel-Claudiu Dumitrescu conserving the iron and brass railings around them. A further monument for this family is to be found in the Santissima Annunziata. Mediatheca 'Fioretta Mazzei', Clara Novello's Reminiscences, ed. by her daughter, Contessa Valeria Gigliucci, with a memoir by Arthur D. Coleridge (London: Edward Arnold, 1910),


D30M/ C21/ COUNTESS CHARLOTTE SOPHIA (MOZLEY) GIGLIUCCI/ ENGLAND




CHARLOTTE SOPHIA, MOGLIE DEL CONTE GIOVANNI GIGLIUCCI/ NATA A LIVERPOOL IL 4 AGOSTO 1841/ MORTA A FIRENZE IL 12 FEBBRAIO 1920/ ET LAUDENT EAM IN PORTIS OPERA TUA/

D30L/ C22/

CONTE GIOVANNI GIGLIUCCI/ ITALIA

/ ENGLAND/

CONTE GIOVANNI GIGLIUCCI/ PATRIZIO FERMANO, NATO A FERMO IL 18 NOVEMBRE 1844/ MORTO A FIRENZE IL 6 DICEMBRE 1906/ VIRTUTE ET FIDE BENE QUI LATUIT BENE VIXIT

The two Counts Gigliucci are the sons of Clara Novello, the English singer of the great music publishing family, who in turn marry two sisters, daughters of the Lord Mayor of Liverpool. Their Villa Rosa is now owned by Syracuse University in Florence. The forsythia on the arch is always the first to flower, even in December-January, in the Cemetery. See above for the fuller account.


Sector D




D13/ VICE PRESIDENTE SOLOMON GUILLAUME COUNIS/ SVIZZERA

A painter, he was also Vice-President of the Swiss Evangelical Reformed Church in Florence. His widow was D12A/ ELISABETH (HARMAND) COUNIS (d. 1873), his daughter, D12B/ LOUISE/ELISA LE COMTE COUNIS (died 1847) who are buried beside him. He paints the portrait of C106/ JEAN DAVID MARC GONIN, the Cemetery's first burial, as if he were not just 15, but 22.





Self-potrait Portrait of Jean David Marc Gonin



D12A/ ELISABETH (HARMAND) COUNIS/ SVIZZERA

She is the wife of D13/ SOLOMON GUILLAUME COUNIS.



D12B/
LOUISE/ELISA LE COMTE COUNIS/ SVIZZERA/






F

MATTEI

Their daughter, D12B/ LOUISE LE COMTE COUNIS, is also buried with them. She is listed in the Archives as having no profession. In actual fact, Elisa/Louise was a gifted painter like her father, her orphaned daughter being raised by her grandparents: Dizionario Biografico degli Italiani 30 (1984).


D18/

ANNE SOPHIA TENNANT/ ENGLAND




HERE LIES IN THIS PLACE ANNE SOPHIA WIFE OF CAPT CL TENNANT RN OF NEEDWOOD HOUSE STAFFORDSHIRE WHO DIED AT FLORENCE MAY 8 1857 AGED 30/ BLESSED ARE THE PURE OF HEART FOR THEY SHALL SEE GOD/ MATT. CHAP. V.8//610//

P.BAZZANTI.F

Husband Capt. Charles Edmund Tennant, RN. Their daughter, Constance Augusta of Needwood House, Burton-on-Trent, would marry Sir Eric Alexander Buchanan, 3rd Baronet (1848-1928), in 1898 (d 1914). Tomb used by Franco Zeffirelli for that of Elizabeth Barrett Browning in Tea with Mussolini's opening scene.



D47/

JACQUES AUGUSTIN GALIFFE & FAMILY/ SVIZZERA




We thought that three tomb bases from which the marble slabs have long gone in Sector A, at A57-59 were for three members of the Galiffe family, but other clues suggest they were buried instead in Sector D, at D47, which are tombs that we had thought were for the Pellew husband and wife. Pastor Luigi Santini wrote concerning Jacques Galiffe, that this 'Genevan historian and genealogist [in the style of Sismondi, his contemporary], lived and engaged in trade for a time in Holland, Germany and Russia, but returned to Geneva during the Napoleonic period to share in the troubles of his city. Turning to history he was in a sense the first Genevan historian to make use of documentary and archivistic sources with scientific intent. The results of his historic research, however, stripped of artifice and adulation, made him the centre of such controversy and hostility that in the end he preferred to emigrate to Florence. Italy owes to him the first systematic study of the Italian religious exiles of the sixteenth century. His daughter SOPHIE GALIFFE (1825-1841) and his second wife, AMÉLIE FRANÇOISE PICTET (1790-1872), daughter of the Charles Pictet who was the Swiss delegate at the Congress of Vienna, are also buried in the cemetery'. On the Web we find, in English, the following account: 'Jaques (James) Augustin Galiffe, (son of Barthelemy Galiffe and Marie Naville, and brother of Colonel Jean-Pierre, No XII as above) born on 7th April 1776 godson of Jaques Rilliet-Plantamour and of Augustin de Candolle - historian and genealogist. His studies for the magistracy or diplomacy were unfortunately brought to an end by the Revolution which ruined his family and compelled him to emigrate. He then adopted the commercial profession for which he had no vocation, but it was the only one in which he could hope to acquire independent means, by his aptitude for work, and his remarkable gift for languages. Besides Latin and Greek of which he was a master and English which he spoke and wrote as his mother tongue, he knew German, Dutch, Russian, Spanish and Italian, and was conversant with most of the popular dialects of the latter. This enabled him to obtain very important posts in the best banking houses of London, Holland, Germany and Russia, but these occupations did not prevent him from continuing his favourite studies, literature, languages and specially history which his frequent travels gave him opportunities of studying in the principal libraries and archives of Europe. Deeply attached to his native land, he remained zealous for what was called "the good cause", the triumph of which could alone restore the independence of Geneva. When therefore Lord Carlisle, in 1798 introduced in Parliament a motion to help the Swiss against the French, Galiffe volunteered to undertake the dangerous task of intermediary. He was then in frequent communication with the principal members of Parliament, the Duke of Portland, Lord Fitzwilliam, Lord Grenville and the famous Pitt, whose support had to be obtained. Finding that negotiations were dragging he did not hesitate to sacrifice his excellent position in London to proceed with a few friends firmly determined to accomplish their object in the best way that circumstances would permit. Adverse news from the theatre of the war stopped him on the way, and he enlisted as a Volunteer in a Militia Corps which was raised in England when a French invasion was expected. - After several years spent in Holland, at Gottingen, Hamburg and Berlin, he entered in 1805 the firm of Baron de Rall, banker of the Imperial Court at St. Petersburg. - M. de Speransky who was then Prime Minister made him tempting offers to enter the Russian Civil Service, but the fear of sacrificing his independence led him to refuse them, as also a proposal to take the direction of a Russian National Bank which was then being discussed. It was during that period of his life that he kept a very interesting correspondence with Mme de Stael. On receipt of the news that the independence of Geneva was seriously threatened by the return of Napoleon, Galiffe gave up his splendid prospects in Russia to return and enlist as a private in the Geneva contingent, in which he served throughout the campaign of Franche-Comte, first as Staff-secretary and afterwards as an Officer. After the death of his parents, he went to Italy in 1816, and related his travels in his first book, "Italy and its inhabitants" published (in English) in London, which the reviews of the time described as one of the best of its kind. In 1820, the brothers Brougham, appointed to defend Queen Carolina, called him twice to Milan, where his indispensable assistance was required by them in the preparation of that famous trial. Having returned to Geneva where he married and resided till 1841, he set himself to study the history of his country, and worked at it until his death. Appointed to the "Commission des Archives" he undertook by himself, and gratuitously, to sort and classify thousands of documents which had been completely neglected since the Revolution, and which during the foreign occupation had been left in a state of chaos and filth. For over twenty years he persevered in this fatiguing work with a zeal which undermined his health, but neither his illness, nor his infirmities nor even the difficulties placed in his way by the ignorance and contempt of those who should have helped him, could stop him in his self-imposed task. Not only did he reconstitute the Archives of Geneva and save them from certain destruction, but he searched for every item of information necessary to control and complete them, not only in the archives of neighbouring towns but all over Switzerland, in the registers of parishes and castles in Savoy, in the Pays de Gex, at Lyons, Dijon, Paris, Chambery, Turin, Lucca and Florence. From 1829 to 1831 he published successively as first result of his work, two volumes of "Materials for the History of Geneva" and 2 volumes of "Genealogical Notices on Genevese families" (the third appeared in 1835). This at once established his reputation as an historian of Geneva, but only the experts can realise the labour which these books represent. The "Letters on the Middle-Ages", addressed in 1838 to the famous historian Schlosser, are the last historical work which he gave to the public. Schlosser declared in his "Heidelberger Yahrbucher 1839" that it was the best and most learned essay he had read, as regards knowledge and criticism of the subject. The "Letters written from Paris" had been addressed by Galiffe in 1827 to his intimate friend, Lord Brougham, Chancellor of England. They were published in 1830 at the request of several persons to whom they had been communicated and who had been struck by the wonderful foresight with which the author had anticipated the events and solution of the political situation in France. Although he filled no public functions in Geneva, except that of Municipal Councillor for the commune of Satigny, he took an active part in all political and religious discussions. Full of sympathy with the principles of Aristocracy yet he condemned them when they were opposed to progress, of which he was a sincere partisan and consequently he sometimes felt himself awkwardly situated at a time when compromise was considered as a doctrine in the political system. Sincere and convinced protestant, although a declared enemy of the calvinist dogma and system, he was a zealous champion of the liberty of creed, and in 1835 he vehemently opposed the celebration of the Jubilee of the Reformation, which he considered a blunder likely to cause discord between the citizens of the two religions. (Lettres a un pasteur du Canton, 1835) The general public is only acquainted with a portion of Galiffe's works, as the major portion is still unpublished. Besides his writings on all branches of the history of Geneva, he left a large number of sketches, notes, extracts, historical, literary and artistic criticisms, studies on languages, a very learned genealogical notice on the principal houses of the princes and counts of Southern and Central Europe, shedding considerable light on the most obscure period of the Middle-Ages, and lastly a voluminous correspondence. The latter part of his literary legacy is not the least interesting item, as he was in constant communication with the celebrities of many countries. To those already named, MADAME DE STAËL and Lord Brougham, (Lord Chancellor of England and one of his intimate friends) must be added, Mr Backhouse, Minister of Foreign Affairs, and Lord Grosvenor, afterwards Marquis of Westminster. Among politicians and statesmen may be named Lord Fitzwilliam, Viceroy of Ireland, Lord Carlisle, Lord Palmerston, William Russell, Capo d'Istria, Marquis Luchesini, Ambassador to Prussia, Count Rossi, Baron Stein, Wickham, British Minister with the Army of Princes, M.de Speransky, Prime Minister of Russia, and Count J de Maistre - among historians, Messrs de Barante, Thierry, Mignet, Michelet, Sismondi, Schlosser, Karamzine, Viasemsky, and in Switzerland, de Mulinen, de Grenus, d'Estavayer, de Gingins, de Charriere - among professors, Fellenberg and Bonstetten - among women-authors, Lady Charlotte Bury, Mme de Montolieu, MARIA EDGEWORTH, Mme Necker de Saussure - among musicians, Dusseck, C M de Weber, Steibelt, Field and Abbe Litz who owed him his first letters of recommendation - the poet C Didier whom he was the first to encourage, the famous naturalist Agassiz whom he assisted pecuniarily in the prosecution of his studies, etc., etc. - As historian of Geneva, Galiffe is certainly the pioneer of the modern school of History. His publications, drawn direct from authentic documents shocked many people by the discredit which they seemed to throw on the conventional ideas of the old school, which the dominating party of the time considered as a sort of Palladium. Tired at least of the worries caused by his keen polemics, he preferred to go and settle with his family in Tuscany, without waiting for the political reaction which he had foreseen, and died at Florence 15th December 1853. (See "Notice on the life and works of J A Galiffe" - D'un siecle a l'autre Journal de Geneve 31st December 1853 - Memoires de la Societe d'histoire et d'archeologie 1854 - Les etudes genealogiques a Geneve, by Professor Ritter - Histoire de Geneve, by Gaullieur.) Married 1st, 20th October 1817, Elizabeth Philippine only daughter of No: Jean Antoine de Claparede, President of the Civil Tribunal, and of Alexandrine-Jeanne-Antoinette Dunant, died 18th April 1825. 2nd: 26th May 1827, AMÉLIE FRANÇOISE PICTET, daughter of No: Charles Pictet, Honorary Councillor, plenipotentiary Minister of the Swiss Confederation at the Congress of Vienna, Paris and Turin, and of Sara de Rochemont, died at Florence 14th August 1872. He had by the first: (1) Jean-Barthelemy, who follows: (2) SOPHIE ANNE MARIE CATHERINE GALIFFE, born 16th April 1825 god-daughter of Prince Pierre Andreiowitch Viasemsky, died at Florence 14th November 1841. She showed remarkable dispositions for literature and music. Jean (John) Barthelemy Gaifre Galiffe, born at Geneva 31st July 1818, godson of John Thellusson, Lord Rendlesham, of John Backhouse, Minister of Foreign Affairs London, and of Mme Thellusson-Ployard.

D27/ THOMAS HILL SPENCER/ ENGLAND/




SACRED TO THE MEMORY OF/ THOMAS HILL SPENCER/ WHO DIED ON/ 28 APRIL 1858/ AGED 78 YEARS

An elderly Englishman in Florence who has come from Chawton House in Hampshire, famous for its connections with JANE AUSTEN, as it was inherited by her brother, Edward Austen Knight, and their mother, Cassandra and she lived in its cottage for the last eight years of her life and from where she revised and published her novels. See also CHARLOTTE EMILIA PLUMPTRE, A45, a distant Jane Austen relative.





D109/

1409/

ELISE BOSSE/ LATVIA/LETTONA/ RUSSIA/




ELISE BOSSE/ GEB[oren] IN RIGA DEN 28 JULI 1822/ GEBST[orben] IN FLORENZ DEN 24 SEPT 1877

She is the last burial in the Swiss-owned so-called 'English' Cemetery. Her father is D107/ ERNST GOTTHILF BOSSE, her brother, D106/ EDUARD BOSSE, buried here, while her mother is buried in the Allori Cemetery when she dies in 1884. The family of artists came from Riga in Latvia, where there is a fine portrait of his wife, her mother, by Ernst Gotthilf Bosse.

Sector E




E12/ 1355/ JAMES LORIMER GRAHAM, JR/ AMERICA/




NEW YORK/ 1835/ JAMES LORIMER GRAHAM, JR/ FLORENCE/ 1876//

Launt.Thompson Jr 1878



This American Maecenas, married, gay, founded Graham's Magazine, had wealth, was shipwrecked and injured, appointed American Consul in Florence by President Grant, occupied the Villa Valfonda, now the Palazzo dei Congressi, CLAIRE CLAREMONT (Mary Shelley's stepsister, who bore Lord Byron the child Allegra), lodging with him, and he collected autographs, books, paintings which he willed to the Century Association, New York, http://archive.org/details/catalogueofjames00centiala, which sold them at auction. Algernon Swinburne's elegy to his friend, James Lorimer Graham, appeared in his Poems and Ballads, Second Series, 1904.

E1/ LOUISA CATHERINE (ADAMS) KUHN/ UNITED STATES OF AMERIC/


Notes and Queries placed her tomb a hundred years ago as visible in Sector E, where we have now replaced it. She is Henry Adams' sister. Her husband was from Philadelphia, her father, Charles Francis Adams, U.S. Minister to Great Britain during the Civil War. In Florence the couple lived in the palace in the Piazza Santa Maria Maggiore, now the Banca Popolare di Milano. Her death from tetanus in Bagni di Lucca is described in the 'Chaos' chapter of his autobiography The Education of Henry Adams:
He had been some weeks in London when he received a telegram from his brother-in-law at the Bagni di Lucca telling him that his sister had been thrown from a cab and injured, and that he had better come on. He started that night, and reached the Bagni di Lucca on the second day. Tetanus had already set in.
The last lesson,—the sum and term of education,—began then. He had passed through thirty years of rather varied experience without having once felt the shell of custom broken. He had never seen nature,—only her surface,—the sugar-coating that she shows to youth. Flung suddenly in his face, with the harsh brutality of chance, the terror of the blow stayed by him thenceforth for life, until repetition made it more than the will could struggle with; more than he could call on himself to bear. He found his sister, a woman of forty, as gay and brilliant in the terrors of lock-jaw as she had been in the careless fun of 1859, lying in bed in consequence of a miserable cab-accident that had bruised her foot. Hour by hour the muscles grew rigid, while the mind remained bright, until after ten days of fiendish torture she died in convulsion.
One had heard and read a great deal about death, and even seen a little of it, and knew by heart the thousand commonplaces of religion and poetry which seemed to deaden one's senses and veil the horror. Society being immortal, could put on immortality at will. Adams being mortal, felt only the mortality. Death took features altogether new to him, in these rich and sensuous surroundings. Nature enjoyed it, played with it, the horror added to her charm, she liked the torture, and smothered her victim with caresses. Never had one seen her so winning. The hot Italian summer brooded outside, over the market-place and the picturesque peasants, and, in the singular color of the Tuscan atmosphere, the hills and vineyards of the Apennines seemed bursting with mid-summer blood. The sick-room itself glowed with the Italian joy of life; friends filled it; no harsh northern lights pierced the soft shadows; even the dying woman shared the sense of the Italian summer, the soft, velvet air, the humor, the courage, the sensual fulness of Nature and man. She faced death, as women mostly do, bravely and even gaily, racked slowly to unconsciousness, but yielding only to violence, as a soldier sabred in battle. For many thousands of years, on these hills and plains, Nature had gone on sabring men and women with the same air of sensual pleasure.
Impressions like these are not reasoned or catalogued in the mind; they are felt as part of violent emotion; and the mind that feels them is a different one from that which reasons; it is thought of a different power and a different person. The first serious consciousness of Nature's gesture,—her attitude towards life,—took form then as a phantasm, a nightmare, an insanity of force. For the first time, the stage-scenery of the senses collapsed; the human mind felt itself stripped naked, vibrating in a void of shapeless energies, with resistless mass, colliding, crushing, wasting, and destroying what these same energies had created and labored from eternity to perfect. Society became fantastic, a vision of pantomime with a mechanical motion; and its so-called thought merged in the mere sense of life, and pleasure in the sense. The usual anodynes of social medicine became evident artifice. Stoicism was perhaps the best; religion was the most human; but the idea that any personal deity could find pleasure or profit in torturing a poor woman, by accident, with a fiendish cruelty known to man only in perverted and insane temperaments, could not be held for a moment. For pure blasphemy, it made pure atheism a comfort. God might be, as the Church said, a Substance, but He could not be a Person.
With nerves strained for the first time beyond their power of tension, he slowly travelled northwards with his friends, and stopped for a few days at Ouchy to recover his balance in a new world; for the fantastic mystery of coincidences had made the world, which he thought real, mimic and reproduce the distorted nightmare of his personal horror. He did not yet know it, and he was twenty years in finding it out; but he had need of all the beauty of the Lake below and of the Alps above, to restore the finite to its place. For the first time in his life, Mont Blanc for a moment looked to him what it was,—a chaos of anarchic and purposeless forces,—and he needed days of repose to see it clothe itself again with the illusions of his senses, the white purity of its snows, the splendor of its light, and the infinity of its heavenly peace. Nature was kind; Lake Geneva was beautiful beyond itself, and the Alps put on charms real as terrors; but man became chaotic, and before the illusions of Nature were wholly restored, the illusions of Europe suddenly vanished, leaving a new world to learn.
On July 4, all Europe had been in peace; on July 14, Europe was in full chaos of war. One felt helpless and ignorant, but one might have been king or kaiser without feeling stronger to deal with the chaos. Mr. Gladstone was as much astounded as Adams; the Emperor Napoleon was nearly as stupefied as either, and Bismarck: himself hardly knew how he did it. As education, the outbreak of the war was wholly lost on a man dealing with death hand-to-hand, who could not throw it aside to look at it across the Rhine. Only when he got up to Paris, he began to feel the approach of catastrophe. Providence set up no affiches to announce the tragedy. Under one's eyes France cut herself adrift, and floated off, on an unknown stream, towards a less known ocean. Standing on the curb of the Boulevard, one could see as much as though one stood by the side of the Emperor or in command of an army corps. The effect was lurid. The public seemed to look on the war, as it had looked on the wars of Louis XIV and Francis I, as a branch of decorative art. The French, like true artists, always regarded war as one of the fine arts. Louis XIV practiced it; Napoleon I perfected it; and Napoleon III had till then pursued it in the same spirit with singular success. In Paris, in July, 1870, the war was brought out like an opera of Meyerbeer. One felt one's self a supernumerary hired to fill the scene. Every evening at the theatre the comedy was interrupted by order, and one stood up by order, to join in singing the Marseillaise to order.

When Henry Adams' wife, Clover Adams, committed suicide from drinking photographic developing fluid, Henry had her magnificent tomb sculpted by Augustus Saint-Gaudens, now conserved in the Smithsonian Museum, alongside of sculptures by Hiram Powers, Edmonia Lewis and William Wetmore Story:



Gaudens' Clover Adams Edmonia Lewis' Cleopatra William Wetmore Story's Libyan Sibyl

E1/ MARY CHRISTINE FRANCES TEMPLE-BOWDOIN/ AMERICA/ENGLAND/





SACRED TO THE MEMORY OF/ CHRISTINE TEMPLE-BOWDOIN/ WHO DIED AT THE VILLA CHRISTINA NEAR FLORENCE/ THE 14 DAY OF MAY 1872// THEN ARE THEY GLAD BECAUSE THEY ARE AT REST/ AND SO BRINGETH THEM TO THE HAVEN/ WHERE THEY WOULD BE

The family is Anglo-American. See http://npg.si.edu/exhibit/capital/pop-ups/01-03.html for the Gilbert Stuart portrait of Elizabeth Bowdoin, Lady Temple. Cristina Temple-Bowdoin patented the telegraphic printing press, ancestor of the Olivetti typewriter, is the sister of the Princess of Pandolfina. Their father is James Temple-Bowdoin, brother to Sir Grenville Temple, Bart. Web essay on her Villa: https://it.wikipedia.org/wiki/Villa_Cristina; https://books.google.it/books?id=YLcJBAAAQBAJ&pg=PA6&lpg=PA6&dq=Christine+Temple-Bowdoin&source=bl&ots=1dUDdCC7i8&sig=1twMo5bC2ZKdZu7SffMuKQDHDUY&hl=en&sa=X&ved=0ahUKEwjvnor3tf_MAhXG2BoKHc7SAXMQ6AEIHTAA#v=onepage&q=Christine%20Temple-Bowdoin&f=false; https://www.thegazette.co.uk/London/issue/23972/page/2206/data.pdf

E12/ JAMES LORIMER GRAHAM, JR/ AMERICA/ NEW YORK/ 1835/ JAMES LORIMER GRAHAM, JR/ FLORENCE/ 1876// Launt.Thompson Jr 1878



This American Maecenas, married, gay, founded Graham's Magazine, had wealth, was shipwrecked and injured, appointed American Consul in Florence by President Grant, occupied the Villa Valfonda, now the Palazzo dei Congressi, Claire Claremont (Mary Shelley's stepsister, who bore Lord Byron the child Allegra), lodging with him, and he collected autographs, books, paintings which he willed to the Century Association, New York, http://archive.org/details/catalogueofjames00centiala, which sold them at auction. https://en.wikipedia.org/wiki/Claire_Clairmont

E29/ (148) 703/ WILLIAM SOMERVILLE/ SCOTLAND/ WILLIAM SOMERVILLE/ ELDEST SON OF THE HISTORIAN OF QUEEN ANNE/ BORN AT MINTO ROXBURGHSHIRE/ 22 APRIL 1771/ DIED AT FLORENCE 25 JUNE 1860/ GOD WILL REDEEM MY LIFE FROM/ THE POWER OF THE GRAVE 49 PSALM

His father's death is noted in Bell's Weekly Messenger (No.1770, Sunday, February 28, 1830): 'We regret to learn that the Rev. Dr. Somerville, so eminently distinguished as the historian of Queen Anne, and for other valuable works, died at Jedburgh Manse, at a very advanced age, on Sunday last. The Rev. Doctor was the father of a Scottish church. He had assisted in the communion services in the church of his own parish on the Sabbath preceding, and apparently with no decrease of energy or zeal; but he was taken ill on the evening of that day, and continued to linger, peacefully waiting for his rest, till his departure, as we have said, on the Sabbath of the week following, much about the hour, of the evening when he was first taken ill.--At Jedburgh, on the 16th inst. after a few days illness, the Rev. Dr. SOMERVILLE, in the 90th year of his age, and the 63d in which he had discharged the active duties of a Minister.--Edinburgh paper'. British Library: Title: The History of Great Britain during the reign of Queen Anne, with a dissertation concerning the danger of the Protestant Succession, and an appendix containing original papers. Author: SOMERVILLE. Thomas. D.D. Publication details: pp. xxvii. 674. A. Strahan, etc.: London, 1798. 4o. Author of many other books including against slavery. His son, William Somerville, a surgeon in the army, eventually doctor at Chelsea Hospital, who is buried here is the husband of the Scottish mathematician and astronomer Mary Somerville who predicted the existence of Neptune and Pluto. Mary Somerville encouraged Ada Byron, Countess Lovelace (Lord Byron's daughter), in her pursuit of mathematics, Ada Byron and Charles Babbage creating the modern computer. Mary Somerville's bust is honoured in the Royal Society of which her husband and her son were made members. She is buried in Naples' Cimitero degli Inglesi, beneath her life-size figure sculpted by the young Calabrian sculptor, Francesco Gerace, who also did the medallion of her friend, A15/ ANNE SUSANNA (LLOYD) HORNER. Somerville College, Oxford, is named after her. This is the first entry in the Guildhall Register under header 'Duchy of Tuscany'. There would be space for the tomb of Mary Somerville and her daughters opposite that of Elizabeth Barrett Browning. In Naples it lacks the plaque and no one knows who she is. A project for IBM?


Harper's Monthly engraving
Somerset House, Royal Society



Mary Somerville Ada Lovelace, Lord Byron's daughter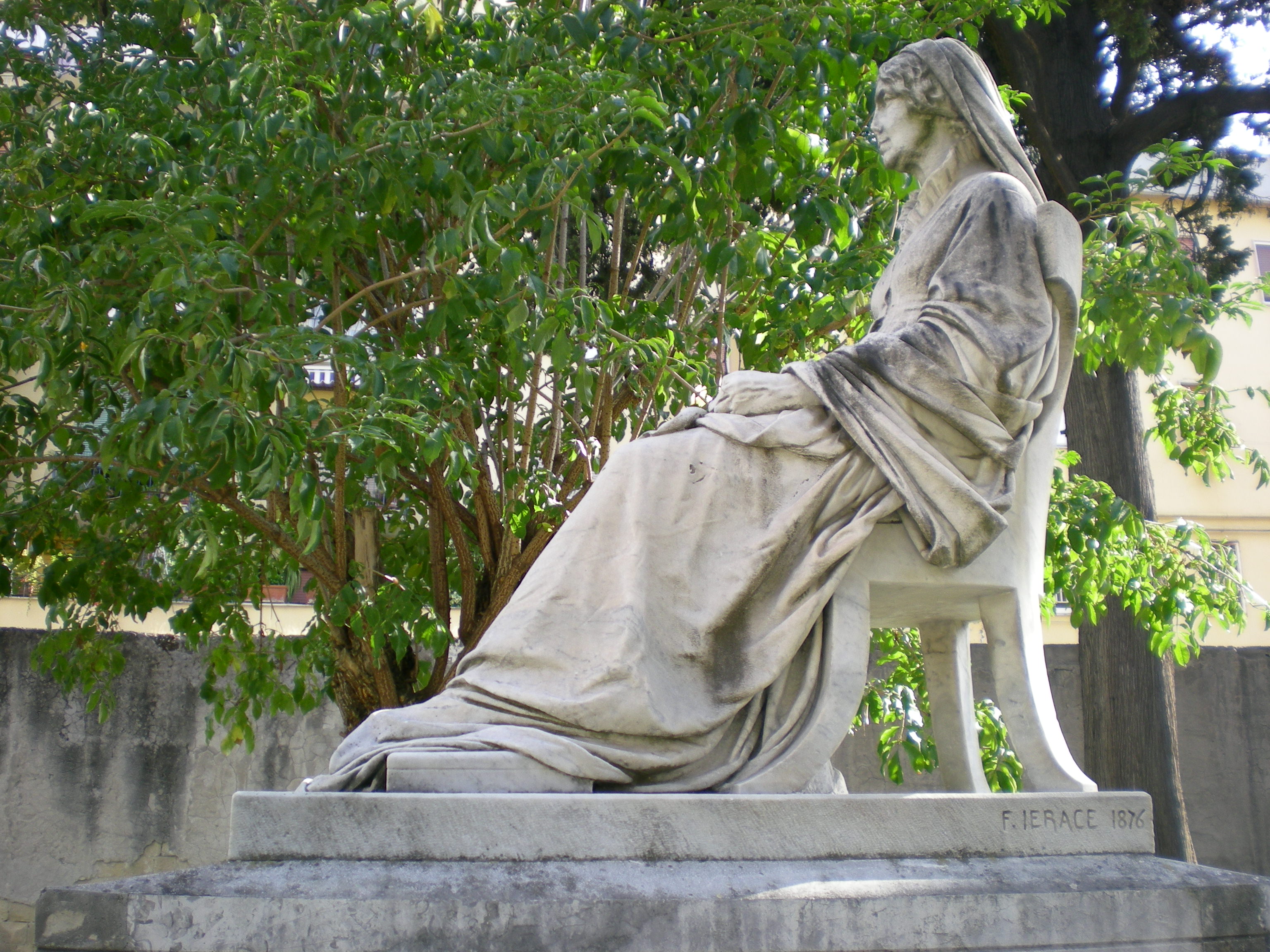 Lawrence MacDonald, Vassar, bust Francesco Jerace, Naples, tomb

MARY SOMERVILLE mathematician, astronomer, discoveror of two planets, teacher of Ada Lovelace, husband, William Somerville, E29, her tomb in Naples: https://en.wikipedia.org/wiki/Mary_Somerville; Mary Somerville and Florence

ADA LOVELACE daughter, Lord Byron, pupil, Mary Somerville, inventor of computer, E29: https://en.wikipedia.org/wiki/Ada_Lovelace; Mary Somerville and Florence

Sector F




F8/ 758/ ARTHUR HUGH CLOUGH/ AMERICA/ENGLAND/ ARTHUR HUGH CLOUGH/ SOMETIME FELLOVV/ OF ORIEL COLLEGE OXFORD/ DIED AT FLORENCE/ NOVEMBER 13 MDCCCLXI/ AGED 42/ THE LAST FAREVVELL OF/ HIS SORROVVING VVIFE AND SISTER




Arthur Hugh Clough grew up in Charleston, South Carolina, returning to England at the age of ten to attend Rugby School under Thomas Arnold. He was at Balliol, then a Fellow at Oriel, wrote The Bothie of Tober-na-Vuolich, witnessed, with Emerson, the French Revolution of 1848 and the Roman Revolution of 1850, wrote Amours de Voyage, assisted Florence Nightingale, his relative by marriage, returning to America for a year in 1852, then contracted malaria travelling in Italy. Matthew Arnold wrote Thyrsis in his memory. Later, Lytton Strachey in Eminent Victorians would describe him:

But there was an exceptional kind of boy, upon whom the high-pitched exhortations of Dr. Arnold produced a very different effect. A minority of susceptible and serious youths fell completely under his sway, responded like wax to the pressure of his influence, and moulded their whole lives with passionate reverence upon the teaching of their adored master. Conspicuous among these was Arthur Clough. Having been sent to Rugby at the age of ten, he quickly entered into every phase of school life, though, we are told, "a weakness in his ankles prevented him from taking a prominent part in the games of the place." At the age of sixteen, he was in the Sixth Form, and not merely a Præpostor, but head of the School House. Never did Dr. Arnold have an apter pupil. This earnest adolescent, with the weak ankles and the solemn face, lived entirely with the highest ends in view. He thought of nothing but moral good, moral evil, moral influence, and moral responsibility. Some of his early letters have been preserved, and they reveal both the intensity with which he felt the importance of his own position, and the strange stress of spirit under which he laboured. "I have been in one continued state of excitement for at least the last three years," he wrote when he was not yet seventeen, "and now comes the time of exhaustion." But he did not allow himself to rest, and a few months later he was writing to a schoolfellow as follows:—


I verily believe my whole being is soaked through with the wishing and hoping and striving to do the school good, or rather to keep it up and hinder it from falling in this, I do think, very critical time, so that my cares and affections and conversations, thoughts, words, and deeds look to that involuntarily. I am afraid you will be inclined to think this "cant," and I am conscious that even one's truest feelings, if very frequently put out in the light, do make a bad and disagreeable appearance; but this, however, is true, and even if I am carrying it too far, I do not think it has made me really forgetful of my personal friends, such as, in particular, Gell and Burbidge and Walrond, and yourself, my dear Simpkinson.

Perhaps it was not surprising that a young man brought up in such an atmosphere should have fallen a prey, at Oxford, to the frenzies of religious controversy; that he should have been driven almost out of his wits by the ratiocinations of W. G. Ward; that he should have lost his faith; that he should have spent the rest of his existence lamenting that loss, both in prose and verse; and that he should have eventually succumbed, conscientiously doing up brown paper parcels for FLORENCE NIGHTINGALE.

BLANCHE CLOUGH wife, poet Arthur Hugh Clough, F8: https://en.wikipedia.org/wiki/Arthur_Hugh_Clough; Arthur Hugh Clough and Florence Website; Alyson Price, 'Clough, Horner, Zileri', La Città e il Libro III

ANNE JEMIMA CLOUGH suffragist, educator, principal, Newnham College: https://en.wikipedia.org/wiki/Anne_Clough, sister, Arthur Hugh Clough, F8: https://en.wikipedia.org/wiki/Arthur_Hugh_Clough; Alyson Price, 'Clough, Horner, Zileri', La Città e il Libro III




BLANCHE ATHENA CLOUGH educator, daughter, Arthur Hugh Clough, F8: https://en.wikipedia.org/wiki/Arthur_Hugh_Clough




His wife was Blanche, his sister, Anne Jemima Clough, first principal of Newnham College. Susan Horner wrote on 8th December 1861 in her Diary: 'I went to the Italian Church, and Mamma (A15/ ANNE SUSANNA (LLOYD) HORNER) Joanna and Mrs Zileri (A69/ MARGARET (EDMOND) ZILERI) to the Scotch(A17/ROBERT MAXWELL HANNA) - Blanche and I went to Mrs Bracebridge to talk over the stone she is erecting to her husband's memory. She walked back with me afterwards from the Hotel de la Ville to our house. Harry Stewart called and Mr and Mrs Macbean from Leghorn. The Marchese Torregiani sent me Champollion's work on Egypt as Blanche wanted me to take a drawing from the winged figure of the Divinity for Mr Clough's tombstone. The windows at the Pitti all lighted up for a grand reception given by the Prince Carignano. A soldier's funeral has just past our windows'.




This disc, flanked by snakes is seen over the gates and doorways of ancient Egyptian temples. As the symbol of a solar deity it wards off evil and protects sacred territory from malign influences. The winged globe and lotuses in lead on the marble are very much part of the Egyptomania of this period. The topiary laurel tree that once shaded it stained the marble almost irreparably and has been removed. Dr Vieri Torrigiani Malaspina has planted pomegranates by the tombs of our three great poets and a white rose on the tomb of Susan Horner's mother opposite in Sector A, A15/ ANNE SUSANNA (LLOYD) HORNER. The wild strawberries, remembered by elderly ladies who played here when they were children, have come back after the thirty-years' use of weedkiller was stopped .


F14/ BIANCA [WALKER] BALDELLI/ ITALIA/



Lorenzo Bartolini, 'La fiducia in Dio', 1834, Milano, Museo Poldi Pezzoli

ALLA DILETTA BIANCA/ NATA IL 19 FEBRAIO 1852/ A LORO TOLTO NEL DI 10 LUGLIO 1869/ POSERO DESOLATI GENITORI/ ANTONIO E GERTRUDE [Walker] BALDELLI//. . . // SE OGNI DOLCE COSA/ M'INGANNA E AL TEMPO CHE SPERAI SERENO/ FUGGIR MI SENTO LA VITA AFFANNOSA/ SIGNOR FIDANDO AL TUO PATERNO SENO/ L'ANIMA MIA RICORRE E SI RIPOSA/ IN UN AFFETTO QUE NON E TERRENO

Her mother is Gertrude Walker, descended also from the Riddells (C96/ CAPTAIN CHARLES MONTAGUE (HUDLESTON) WALKER, and C97/ ANNA MARIA (RIDDELL) WALKER), her father, Count Antonio Baldelli. We come to understand why these tombs are side by side, as they are both of members of the Protestant Walker family, associated with Count Piero Guicciardini and his sister F34/ CONTESSA GIULIA GUICCIARDINI MORROCHI who is buried in this same Sector F. Count Piero Giucciardini,

Bartolomeo Bartolini Baldelli

,

Antonio Targioni-Tozzetti

,

Giuseppe Gazzer

, together published Primo rapporto e regolamenti dell' asilo infantile aperto in Firenze nell' antico convento di S. Monaca, Firenze, Presso la Tipografia Galileiana, 1835. This orphanage later was housed in the villa by Piazza Massimo D'Azeglio willed to the Valdensian Church by the Countess Giulia Baldelli, also a Walker, a continuation of the work of AB27/ SALVATORE FERRETTI, buried in Sector AB. The family has ordered a copy of Lorenzo Bartolini's 1834 Fiducia in Dio for the tomb, but stipulated she be clothed instead of nude. The astronomer Simone Bianchi has written saying the mother, Gertrude Walker Baldelli (perhaps through a friendship with Mary Somerville?), worked with the first directors of the Arcetri Observatory.

a
F21/ (137) 1218/ HARRIET MATILDA (ROBBINS THYNNE INGHIRAMI) GRABAU/ ENGLAND/




Harriet Thynne, 1820 Longleat, seat of the Marquess of Bath Harriet Robbins

. . . AND SISTER OF THE REV. GEORGE ROBBINS/ DIED JUNE // ERECTED IN AFFECTIONATE REMEMBRANCE/ BY HER LOVING NIECES/ RESURGAM

Harriet Matilda Robbins, daughter of Thomas Robbins, married (1) 'Lord Thomas Thynne, eldest son of the 2nd Marquess of Bath, styled Viscount Weymouth. Member of Parliament (Tory) for Weobley 1818-20 (b. 9 Apr 1796; dvp. 16 Jan 1837), 11 May 1820; (2) Count Inghirami; (3) Carlo Grabau, Hanseatic Consul at Livorno, m. to 'Enrichetta Inghirami, patrizia Volterrana': 'Niccolò Inghirami Fei (1804-1869) Console d'Austria a Livorno. Nato ad Amburgo nel 1804 dal cav. Lino Marcello Inghirami Fei e da Maria Giuseppa di Sebastiano Benedetto Riccobaldi Del Bava, fu il secondogenito di sette fratelli. I suoi genitori si trovavano ad Amburgo fin dal 1799 poiché suo padre, particolarmente distintosi nel raccogliticcio esercito di sanfedisti che, mentre Napoleone si trovava in Egitto, era riuscito a rioccupare la Toscana cacciandone i francesi, aveva preferito in seguito mettersi al sicuro con la famiglia abbandonando l'Italia. Marcello Inghirami, infatti, in qualità di generale riconquistò Volterra, mentre suo fratello Curzio, che fungeva da suo luogotenente, entrò col suo esercito in Livorno abbandonata dai francesi. Furono però successi assai effimeri: dopo il ritorno di Napoleone e la vittoria di Marengo, i francesi s'impadronirono nuovamente dell'Italia obbligando pertanto gli oppositori che si erano maggiormente esposti a cercare scampo con la fuga. Marcello Inghirami si trasferì così in Germania e mentre il suo figlio primogenito Sebastiano si stabilì definitivamente ad Amburgo, ove ebbe numerosa prole, Niccolò (che rimase sempre celibe) preferì ritornare in Italia e si stabilì a Livorno dove già viveva sua sorella Enrichetta sposata al console del regno di Hannover Carlo Grabau. Qui Niccolò lavorò per l'amministrazione lorenese che trovò in lui un funzionano abile e fidato ed alla quale egli rimase sempre fedele anche durante la cruenta occupazione austriaca di Livorno che seguì al ritorno in Toscana di Leopoldo II. Per la grande stima che si era universalmente guadagnato, dopo la caduta del governo lorenese e al sopravvento del Regno d'Italia, poté esercitare, proprio a Livorno, la carica di console dell'Impero austro-ungarico. Accadde così che nel maggio del 1869 fu incaricato di accompagnare al porto della città il generale Folliot de Crenneville, di origine francese, che, passato al servizio dell'Austria, era stato nominato nel 1849 governatore di Livorno e che durante il periodo dello stato d'assedio a cui allora fu sottoposta la città si era distinto per la ferocia e l'implacabile tracotanza con cui aveva esercitato le sue funzioni repressive. La notizia della sua presenza in città si sparse subito alimentando propositi di vendetta. La sera del 24 maggio 1869 il conte de Crenneville e l'Inghirami raggiunsero il porto dove l'ex governatore doveva imbarcarsi sul piroscafo Sardegna ma giunti dinanzi al monumento dei "Quattro Mori" alcuni uomini che li avevano seguiti si fecero avanti ed un colpo di pugnale trafisse il volto del generale. L'Inghirami si piegò per soccorrere il ferito, ma nella concitazione di quei momenti fu colpito mortalmente da una nuova pugnalata diretta al conte; egli cadde pertanto esanime sul corpo del de Crenneville che invece se la cavò con poche ferite lievi. La sera stessa la sua salma fu trasportata con gran seguito popolare al cimitero della Misericordia dove ebbe una modesta sepoltura arricchita in seguito, su ordine dell'imperatore Francesco Giuseppe, da una lapide sormontata da una croce di marmo. Il processo che seguì all'attentato si concluse con l'assoluzione degli imputati: l'uccisione di Niccolò Inghirami restò dunque impunita ed il vero movente che fu all'origine questo fatto di sangue, anche a causa di forti pressioni politiche, non fu mai chiarito'. From which we assume that she is his widowed sister-in-law, Enrichetta, now married to the Hanoverian Consul, so that he as Austrian Consul can live with them. There are archival materials in Livorno from Enrichetta Inghirami. In connection with the Villa Grabau in Lucca we learn that 'Carlo Grabau, di nobili origini tedesche, nato ad Amburgo nel 1784, si era trasferito a Livorno come Console Generale delle Città Anseatiche del Mare del Nord presso il Granduca di Toscana ed aveva sposato Enrichetta Inghirami, patrizia Volterrana'. 'Carlo di Amburgo, console di Annover e di altri Stati in Livorno e ammogliato con Enrichetta Inghirami, patrizia volterrana, fu ammesso alla nobiltà di Volterra nel 1836. La famiglia è iscritta nell'Elenco Ufficiale Nobiliare Italiano col titolo di Nobile di Volterra e nobile di Livorno'. She continued during her further marriages to sign herself 'Weymouth'. Daniel-Claudiu Dumitrescu has restored and cleaned her badly vandalized tomb and that of her clergyman brother E101/ REVD GEORGE ROBBINS: https://ca.wikipedia.org/wiki/Francis_Ysidro_Edgeworth; https://ca.wikipedia.org/wiki/Rosa_Florentina_Eroles


F49/ REV. HENRY ROBERT JOHN TENNANT/ ENGLAND/




THE REV. ROBERT JOHN TENNANT// THIS TABLET ERECTED BY SUBSCRIPTION OF MANY MEMBERS OF THIS CONGREGATION ANXIOUS TO TESTIFY THEIR ESTEEM AND APPROBATION OF THE TALENTS, ENERGY AND HIGH CHARACTER OF HIM WHO FOR NEARLY FOUR YEARS FAITHFULLY DISCHARGED THE DUTIES OF CHAPLAIN TO THE BRITISH RESIDENTS IN THIS CITY, AND PLACED IN THIS CHAPEL BY A PUBLIC VOTE OF THE WHOLE CONGREGATION, IS INTENDED TO PERPETUATE THE MEMORY OF THE REV ROBERT JOHN TENNANT MA OF TRINITY COLLEGE, CAMBRIDGE, WHO WAS BORN 14 JANUARY 1809, AND DIED 24 JULY 1842. "THE MEMORY OF THE JUST IS BLESSED"



JLMaquay, Diaries 24/7/1842 Tennant dies 26/7/1842 'attended Tennant's funeral this morning'. He is buried beside the first husband and child (F71/ DAVID REID/MARY REID) of his wife, MARIQUITA EROLES EDGEWORTH TENNANT, his grave much lower than theirs. A hard-working Anglican priest in Florence, judging from the archival records, he took pity on the Spanish widow of the disturbed self-harming David Reid, marrying her and not long afterwards dying himself. Holy Trinity Church voted to raise a monument to him there which his widow violently opposed, saying he had a perfectly good one in the English Cemetery. The plaque is now in the garden of the former Holy Trinity Church. Mariquita Tennant then emigrated to England, and founded the Clewer Sisters House of Mercy, training protitutes to be servants. She is buried there, not between her first and second husbands in Florence, though the space remains for her. Her Clewer tomb once was of an open and empty coffin, saying 'Non est hic, resurrexit', surrounded by an iron railing, which has since disappeared. A blue plaque honours her in Windsor. She was the widow of David Reid, first, then of Rev. Tennant, then founded the Clewer House of Mercy. Her sister was Rosa Florentina Eroles Edgeworth, wife of WILLIAM EDGEWORTH, F79: http://oxfordindex.oup.com/view/10.1093/ref:odnb/46306

F70/ WILLIAM EDGEWORTH/ IRELAND/




SACRED/ TO THE MEMORY OF/ WILLIAM EDGEWORTH/ THE FATHER AND . . . / HE WAS BORN . . .

This one-year-old child is unlisted in the Peerage though his two siblings Antonio Eroles and Francis Ysidro are. His mother is the Spanish Mariquita Eroles' sister, Rosa Florentina Eroles Edgeworth. His aunt is MARIA EDGEWORTH, the great Irish novelist. He is buried in same plot with David and Mary Reid (F71/ DAVID REID, MARY REID), Rev. Tennant (F49/ REV. HENRY ROBERT JOHN TENNANT), both David Reid and then Rev Tennant married to Mariquita Erolez. https://en.wikipedia.org/wiki/Maria_Edgeworth

F105/ MARIA (WARREN) CHICHESTER/ ENGLAND



George Chichester Arlington Court, Devon

BENEATH ARE DEPOSITED THE REMAINS OF/ MARIA WIFE OF CAPT GEORGE CHICHESTER/ OF ARLINGTON DEVON/ WHO DEPARTED THIS LIFE AT LEGHORN ON JULY 14 1840 AGED 24/ CUSTOM PRESCRIBES A MONUMENT AND WHATSOEVER/ IS DECOROUS BECOMES THEE AND SHOULD BE, ELSE MEMORY WILL NEED NO ARTIFICIAL AID FOR AS WIFE MOTHER OR A FRIEND THOU LIVEST IN ALL OUR HEARTS AND SHALL LIVE STILL// P.BAZZANTI.F.

An Italian portrait miniature of her husband, George Chichester, is held by the National Trust at Arlington Court, Devon. He served with the 59th Regiment sent to Colombo, 1818, later taking part in the seige of Bhurtpoor. Their eight-month-old daughter had died the previous year and she dies in turn, suddenly, suspiciously, at Livorno. JLMaquay, Diaries 15/7/1840 goes to Leghorn following the sudden death of Mrs Chichester who died on 14th curious accounts from the servant, it was settled during the day by White that should go down to see about it' Maquay waits for the arrival of her husband from Naples and returns to Florence on 20/7. 22/7/1840 attends Mrs Chicheter's funeral 'quite private.' MARY CHICHESTER'S tomb is elegant with lacrimals, classical vases for tears, and placed in the area originally used for burying infants, in this case over the child who predeceased her. A further indication of the family's taste is the exquisite Blake watercolour they owned,'The Sea of Time and Space (Vision of the Circle of the Life of Man)', still at Arlington Court. The Webbs note the following families are connected: Chichester, Whyte, Moyser, Baldelli, Fleetwood Wilson, Walker, Riddell.


F74/ MARIAN WORDSWORTH/ ENGLAND/




The Webbs tell us that Rev John Wordsworth, of Brigham, Cumberland, son of the poet, married his third wife Marian Dolan at St James, Picadilly, officiated by Derwent Coleridge, Samuel Taylor Coleridge's third son. She is the daughter of Luke Dolan of Galway. They have a child, Dora, born in the Lake District in 1858. By 1861 they may have been on the Continent as they do not appear in that Census. On 28 November Mrs Wordsworth signs her name in the membership book of the Gabinetto Vieusseux. Her death notices appear in the Pall Mall Gazette, the Times and the Morning Post, noting that her husband is Rev. John Wordsworth, Vicar of Brigham, Cumberland. An earlier marriage to Isabella (Curwen) Wordsworth was in difficulty when she became ill following childbirth and the pair journeyed to Rome where John had an affair with a sixteen-year-old Italian girl, promising to marry her when his wife died, Henry Curwen threatened to tell John's bishop and informed William Wordsworth, both parents willing their money to the grandchildren only. Isabella, her children restored to her, died at Bagni di Lucca in 1848: Kate Summerscale, Mrs Robinson's Disgrace. Sothebys in 2010 sold William Wordsworth's annotated copy of Southey's Poems, which Rev. John Wordsworth presented to his wife, Marian Wordsworth, 17 August 1866: Signed 'W. Wordsworth, Rydal Mount', by descent to Rev John Wordsworth, presentation inscription to his wife Marianne Wordworth, 17 August 1866. https://en.wikipedia.org/wiki/William_Wordsworth


F129/ ROSA PULINI MADIAI/ ITALIA/




ROSA/ PULINI/ NEI MADIAI/ L'ANIMA MIA MAGNIFICA IL SIGNORE E LO SPIRITO/ MIO . . . ESTEGGIA IN DIO MIO SALVATORE (Luke 1.46-47)/ . . . / CREDETTI IL VANGELO/ PATII IL MONDO TRISTO/ SON ORA NEL CIELO/ RISIEDO CON CRISTO//

1124



Rosa had been a servant in England for 17 years, her husband having a brother in America. During the Austrian occupation of Florence, 1851-1852, Francesco and Rosa Madiai were imprisoned, then exiled, for being Italians who became Protestant, Rosa translating the Bible into Italian which was forbidden. Her husband died three years earlier in Switzerland, his health, both physical and mental, broken, and is buried there. She returned from exile in 1859, living simply in Piazza del Carmine. A29

/

WALTER SAVAGE LANDOR's last Imaginary Conversation is of the Cardinal of Florence pleading with Francesco Madiai in his prison cell that he reconsider and reconvert to Catholicism, offering him in return freedom and his wife. His reply, 'I love my wife, but I love God more'. He wrote this as part of a world-wide campaign to release these two prisoners of conscience, a sort of earlier day Amnesty International. http://bibletruthpublishers.com/francesco-and-rosa-madiai-the-italian-christian-prisoners/john-s-anderson/heroes-of-the-faith-in-italy/j-s-anderson/la94838; Walter Savage Landor and Rosa Madiai


F122/ PRINCESS VERA LEONIDOVNA UROSOVA/ RUSSIA/

This four-year-old Russian princess buried beneath the now-felled great cedar of Lebanon comes from a family who were great friends with the Tolstoy family, Prince Leonid Dmitrievic Urosov being Vice-Governor of Tula. Princess Selene-Maria A. Obelensky explains that Vera is only distantly connected to her grandmother, Princess Orussov. http://www.theguardian.com/news/1999/apr/06/guardianobituaries.isobelmontgomery


F34/ CONTESSA GIULIA GUICCIARDINI MORROCHI/ ITALIA/




ALLA CARA MEMORIA/ DELLA CONTESSA GIULIA GUICCIARDINI/ VEDOVA MORROCCHI / - /NACQUE/ DAL CONTE FRANCESCO GIUCCIARDINI/ E DALLA MARCHESA ELISABETTA PUCCI/ IL 4 LUGLIO 1806/ E RESE LO SPIRITO/ NELLA PACE DEL SIGNORE/ IL 27 FEBRAIO 1874/ - / "ELLA NON E' MORTA MA DORME"// RIPOSA IN PACE/ ANIMA ELETTA/ TU VEDESTI LA LUCE DI DIO/ TU TROVASTI GRAZIA/ IN GESU' REDENTORE/ - /TOSTO RISORGERAI/ E INSIEME COI RISCATTATI/ CHE LASCIASTI IN TERRA/ IN CORPO GLORIOSO/ ANDRAI AL SIGNORE// ELLA SENTIVA LA POTENZA DELLA FEDE/ IN CRISTO/ E SPESSO RIPETEVA/ "UMILIATEVI/ GETTANDO SOPRA LUI/ TUTTA LA VOSTRA SOLLECITUDINE/ PERCIOCCHE EGLI HA CURA DI VOI"/ - /S'ADDORMENTO NEL SIGNORE/ UDENDO QUELLE PAROLE DI VITA ETERNA/ "IL SIGNORE E IL MIO PASTORE/ NULLA MI MANCHERA"/ "NELLA CASA DEL PADRE MIO/ VI SONO MOLTE STANZE"

Like F129/ ROSA PULINI MADIAI, she is an Italian who turned Protestant, though, unlike the Madiai, she is of Florentine nobility, of the Guicciardini and the Pucci, widowed from the Morrochi whose palace is on the Via Cavour. Her brother Piero Giucciardini was arrested in 1851 and had to live in exile for his beliefs, founding the Italian branch of the Plymouth Brethren, returning to Italy in 1860. He left a fine library to the Biblioteca Nazionale They associated with the Protestant Walker family (C96/ CAPTAIN CHARLES MONTAGUE (HUDLESTON) WALKER, C97/ ANNA MARIA (RIDDELL) WALKER, both in Sector C, F14/ BIANCA [WALKER] BALDELLI, Sector F, etc.). We planted the rose 'Julia' by her tomb, not by that with the sculpture of Julia Savage Landor, and that very day Count Giucciardini by chance visited us.


F36/ MARY ELIZABETH GUPPY/ ENGLAND/





SACRED TO THE MEMORY OF/ MARY ELIZABETH GUPPY/ DAUGHTER OF SAMUEL AND SARAH GUPPY/ OF BRISTOL ENGLAND/ - / HER SUFFERINGS TERMINATED IN FLORENCE/ JUNE 14 1841 AETAS 35/ SISTER FAREWELL

Her mother Sarah, from Birmingham, was a great inventor, taking out many patents and working with Thomas Telford and Isambard Kingdom Brunel who used her ideas for the Clifton suspension bridge, etc. Sarah Beach first married the Bristol merchant, Samuel Guppy, for which see the Wikipedia entry. Her sisters who erected this delicate monument of a column and urn were Grace and Sarah. Their mother later remarried and lost her wealth to her spendthrift much younger second spouse. https://en.wikipedia.org/wiki/Sarah_Guppy

F2/ MARY ANNE SALISBURY/ ENGLAND




ERECTED TO THE MEMORY/ OF/ MARY ANNE SALISBURY/ BY HER ATTACHED MISTRESS/ ROSINA BUONARROTI SIMONI/ DIED ON THE 31 OF MARCH 1848/ 386



This tomb for her English maidservant was placed by the Catholic wife of the last descendant of Michelangelo Buonarotti beneath a great yew tree at the entrance of the English Cemetery. It was tradition to have two yew trees, poisonous to cattle but essential for the English long bow of Agincourt in English graveyards, which also symbolize the Jachin and Boaz columns of the Jerusalem Temple (Heb. יָכִין בֹּעַז). Only one yew tree remains and a falling branch from it destroyed this tomb, now replaced by the Rotary Club, 23/4/2012. The busts of Count Cosimo Buonarroti and Rosina which grace the Michelangelo museum at the Casa Buonarroti were sculpted by Aristodemo Costoli, who also sculpted the cameo portrait on

GEORGE AUGUSTUS WALLIS' tomb, A64. We witness amongst many of these tombs the great affection and respect their masters and mistresses paid to servants under their roof: CHARLES CROSBIE, A20 to MARY DUVALL, A80; the friends of the late WILLIAM READER, A23 to HENRY AUSTIN, E34; FRANCES (MILTON) TROLLOPE, B80, THEODOSIA (GARROW) TROLLOPE, B85, and HARRIET THEODOSIA FISHER (GARROW), C77, to ELIZABETH SHINNER, C71; ISABELLA BOUILLON LANZONI, D29, to ANNA ROFFY, C61; SIR WILLIAM HENRY SEWELL, E58, to JAMES BANSFIELD, E59; Prince Demidoff to GEORGE FREDERIC WAIHINGER, E64; Rosina Buonarotti Simoni to MARY ANNE SALISBURY, F2. Mary Ann Salisbury threw herself down a well.

We only have half our tombs extant of the 1400 burials. Among those which are lost are those of

CATHERINE MACKINNON/ SCOTLAND/

Margaret Gallagher writes: 'Catherine MacKinnon was my great great great great grandmother's elder sister and was born circa 1778 in Uisken on the Ross of Mull in Argyll. In 1804 she left Scotland for Russia where she eventually joined the Imperial Court as a governess with particular charge of the future Alexander II (who freed the serfs). Near the end of her life she left Russia and lived in Florence, accompanying the Russian Princess who married the Prince Corsini'. The Web has a made-up story of the Tsar singing a Gaelic lullaby at her funeral in St Petersburg!

Catherine MacKinon, d'Angleterre/ GL23777/1 N° 249, Burial 26/02, Rev O'Neill/ I: 1852-1859 'Registre des Sepultures avec detail des frais', Paoli 435/ Q 297: 310 Paoli/ Mackinon/ Caterina/ / Inghilterra/ Firenze/ 23 Febbraio/ 1858/ Anni 80/ 635. 1892: https://news.google.com/newspapers?nid=2312&dat=18920702&id=mxYoAAAAIBAJ&sjid=YQUGAAAAIBAJ&pg=4544,2882701&hl=en


EMMA CAREW/ ENGLAND/

It is possible, if she were 75 rather than 70, that she is Lady Hamilton's first daughter, named Emma Carew, who was sent away to the Continent to be a governess. If so, she is Horatia Nelson's older half-sister and her father could have been the Honourable Charles Francis Greville, second son of the Earl of Warwick. See Jacqui Livesey, 'Finding the Lost Daughter of Lady Hamilton', The Nelson Dispatch, II:3 (2012), 158-170

Emma Carew, Iles Britanniques/ GL 23777/1 N°228, Burial 28/03, Rev Gilbert, asthma. I: 1852-1859 'Registre des Sepultures avec detail des frais', Paoli 324/ Q 231: 199 Paoli/ Carew/ Emma/ / Inghilterra/ Firenze/ 26 Marzo/ 1856/ Anni 70/ 595/


MARIA ANNA BŎCKLIN/ SVIZZERA


Island of the Dead, Berlin

http://www.78s.ch/wp-content/uploads/2007/11/01-sergei-rachmaninov-the-isle-of-the-dead-symphonic-poem-op29.mp3
Call up music file, then reduce to icon, to have them be simultaneous

.


Rachmaninoff uses the sound of the oars of Charon's boat on the waters for his symphonic poem, the 'Isle of the Dead', Opus 29


Pastore Luigi Santini: 'The [now lost] grave of a seven-month-old baby recalls the first stay in Florence of Arnold Böcklin (1827-1901), the great painter from Basel, who lived for a time in the neighbourhood of the cemetery. Married to the Roman Angela Pascucci, Böcklin later adopted Florence as his second home, and died at Villa Bencistà, below Fiesole. In spite of the evidence that a famous painting of his, now in Basel, another version in the Metropolitan Museum of Art, and another in Berlin, was inspired by the island of Ponza, it reminds many of the Porta a' Pinto cemetery where his child is buried, both because of its name - Island of the Dead - and the composition itself with its cypresses'. The painting is an imaginary composite, really, of several places, Florence's 'English' Cemetery, Venice's San Michele, the island of Ponza, the island of Ischia. That the artist obsessively painted it five times following the death of his seven-month-old daughter indicates the depth of his emotion concerning his loss. His massive tomb is in the Allori Cemetery. Sergei Rachmaninoff composed the Island of the Dead as a symphonic poem about the picture.

Böcklin/+/ Maria Anna/ Arnoldo/ Svizzera/ Firenze/ 20 Marzo/ 1877/ Mesi 7/ 1387.


And as a footnote, Sir Franco Zeffirelli's Tea with Mussolini with:




and yet another foonote:

HONOURABLE FRANCES HERBERT's father-in-law's stately home setting for Downton Abbey, C30



Booklet and app created, 11 May 2018, Aurello Anello Books
FLORIN WEBSITE © JULIA BOLTON HOLLOWAY, AUREO ANELLO ASSOCIAZIONE, 1997-2022: MEDIEVAL: BRUNETTO LATINO, DANTE ALIGHIERI, SWEET NEW STYLE: BRUNETTO LATINO, DANTE ALIGHIERI, & GEOFFREY CHAUCER || VICTORIAN: WHITE SILENCE: FLORENCE'S 'ENGLISH' CEMETERY || ELIZABETH BARRETT BROWNING || WALTER SAVAGE LANDOR || FRANCES TROLLOPE || HIRAM POWERS || ABOLITION OF SLAVERY || FLORENCE IN SEPIA || CITY AND BOOK CONFERENCE PROCEEDINGS I, II, III, IV, V, VI, VII, VIII|| MEDIATHECA 'FIORETTA MAZZEI' || EDITRICE AUREO ANELLO CATALOGUE || FLORIN WEBSITE || UMILTA WEBSITE || RINGOFGOLD WEBSITE || LINGUE/LANGUAGES: ITALIANO, ENGLISH || VITA
New: Dante vivo || White Silence
Newest: Abbreviated Virtual Guide: http://www.florin.ms/VirtualGuide.html to the English Cemetery, in italiano http://www.florin.ms/GuidaVirtuale.html
The Stones of Florence http://www.florin.ms/StonesofFlorence.html in italiano, http://www.florin.ms/LapidiDantesche.html
Emio Latini, Daniel in the Island of the Dead, https://vimeo.com/139962781
https://once-and-future-classroom.org/the-dante-vivo-project-florence-italy/
The English and Napoleon in Florence's 'English' Cemetery http://www.florin.ms/Napoleonapp.html
Tombs associated with Slavery in Florence 'English Cemetery http://www.florin.ms/SlaveryTombsapp.html
Fanous Women Associated with Florence's 'English' Cemetery http://www.florin.ms/FamousWomenapp.html
History of Medicine in Florence's 'English' Cemetery http://www.florin.ms/MedicalHistoryapp.html



Aureo Anello Associazione