FLORIN WEBSITE © JULIA BOLTON HOLLOWAY, AUREO ANELLO ASSOCIAZIONE, 1997-2024: MEDIEVAL: BRUNETTO LATINO, DANTE ALIGHIERI, SWEET NEW STYLE: BRUNETTO LATINO, DANTE ALIGHIERI, & GEOFFREY CHAUCER || VICTORIAN: WHITE SILENCE: FLORENCE'S 'ENGLISH' CEMETERY || ELIZABETH BARRETT BROWNING || WALTER SAVAGE LANDOR || FRANCES TROLLOPE || || HIRAM POWERS || ABOLITION OF SLAVERY || FLORENCE IN SEPIA || CITY AND BOOK CONFERENCE PROCEEDINGS I, II, III, IV, V, VI, VII || MEDIATHECA 'FIORETTA MAZZEI' || EDITRICE AUREO ANELLO CATALOGUE || FLORIN WEBSITE || UMILTA WEBSITE || | LINGUE/LANGUAGES: ITALIANO, ENGLISH || VITA

New: Dante vivo || White Silence
MARY SOMERVILLE
AND FLORENCE


Mary Somerville was a brilliant self-taught scientist. Married twice with six children, discoverer of two planets, she taught Ada Lovelace, Lord Byron's daughter, mathematics. Ada next, with Charles Babbage invented the computer, she suggesting to him using Jacquard loom cards with holes for coding and the binomial theorem, of zeros and ones.




Mary buried her second husband, William Somerville, in Florence's English Cemetery in 1860, dying herself in Naples in 1872.

Her tomb in Naples, by the twenty-year-old Calabrian, Francesco Jerace, gives a lifesize sculpture of her.

One of her children, her daughter, Martha, edited her autobiography, publishing it in 1874. We give an excerpt describing her time in Florence.




Our next move was to Florence, where we already knew many people. We had a lease of a house in Via del Mandorlo, which had a small garden and a balcony, where we often sat and received in the warm summer evenings. My daughters had adorned it and the garden with rare creepers, shrubs, and flowers.

We had a visit from our friend Gibson, as he passed through Florence on his way to Switzerland. He told us the history of his early life, as given in his biography, and much that is not mentioned there. He was devotedly attached to the Queen, and spoke of her in his simple manner as a charming lady.

Miss Hosmer was travelling with Gibson, an American young lady, who was his pupil, and of whose works he was very proud. He looked upon her as if she had been his daughter, and she took care of him; for he was careless and forgetful when travelling. I have the sincerest pleasure in expressing my admiration for Miss Hosmer, who has proved by her works that our sex possesses both genius and originality in the highest branches of art.

* * *

In summer we sometimes made excursions to avoid the heat of Florence. One year we went to Vallombrosa and the convents of La Vernia and Camaldoli, which are now suppressed. We travelled on mules or ponies, as the mountain paths are impracticable to carriages. I was disappointed in Vallombrosa itself, but the road to it is beautiful.
Engravings, Augustus J.C. Hare,

Florence
La Vernia is highly picturesque, there we remained two days, which I spent in drawing. The trees round the convent formed a striking contrast to the arid cliffs we had passed on the road.
The monks were naturally delighted to see strangers. They belonged to the order of St Francis, and each in his turn wandered over the country begging and living on the industry of others. We did not pay for our food and lodging, but left much more than an equivalent in the poor-box. Somerville slept in the convent, and we ladies were lodged in the so-called
Foresteria
outside; but even Somerville was not admitted into the
clausura
at Camaldoli, for the monks make a vow of perpetual silence and solitude.
Each had his little separate hut and garden, and some distance above the convent, on the slopes of the Appenines, they had an establishment called the
Eremo
, for those who sought for even greater solitude. The people told us that in winter, when deep snow covers the whole place, wolves are often seen prowling about. Not far from the Eremo there is a place from whence both the Mediterranean and the Adriatic can be seen.
We occasionally went for sea-bathing to Viareggio, which is built on a flat sandy beach. The loose sand is drifted by the wind into low hillocks, and bound together by coarse grass thickly coated with silex. Among this and other plants a lovely white amaryllis, the Paneration Maratimu, with a sweet and powerful perfume, springs up. We often tried to get the bulb, but it lay too deep under the sand. One evening we had gone a long way in search of these flowers, and sat down to rest, though it was beginning to be dark. We had not sat many minutes when we were surrounded by a number of what we supposed to be bats trying to get at the flowers we had gathered, but at length we discovered that they were enormous moths, which followed us home, and actually flew into the room to soar over the flowers and suck the honey with their long probosces. They were beautiful creatures with large red eyes on their wings.
* * *
Our life in Florence went on pretty much as usual when all at once cholera broke out of the most virulent kind. Multitudes fled from Florence; often in vain, for it prevailed all through Tuscany to a great extent. The terrified people were kneeling to the Madonna and making processions, after which it was remarked that the number of cases was invariably increased. The Misericordia went about in their fearful costume, indefatigable in carrying the sick to the hospitals. The devotion of that society was beyond all praise; the young and the old, the artisan and the nobleman, went night and day in detachments carrying aid to the sufferers, not in Florence only, but to Fiesole and the villages round. We never were afraid, but we consulted Professor Zanetti, our medical adviser, whether we should leave the town, which we were unwilling to do, as we thought we should be far from medical assistance, and he said, "By no means; live as usual, drive out as you have always done, and make not the smallest change." We followed his advice, and drove out every afternoon till near dark, and then passed the rest of the evening with those friends who, like ourselves, had remained in town. None of us took the disease except one of our servants, who recovered from instant help being given.
The Marquis of Normanby was British minister at that time, and Lady Normanby and he were always kind and hospitable to us. At her house we became acquainted with Signora Barbieri-Nini, the celebrated opera-singer, who had retired from the stage, and lived with her husband, a Sienese gentleman, in a villa not far from Villa Normanby. She gave a musical party, to which she invited us. The music, which was entirely artistic, was excellent, the entertainment very handsome, and it was altogether very enjoyable. As we were driving home afterwards, late at night, going down the hill, our carriage ran against one of the dead carts which was carrying those who had died that day to the burying-ground at Trespiano. It was horribly ghastly - one could distinguish the forms of the limbs under the canvas thrown over the heap of the dead. The burial of the poor and rich in Italy is in singular contrast; the poor are thrown into the grave without a coffin, the rich are placed in coffins, and in full dress, which, especially in the case of youth and infancy, leaves a pleasant impression. An intimate friend of ours lost an infant, and asked me to go and see it laid out. The coffin, lined with white silk, was on a table, covered with a white cloth, strewed with flowers, and with a row of wax lights on either side. The baby was clothed in a white satin frock, leaving the neck and arms bare; a rosebud was in each hand, and a wreath of rose-buds surrounded the head, which rested on a pillow. Nothing could be prettier; it was like a sleeping angel.
* * *
[See
Atlantic Monthly
May 1860 for an account of her time in Florence:
http://etext.lib.virginia.edu/etcbin/toccer-new2?id=AnoMary.sgm&images=images/modeng&data=/texts/english/modeng/parsed&tag=public&part=1&division=div1
.]
I lost my husband in Florence on the 26th of June, 1860 . . . From the preceding narrative may be seen the sympathy, affection, and confidence, which always existed between us.
* * *
Soon after my dear husband's death, we went to Spezia, as my health required change, and for some time we made it our headquarters, spending one winter at Florence, another at Genoa, where my son and his wife came to meet us, and where I had very great delight in the beautiful singing of our old friend Clara Novello, now Countess Gigliucci, who used to come to my house, and sing Handel to me. It was a real pleasure, and her voice was as pure and silvery as when I first heard her, years before.
[Countess Gigliucci's two sons and their Jewish wives, Charlotte and Edith, two Moseley sisters from Liverpool, are buried in Florence's English Cemetery.
COUNTESS CHARLOTTE SOPHIA GIGLIUCCI/ ENGLAND/ [Coat of Arms]/ CHARLOTTE SOPHIA, MOGLIE DEL CONTE GIOVANNI GIGLIUCCI/ NATA A LIVERPOOL IL 4 AGOSTO 1841/ MORTA A FIRENZE IL 12 FEBBRAIO 1920/ ET LAUDENT EAM IN PORTIS OPERA TUA/ C30M
COUNTESS EDITH MARGARET GIGLIUCCI/ ENGLAND / [Coat of Arms]/ EDITH MARGARET/ MOGLIE DEL CONTE MARIO GIGLIUCCI/ NATA LIVERPOOL IL 26 AGOSTO 1847/ MORTA IN FIRENZE IL 16 NOVEMBRE 1909// CHARITATEM/ DILEXIT/ C29M
CONTE GIOVANNI GIGLIUCCI/ ITALIA/ [Coat of Arms]/ CONTE GIOVANNI GIGLIUCCI/ PATRIZIO FERMANO, NATO A FERMO IL 18 NOVEMBRE 1844/ MORTO A FIRENZE IL 6 DICEMBRE 1906/ VIRTUTE ET FIDE BENE QUI LATUIT BENE VIXIT/ C30L
CONTE MARIO GIGLIUCCI/ ITALIA/ [Coat of Arms]/ CONTE MARIO GIGLIUCCI/ PATRIZIO FERMANO/ NATO A FERMO IL 19 NOVEMBRE 1847/ MORTO A FIRENZE IL 13 GENNAIO 1937/ RECTE ET SUAVITER/ C29M
See in Biblioteca e Bottega Fioretta Mazzei, Clara Novello's Reminiscences, edited by her daughter, Contessa Valeria Gigliucci, with a memoir by Arthur D. Coleridge (London: Edward Arnold, 1910), Biography Section.]

Frances Power Cobbe "Italics" 1864

One more of the " People one meets in Italy " remains for me to describe. It seems almost like trespassing 
on sacred ground to speak publicly of one most dear and reverenced; yet to omit the name of Mary Somerville in an account of 
the residents in Italy would be impossible. There is no need to tell the world now that she is the most learned woman 
(as regards physical and mathematical science), who has ever lived; that her books are masterpieces of their kind ;
 or that her life has been the example to which all who have at heart the elevation of her sex, 
point to prove that the greatest intellectual height is attainable by the best of wives and mothers.
 That life, however, has so long been quietly passed far away from England, and her works have been for a generation 
so familiar as scientific class-books among us, that there are many, I imagine, to whom it will come as a pleasant surprise 
to learn that she has outpassed the common limits of human mental activity, and is now, in her eighty-third year,
 engaged in completing a treatise which will probably be considered her greatest work. The book is devoted to the elucidation 
of the most recent discoveries of science regarding the ultimate particles of matter, organic and inorganic ; 
the revelations of the microscope and of the solar spectrum " everything, in short, to which its beautiful epigraph 
from St. Augustine may fitly apply" " Deus magnus in magnis, maximus in minimis".*(* God, great in great tilings ; 
greatest in the least).  Probably the mere copying of this book in writing similarly firm and clear would be a task 
beyond almost any other woman of equal age. What its actual value as a literary work may be, it would, of course, 
be mere impertinence for me to say. Mrs. Somerville is truly the Humboldt of Women, and this is her "Cosmos," 
the great work done after the common working hours of life are over. Yet something very different from Humboldt in gravest ways 
is Mary Somerville. There are qualities in human nature nobler than even the quenchless thirst of knowledge 
and untiring energy in its dissemination ; and those nobler and diviner gifts of which the man had little share,
the woman has much. The clearest brain probably ever granted to one of her sex has been vouchsafed, not to a woman lacking
 in tenderness, or simplicity, or vividness of religious consciousness, but to one in whom these have all had their highest 
development. 
It is surely a thing to be very grateful for in this world of fainting hearts and wavering minds, if we can point 
to one who has passed through fourscore years with ever widening vision and ever growing faith; and whose long sojourn
 here has left still all "unspotted from the world." Eighty blameless years, full of duty and of honour, 
all glorified by that high pursuit of Truth which is the loftiest of human joys " what blessed sight is 
this! Beholding it, we know that old age is not the dim closing of life's scene, but only the shade of the portal 
of immortality " a twilight, indeed " but the twilight, not of the Evening, but of the Dawn. 

Perhaps, there is no great force in the testimony of ordinary minds respecting their convictions of things unseen. 
Carrying onward through life without examination the religious ideas instilled into them in childhood, their witness of 
consciousness is hardly more than the witness of their teachers at second hand. It is hard to calculate, however, 
on the contrary, the value of the evidence afforded us by one who has faced the dread problems of existence through 
a long life of independent study ; and who, educated in such a creed as that of Scotland in the last century, has followed
 the progress alike of religion and of science, and stands at last in old age abreast of the foremost thought of our time.
 This is a voice to which we listen with thankfulness when it tells us that the result of knowledge is Faith. 

Does the reader ask what is the bodily presence of this great and good woman? Is that strong brain lodged in a powerful form,
 or does she, in her mental superiority, weary of common men and women, dwell a little aloof, keeping her 
" solemn state and intellectual throne"? Perhaps it would not be very marvellous if it were somewhat difficult for her
 to descend to such common gossip as befits a morning visit, or a little evening social gathering. Natural or not, however,
 it is always quite clear that  it is no difficulty at all to Mrs. Somerville to throw herself into the interests of those 
around her " to converse with each in his or her own way " to be, in short, simply the kindest and pleasantest member of society. I 
recollect once asking a friend to describe to me (before I had met him) the outward semblance of Theodore Parker. After telling me of 
his looks, she wrote, "Parker is a gentleman- a small word for a great man, yet worth somewhat, also." It would be idle to say Mrs. 
Somerville is a "lady;" a daughter of the old House of Fairfax was not very likely to be anything else.*(* Her father was Admiral Sir 
William Fairfax, Bart., a collateral descendant of the Parliamentary general.) 
Yet, to imagine her rightly, it is needful to bear in mind that this most learned of women so far diverges from the 
proper type of that order, as to be quite simply a high-bred lady with the peculiar charm of manner of the elder generation 
- alas ! now so nearly passed away. In nearly every respect, indeed, Mrs. Somerville must be a sad stone of stumbling to those
 who delight to depict that heraldic creature, "the Strong-minded Female," and have established it as a fact that the knowledge
 of Euclid is incompatible with the domestic affections, and that an angular figure, harsh voice, and brusque behaviour,
 are the necessary preparatives for feminine authorship. Mrs. Somerville is learned enough to alarm the best constituted mind ;
 she is ardently interested in the education and elevation of women, and she has even divulged such terrible opinions about 
the Creation and the Flood, as to have incurred the penalty of being preached against in York Cathedral. Yet that slight 
and fragile figure, clothed in rich brown moire antique " that head, rather delicately formed than large,
 surmounted by that soft lilac cap (which surely came from Paris?) "those features so mild and calm, with all their 
intelligence "that smooth hair, more brown than grey, even now " those kind mild eyes, aged, indeed, but needing no glasses"
 that lady, in short, who is talking in a low voice (probably about the last new novel, or the merits of Gounod's "Faust"),
 or laughing merrily over some little jest of her visitor's " that is said to be the translator of La Place's Mecanique Celeste,
 the authoress of the Connexion of the Physical Sciences. It is very distressing and unaccountable, but the identity seems
 pretty well established ! 
All hearts must rejoice to know that an old age so beautiful and venerable is surrounded by everything which can make it happy.
 Mrs. Somerville is the centre of more care and affection than can ordinarily fall to the lot of the aged. Though she has
 survived both her husbands (the last, who loved her so devotedly, died two years ago), she has her three children, 
attached old servants, and very literally "honour, obedience, troops of friends." It is touching to live near her, and see how
 English and Italians alike vie to offer her any gratification " flowers, music, or social pleasures of any kind she might be 
disposed to accept. Among the most congenial of these friends, and whose daily intercourse forms no small share of her enjoyment,
 is that same Marchesa (Teresa) Doria, of whom I have spoken as among the ablest and most patriotic of Italian ladies. 
Mrs. Somerville habitually spends her mornings in writing for several hours before she rises " her books and papers on her bed, 
and her little pet sparrow (passero) hopping about, now perching audaciously on the precious manuscripts, now on the head so 
full of knowledge he little recks of ! A certain splendid white Pomeranian dog and a parrot complete the circle.
 Very fond is the Padrona of her animals, and of all animals ; and only this last winter has she exerted herself vigorously
 to bring all possible influence to stop the hateful practice of vivisection which disgraces the science she loves.
 In the afternoons she drives round the beautiful shores of Spezzia or the Acqua Sola at Genoa. Her son's visits from England 
are her great seasons of pleasure. He comes to her as often as his office may permit, but her two daughters never leave her and
 seem to live only to surround her with their cares. All strive to conduce to her happiness. And she is happy " happy in the
 innocent and noble pleasures she has found in this life" happier still in her firm faith in a yet holier and nobler life to
 come. The "Pilgrim" has reached the "Land of Beulah where there is no more night." Nature has led her most faithful follower
 w up to Nature's God." 
Travelling much through the world, and seeing the great glories of scenery and of human art, or conversing with the larger 
minds of our age, is a matter for which I think we can hardly fail to be thankful when it falls to our lot. At 
every turn there is room for present enjoyment, and the certainty of future gain in memory thereof. Only this reflection injures
 our satisfaction " how many others who could have more enjoyed and better profited by our experience, 
find it denied them! How many who, in comparison of us, are "prophets and kings," " have desired to see the things we see, 
and have not seen them" - nor shall ever see them in this world ! But among the greatest of all the pleasures, and the
 most dear and sacred treasure of memory which many wanderings have given to me, the one. for which I am most grateful is,
 not that I have seen all the chief masterpieces of art - nor visited the loveliest scenes in Europe - 
nor beheld the "temples made with hands" of St. Peter's, and Milan, and the Parthenon, and Baalbec, and the Holy Sepulchre
 of Jerusalem : it is that I have been allowed to see and know and love Mary Somerville - and learn that Age can 
be so blessed, and Womanhood so perfect, and Immortality so secure. 




* * *



At ninety two, Mary Somerville regrets she 'shall not see the end of the most atrocious system of slavery that ever disgraced humanity'.

Her tomb in Naples, far from her husband's side, was sculpted by the then twenty-year-old Francesco Jerace who also sculpted the tomb of Anne Susanna Lloyd Horner, her friend. In disrepair it now lacks Mary's full name. It should be brought here with her remains and those of her daughters to be beside that of her husband William Somerville in Florence's 'English' Cemetery.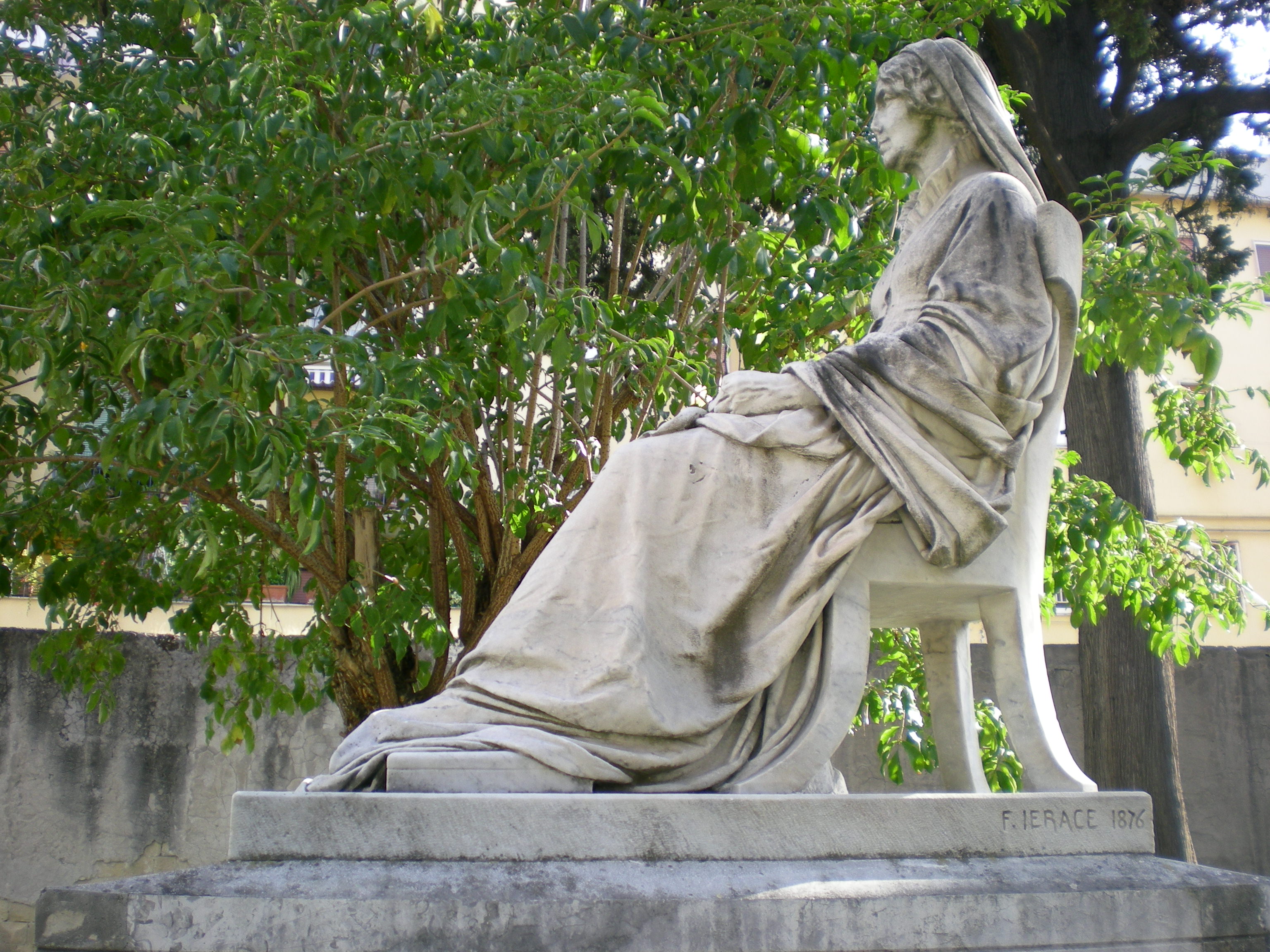 Nic Peeters in Antwerp, researching the De Morgans, adds:
Ada [Lovelace, Byron's legitimate daughter, and Mary Somerville's pupil in mathematics] was friends with Sophia and Augustus De Morgan, the parents of William De Morgan whose great friend, Roddy Spencer Stanhope, buried his daughter in your cemetery. Stanhope, as I'm sure you know, was the uncle of Evelyn De Morgan, William's wife.
I quote from
Byron's Daughter, a Biography
by Catherine Turney:
'She [Ada] and William liked certain people a great deal and invited them for frequent visits to Ockham Park and Ashley Combe,... One of these frequent guests was Charles Babbage; others were Augustus De Morgan, one of Ada's early tutors in mathematics, and his wife; the Earl of Lovelace was interested in mathematics too but was not in the same class with his brilliant young countess or Professor Babbage. ... In the beginning Ada was the one who kept the friendship going for she admired him extravagantly. By 1841 her grasp of the intricacies of his latest invention - the calculating machine which he called the "analytical engine" - had cemented the friendship. ... Babbage and the De Morgans were taken with Libby [Elisabeth Medora Leigh, the daughter from Byron's love affair with his half-sister Augusta] whom they saw frequently at Ockham Park and Moore Place. ... She could never have understood the principles of advanced mathematics which was the bond between Ada and the others, but Libby was sprightly in conversation and attractive to look at. Mrs. De Morgan noticed the resemblance between Libby and Ada; she had known Byron and certain of their mannerisms reminded her of him to an extraordinary degree.' (pp. 174-175)
FLORIN WEBSITE © JULIA BOLTON HOLLOWAY, AUREO ANELLO ASSOCIAZIONE, 1997-2024: MEDIEVAL: BRUNETTO LATINO, DANTE ALIGHIERI, SWEET NEW STYLE: BRUNETTO LATINO, DANTE ALIGHIERI, & GEOFFREY CHAUCER || VICTORIAN: WHITE SILENCE: FLORENCE'S 'ENGLISH' CEMETERY || ELIZABETH BARRETT BROWNING || WALTER SAVAGE LANDOR || FRANCES TROLLOPE || || HIRAM POWERS || ABOLITION OF SLAVERY || FLORENCE IN SEPIA || CITY AND BOOK CONFERENCE PROCEEDINGS I, II, III, IV, V, VI, VII || MEDIATHECA 'FIORETTA MAZZEI' || EDITRICE AUREO ANELLO CATALOGUE || FLORIN WEBSITE || UMILTA WEBSITE || LINGUE/LANGUAGES: ITALIANO, ENGLISH || VITA

New: Dante vivo || White Silence


To donate to the restoration by Roma of Florence's formerly abandoned English Cemetery and to its Library click on our Aureo Anello Associazione's PayPal button: 
                THANKYOU!