FLORIN WEBSITE © JULIA BOLTON HOLLOWAY, AUREO ANELLO ASSOCIATION,

1997-2019

: BRUNETTO LATINO, DANTE ALIGHIERI, GEOFFREY CHAUCER

||

CITY AND BOOK I,II, III, IV, V

||

FLORENCE'S 'ENGLISH' CEMETERY || THE ANGLO-FLORENTINES

|| ELIZABETH BARRETT BROWNING ||

WALTER SAVAGE LANDOR

||

ARTHUR HUGH CLOUGH

||

FRANCES TROLLOPE

|| FLORENCE IN SEPIA || MEDIATHECA 'FIORETTA MAZZEI' || E-BOOKS ||

AUREO ANELLO, CATALOGUE

||

SITE MAP

||

WEBLOG

||

UMILTA WEBSITE

||

RING OF GOLD WEBSITE

||

ITALIANO ||

Hypertext links are to the map [2D], to Americo Parrini, in C. Danyell Tassinari's ranslation, With Dante in Florence (Florence; Giannini, 1930/IX), to the oral readings by Carlo Poli, 1, to the poem, INF XV .

THE STONES OF FLORENCE

LE LAPIDI DANTESCHE IN FIRENZE


In 1255 the City of Florence placed this plaque [Map 2D] on the Bargello, its words written by Dante's teacher, Brunetto Latino:


+SUMMALEXANDER S[AN]C[TU]SQUE[M] MVNDVS ADORAT
CV[M] PASTOR MV[N]DI REGNABA[N]T REX[QVE] GVIELMVS.
ET CV[M] VIR SPLENDE[N]S ORNATVS NOBILITATE:
DE MEDIOLANO DE TVRRI SIC ALAMANNVS:
VRBEM FLORENTE[M] GAVDENTI CORDE REGEBAT
MENIA TVNC FECIT VIR CO[N]STA[N]S ISTA FVTVRIS.
QVI PREERAT P[O]P[V]LO FLORENTI BARTHOLOMEVS
MA[N]TVA QVEM GENVIT COGNOMINE DENVVVLONO
FVLGENTE[M] SENSV CLARV[M] PROBITATE REFVLTUM
QUE[M] SIGNA[N]T AQVILE REDDV[N]T SVA SIGNA DECORVM
INSIGNVM P[O]P[V]LI QUOD CO[N]FERT GAVDIA VITE:
ILLIS QVI CVPIVNT VRBEM CONSVRGERE CELO:


QVAM FOVEAT [CHRISTV]S CO[N]SERVET FEDERE PACIS:
EST QVIA CV[N]CTORUM FLORENTIA PLENA BONORV[M].
HOSTES DEVICIT BELLO MAGNO[QUE] TVMVLTV:
GAVDET FORTVNA SIGNIS POPVLO[QUE] POTENTI
FIRMAT EMIT FERVENS STERNIT NV[N]C CASTRA SALVTE
QVE MARE QVE TERRA[M] QUE TOTV[M] POSSIDET ORBEM.
PER QVAM REGNANTE[M] FIT FELIX TVSCIA TOTA:
TA[M]QUA[M] ROMA SEDET SEMPER DVCTVRA TRIVMPHOS.
OMNIA DISCERNIT CERTO SVB IVRE CONHERCENS:
ANNIS MILLENIS BIS CENTVM STANTIBUS ORBE:
PENTA DECEM IVNCTIS [CHRIST]I SVB NOMINE QVIN[QUE]
CUM TRINA DECIMA TVNC TE[M]PORIS INDITIONE.




In 1900, the City of Florence decided to place plaques throughout the historic centre of Florence citing the relevant lines of Dante's poem.


Map 1C, Parrini V, Tassinari V. In via Cerretani, on the church of Santa Maria Maggiore. Oral reading 1 :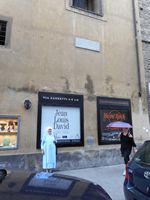 . . . IN LA MENTE M'E FITTA, E OR M'ACCORA,
LA CARA E BVONA IMAGINE PATERNA
DI VOI, QVANDO NEL MONDO AD ORA AD ORA
M'INSEGNAVATE COME L'VOM S'ETERNA!

. . . in my mind ia fixed, and touches now
My heart the dear and good paternal image
Of you when in the world from hour to hour
You taught me how a man becomes eternal.
INF. XV.82-85
Map 2B, Parrini VI, Tassinari VI. In Via Tornabuoni, 1, formerly Via dei Belli, on the Gianfigliazzi palace. Oral reading 2 :


GIANFIGLIAZZI
. . . COM'IO RIGVARDANDO TRA LOR VEGNO,
IN VNA BORSA GIALLA VIDI AZZVRRO
CHE D'VN LEONE AVEA FACCIA E CONTEGNO

And as I gazing round me come among them,
Upon a yellow pouch I azure saw
That had the face and posture of a lion.
INF. XVII.58-60

Map 2C, Parrini XXVIII, Tassinari XXVIII. In Borgo SS. Apostoli, 6 nero, on the Buondelmonte palace. Oral reading 3 :


O BVONDELMONTE . . . . . .
MOLTI SAREBBER LIETE, CHE SON TRISTI,
SE DIO T'AVESSE CONCEDVTO AD EMA
LA PRIMA VOLTA CH'A CITTÀ VENISTI.

O Buondelmonte . . .
Many would be rejoicing who are sad,
If God had surrendered thee to the Ema
The first time that thou camest to the city.
PAR. XVI.140-144

Map 3C, Parrini XXVI, Tassinari XXVI. In Borgo SS. Apostoli, 4 rosso, sulla Torre dei Baldovinetti. Oral reading 4 :

Non trovato/Not found

GIA ERAN GUALTEROTTI ED IMPORTUNI
E ANCOR SARIA BORGO PIU QUIETO
SE DI NOVI VICIN FOSSER DIGIUNI

Already were Gualterotti ed Importuni
And still more quiet would the Borgo be
If with new neighbours it remained unfed
PAR. XVI.133-135

Map 3C, Parrini XXVII, Tassinari XXVII. In Por S. Maria, 11 rosso, on the Amidei tower. Oral reading 5 :


AMIDEI
LA CASA DI CHE NACQVE IL VOSTRO FLETO,
PER LO GIVSTO DISDEGNO CHE V'HA MORTI,
E PVOSE FINE AL VOSTRO VIVER LIETO,
ERA ONORATA, ESSA E SVOI CONSORTI.

The house from which is born your lamentation,
Through just disdain that death among you brought
And put an end to your joyous life
As honoured in itself and its companions.
PAR. XVI.136-139

Map 3C, Parrini XXIX, Tassinari XXIX. On the Ponte Vecchio, where was the statue of Mars. Oral reading 6 :


. . . CONVENIASI A QVELLA PIETRA SCEMA,
CHE GVARDA IL PONTE, CHE FIORENZA FESSE
VITTIMA NELLA SVA PACE POSTREMA

But it beloved the mutilated statuer
Which guards the bridge, that Florence should provide
A victim in her latest hour of peace.
PAR XVI.145-147

Map 3C, Parrini IV, Tassinari IV. On the Ponte Vecchio beneath the Vasari Corridor. Oral reading 7 :


. . . IN SVL PASSO D'ARNO

. . . on the pass of Arno
INF XIII.146

Tassinari X. [Beyond map] In via San Salvatore al Monte, at the beginning of the stairs. Oral reading 8 :


. . . PER SALIRE AL MONTE
DOVE SIEDE LA CHIESA CHE SOGGIOGO
LA BEN GVIDATA SOPRA RVBACONTE,
SI ROMPE DEL MONTAR L'ARDITA FOGA,
PER LE SCALEE, CHE SI FERO AD ETADE
CH'ERA SICVRO IL QUADERNO E LA DOGA.

PURG XII.100-105

Beyond map. In Piazza San Salvi, on the church, with stemmi of Florence and of the Donati. Oral reading 9 :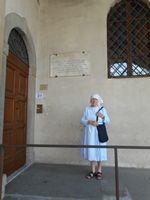 "Or va", diss'el, "chè quei che più n'ha colpa,
vegg'io a coda d'una bestia tratto
inver la valle oue mai non si scolpa.
La bestia ad ogni passo va più ratto
crescendo sempre, finch'ella il percuote,
e lascia il corpo vilmente disfatto.
PURG XXIV. 81-86

Tassinari XI. Beyond map. In Piazza Piave on the Arno, on the tower of the old Zecca where coins were minted. Oral reading 10 :


PER MEZZA TOSCANA SI SPAZIA
UN FIUMICEL CHE NASCE IN FALTERONA,
E CENTO MIGLIA DI CORSO NOL SAZIA
PURG XIV. 16-18

Map 2D, Parrini XXIII, Tassinari XXIII. In Borgo dei Greci, 29, where there had been a small gate in the first city wall. Oral reading 11 :


NEL PICCIOL CERCHIO S'ENTRAVA PER PORTA
CHE SI NOMAVA DA QVE' DELLA PERA.

One entered the small circuit by a gate
Which from the Della Pera took its name.
PAR XVI. 125-126

Map 2D, Parrini III, Tassinari III. In Palazzo Vecchio, in the first courtyard. Oral reading 12 :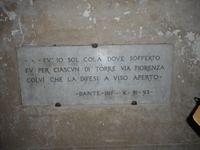 FV'IO SOL COLÀ DOVE SOFFERTO
FV PER CIASCVN DI TORRE VIA FIORENZA
COLVI CHE LA DIFESI A VISO APERTO.

But then I was alone, where every one
Consented to the laying waste of Florence,
He who defended her with open face.
INF X. 90-92

Map 2D. Parrini XIX, Tassinari XIX. In Palazzo Vecchio, in the first courtyard. Oral reading 13 :

Non trovato/Not found

OH QUALI IO VIDI QUEI CHE CON DISFATTI
PER LOR SUPERBIA.
PAR XVI.109-110

Map 2D, Parrini XXX, Tassinari XXX. In Palazzo Veccio, in the first courtyard. Oral reading 14:


VID'IO FIORENZA IN SÌ FATTO RIPOSO
CHE NON AVEA CAGIONE ONDE PIANGESSE;
CON QVESTE GENTI VID'IO GLORIOSO
E GIVSTO IL POPOL SUO, TANTO CHE IL GIGLIO
NON ERA AD ASTA MAI POSTO A RITROSO
NE' PER DIVISION FATTO VERMIGLIO.

Florence behold I in so great repose
That no occasion had she whence to weep
With all these families beheld so just
And glorious her people, that the lily
Not by division was vermilion made
PAR XVI.149-134

Map 2D, Parrini II, Tassinari II. In via Calzaioli, 11 rosso, on the Cavalcanti palace. Oral reading 15 :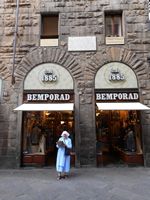 CAVALCANTI
. . . SE PER QVESTO CIECO
CARCERE VAI PER ALTEZZA D'INGEGNO,
MIO FIGLIO OV'E? PERCHE NON È TECO?
ED IO A LVI: DA ME STESSO NON VEGNO:
COLVI CVI GVIDO VOSTRO EBBE A DISDEGNO.

. . . If through this blind
Prison thou goest by loftiness of genius,
Where is my son? And why is he not with thee?
And I to him: "I could not of myself,
He who is waiting yonder leads me here,
Whom in disdain perhaps your Guido had".
INF X, 58-63

Map 2D, Parrini XVIII, Tassinari XVIII. In via dei Tavolini, corner of via dei Cerchi, where was the Galigai palace. Oral reading 16 :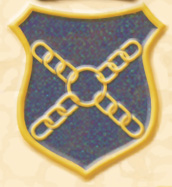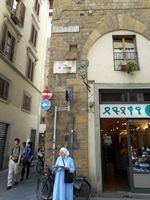 GALIGAI
. . . ED AVEA GALIGAIO
DORATA IN CASA SVA GIA L'ELSA E'L POME.

. . . already Galigaio
Had hilt and pommel gilded in the house.
PAR XVI.101-102

Map 2D, Parrini IX, Tassinari IX. In via dei Tavolini, 8, on the remains of the Abati palace. Oral reading 17 :


ABATE
PIANGENDO MI SGRIDO: PERCHÉ MI PESTI?
SE TV NON VIENI A CRESCER LA VENDETTA
DI MONTAPERTI, PERCHÉ MI MOLESTE?
. . .
. . . VN ALTRO GRIDO: - CHE HAI TV, BOCCA?
NON TI BASTA SONAR COLLE MASCELLE
SE TV NON LATRI? QUAL DIAVOL TI TOCCA?!

When cried another: "What doth ail thee, Bocca?
Is't not enought to clatter with thy jaws,
But thou must bark? What devil touches thee?
INF XXXII.79-81, 106-108

Map 2D, Parrini XXV, Tassinari XXV. In via dei Cerchi, via dei Tavolini, where was the Della Bella palace. Oral reading 18 :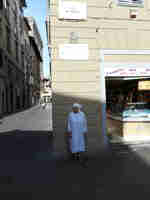 CIASCVN CHE DELLA BELLA INSEGNA PORTA
DEL GRAN BARONE . . .
. . .
DA ESSO EBBE MILIZIA E PRIVILEGIO:
AVVEGNA CHE CON POPOL SI RAVNI
OGGI COLVI CHE LA FASCIA COL FREGIO.

Each one that bears the beautiful ecutcheon
Of the great barone . . .
. . .
Knighthood and privilege from him received;
Though with the populace unites himself;
Today the man who binds it with a border.
PAR XVI. 127-128, 130-132

Map 2D, Parrini XIV, Tassinari XIV. In via Dante Alighieri, 1, at the Badia church. Oral reading 19 :


FIORENZA DENTRO DALLA CERCHIA ANTICA,
OND'ELLA TOGLIE ANCORA E TERZA E NONA,
SI STAVA IN PACE, SOBRIA E PVDICA.

Florence, within the ancient boundary
From which she taketh still her tierce and nones,
Abode in quiet, temperate and chaste.
PAR XV. 97-99

Map 2D, Parrini VIII, Tassinari VIII. In via Dante Alighieri, 2, at Dante's birthplace. Oral reading 20 :


. . . I' FVI NATO E CRESCIVTO
SOVRA 'L BEL FIVME ARNO ALLA GRAN VILLA.

. . . Born was I and grew up
In the great town on the fair River of Arno.
INF XXIII, 94-95

Map 2D. On the Torre della Castagna, Piazza San Martino :


E chiamoronsi Priori dell'Arti: e
stettono rinchiusi nella torre della
Castagna appresso alla Badia,
acciò non temessono le minacce
de' potenti
DINO COMPAGNI, CRONICA

Map 1D, Parrini XXIV, Tassinari XXIV. In via del Proconsolo, 17 rosso. Oral reading 21 :



VGO DI TOSCANA
CIASCVN CHE DELLA BELLA INSEGNA PORTA
DEL GRAN BARONE, IL CVI NOME E'L CVI PREGIO
LA FESTA DI TOMMASO RICONFORTA
DA ESSO EBBE MILIZIA E PRIVILEGIO.

Each one that bears the beautiful escutcheon
Of the great barn whose renown and name
The festival of Thomas keepeth fresh
Knighthood and privilege from him received.
PAR XVI.137-139

Map 1D, Parrini XV, Tassinari XV. In via del Corso, via del Proconsolo, where the Ravignani palace stood. Oral reading 22:


BELLINCION BERTI VID'IO ANDAR CINTO
DI CVOIO E D'OSSO, E VENIR DALLO SPECCHIO
LA DONNA SVA SANZA IL VISO DIPINTO.

Bellincion Berti saw I go begirt
With leather and with bone, and from the mirror
His dame depart without a painted face.
PAR XV.112-114

Map 1D, Parrini XVII, Tassinari XVII. In via del Corso, 4 rosso, where the Cerchi palace stood. Oral reading 23 :


LA PORTA, CH'AL PRESENTE E CARCA
DI NUOVA FELLONIA, DI TANTO PESO,
CHE TOSTO FIA IATTVRA DELLA BARCA.

. . . the gate that is at present laden
With a new felony of so much weight
That soon it shall be jetsam from the bark.
PAR XVI. 94-96

Map 1D, Parrini XIII, Tassinari XIII. In via del Corso, 6, where the Portinari palace stood. Oral reading 24 :


PORTINARI
SOVRA CANDIDO VEL , CINTA D'ULIVA,
DONNA M'APPARVE SOTTO VERDE MANTO
VESTITA DEL COLOR DI FIAMMA VIVA.

Over her snow-white veil with olive cinct
Appeared a lady under a green mantle
Vested in colour of the living flame.
PURG XXX.31-33

Map 1D, Parrini XII, Tassinari XII. In via del Corso, 31, rosso, on the remains of the Donati tower. Oral reading 25 :



DONATI
. . . IL LVOGO, V' FVI A VIVER POSTO
DI GIORNO IN GIORNO PIV' DI BEN SI SPOLPA,
ED A TRISTA RVINA PAR DISPOSTO.
. . . QVEI CHE PIV' N'HA COLPA
VEGG'IO A CODA D'VNA BESTIA TRATTO
IN VER LA VALLE OVE MAI NON SI SCOLPA".

The place where I was set to live
From day to day of good is more depleted
And unto dismal ruin seems ordained
. . .him most guilty of it
At a beast's tial behold I dragged along
Towards the valley where is no repentance.
PUR XXIV.79-84

Map 1D, Parrini I, Tassinari I. In via del Corso, 18, where the Adimari palace stood. Oral reading 26: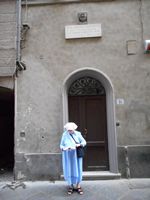 CAVICCIVLLI
TVTTI GRIDAVANO: -A FILIPPO ARGENTI!-
E'L FIORENTINO SPIRITO BIZZARRO
IN SÈ MEDESMO SI VOLVEA CO' DENTI.

They all were shouting, "at Filippo Argenti!"
And that exasperate spirit Florentine
Turned round upon himself with his own teeth.
INF VIII.61-63

Map 1C, Parrini XVI, Tassinari XVI. In via degli Speziali, 11 rosso, where the Alighieri palace stood. Oral reading 27 :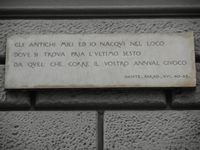 GLI ANTICHI MIEI ED IO NACQVI NEL LOCO
DOVE SI TRVOVA PRIA L'VLTIMO SESTO
DA QVEL CHE CORRE IL VOSTRO ANNVAL GIVOCO.

My ancestors and I our birthplace had
Where first is found the last ward of the city
By him who runneth in your annual game.
PAR XVI.40-42

Map 2C, Parrini XX, Tassinari XX. In via Lamberti, 20 rosso, where the Lamberti palace stood. Oral reading 28: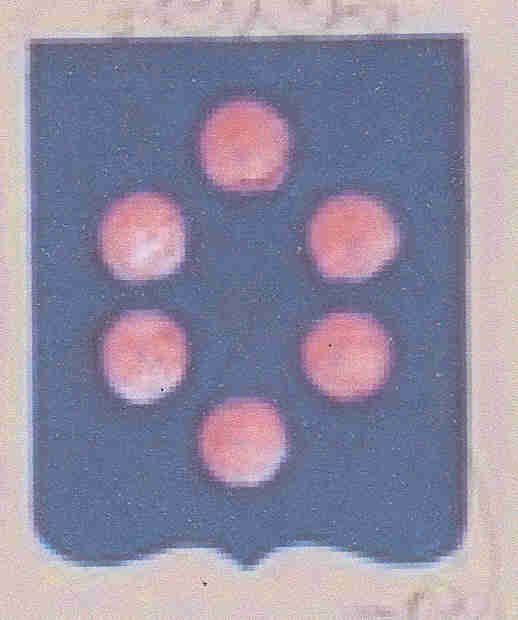 LAMBERTI
. . . E LE PALLE DELL'ORO
FIORIAN FIORENZA IN TVTT'I SVOI GRAN FATTI.

. . . and how the balls of gold
Florence enflowered in all their mighty deeds.
PAR XVI.110-111

Map 1D. In via delle Oche. Oral reading 29 :

Non trovato/Not found

. . . NON DEE PARER MIRABIL COSA
CIO CH'IO DIRO DELLI ALTRI FIORENTINI,
ONDE E LA FAMA NEL TEMPO NASCOSA

PAR XVI.85-87

Map 1D, Parrini XXI, Tassinari XXI. In via della Oche, 20 rosso, on the remains of the Visdomini tower. Oral reading 30 :


VISDOMINI
COSI FACIENO I PADRI DI COLORO
CHE, SEMPRE CHE LA CHIESA VOSTRA - VACA,
SI FANNO GRASSI, STANDO A CONSISTORO.

So likewise did the ancestors of those
Who evermore, when vacant is your curch,
Fatten by staying in consistory
PAR XVI.112-114

Map 1D, Parrini XXII, Tassinari XXII. In via delle Oche, 19, where the Adimari Cavicciuoli palace stood. Oral reading 31 :


L'OLTRACOTATA SCHIATTA CHE S'INDRACA
DIETRO A CHI FUGGE, E A CUI MOSTRA IL DENTE
O VER LA BORSA, COM'AGNEL, SI PLACA.
ADIMARI

The insolent race that like a dragon, follows
Whoever flees, and smite him that shows
His teeth or purse is gentle as a lamb.
PAR XVI.115-117

Map 1D. In Piazza del Duomo, 20. Oral reading 32 :


VERGINE MADRE, FIGLIA DEL TUO FIGLIO
UMILE E ALTA PIU CHE CREATURA
TERMINE FISSO D'ETERNO CONSIGLIO

TU SE' COLEI CHE L'UMANA NATURA
NOBILITASTI SÌ, CHE IL SUO FATTORE
NON DISDEGNÒ DI FARSI SUA FATTURA.

NEL VENTRE TUO SI RACCESE L'AMORE
PER LO CUI CALDO NELL'ETERNA PACE
COSÌ È GERMINATO QUESTO FIORE

ANNO MARIANO MCMLIV
PAR XXXIII.1-9

Map 1D, Parrini VII, Tassinari VII. In Piazza San Giovanni, al Battistero. Oral reading 33 :

. . . NEL MIO BEL SAN GIOVANNI

. . . in my beautiful St. John.
INF XIX.17

Map 1D, Parrini XXXI, Tassinari XXXI. In Piazza San Giovanni, al Battistero. Oral reading 34 :

SE MAI CONTINGA CHE 'L POEMA SACRO
AL QUALI HA POSTO MANO E CIELO E TERRA
SI CHE M'HA FATTO PER PIU ANNI MACRO,
VINCA LA CRUDELTA CHE FUOR MI SERRA
DEL BELLO OVILE, OV'IO DORMI' AGNELLO
NIMICO AI LUPI, CHE LI DANNO GUERRA,
CON ALTRA VOCE OMAI, CON ALTRO VELLO
RITORNERO POETA, ED IN SUL FONTE
DEL MIO BATTISMO PRENDERO 'L CAPELLO.

If e'er it happens that the Poem Sacred
To which both heaven and earth have set their hand,
So that it many a year hath made me lean,
O'ercome the cruelty that bars me out
From the fair sheepfold, where a lamb I slumbered,
An enemy to the wolves that war upon it.
With other voice forthwith, with other fleece
Poet will I return, and at my font
Baptismal will I take the crown.
PAR XXV. 1-9


Map, Historic Centre of Florence



B

Bibliografia:
Le Lapidi dantesche di Firenze. Firenze: La Graticola, 1974
Richard Mac Cracken. The Dedication Inscription of the Palazzo del Podestà in Florence. Firenze: Leo Olschki Editore, 2001
Amerigo Parrini. Le Epigrafi dantesche di Firenze. Firenze: Giulio Giannini, 1928.
Amerigo Parrini. With Dante in Florence. Trans. C. Danyell Tassinari. Firenze: Giulio Giannini, 1930-IX.

With thanks to Maria Novella Fioretta Pucci, Giacomo Pucci, Eugenio Giani, Richard Mac Cracken, Alberto Casciani, Daniel-Claudiu Dumitrescu, Giuliano Benvenuti and the Biblioteca del Capitolo Metropolitano Fiorentino, Enrico Giannini and Paolo Ciampi.