FLORIN WEBSITE © JULIA BOLTON HOLLOWAY, AUREO ANELLO ASSOCIATION, 1997-2013:

FLORENCE'S 'ENGLISH' CEMETERY

|| BIBLIOTECA E BOTTEGA FIORETTA MAZZEI || ELIZABETH BARRETT BROWNING ||

WALTER SAVAGE LANDOR

|| FLORENCE IN SEPIA || BRUNETTO LATINO, DANTE ALIGHIERI AND GEOFFREY CHAUCER || E-BOOKS || ANGLO-ITALIAN STUDIES || CITY AND BOOK I, II, III, IV, V || NON-PROFIT GUIDE TO COMMERCE IN FLORENCE || AUREO ANELLO, CATALOGUE || Versione in italiano


http://www.78s.ch/wp-content/uploads/2007/11/01-sergei-rachmaninov-the-isle-of-the-dead-symphonic-poem-op29.mp3
Call up music file, then reduce to icon, and recall this file to have them be simultaneous. Rachmaninoff uses the sound of the oars of Charon's boat on the waters for his symphonic poem, the 'Isle of the Dead', Opus 29


'THUNDERS OF WHITE SILENCE'
THE PROTESTANT CEMETERY OF FLORENCE
CALLED 'THE ENGLISH CEMETERY'
PIAZZALE DONATELLO, 38, 50132 FIRENZE




Elizabeth Woodworth, Tomb of Arnold Savage Landor





This essay is linked to files, of use to scholars, genealogists and relatives, giving the complete registry of the tombs in the so-called English Cemetery in Florence.

You can search on the World Wide Web or within this particular website http://www.florin.ms about Florence, for instance, to find a book in its library, the Mediatheca 'Fioretta Mazzei', or a tomb of an ancestor in Florence's 'English' Cemetery, using the search engine below:



Most recent and complete files, a virtual guidebook, in Italian and in English, are to be found at


THUNDERS OF WHITE SILENCE: FLORENCE'S SWISS-OWNED SO-CALLED 'ENGLISH' CEMETERY


http://www.florin.ms/ChapterFirst.html
http://www.florin.ms/ChapterA.html
http://www.florin.ms/ChapterAB.html
http://www.florin.ms/ChapterB.html
http://www.florin.ms/ChapterC.html
http://www.florin.ms/ChapterD.html
http://www.florin.ms/ChapterE.html
http://www.florin.ms/ChapterF.html
http://www.florin.ms/ChapterLost.html
http://www.florin.ms/ChapterLast.html


This is a work in progress and collaboration on its improvement is welcomed. Contact Webmistresswith comments, criticism, etc.



Tuoni di bianco silenzio italiano



Earlier files, in Italian, are to be found at


http://www.florin.ms/0SETTOREA.html
http://www.florin.ms/0SETTOREAABB.html
http://www.florin.ms/0SETTOREB.html
http://www.florin.ms/0SETTOREC.html
http://www.florin.ms/0SETTORED.html
http://www.florin.ms/0SETTOREE.html
http://www.florin.ms/0SETTOREF.html


Key to Codes Used in Register:
A1A, etc. coordinates indicating tomb position in cemetery/ BOLD CAPS, IN RED=FIRST NAME, (MAIDEN NAME), SURNAME/ IN BLUE=COUNTRY/COUNTRIES/ Descrizione della tomba in italiano per le schede di Belle Arti [Misure]/ BOLD (CAPS EXCEPT WHERE INSCRIPTION USES lowercase)=INSCRIPTION ON TOMB/; tomb sculptor, signature of SCULPTOR on tomb/ 1877 alphabetical register entry ending with tomb number, written in Italian/ 1844-1871/; additional information from 'Eglise Evangelique-Reformée de Florence Régistre des Morts', 2 vols, written in French/; X='registres des frais'/=additional information, including codes GL=London Guildhall Library, PRO=Public Record Office, FO=Foreign Office, kindly supplied by Anthony Webb researching the English in Tuscany; Maquay Diaries=John Leland Maquay, Jr, Diaries, information kindly supplied by Alyson Price, Archivist, Harold Acton Library, Florence; Talalay=Michail Talalay, 'Tombe dei Russi nel Cimitero detto "degli Inglesi"', con l'assistenza di Gino Chelazzi, RC in Talalay=Registro del Cimitero, St Petersburg MKF in Talalay=Metrickesie Knigi Florencii, Libri parrochiali di Firenze, Chiesa Ortodossa; N&Q, Notes and Queries transcriptions of English tombs made 100 years ago; DND, NDNB, Dictionary of National Biography, New Dictionary of National Biography; Freeman=James A. Freeman, 'The Protestant Cemetery in Florence and Anglo-American Attitudes toward Italy', Marker 10 (1993), 219-243; Henderson=Philip Henderson, Lucca, has further information concerning family backgrounds. Chiesa Evangelica Riformata Svizzera, 1827-. 2010.


Legenda del Registro in ordine alfabetico:
A1A, ecc. coordinate indicanti la collocazione di ciascuna tomba/LETTERE IN GRASSETTO E ROSSO= NOME DI BATTESIMO (NOME DA RAGAZZA), COGNOME/ IN BLU=/PAESE/PAESI/ Descrizione della tomba in italiano per le schede di Belle Arti [misure]/ IN GRASSETTO (LETTERE CAPITALI SALVO NEL CASO IN CUI L'ISCRIZIONE UTILIZZI LETTERE MINUSCOLE)=ISCRIZIONE SEPOLCRALE/; scultore, firma SCULTORE/1877 registro in ordine alfabetico redatto in lingua italiana con l'indicazione del numero della tomba (ultima colonna) / 1844-1871/ ulteriori informazioni tratte dall 'Eglise Evangelique-Reformée de Florence Régistre Morts', 2 voll, redatto in francese/; X='registres des frais'/= altre informazioni tratte dalla London Guildhall Library, dal Public Record Office, Foreign Office, ecc. indicate con sigle identificative: GL=London Guildhall Library, PRO= Public Record Office, FO= Foreign office, per gentile concessione di Anthony Webb frutto del lavoro di ricerca sugli inglesi che hanno trovato sepoltura in Toscana; Maquay Diaries=John Leland Maquay, Jr, Diaries, altre informazioni per gentile concessione di Alyson Price, Archivista Harold Acton Library, Firenze; Talalay=Michail Talalay, 'Tombe dei Russi nel Cimitero detto "degli Inglesi"', con l'assistenza di Gino Chelazzi, RC in Talalay=Registro del Cimitero, St Petersburg MKF in Talalay=Metrickesie Knigi Florencii, Libri parrochiali di Firenze, Chiesa Ortodossa; DND, NDNB, Dictionary of National Biography, New Dictionary of National Biography; Freeman=James A. Freeman, 'The Protestant Cemetery in Florence and Anglo-American Attitudes toward Italy', Marker 10 (1993), 219-243; Henderson=Philip Henderson, Lucca, è a conoscenza di altre notizie concernenti il background delle famiglie. Chiesa Evangelica Riformata Svizzera, 1827- 2010.




While alphabetically ordered but less complete files are at


The Swiss history of the so-called 'English' Cemetery in nineteenth century Florence is given at http://www.florin.ms/dalgas.html

The Archives are beginning to be transcribed:


Other essays on the 'English' Cemetery are:

Historical Notes on the 'English' Cemetery The City and the Book III: International Conference on the 'English' Cemetery, etc

portal

The City and the Book V, The Eighty Americans in the 'English' Cemetery, etc

portal

The Elizabeth Barrett Browning Website

portal

An Old Yellow Book: Elizabeth Barrett Browning's Death and Burial

New

Iron Chain, Golden Ring: Elizabeth Barrett Browning's Florentine 'English' Cemetery

New

Death and the Emperor in Dante, Browning, Dickinson and Stevens Florence in Sepia

portal

Isa Blagden, '

Félicie de Fauveau

'

'Hengist' Horne's

New Spirit of the Age

and Florence's 'English' Cemetery

New

Arnold B

öcklin,

Island of the Dead

New The Swiss in the Swiss-owned 'English' Cemetery

(inviting collaborative research)

The Swiss History of the 'English' Cemetery The Americans in the 'English' Cemetery

(inviting collaborative research)

The Russians in the 'English' Cemetery

(inviting collaborative research)

The Irish in the 'English' Cemetery Participants in the Battle of Waterloo Buried in the 'English' Cemetery

(inviting collaborative research)

Michael Ayrton,

Ensign Yelverton's Spoon

New

India and Florence's 'English' Cemetery New

Olive Baldwin and Thelma Wilson,

Tom Trollope's Mother-in-Law New
How to Catalogue a Cemetery: A Case Study of Florence's 'English' Cemetery New Scriptural Inscriptions in the 'English' Cemetery

Newest

Epitaphs in the 'English' Cemetery Poets' Corner: Aureo Anello Poets

(inviting offerings)

New

The Sculptors of the English Cemetery

(inviting collaborative research)

New

Ceramic Fragments in the 'English' Cemetery The 'English' Cemetery as 'English' Garden

(inviting participation) New

Egyptian Motifs in the 'English' Cemetery

New

Apuleius and the English Cemetery

New

The Egyptian Book of the Dead and Elizabeth Barrett Browning

New

Manohar Malgonkar,

A Sad Story of Unquiet Graves

Newest

A Cemetery in Reykjavik, Iceland


The following forthcoming essays invite your collaboration and participation:



Rome's Protestant Cemetery is at http://www.protestantcemetery.it
and its fine directory researched by the Danes is at http://www.dkinst-rom.dk/protcem/
City and Book III Aureo Anello and Gabinetto Vieusseux Conference on the 'English' Cemetery, June, 2004. Proceedings

City and Book V Conference on the Eighty Americans Buried in the 'English' Cemetery, October 2008, Proceedings



LA CITTA` E IL LIBRO III
ELOQUENZA SILENZIOSA:
VOCI DEL RICORDO INCISE NEL
CIMITERO 'DEGLI INGLESI',
CONVEGNO INTERNAZIONALE
3-5 GIUGNO 2004
THE CITY AND THE BOOK III
INTERNATIONAL CONFERENCE
'MARBLE SILENCE, WORDS ON STONE:
FLORENCE'S' ENGLISH CEMETERY',
GABINETTO VIEUSSEUX AND
'ENGLISH CEMETERY', FLORENCE
3-4 JUNE 2004
Gli Atti sono pubblicati in due lingue, italiano e inglese ('testo a fronte'), ai seguenti indirizzi: http://www.florin.ms/gimela.html, /gimelb.html, /gimelc.html, /gimeld.html, /gimele.html, /gimelf.html. Gli Atti sono pubblicati all'indirizzo http://www.florin.ms/gimel1, gimel2.html_soltanto in lingua italiana. Per i testi in lingua originale utilizziamo i caratteri neri, per la traduzione il colore usato è il grigio.

The Proceedings in both Italian and English (parallel text) are provided here: http://www.florin.ms/gimela.html, /gimelb.html, /gimelc.html, /gimeld.html, /gimele.html, /gimelf.html. The Proceedings are published at http://www.florin.ms/gimel1, gimel2.html in Italian only. The text in the original language is in black, the translation, in grey.

PROGRAMMA DEL CONVEGNO, 'LA CITTA' E IL LIBRO III'/ THE CITY AND THE BOOK III/ ELOQUENZA SILENZIOSA: VOCI DEL RICORDO INCISE NEL CIMITERO 'DEGLI INGLESI'/ MARBLE SILENCE, WORDS IN STONE: FLORENCE'S 'ENGLISH CEMETERY'
3-4 June 2004, Sala Ferri, Gabinetto G.P. Vieusseux, Palazzo Strozzi
Giovedì 3 giugno 2004/ Thursday 3 June 2004/ Ore 9.00/ 9:00 a.m.
SALUTI/ GREETINGS
Marcello Fazzini, Presidente del Gabinetto G.P. Vieusseux
Eugenio Giani, Assessore alle Relazioni Internazionali del Comune di Firenze
Giannozzo Pucci, Presidente dell'Associazione Internazionale 'Fioretta Mazzei'
Gerardo Kraft, Presidente dei Cimiteri Evangelici di Firenze
Vanessa Hall-Smith, Director, The British Institute of Florence
INTRODUZIONE/ INTRODUCTION
L'internazionalità di Firenze: il ricordo di Vieusseux nel Cimitero detto 'degli Inglesi'/ Cosmopolitan Florence: Vieusseux's Memorial in the 'English' Cemetery Maurizio Bossi, Gabinetto G.P. Vieusseux, Firenze [questa relazione è disponibile soltanto in lingua italiana all'indirizzo http://www.florin.ms/gimel1#bossi]
'Tuoni di bianco silenzio': Il Cimitero 'degli Inglesi' come biblioteca e come archivio/ 'Thunders of White Silence': The 'English Cemetery' as Library, as Archive Julia Bolton Holloway, Aureo Anello Associazione Biblioteca e Bottega Fioretta Mazzei e Amici del Cimitero 'degli Inglesi' [questa relazione è disponibile soltanto in lingua italiana all'indirizzo http://www.florin.ms/gimel1#holloway]
I CIMITERI DI FIRENZE E LA TRASMISSIONE DEL RICORDO NELL'OTTOCENTO/ THE TRADITION OF MEMORY IN NINETEENTH-CENTURY FLORENCE
Il bello sepolcrale/ The aesthetic of tombs, Carlo Sisi, Galleria d'Arte moderna di Palazzo Pitti, Firenze || Vivere con la morte: iscrizioni funebri e monumenti in Toscana/ Living with Death: Tuscan Entombments in the Nineteenth-Century, Anne O'Brien, National University of Ireland, Galway || La letteratura del ricordo/ The Literature of Memory, Laura Melosi, Università di Macerata || Memoria come benedizione: il Cimitero Ebraico a Firenze/ Memory as Blessing: Florence's Jewish Cemetery, Dora Liscia Bemporad, Università di Firenze|| Architetture dei cimiteri 'degli Inglesi' e 'agli Allori'/ Architecture of the 'English' and 'Agli Allori' Cemeteries, Giampaolo Trotta
Le relazioni sopra sono disponibili soltanto in lingua italiana all'indirizzo http://www.florin.ms/gimel1.html#sisi, #obrien, #melosi, #liscia, #trotta
Ore 15.30/ 3:30 p.m.
I 'FIORENTINI' INGLESI E AMERICANI/ ENGLISH AND AMERICAN 'FLORENTINES'
La tentazione di Eva: 'Paradise Lost' nella scultura di Hiram Powers/ Eve Tempted: 'Paradise Lost' in Hiram Powers' sculpture Katerine Gaja, The British Institute of Florence ||L'iscrizione sulla tomba di Walter Savage Landor/ The inscription on Walter Savage Landor's Tomb Mark Roberts, The British Institute of Florence ||La vedova di Arnold Savage Landor: Libri, corpi e l'incisione di memoria in Firenze/ Arnold Savage Landor's Widow: Books, Bodies and Imprinting Memory in Florence Allison Levy, Wheaton College||Fanny Trollope, la sua famiglia e la cerchia del Villino Trollope/ Fanny Trollope, her Family and Circle at the Villino Trollope David R. Gilbert, The Middle Temple, London ||Elizabeth Barrett Browning e la Bibbia/ Elizabeth Barrett Browning and the Bible Stephen Prickett, The Armstrong Browning Library, Baylor University ||La pietra e la parola: Elizabeth Barrett Browning a Firenze/ Stone and Word: Elizabeth Barrett Browning in Florence Claudia Vitale [disponibile soltanto in lingua italiana all'indirizzo http://www.florin.ms/gimel1#vitale]

CENA presso il CIMITERO 'DEGLI INGLESI', Piazzale Donatello, 38/ DINNER in the 'ENGLISH' CEMETERY, Piazzale Donatello 38
Ringraziamo

AGENZIA PER IL TURISMO FIRENZE


Venerdì 4 giugno 2004/ Friday 4 June 2004/ Ore 9.30/ 9:30 a.m.
Una tomba dal nome svanito: Isa Blagden/ A Faded Inscription: Isa Blagden's Tomb Corinna Gestri, La Nara di Prato [disponibile soltanto in lingua italiana all'indirizzo http://www.florin.ms/gimel1.html#gestri]||Clough, Horner, Zileri: tombe ricordate in un diario inglese inedito/ Tombs Linked in an Unpublished Diary Alyson Price, The British Institute of Florence||William Holman Hunt per la moglie giovane Fanny/ William Holman Hunt for His Young Wife Fanny Patricia O'Connor, The Pre-Raphaelite Society ||L'arte della memoria: John Roddam Spencer Stanhope e la tomba della figlia Mary/ The Art of Memory: John Roddam Spencer Stanhope and the Tomb of His Daughter Mary Nic Peeters, Vrije Universiteit Brussel– Judy Oberhausen, San Mateo, California||Notti bianche d'Islanda a Firenze: William Morris e Daniel Willard Fiske/ Northern Lights in Florence: William Morris and Daniel William Fiske Kristín Bragadóttir, The National Library, Reykjavik ||Marmo bianco: la vita e le lettere di Hiram Powers, un inedito di Clara Louise Dentler/ White Marble: The Life and Letters of Hiram Powers in Clara Louise's Dentler's Manuscript Jeffrey Begeal, The International Baccalaureate Organization
Ore 14.45/ 2:45 p.m. VISITA A CASA GUIDI/VISIT TO CASA GUIDI
Ore 15.30/ 3:30 p.m.
ALLA RICERCA DI 'FIORENTINI' DI ALTRE CULTURE NEL CIMITERO 'DEGLI INGLESI'/ OTHER 'FLORENTINES' IN THE 'ENGLISH' CEMETERY
Religione, nazione, affari: Il patrimonio della memoria nella comunità svizzera di Firenze/ Religion, Nation, Commerce: Memory as Heritage Among the Swiss in Florence Alessandro Volpi, Università di Pisa || 'Sotto i mirti della dolce Italia': I russi/ 'Beneath the myrtles of sweet Italy': The Russians Michail Talalay, Russian Academy of Sciences || Da Mosca a Firenze: i Kudrjavcev e l'Italia/ From Moscow to Florence: The Kudriavcev and Italy Lucia Tonini, Università 'l'Orientale', Napoli || Le ragioni di una assenza, i motivi di una presenza: Polacchi e Ungheresi nel Cimitero 'degli Inglesi'/ Reasons for absence, motives for their presence: Poles and Hungarians in the 'English Cemetery' Luca Bernardini, Università di Milano || Gli Europei del Nord: dall'Olanda, dalla Scandinavia e dai Paesi baltici/ Northern Europeans: Holland, Scandinavia and the Baltic Countries Asker Pelgrom, Rijkuniversiteit Groningen, Olanda || Due sepolture al Cimitero 'degli Inglesi': una traccia per l'attività fiorentina di Félicie de Fauveau/ Two Tombs in the 'English' Cemetery: Vestiges of Felicie de Fauveau's work in Florence Silvia Mascalchi, Istituto Statale d'Arte di Firenze || Robert Davidsohn, un autore della memoria storica di Firenze/ Robert Davidsohn, Historian of Medieval Florence Giuliano Pinto, Università di Firenze.
Le relazioni sopra sono disponibili soltanto in lingua italiana all'indirizzo http://www.florin.ms/gimel2.html#volpi, #talalay, #tonini, #bernardini, #mascalchi
Appendix: Poets' Epitaphs in the 'English' Cemetery
SABATO, 5 GIUGNO/ SATURDAY, JUNE 5
VISITA A VILLA LANDOR, FIESOLE, AL CASTELLO DI VINCIGLIATA, AL MONASTERO DI VALLOMBROSA, A BELLOSGUARDO, VILLA BRICHIERI-COLOMBI, VILLA LO STROZZINO
VISIT TO VILLA LANDOR, FIESOLE, VINCIGLIATA CASTLE, VALLOMBROSA MONASTERY, BELLOSGUARDO'S VILLA BRICHIERI-COLOMBI AND VILLA LO STROZZINO

TEMPO/ SPAZIO/ BIBLIOGRAFIA //TIME/ SPACE/ BIBLIOGRAPHY
MOSTRE CORRELATE A FIRENZE/ RELEVANT EXHIBITIONS IN FLORENCE
Firenze in seppia/ Florence in Sepia, Sala Ferri, Gabinetto Vieusseux. Palazzo Strozzi (The Botticelli detail of the background is from a nineteenth-century sepia photograph that was exhibited in 'Firenze in seppia') We suggest that the photographs of the exhibition be viewed here before the Proceedings to place the Cemetery in its Florentine context.




Botticelli e Filippino: L'inquietudine e la grazia nella pittura fiorentina del Quattrocento/ Anxiety and Grace in Florentine Quattrocento Painting. Palazzo Strozzi: www.botticellipalazzostrozzi.it

I giardini delle Regine: Il mito di Firenze nell'ambiente preraffaellita e nella cultura americana fra Ottocento e Novecento/ The Queens' Gardens: The Myth of Florence Amongst the PreRaphaelites and in Nineteenth and Twentieth Century American Culture. Galleria degli Uffizi and http://www.igiardinidelleregine.it

'Aureo Anello' Associazione Biblioteca e Bottega Fioretta Mazzei e Amici del Cimitero 'degli Inglesi'
'Centro Romantico' del Gabinetto G.P. Vieusseux
Cimiteri Evangelici di Firenze
The British Institute of Florence
Associazione Internazionale 'Fioretta Mazzei'
Amicizia Ebraico-Cristiana
Gli Atti sono pubblicati in due lingue, italiano e inglese ('testo a fronte'), ai seguenti indirizzi: http://www.florin.ms/gimela.html, /gimelb.html, /gimelc.html, /gimeld.html, /gimele.html, /gimelf.html. Gli Atti sono pubblicati all'indirizzo http://www.florin.ms/gimel1.html, http://www.florin.ms/gimel2.html soltanto in lingua italiana. Per i testi in lingua originale utilizziamo i caratteri neri, per la traduzione il colore usato è il grigio.
The Proceedings in both Italian and English (parallel text) are provided here: http://www.florin.ms/gimela.html, /gimelb.html, /gimelc.html, /gimeld.html, /gimele.html, /gimelf.html. The Proceedings are published at http://www.florin.ms/gimel1, http://www.florin.ms/gimel2.html in Italian only. The text in the original language is in black, the translation, in grey.

You can search a particular reference term within this website, http://www.florin.ms, using the search engine below:
We are a member of the Association of Significant Cemeteries in Europe (ASCE):

for which see especially their Virtual Cemetery of the Certosa in Bologna
See also Poets' Graves at http://www.poetsgraves.co.uk, http://www.irishgraves.com/, http://www.deadireland.com/ etc.

Florence's English Cemetery, Piazzale Donatello, 38, 50132 FIRENZE, is open to the public Mondays, 9:00-12:00, Tuesdays through Fridays, Summers, 3:00-6:00, Winters, 2:00-5:00. We are closed on weekends and holidays. Phone 055 582608
__________

Florentine Lily on Elizabeth Barrett Browning's Tomb
Because the Swiss owners wanted to close and abandon the 'English' Cemetery, we have created a weblog at
http://piazzaledonatello.blogspot.com
and set up a petition at
http://www.thepetitionsite.com/takeaction/471134975
The petition reads:
'That the Swiss-owned, so-called 'English' Cemetery in Florence be kept open, be restored and be declared a UNESCO World Heritage Site'
'Che il Cimitero 'degli Inglesi' a Firenze di proprietà Svizzera possa ancora essere visitabile, sia restaurato e sia dichiarato dall'UNESCO Patrimonio Mondiale dell'Umanità'
This Cemetery in Florence is a way of studying the history of British, Swiss, Russian and American exiles.
Please sign! And thanks.
More information on the Emergency Appeal may be found at http://piazzaledonatello.blogspot.com
__________

Florentine Lily on Elizabeth Barrett Browning's Tomb
Map giving coordinates of tombs
To enlarge , click here
'ENGLISH' CEMETERY, PIAZZALE DONATELLO, 38, 50132 FLORENCE, ITALY

aaEnglish Cemetery, Piazzale Donatello, is green oval to the far right near the top

Elizabeth Barrett Browning twice describes the silver arrow of the Arno River shooting through the city of Florence, in Casa Guidi Windows I.52-59, and in Aurora Leigh VII.534-537. She came to be buried, along with other famous poets and sculptors in the 'English' Cemetery in Florence.

1* Duomo/Cathedral +; 2* Campanile di Giotto/ Giotto's Bell Tower; 3* Battistero/ Baptistry +; 4 Casa di Dante/ Dante's House; 5 Colonna dell'Abbondanza/ Column of Plenty in Piazza della Repubblica; 6 Badia/ Abbey Church +; 7* Bargello; 8* Palazzo Vecchio/ People's Palace; 9 Loggia dei Lanzi o dell'Orcagna; 10* Galleria degli Uffizi/ Uffizi Gallery; 11* Ponte Vecchio/ Old Bridge; 12* Orsanmichele +; 13 Poste e Telegrafi/ Post Office; 14 Palazzo Strozzi/ Strozzi Palace; 16 Palazzo Ferroni Spini; 17* Chiesa di Santa Maria Novella +; 18 Stazione Centrale/ Santa Maria Novella Station; 20* Chiesa di San Lorenzo e Cappelle Medicee/ Basilica of San Lorenzo +, Medici Tombs/ Laurentian Library (this last is in the cloister and upstairs, entered on the left from the church); 21*Palazzo Medici Riccardi with Benozzo Gozzoli Chapel; 22* Cenacolo di S. Apollonia (a free museum with magnificent fresco of Last Supper) +; 23* Accademia di Belle Arti; 24* Chiesa e Museo di San Marco/ Church and Museum of San Marco +; 25* Chiesa della Santissima Annunziata and Ospedale degli Innocenti +; 26* Chiesa di Santa Croce +; 27 Biblioteca Nazionale; 28 Giardino di Boboli; 29 Palazzo Pitti; 30 Chiesa di Santo Spirito +; 31 Chiesa del Carmine +; 32* Museo di Storia della Scienza; 34 Teatro Comunale; 35 Fortezza da Basso; 37 Piazzale Michelangelo; 38 Forte di Belvedere; 39 Sinagoga; 41* Chiesa di Ognissanti +

Piazza English Cemetery
D'Azeglio Piazzale Donatello


Florentine Lily on Elizabeth Barrett Browning's Tomb


Update
1 – The Reopening of the Cemetery for Use
In 1996, at the time of the burial of the famous Russian choreographer-ballerino Eugenij Poljakov, elected Citizen of Florence, the Cemetery was reopened to the burial of cinerary urns and small caskets of bones of all those who wish to be buried here, or to bury their dear ones, in a Monumental Cemetery, which belongs to Florence's history and which goes back in its origins to the Tuscan Grand Duchy.
There are now about 500 spaces available, either already or in process of being constructed.
More detailed information can be obtained from the custodian of the historic cemetery at Piazzale Donatello, 38, 50132 FIRENZE.
Telephone: 0039 055 584956
Website: http://www.florin.ms/cemetery.html
2 – Visits
At present the opening hours of the cemetery for individual and group visits are the following:
Mondays 9:00-12:00 All Year
Tuesdays through Fridays 3:00-6:00 p.m. Summers,
2:00-5:00 p.m. Winters
Any changes to this above schedule will be communicated by a notice at the entrance of the cemetery



Florentine Lily on Elizabeth Barrett Browning's Tomb
Our website on the 'English' Cemetery in Florence takes its title from a line in Elizabeth Barrett Browning 's sonnet on Hiram Powers' marble sculpture of the 'Greek Slave', speaking of its 'thunders of white silence'. Both Elizabeth Barrett Browning and Hiram Powers are buried in Florence's Protestant Cemetery.




There are two major 'English Cemeteries' in Italian exile, in which are entombed the mortal remains of great English writers, one being the 'English Cemetery' in Florence, the other the 'Protestant Cemetery' in Rome. In them we can find the tombs of Elizabeth Barrett Browning and Walter Savage Landor, of John Keats and Percy Bysshe Shelley, and many others. We invite readers of this essay, scholars in these fields, to add to our material, for the World Wide Web can be intensely living, not dust, but flesh and bone and blood and light. Marble, Michelangelo dared to believe, can speak.

The immortal remains of these entombed writers may be found also in libraries and books , such as

those listed in the Bibliography at the end of this essay and in our Library's Catalogue at http://www.florin.ms/libhe.html. We recommend to travellers to Italy the purchasing and reading of paperback Penguin Classics for and during their journey, of books by Elizabeth Barrett and Robert Browning, by Lord George Byron and John Keats, by Percy Bysshe and Mary Shelley, by Nathaniel Hawthorne, George Eliot and Henry James. Victorian travellers in Italy, both English and American, themselves had so read finely-bound octavo Tauchnitz editions, small enough to fit into their pockets. Among them those by Isa Blagden under her nome-de-plume. And we beg our gentle readers if they find any to send them to us for this library in the Gatehouse of the Cemetery where she is buried with her friends.


We find that here we can read books printed on paper, penned on parchment, and inscribed on marble.

---

Florentine Lily on Elizabeth Barrett Browning's Tomb

---
The cemetery is surrounded by boulevards, an oval island of peace overtaken by city sprawl and traffic just outside the ring of Florence's old walls, that nineteenth-century Florence we are so affectionately rediscovering today.
If the truth be told, not all Florentines were pleased in 1827 when 8,000 square metres of Grand-Ducal lands on the little hill outside the Porta a' Pinti, the Pinti Gate, were sold to the Reformed Evangelical Church for 15,214 Tuscan lire, to be used for a cemetery. The more reactionary clergy were indignant, and organized a punitive expedition during which they destroyed the first, freshly dug, graves. Even more annoyed were the football fans deprived of their grandstand. The foot of the hill, near the wall which ran from Porta a' Pinti to the Torre del Maglio (where Via La Marmora begins), was an open space which served the players' purpose and the fans cheered them on from the hill above.
But that part of the city seemed destined for change. When the walls of 1284 were built, a gate was placed squarely between a monastery and a little knoll. The Gesuati monks specialized in the production of stained glass windows, and thus the gate came to be called 'a' Pinti'. It was destined, too, to be a favourite haunt of painters! The gate was the starting point for the Via Fiesolana; the walls embraced many areas still devoted to gardens and the growing of vegetables.
In 1530, Michelangelo ordered a whole series of drastic modifications to improve the defenses of his beloved Florence: the gate, designed by Arnolfo da Cambio, was strengthened and linked to the knoll, which became a defensive bastion, and the surrounding structures, already few and far between, were demolished. Then the area fell into decay and the topographers Buonsignori (1584), Fiorini (1595), Ruggeri (1731) and Merlini, as late as 1818, continued faithfully to include the curious mini-hill on their maps.
Thus in 1827, when the Grand-Ducal Government sold the land for the cemetery, it was a lonely spot, with widely scattered houses outside the walls, and inside, between the hamlets of Borgo Pinti and Borgo alla Croce, a few small villas almost hidden among the vegetable gardens and orchards that lined the little roads. Towards Porta San Gallo stood the Torre del Maglio near which the Anglicans would build their Holy Trinity Church not too many years later.
In 1860, the acquisition of more land made it possible to build the gate-house which stills stands at the entrance, but five years later the cemetery was deprived of a section to the north. That was the year when the wanton destruction of so much of Florence began, and although the demolition of the city walls to make way for the 'viali' (boulevards) can be justified, the destruction of Porta a' Pinti cannot. The demand for construction sites kept growing and in the fever of speculation the 'Mattonaia' quarter was born. In 1870, the City Government named the large piazza around the cemetery after Donatello; the whole area was sought after by painters and sculptors. In 1878, the cemetery was officially closed, by then an island of antiquity in contrast to a city from which it was growing more and more estranged.
Life was difficult for early nineteenth-century Protestants; so was even death. Each new grave touched off religious and even diplomatic incidents. The first Protestant cemetery was opened in Leghorn (Livorno) by the English, but as the Florentine Protestant community grew larger in its own right, that last journey to Leghorn became more and more unpleasant. Eventually the situation became volatile, but the modest, tenacious Swiss sought a solution. They were numerous and enterprising, and in J.P. Gonin found just the man they needed, a successful blend of French, Italian and Swiss, who combined the acute intelligence of the French Hugenots, the patient determination of the Italian Waldensians and the steady organization sense of the Geneva Calvinists. Within a scant three years - by rallying the Protestants, persuading diplomats and gaining the respect of the Tuscan authorities - he established the Reformed Evangelical Church, a 'Scuola dei Padri di Famiglia' (ancestor to the present Swiss School), and the Protestant Cemetery.
Few people know that the 'Cimitero Protestante di Porta a' Pinti', as it is officially called, is even today the property of the Swiss Evangelical Reformed Church and administered through its 'Concistory', although it is better known as the 'Cimitero degli Inglesi' (the English Cemetery). The latter name first entered into popular use and then took on a quasi-official character, owing to the prestige of Victorian England and to the fact that in those days to the average Florentine a Protestant was an Englishman, and to the sizeable number of English-speaking personages buried there.
In the map below from Augustus Hare's Florence, of which the above is the detail with the Protestant Cemetery, we can see the original city walls and gates. To the far right is shown the Porta a' Pinti Gate and the Protestant Cemetery as it then was. At the Risorgimento Florence's city walls were torn down and the Cemetery had to be closed according to the Code Napoleon which forbade burials within city limits. The two stemma of the shields with a cross and a lily originally on the Gate Arnolfo di Cambio built were now placed on the cemetery wall. The hill is not natural but was formed from rubbish thrown over the city wall for centuries and we still find bits of medieval and Renaissance hand-painted pottery in the cemetery, their rubbish not having been plastic!
From Augustus J.C. Hare, Florence (London, Fourth Edition, 1896)

Burials took place from 1838 to 1877, after which only a few cinerary urns were accepted. The 1,409 graves represent sixteen nations: the 760 British graves form the core, followed by the 433 Swiss, the 87 Americans, the 84 Italians and the 54 Russians who are buried there.
Young Girl Sculpted Dancing and Skipping
It is interesting to note the young age of many of the deceased: 164 were less than two years old, 165 less than twenty, 180 less than thirty, and 194 died before they were forty.
The history of the cemetery unfolds in chronological layers. The first to arrive were the Swiss small tradesmen and the British aristocrats; then the cosmopolitan Florentines; in mid-century came the first Florentine Protestants; and after 1859, the Waldensians. After Florence became capital, all national and class distinctions were lost.
In the first quarter of the nineteenth century, during the period of the Restoration of the House of Lorraine, Florence had the appearance of a large medieval village. Her 120,000 inhabitants lived for the most part crammed into lanes and alleys that, upon leaving the city gates and approaching the old centre of the city, narrowed and were sunk more and more deeply in a semi-obscurity which made the palaces of the nobility, both old and new, stand out more magnificently in the sharp clear air above. The cost of living was low, fabulously so for the foreigners, but this was of little help to the languishing crafts, so long as capital was too insufficient to permit the setting up of industries capable of absorbing the overabundant and semi-employed work force. The gloomy economic situation was further aggravated by the supremacy of a clergy steadfastly united in its conservatism, attentive custodian of the Tuscan Grand-Ducal Restoration under the Hapsburg colours.
It was against this backdrop of social, economic and cultural depression that foreign communities appeared on the scene and the liberal Protestant breach took place.
The history of the Swiss community, the first mention of which dates back to the middle of the eighteenth century, has yet to be written, although it was the foreign community most actively integrated into the pattern of Florentine and Tuscan life. Most of its members were from the Engadine, and because they were of modest condition and used to a simple life style, were prepared to continue the way of life of a people of generally modest means and simple habits. Engaged in small industry or trade, they brought friends from their homeland, and sometimes established cafes, like Gilli's in Via Calzaioli, and chains of shops, which extended even to smaller towns like Prato and Pistoia. There were artists, too, and men of learning, in the tradition of Sismondi, the cultivated Italophile; J. Galiffe, the historian, Enrico Schneider, the keen pedagogue, and J.P. Vieusseux, the great promoter of culture. This last name alone should suffice to render sacred to Florence and all Italy the cemetery which preserives his memory.
Most of the Swiss lived intermingled with the population, in the narrow streets and lanes of the city. Only a few groups are recorded, as communities within the community, in S. Marco Vecchio, Rovezzano, and Pignone, places then regarded as far-off villages - a reminder that the Florence of those days, all clustered around the maze of the ghetto, between the Duomo, Santa Croce, S. Spirito (considered distant) and Santa Maria Novella, was really quite small.
The English on the other hand, often by no means wealthy Milords, had other possibilities open to them: they might find lodgings in a patrician palace, or rent part of a country villa or an entire estate. With the prestige of imperial Britain behind them, they moved into the villas of Bellosguardo, or the venerable residences of the Medici, the della Gherardescas, the Palmieris or the Davanzatis. Often they restored run-down estates to their former splendour (as a judicious marriage can restore the fortunes of an impoverished noble family); some of their reconstructions, however, are still joked about in Florence.
There is an abundant literature devoted to the Anglo-Florentines of the nineteenth century, the artist in particular. The cemetery preserves the memory of the unforgettable Elizabeth Barrett Browning , the refined Arthur Hugh Clough, the astounding, demented Walter Savage Landor , loyal Isa Blagden , and the supremely cultivated Trollope family, including the brilliant young Theodosia Garrow-Trollope . All were people of excellent taste, in whom dwelt a sincere love for Florence and Italy, and through their efforts Florence became a centre from which English-speaking public opinion was rallied to the cause of a united Italy.

Florentine Lily on Elizabeth Barrett Browning's Tomb
Elizabeth Barrett Browning's tomb, cameo with poet's laurel garland
Physicians too, such as Dumbreck and Southwood, brought to Florence their experience in the prevention of epidemics, at a time when epidemics were still rife. They, and many others, served their adopted country, and initiated and encouraged philanthropic and health reforms from which the entire population benefited.

This little Anglo-Florentine world also had its financiers, who enterd the picture during the period when Florence was the capital of Italy. J. Hudson, the British minister, retired to Florence after eleven years of service, and before long had taken over the Florence Land and Public Works Company, which had the contract for the demolition of the walls and the construction of the boulevards and the new piazze . It was a time of much building speculation and many English names are associated with it.

The precursor of the businessmen was Horace Hall, a liberal and a gentleman who, with Emanuele Fenzi, set up a financial group which had some weight in the life of the city. Yet another type in which the cemetery abounds is that of the Evangelicals, those extremely active Protestants who had the firm conviction that the Italian Risorgimento could only be achieved by abandoning Papal Rome. Among them were energetic and fearless Presbyterians such as Hanna and Maquay who, with the Swiss, were responsible for the rise of an indigenous Protestant dissident movement, and fanatics like Johnstone and Walker who did their utmost to divide it, importing into Italy the sectarian disputes of their own country. The Anglicans - the clergyman George Robbins who shepherded his flock for thirty years represents them well - kept to themselves for the most part, mingling neither with the 'Papists' nor with the 'Awakened'.

On the subject of religions, spiritism was brought into fashion by the English-speaking world, and Unitarian theologian Theodore Parker is buried here. He was from the United States and was all too briefly a member of the community which gave Florence cultivated and active men like J. Lorimer Graham, artists like Hiram Powers and Joel Tanner Hart, and loyal friends of Italy like W.B. Kinney and W.C. Bryant. A new breed from a new nation, they contributed a journalism able to form public opinion, and sought out personal contacts with the new men of the country.

The first Italians to reach this cemetery came by way of their country's prisons and exile: Madiai, Massei, the Pontedera group, all were people who had formed the clandestine Florentine Protestant congregation and had been sentenced to prison. Exile was the lot of able theologians like Luigi De Sanctis and dedicated educators like Salvatore Ferretti. That first Florentine Protestant movement, towards the middle of the century, counted one noble name and a great number of servants, small craftsmen, errand-boys, etc. Their names, among so many from other lands, truly bring to mind that universality which only the Gospel can bestow, above and beyond the barriers of language and possession.

To these were added, after 1859, a group of Piedmontese, eighteen Waldensians from the Piedmont valleys and one Robiglio, a pastry cook like the Rivoire who established himself in Piazza Signoria. Of these Waldensians, eight died at a very early age and six in their first youth: a bitter tribute exacted from families that had come to Florence in the hope of making it a centre for their work of evangelization.

The Russians, princely and eccentric, one and all, passed through the quiet city like a whirlwind, fed the gossip columns for a time and disappeared. But they too paid their tribute of grief, as the 54 Orthodox graves attest. At this point, however, we should mention the Polish patriot Severinus Goedke-Zimbowsky who died in exile; and Ferenc Pulszky, who was also exiled to Florence but with much better fortune; also a Protestant, a friend of Kossuth, and in close relations with Bakunin, his home in Florence was a centre of cosmopolitan culture.

In the city plan drawn up for Florence during her short-lived role as capital, the Porta a' Pinti cemetery was to have been closed. It was in fact closed in 1877, but by that time the new 'Italian' city was expanding, and unfortunately swallowing up the old. Thus, as a chapter in the city's history drew to an end, the cemetery closed its gates, to keep watch over the memory of a few people and the cosmopolitan and non-conforming nineteenth century which does honour to Florence.

HOW TO VISIT THE CEMETERY
Gatehouse
Enter at the gate on the Viale Gramsci. Once past the gatehouse, you can distinguish the lay-out of the cemetery: a path climbs towards the central column, where it intersects the transversal arm of the cross. The central column is in marble, surmounted by a cross. A gift from the Emperor Frederick William of Prussia, it was erected in 1859. It bears the following inscription in French: 'I am the Resurrection and the Life: He that believeth in me, though he were dead, yet shall he live' (John 11.25). Each grave has a number, and as a general rule the even numbers are located to the left of the central path and the odd numbers on the side nearest Fiesole. The custodian keeps an alphabetical register which may be consulted.
Path from Gatehouse to Column

BIANCA BALDELLI (1853-1869)
Bianca Baldelli's father, Count Antonio Baldelli, married a Walker, a militant Evangelical Englishwoman, and thus introduced into his aristocratic Florentine family that Protestant strain which would continue to make its presence and influence felt in every humanitarian undertaking and religious reform right through the first quarter of the twentieth century.
Isabella Blagden is buried near her friends Elizabeth Barrett Browning and Theodosia Trollope: a love of liberty and a passionate involvement in the vicissitudes of the Italian Risorgimento cemented the friendship of these women who lived and wrote in Florence. Born in the East Indies, Isa Blagden came to live on the Bellosguardo hill in 1843. Although a talented poet and narrator, she is remembered for those human qualities which made her the gentle helpmate of R. Bulwer Lytton (Owen Meredith, the poet), the patient hostess of the old eccentric Walter Savage Landor, and an attentive observer of the Tuscan society of her times. Exotic mysticism and romanticism are mixed in her writing, now all but forgotten, effaced like the inscription on her tombstone (No. 1175). Yet her personality remains that of a lively, strong, passionate woman faithful to the most precious gift, that of friendship.
MARIA ANNA BOECKLIN (1877)
This grave of a seven-month-old baby recalls the first stay in Florence of Arnold Boecklin (1827-1901), the great painter from Basel, who lived for a time in the neighbourhood of the cemetery. Married to the Roman Angela Pascucci, Boecklin later adopted Florence as his second home, and died at Villa Bencita`, below Fiesole. In spite of the evidence that a famous painting of his, now in the Staatsmuseum, Basel, was inspired by the island of Ponza, it reminds many of the Porta a' Pinto cemetery where his child is buried, both because of its name - Island of the Dead - and the composition itself.
ELIZABETH BARRETT BROWNING (1806-1861)
Elizabeth Barrett Browning's Sarcophagus
Elizabeth Barrett Browning 's name seems to epitomize the Anglo-Florentine nineteenth century. Her sarcophagus can easily be recognized, not far beyond the entrance to the burial ground, on the left. It was designed by Lord Leighton for her husband, Robert Browning, and built by the Giovannozzi brothers (1791-1870) who, in collaboration with E. Santarelli, sculpted the memorial to the Countess d'Alaby in Santa Croce. Elizabeth Barrett eloped at forty to marry the poet Robert Browning, to whom she was bound by strong ties of affinity. They took up residence in Florence in April, 1847, coming to Piazzetta San Felice, at the corner of Via Maggio, in Casa Guidi , which is so often mentioned in her correspondence and in her poetry. Although possessed of a solid classical education, in her many writings she preferred to express, with unerring inventiveness, the serene joy of living and her love for friends, places and the Italian people fighting for their freedom. Her social and political interests, fed by her contacts with important people from every nation, made her the spokesperson and champion of the Italian cause in the English-speaking world. She was a friend of Cavour and Ricasoli, and an impassioned supporter of Garibaldi and all his undertakings. W.B. Kinney and his wife W.C. Bryant were guests in Casa Guidi, and there was a long-standing friendship with Isa Blagden , the Hawthornes and the Trollopes. The name Elizabeth Barrett Browning sums up a magnificent, unforgettable whole chapter in the story of the English-speaking world, a genuine love for Florence. 'I love Florence, I cannot leave Florence', she continued to insist during the last days of her life, and Florence took her to its bosom for ever.

Florentine Lily on Elizabeth Barrett Browning's Tomb
MARIA ANGELA FORTUNATA BRUSCHI FERRETTI (1821-1861)
The wife of Salvatore Ferretti, she shared his difficult adventure when in 1841 they fled together to Lausanne. He had been called to the priesthood but had turned to Protestantism after a religious crisis. She knew exile and poverty with him, and with him ministered to Italian children exploited in London. After her return to Florence she collaborated in the work of setting up an institute for orphan girls later named for Salvatore Ferretti.
ARTHUR HUGH CLOUGH (1819-1861)
Born in Liverpool, he visited Florence for the first time in 1843 during a classical and monastic tour, during which he travelled to Vallombrosa, Camaldoli and La Verna. His wife was a cousin of Florence Nightingale, and he, too, pleaded the cause of the war-wounded, in a fervent, intense, literary production. He lived the rich, complex life of an intellectual, tormented by the illness that was to cause his premature death; in his ferment of religious problems, conflicts and discontent he was a forerunner of the Victorian rebel and was caught up in the cause of Italian freedom, as his verses attest. He died in Florence after returning from a trip to Greece, The epitaph on his tombstone was extracted from a short poem by his friend Matthew Arnold (1822-1888).
ALICE E. COTTRELL (1849)
A one-year-old child, her tombstone bears an inscription dictated by Elizabeth Barrett Browning which reads: 'And here, among English graves, we place her in Tuscan earth, while the azure Tuscan sky receives our English expressions of prayer'. Elizabeth Barrett Browning's Aurora Leigh (I.101-108) gives a similar Florentine epitaph:
There's a verse he set
In Santa Croce to her memory
'Weep for an infant too young to weep much
When death removed this mother' - stops the mirth
Today on women's face when they walk
With rosy children hanging on their gowns,
Under the cloister, to escape the sun
That scorches in the piazza.
SALOMON GULLAUME COUNIS (1785-1859)
One of the best Genevan painters on enamel, he worked in Paris before coming to Florence where the Duchess of Baciocchi, Napoleon's sister, appointed him Court Painter. After a sojourn in Geneva he returned to Florence and earned a reputation as a portraitist, drawer and lithographer, and also wrote a treatise on enamel painting (1842). His work was in demand by foreigners restoring noble old residences who wished to ornament them with terra cottas in the manner of Della Robbia.
ANNA HOLLAND CRAWFORD (1787-1845) AND ARTHUR CRAWFORD SANDERS (1834-1854)
They were members of the noble English family that made Villa Palmieri a lively focal point for the social and intellectual life of cosmopolitan Florence. They restored the villa - magnificently located near San Domenico di Fiesole and ennobled by the pen of Boccaccio - in excellent taste, and enriched it with a lovely park. Queen Victorian, while in Florence on a visit, was one of their guests.
ROBERT DAVIDSOHN (1853-1937)
Robert Davidsohn's cinerary urn is near the upper boundary of the cemetery, with a few other urns accepted after it was closed. Born in Gdansk and intending to become a journalist, he came to Florence with a two-fold vocation, for the Latin world and the study of history. After an exploration of the Spanish world, he dedicated all his energy to the history of Florence: between 1896 and 1908, he published the impressive results of his research into the archives, and in 1927 completed his fundamental work on the history of Florence. Thus his place in the heart of the city he loved and served with his labours takes on significance as a gesture of gratitude.
LUIGI DE SANCTIS (1808-1869)
A Roman former priest converted to Protestantism, he played a leading role in the clandestine movement and in the formation of the first Protestant communities in Italy. A theologian and a polemical writer, he was the author of tracts and treatises which for decades provided a point of reference in the confrontation between the confessions. In his last years he taught dogmatics at the Waldensian Faculty of Theology which was then in Florence.
GIACOMO DRUMMOND GRIFFITH (1829-1872)
A Scot, his wealthy family devoted abundant resources for financing the spread of the bible in Italy before the statutory freedoms, and worked for the establishment of Pietist communities here and in Geneva.
DAVID DUMBREK, K.C.B. (1806-1876)
Inspector General of the British military hospitals and honorary physician to the Queen, he distinguished himself during the Crimean War, when he worked in collaboration with Florence Nightingale. An Anglican won over to the Evangelical movement, he was also in contact with the Genevan founders of the International Red Cross.
ROSA (1804-1861) AND VINCENZO FANTOZZI (1807-1871)
These graves of members of the Fantozzi family recall an episode in the Tuscan Protestant evangelicization of the first half of the nineteenth century: the little group established in Pontedera which remained intact in spite of persecution and imprisonment.
SALVATORE FERRETTI (1817-1874)
An eminent personage in the early days of Florentine Protestantism, his religious ideas matured during his exile in Lausanne and Geneva, and tehn in London where he collaborated intensely with Mazzini in his work in defense of Italian children in the schools. On his return to Florence he organized in the Gignoro Villa an institute for girls which later was named after him, and directed the Evangelical schools in Piazza Santa Croce. His wife, Maria Angela Bruschi, and two of his young children are also buried here.
JACQUES AUGUSTIN GALIFFE (1773-1853)
Jacques Augustin Galiffe, a Genevan historian and genealogist, lived and engaged in trade for a time in Holland, Germany and Russia, but returned to Geneva during the Napoleonic period to share in the troubles of his city. Turning to history he was in a sense the first Genevan historian to make use of documentary and archivistic sources with scientific intent. the results of his historic research, however, stripped of artifice and adulation, made him the centre of such controversy and hostility than in the end he preferred to emigrate to Florence. Italy owes to him the first systematic study of the Italian religious exiles of the sixteenth century. His daughter Sophie (1825-1841) and his second wife, Amélie Franço Pictet (1790-1872), daughter of the Charles Pictet who was the Swiss delegate at the Congress of Vienna, are also buried in the cemetery.
GILLI FAMILY
Luigi Gilli was among the sponsors of the Evangelical Reformed chapel in Florence (1826), but the gilli family is remembered above all for one of the famous and still existing nineteenth-century Florentine cafes, in Via Calsaioli. Like so many others in the business, the Gilli were relatives of the Grisons. Four of them are buried here.
SEVERINUS GOEDKE (1840-1864)
A Polish patriot, he distinguished himself in the underground movement, and later in his country's revolt. Exiled, he died shortly after arriving in Flroence, from the wounds and sufferings which had weakened his young body. With unintentional irony his native land is given in the cemetery register as 'Russia'.
JEAN PIERRE GONIN (1783-1854)
Of Huguenot origin, his grandfather was a French pastor and was martyred, his father grew up in exile in the Waldensian valleys, and he himself was born in Geneva, but came to Florence as a young man to engage in industry. His home was the clandestine meeting place for the Protestant group that in 1826 requested permission of the Grand Ducal government to open a chapel. A convinced Calvinist, he was the energetic and devoted president of the Concistory of the Evangelical Reformed Church, from 1827-1846. One of his children, Jean Marc (1812-1828), was the first person to be buried in the cemetery: two others sons Constantino and Antonio were long active in every initiative in favour of the Evangelical community.
JAMES LORIMER GRAHAM (1836-1876)
A scholar and a diplomat, he availed himself of acquaintances and friendships in widely differing cultural circles. In New York, his Graham's Magazine moulded the mid-nineteenth-century American avant-garde. He accumulated a fine collection of art and antique manuscripts in his New York home. President Grant appointed him Consul General in Florence, and he and his private museum moved into Villa Orsini, in Via Valfonda. He took parts in works of beneficence for the city and especially for Protestant causes. He was a member of the Evangelical schools, initiated the American community's custom of holding a charity bazaar, and popularized the use of the Christmas tree, His firend, the poet Swinbourne, wrote an elegy to his memory.
GIULIA GUICCIARDINI MAROCCHI (1806-1874)
She was the daughter of Count Giulio Guicciardini and the sister of Piero. Toward the middle of the century she and Piero were converted to Protestantism, and were involved in a sensational trial which ended in Piero's exile. The Genevan evangelist H. Better stayed at Giulia's home while he worked to keep control of the Florentine movement under reactionary fire, after having organized the dissident movement in Nice.
GEORGE B. HAMILTON (+1850)
Her Britannic Majesty's plenipotentary minister to the Court of Tuscany and an Anglican, he intervened on several occasions in favour of a liberal interpretation of the laws on religious freedom.
ROBERT MAXWELL HANNA (1821-1857)
He was a Presbyterian minister in Scotland when, for reasons of health, he decided to move to Pisa. He became involved, at the urgent request of Reverend Steward of Leghorn, in clandestine Protestant activities. In 1849 he set up a Scottish chapel in Florence which the Brownings, among others, attended. He had religious propaganda sent him from Scotland, and often had difficulties with the police on account of his religious activities.
JOEL TANNER HART (1810-1877)
An American scholar and poet, he lived in Florence from 1849 until his death. In the neighbourhood of Piazza Independenza where he made his home, between the Trollopes' villa and Grenough's studio, he was known as 'little Mr Hart'. A reserved man who shied away from social life, he threw himself wholeheartedly into his work; it was said that by studying 150 models and Florentine types he succeeded in creating in 30 years, the statue of a 'woman without passion, full of love', which he called 'Triumphant Woman'.
FANNY WAUGH HUNT (1833-1866)
Mrs Holman Hunt died at the age of 33, after one short year of serene married life in the lovely Villa Medici residence near Fiesole. Her sarcophagus, which is next to Elizabeth Barrett Browning's, was built by her husband, Holman Hunt (1827-1910) who, as a young man, had guided the first steps of Dante Gabriel Rossetti, with whom he founded in 1848 the Pre-Raphaelite Brotherhood which was fascinated by the medieval Florence of the Primitives, raw, rough and dreaming. Many of Holman Hunt's paintings were acquired by the Royal Academy in London.

In the pouring rain I am reading the inscription 'It is I. Be not afraid.' on Fanny's tomb, sculpted by Holman Hunt


MARIA JOHNSTONE (1770-1856)
With two of her fellow Englishmen she played a large part in the dissemination of ideas about the 'Plymouth Brethren', which provoked as schism, as early as 1853, within the Protestant movement in Florence.
WALTER SAVAGE LANDOR (1775-1864)
Walter Savage Landor , an aristocrat, a Republican and a rebel, left England for Florence in 1821, and arrived with a full-fledged reputation as an artist: his poems and prose attest to his great classical learning and his epigrams are forceful and moving. He was a leader of the early English Romantic movement. Restless and eccentric, also extravagant and generous, he changed residence several times in Florence. He succeeded in amusing the Florentines with his wit (when he didn't terrify them). In 1835 he bequeathed his Villa Gherardesca home to his son, Arnold (1819-1871), who is also buried here, and returned to London, only to reappear in Florence in 1858. He was a fervent supporter of the Italian cause, to which the Brownings introduced him and raised funds for the 'Garibaldini'. Finally, turned out penniless by his family, like a mad King Lear, he found refuge for a while with the compassionate Isa Blagden, but finished his days in squalor, in lodgings arranged for him by Robert Browning, in Via della Chiesa, under the care of Elizabeth Barrett Browning's former maid, Elizabeth Wilson. He lived to a ripe old age, all but forgotten by the younger generation, but his name, as Swinburne wrote for his tombstone, is now forever united with that of Florence, his chosen home.
Arnold Landor, who threw his father out of the Villa Gherardesca home his father gave them, is buried the opposite side of the cemetery than is Walter Savage Landor. His mother, in her monumental grief, erected this figure, every detail being observed, the bobbles on her shawl, the leaves of the wreath, the wrinkles of her hands, the hairs of her head, the stairs up which she has walked to kneel at the prayer desk, her back turned from her husband's grave at the other side of the cemetery, beneath its laurel. Virtual reality in white marble. She, the daughter of a bankrupt Swiss banker, is actually buried in the sister Allori Cemetery, opened in 1877.
See also Walter Savage Landor's Warwick, Henry Savage Landor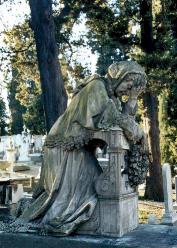 CHARLES SIDNEY LEVER (1837-1863)
His story, like several others buried here, is of a dream of Italy and Florence gained in adolescence from books; then, circumstances cut short the southern voyage and turned it into an eternal resting place. The young man's father, a writer of popular literature had spent seven years in Florence. After a short time the son was struck by illness in the land he had loved and dreamed of while reading his father's books.
ROSA MADIAI PULLINI (+1871)
A woman of the people, of modest condition, she and her husband found themselves at the centre of an international dispute: a public commission of inquiry, diplomatic intervention from all over Europe, biographies and newspaper articles. The Madiais, converted to Protestantism like Count Guicciardini, were sentenced to prison, but the sentence was commuted to exile because of the tremendous reaction created by the severity of the sentence. Exiled to Nice, they returned to florence in 1859 to end their days in a modest little lodging in Piazza del Carmine. Rosa's grave is near those of other witnesses to the dawn of the Florentine Evangelical movement.
ELISABETTA MAQUAY (1761-1845)
Her family lived in Florence for generations, participating in the civic and religious life of the city. Her son Giorgio was a member of the working group that secretly distributed religious propaganda with Rev. Hanna. Later a member of the family was with the ladies of the society of Florence, the capital of the newly founded Kingdom of Italy.
CATERINA MARKO` NICARY (1789-1877)
The Marko's were a family of Hungarian artists who took up residence in Villa di Lapeggi (Antella) in 1840. Caterina's husband, three sons and one daughter were all painters. The husband, Karoly Marko`, who earned a reputation as an excellent landscape painter, died at Lappeggi in 1860.
EUSEBIO MASSEI (1809-1859)
A man of the people, from Pontedera, he was sentenced to one year in prison in 1854 for offences against the State religion and heretical propaganda. He was already tubercular, and came out of prison weakened beyond hope. His is one of the heroic names associated with the nineteenth-century religious Protestant movement.
LAURA PANDOLFINA TEMPLE (+1877)
The Temples were British aristocrats, the di Pandolfinis a princely house with a feudal domain in Sicily. In 1848 her husband, as first 'peer' of the realm, was delegated to offer the Sicilian crown to a Savoia. Two other members of the Temple family are buried here.
THEODORE PARKER (1810-1860)
Born of a modest family in Lexington, Massachusetts, he studied at Harvard Divinity School, specializing in a study of German theology. He was drawn to the ideas of Coleridge, Carlyle and Emerson. In 1842 his doubts led him to an open break with orthodox theology: he stressed the immediacy of God and saw the Church as a communion looking upon Christ as the supreme expression of God. He organized the first congregations, called Unitarian, in Boston, and participated in the fight for the abolition of slavery. Seriously ill, he sought refuge in Florence because of his friendship with the Brownings, Isa Blagden and F.P. Cobbe, but died scarcely a month following his arrival. Frances P. Cobbe collected and published his writings in 14 volumes; his compatriot John Hart sculpted the bas-relief for his tombstone.
CHARLES PLENDERBEATH (1781-1854)
A lieutenant-colonel in the British army, he had connections among the Waldensians. He visited the Waldensian valleys in Piedmont in 1821 and 1823, and developed a programme of popular education. In the early eighteen hundreds, in fact, the Waldensians enjoyed an exemplary system of elementary education.
HIRAM POWERS (1805-1873)
Hiram Powers , an American, even American Indian, came to Florence in 1837 to study and work, and settled in Via Serragli, the artists' street of the day, with his wife and two children. He earned an international reputation for his statuary, for which he liked to choose the marble and supervise its quarrying himself, and he received considerable acclaim for the busts he did of several presidents of the United States. The cemetery also contains evidence of his grief: James (+1838), Francis (+1857) and Firenze (+1857), his children, who died at five, eight and seventeen years of age in this their adopted land.
GIULIO PULSZKY (1849-1863)
A follower of Kossuth the father of this boy was sentenced to death in absentia after the Hungarian Revolution. For two years his salon in a villa in S. Margherita a Montici was the liveliest in town. Widely read and of democratic convictions, he financed the popular newsparer Il Progresso. In 1864-65 Bakunin, with whom he has long been in contact, stayed at his home. He returned to Hungary in 1866.
GIOVAN PIETRO REVEL (1810-1871)


Born in the Waldensian valleys, he had a vocation to the Ministry. In 1848, at a crucial time for the future of Waldensianism, he was elected Moderator and ehlped to start the spread of Waldensiansim in the peninsula. He began to teach at the Faculty of Theology in 1855, and five years later it was transferred to Florence. Won over by the 'Awakening', he brought to his ministry enthusiasm for the apostolate and the strength derived from an inner illumination. Three small children of Alberto Revel, a highly respected teacher of the Old Testament, who died in an epidemic in 1871, are also buried in the cemetery.
GEORGE ROBBINS (1809-1873)
An Anglican clergyman, he was called in 1843 to minister to the Anglican congregation, which was rapidly asserting itself as the largest of the foreign Protestant communities in Florence. For 30 years he carried on a loyal and widely respected ministry.
HUGH JACOB ROSE (1795-1838)
He had a reputation as an able Anglican theologian and his sermons in London attracted large gatherings. For several years he was prefect of the Royal College. In poor health, he died at the height of his intellectual maturity.
FRANCESCO ENRICO ROSTAGNO (1839-1871)
Born into a pious family of pastors from the Waldensian valleys he too completed his theological studies, and was already regarded as a sure hoped for the Waldensian mission when death claimed him. He was remembered as serene and profoundly evangelical.
SAMUEL REGINALD ROUTH (1813-1860)
Dalgas, the cemetery's historian, points out that on this grave stands the statue of Hope, masterpiece of Odoardo Fantacchiotti (1809-1877), a sculptor in the manner of Canova.
FRANCESCA SOFIA (1826-1849) AND LORENZO PIETRO (1846-1847) SCARLETT CAMPBELL
Related to Peter Scarlett Campbell, who, while British chargé d'affaires in 1851-1855, defended the interests of the Tuscan Protestants and intervened on their behalf at the Grand Ducal Court. He took a particular interest in the Anglican community.
ENRICO SCHNEIDER (1817-1864)
He came to Italy to work with the abbot Lambruschini in his Institute at S. Cerbone. He also contributed to the Guida all'educatore, putting all his faith in Pestalozzi's teaching emthods. He had great expectations for the liberal Catholic movement in Italy, and suffered considerably from the deceptions that followed.
BEATRICE SHAKESPEARE AND CLAUDE SHAKESPEARE CLENCH
Said to be the last descendants of William Shakespeare, former custodians of the 'English' Cemetery who used what is no the Library as their Studio.
THOMAS SMITH SOUTHWOOD (1788-1861)
He was a well-known medical doctor who promoted public health reforms and good works supported by the Anglo-Florentine community. His tombstone, sculpted by John Hart, inscribed with verses by Leigh Hunt (the terse poet of early English Romanticism), is near that of Thomas Parker, many of whose philosophic ideas he shared.
THOMAS STIBBERT (1770-1846)
A colonel in the British army, he was staying in Florence when his son Frederick (1838-1906), who would make Florence his second home, was born. At Villa Davanzati, in Montughi, Frederick was to invest his learning and his wealth to bring to life the largest museum of antique arms in the world, and then to donate it to the city.
FRANCES TROLLOPE-MILTON (1780-1863)
She was a matriarch of a clan of writers; she herself, two sons and two daughters-in-law. She arrived in Florence with her son Thomas Adolphus in 1843 and took up residence in Piazza Santa Croce, immediately entering into friendly relations with notables of the Court and the British community. In 1849 she moved with her son and daughter-in-law Theodosia Garrow to a little house in Piazza Barbano (now Independenza). She dedicated herself to the theatre, organized Anglo-Florentine social life, and wrote prolifically, and her house became a meeting place and obligatory reference point even for such writers as Charles Dickens, Thomas Hardy and Thackeray. Her son's autobiography, What I Remember (London, 1887), is a splendid window on cosmopolitan and cultivated Florence.
THEODOSIA TROLLOPE-GARROW (1825-1865)
Theodosia Garrow arrived in Florence in 1845 with her father, an able violinist, and her mother, who became friendly with their neighbours the Trollopes as a result of a visit by their mutual friend Charles Dickens. She married Thomas Adolphus Trollope and moved to the little house in Piazza Barbano in 1848. She was a talented writer with a wonderful mastery of Italian and translated works by Giusti and G.B. Nicolini. A fanatic supporter of the cause of Italian independence, she published a history of the Tuscan Revolution in the Athenaeum .
JEAN PIERRE VIEUSSEUX (1780-1863)
Jean Pierre Vieusseux, of all the celebrities whose memories are preserved in this cemetery, is certainly the one to whom Florence and Italy owe the greatest debt. His grave, refurbished for the Centennial of his death, is to the right, near the entrance to the burial ground. Born into a family exiled from France for religious reasons, Vieusseux was a Genevan, but born in Oneglia where his family had a business. Intending to make a career in business himself, he travelled widely, gaining invaluable human and practical experience. Shortly after the Restoration he settled in Florence, and there contributed to the creation of a common body of thought which would provide a cultural heritage for the new Italy of the Risorgimento. The best minds from every region gravitated to his reviews and publications, and men of diverse temperament and education learned to respect one another and work together in the interest of what united them. Palazzo Buondelmonti, in Piazza Santa Trinita` was the setting for the Gabinetto di Letture, the Gabinetto Vieusseux, today in the Palazzo Strozzi, which attracted talent and became a window on the world, useful for weeding out provincialism from the country's best minds and promoting the national Risorgimento. Elizabeth Barrett would complain about the hours Robert Browning spent in the Gabinetto Vieusseux, reading newspapers the Grand Duke of Tuscany otherwise had censored. Vieusseux did not participate in the Anglo-Florentine social whirl, but rather limited his friendships to his compatriots of the Evangelical Reformed Church and Italians seriously interested in learning and ideas. His life and activities have been widely publicized.


Florentine Lily on Elizabeth Barrett Browning's Tomb
The Cemetery through Time
As it was between 1827 and 1861


Dopo si trovava la Porta a Pinti la quale venne demolita insieme alle mura, per comodità della linea dei viali e per non sopprimere il piccolo e grazioso Cimitero detto "degli Inglesi". La Porta a Pinti era opera essa pure di Arnolfo, ed ebbe forse miglior sorte ad esser distrutta, anzi che rimanere per l'oggetto a cui servono le altre.
After which we find the 'Porta a' Pinti' city gate, which was destroyed along with the medieval wall to accomodate the avenues and to preserve the little and gracious Cemetery called 'of the English'. The Porta a Pinti was the work of Arnolfo di Cambio himself, and it would have been best not to destroy it, so that it could have continued as a monument, as did the others.
From Firenze vecchia storia - cronaca aneddotica - costumi (1799-1859) di Giuseppe Conti.

See The Changing Architecture of Florence's 'English' Cemetery


The No-Global March, 2003, when a million people walked past the English Cemetery peaceably from noon until six in the evening


Florentine Lily on Elizabeth Barrett Browning's Tomb

Florence: The English Cemetery

Not the place for a photograph: best to settle
Instead for a well-picked phrase, just to maintain
That all is as the guide book said. A plain
Truth, like the camera, can only lie a little. Here, even the light stagnates in the iron angles
Of railings and even the marble stains
Less easily than the memory. A soft rain's
Tingle is sharper than all their lives' titles. One Browning, Landor, Clough, the details run
Like an anthology of minor verse
With pages yet uncut. As the stiff gates slam
Comes a thin bell-note through the winter sun.
Our practised phrase reckoning their germ of grace,
Summing each life up, terse as an epigram.

Donald Thomas, The Times Literary Supplement, 19 October 1962.
Contributed, Mark Roberts, Harold Acton Library, Florence



For more poems on the English Cemetery, see Poets' Corner


Florentine Lily on Elizabeth Barrett Browning's Tomb
We inaugurated a library in the former studio of Shakespeare's last living descendant in the Gatehouse of the Protestant Cemetery. The Gatehouse, though built in the nineteenth century, was drastically modernized by an architect. It is our hope to restore the room for the library to what the nineteenth century valued, the medieval/Tudor style of architecture, specifically borrowing from the Bodleian Library and from William Morris for our inspiration. We have found a local blacksmith, in Desiderio's Settignano, who can make the same iron brackets, with the motif of the Virgin's lily, Florence's lily, as are used in the Bodleian Library. My oldest son is a master carpenter building libraries for millionaires in Philadelphia and can give us advice. William Sanderson still own the original woodblocks William Morris used and we can order papers from them. People become members through giving it a book. We have named this library the Biblioteca e Bottega Fioretta Mazzei.
Bodleian Library, showing chained books of circa 1598-1602, similar to Laurentian-Medicean Library, Florence

We should like this library to be ecumenical, based on the Scriptures, on women, on the medieval mystics, such as the Friends of God, on Florence, on Italy's Risorgimento, on the Pre-Raphaelites, on the Oxford Movement, on indigenous and nomadic peoples, and to be open to those who are interested in these areas without restrictions as to degrees and to languages.

Florentine Lily on Elizabeth Barrett Browning's Tomb
The archives of the Swiss Evangelical Reformed Church, which owns the Protestant Cemetery, were thought to have been either seriously damaged or destroyed by the 1966 flood. Recently we have discovered some of the original registers and have now added their information to the entries to the detailed files on the tombs. Gustave Dalgas also had used some of the records in his book listed in the Bibliography below. The Russian burials have been researched by Mikhail Talalay and the English burials by Anthony Webb. The tombs themselves and the website are visited by descendants, who kindly give us materials to archive here in this Gatehouse of the 'English Cemetery', as custodians of this 'history book written in marble'. All this material may be found with the alphabetical listing of the tombs.


Florentine Lily on Elizabeth Barrett Browning's Tomb
It is recommended that you also visit the Casa Guidi , home to the Brownings, in Via Maggio, Piazza San Felice, close to the Pitti Palace. It was here Elizabeth Barrett Browning wrote Casa Guidi Windows , Parts I and II, and Aurora Leigh, her epic poem/Victorian novel in nine books, and to which Robert Browning brought 'The Old Yellow Book' he had purchased in the San Lorenzo Market, about which he was to write The Ring and the Book, following her death. It is open in the summers on Mondays, Wednesday and Fridays, from 3:00 to 6:00 p.m.

Florentine Lily on Elizabeth Barrett Browning's Tomb
BIBLIOGRAPHY
(See also Library Catalogue: http://www.florin.ms/libtau, http://www.florin.ms/libhe.html)

The Protestant Cemetery in Florence:
André, Tony. L'Eglise Evangélique Reformée de Florence depuis son origine jusqu'à nos jours. Florence, 1899. Volume II, pp. 283-308.
Enrico Barfucci. Il camposanto degli Inglesi. Guida e memoria. Florence, 1951.
Dalgas, Gustave. Notice historique sur le Cimitière de l'Eglise Evangélique Reformée de Florence a Porta Pinti . Florence, 1877.
Trotta, Giampaolo. Luoghi di Culto non cattolici nella Toscana dell'Ottocento. Beccocci/Scala: Firenze, 1997. Pp. 53-55.


Anglo-Florentine, Anglo-Italian, Writers:
[For Penguin Classics titles below, first click on region, America, Europe, of their international Website, then seek under 'Author's Titles']
Dante Alighieri. Divine Comedy: Hell, Purgatory, Paradise . Trans. Dorothy Sayers and Barbara Reynolds. Harmondsworth: Penguin Classics. ISBN: Hell [0140440062], Purgatory [0140440461] , Paradise [0140441050].
Elizabeth Barrett Browning, Aurora Leigh and Other Poems. Ed. John Robert Glorney Bolton and Julia Bolton Holloway. Harmondsworth: Penguin Classics, 1995. [0140434127]
Robert Browning. The Complete Works. Ed. John Pettigrew. Harmondsworth: Penguin Classics. [0140422595]
_____________. The Ring and the Book. Ed. Richard D. Altick. Harmondsworth: Penguin Classics. [0140422943]
George Gordon, Lord Byron. Selected Poems. Ed. Susan J. Wolfson, Peter J. Manning. Harmondsworth: Penguin Classics. [0140423818]
__________. Don Juan. Ed. T.J. Steffan. Harmondsworth: Penguin Classics. [[0140422161]
Joseph Jay Deiss. The Roman Years of Margaret Fuller. New York, 1969.
I Della Robbia e l'arte nuova' della scultura invetriata. Ed. Giancarlo Gentilini. Florence, Giunti, 1998.
Helen Dore. William Morris . London: Pyramid, 1990.
George Eliot. Romola. Ed. Dorothea Barrett. Harmondsworth: Penguin Classics. [0140434704]
Augustus Hare, Florence, Walks in Rome, Venice.
Nathaniel Hawthorne. The Marble Faun . Ed. Richard H. Brodhead. Harmondsworth: Penguin Classics. [0140390774]
Henry James. Princess Casamassima . Ed. Derek Brewer. Harmondsworth: Penguin Classics. [014043254X]
____________. William Wetmore Story and his Friends from Letters, Diaries and Recollections.
John Keats. Complete Poems. Ed. John Barnard. Harmondsworth: Penguin Classics. [0140422102]
_________. Selected Poems. Ed. John Barnard. Harmondsworth: Penguin Classics. [0140437258]
_________. Lamia, Isabella, The Eve of St Agnes and Other Poems. Ed. Michael Schmidt. Harmondsworth: Penguin Classics. [0140437207]
The Browning Collections: A Reconstruction with Other Memorabilia. Compiled, Philip Kelley and Betty A. Coley. Winfield, Kansas, 1984.
D. H. Lawrence. Aaron's Rod. Ed. Mark Kalmins, Steven Vine. Harmondsworth: Penguin Classics. [0140188142]
_____________. D.H. Lawrence and Italy: Twilight in Italy, Sea and Sardinia, Etruscan Places. Ed. Anthony Burgess. Harmondsworth: Penguin Classics. [0140188142]
Jeanette Marks. The Family of the Barret: A Colonial Romance. New York, 1938.
Ellen Moers. Literary Women: The Great Writers. Garden City, 1977.
Geoffrey C. Munn. Castellani and Giuliano: Revivalist Jewelers of the 19th Century. New York, 1984.
Mary Shelley. Frankenstein. Ed. Maurice Tindley. Harmondsworth: Penguin Classics. [0140433627]
Percy Bysshe Shelley. Complete Works.
Giuliana Artom Treves. The Golden Ring: The Anglo-Florentines 1847-1862. Trans. Sylvia Sprigge. London, 1956.
Maisie Ward. The Tragi-Comedy of Pen Browning. New York, 1972.
Virginia Woolf. 'Aurora Leigh'. The Second Common Reader.
Etc.


Florentine Lily on Elizabeth Barrett Browning's Tomb
Sundial with lines from Robert Browning, 'Rabbi Ben Ezra'
'Grow old along with me, the best is yet to be'

And from another Website:

Abandoned Cemetery in New York State

Rochester, New York: Built in the early 1800s, Mt. Hope Cemetery was the first municipal cemetery in the United States with graves older than the official graveyard itself. Such famous persons as Susan B. Anthony and Frederick Douglass are among those buried there in everything from lawn crypts and columbariums to family mausoleums. It seems strange, then, that the chapel at such an historically significant location would be abandoned to the elements, though it remains elegant even in its disrepair.
We remember that Frederick Douglass visited Florence's 'English' Cemetery to pay honour to the tombs of Elizabeth Barrett Browning and Theodore Parker.

PROTESTANT CEMETERY, PIAZZALE DONATELLO 38, 50132 FIRENZE, ITALY, PHONE 0039 055 582608

English Cemetery Register A-C, http://www.florin.ms/cemetery1.html
English Cemetery Register D-L, http://www.florin.ms/cemetery2.html
English Cemetery Register M-R, http://www.florin.ms/cemetery3.html
English Cemetery Register S-Z, http://www.florin.ms/cemetery4.html


More recent and complete files, in Italian, are to be found at

http://www.florin.ms/0SETTOREA.html
http://www.florin.ms/0SETTOREAABB.html
http://www.florin.ms/0SETTOREB.html
http://www.florin.ms/0SETTOREC.html
http://www.florin.ms/0SETTORED.html
http://www.florin.ms/0SETTOREE.html
http://www.florin.ms/0SETTOREF.html
FLORIN WEBSITE © JULIA BOLTON HOLLOWAY, AUREO ANELLO ASSOCIATION, 1997-2013: FLORENCE'S 'ENGLISH' CEMETERY || BIBLIOTECA E BOTTEGA FIORETTA MAZZEI || ELIZABETH BARRETT BROWNING || WALTER SAVAGE LANDOR || FLORENCE IN SEPIA || BRUNETTO LATINO, DANTE ALIGHIERI AND GEOFFREY CHAUCER || E-BOOKS || ANGLO-ITALIAN STUDIES || CITY AND BOOK I, II, III, IV || NON-PROFIT GUIDE TO COMMERCE IN FLORENCE || AUREO ANELLO, CATALOGUE