FLORIN WEBSITE © JULIA BOLTON HOLLOWAY, AUREO ANELLO ASSOCIAZIONE, 1997-2020: MEDIEVAL: BRUNETTO LATINO, DANTE ALIGHIERI, SWEET NEW STYLE: BRUNETTO LATINO, DANTE ALIGHIERI, & GEOFFREY CHAUCER || VICTORIAN: WHITE SILENCE: FLORENCE'S 'ENGLISH' CEMETERY || ELIZABETH BARRETT BROWNING || WALTER SAVAGE LANDOR || FRANCES TROLLOPE || || HIRAM POWERS || ABOLITION OF SLAVERY || FLORENCE IN SEPIA || CITY AND BOOK CONFERENCE PROCEEDINGS I, II, III, IV, V, VI, VII || MEDIATHECA 'FIORETTA MAZZEI' || EDITRICE AUREO ANELLO CATALOGUE || FLORIN WEBSITE || UMILTA WEBSITE || RINGOFGOLD WEBSITE || LINGUE/LANGUAGES: ITALIANO, ENGLISH || VITA
New: Dante vivo || White Silence

THE CHANGING ARCHITECTURE OF FLORENCE'S 'ENGLISH' CEMETERY
AND ITS NINETEENTH-CENTURY LANDSCAPING RESTORATION


Hiram Powers, the American sculptor and Consul in Florence, described the 'English' Cemetery in 1864:

Mr Woodall's grave is in the same cemetery where three of my own children are buried. A more beautiful spot could hardly be found. It is against the outer wall of the city and it looks more like a beautiful garden than a place of the dead. In the spring and summer the place blooms with flowers, and even in winter there are some roses lingering over the graves. . . . I indeed go to the graves of my children and my tears fall upon their graves while I look up, giving to earth her just tribute . . . She may claim our bodies but not our souls.

Susan and Joanna Horner in 1884, twenty years later, again described the nineteenth-century Protestant Cemetery:
Near this piazza lies the old Protestant Cemetery of Florence, once beyond the Porta Pinti, and under the shelter of the ivy-covered walls, both of which have been included in the recent demolitions. The greater number of the tall old cypresses which crowned the summit of the mound have been cut down, and the picturesque beauty, as well as seclusion of the spot, which were so congenial to the feelings of mourning friends, no longer exist. It is now protected by a neat iron railing, within which have been planted cypresses and various shrubs, which it is to be hoped will, in time, restore some of its former beauty. The mountains of Vallombrosa and Fiesole are now quite shut out by the row of houses rising on all sides, and the order and care bestowed by the municipality, into whose hands it has fallen by purchase, leave no room for complaints. The white marble monuments, to each of which is attached a little garden of roses or other flowers, give a peculiar loveliness to this cemetery, far removed from gloom, and in the spring-time, the remains of the departed seem to repose under a shower of sweet blossoms. Among the monuments raised to those whose names are known to the world, may be mentioned Elizabeth Barrett Browning, Arnold Savage Landor, Mrs. Trollope and her accomplished daughter-in-law, the poet Arthur Hugh Clough, and the American divine Theodore Parker.
Nell'Ottocento Susan e Joanna Horner così descrivono il Cimitero Protestante:
vicino a questa piazza (Piazza Massimo d'Azeglio) sorge l'antico Cimitero Protestante di Firenze, un tempo posto fuori della Porta a' Pinti, e all'ombra delle mura ricoperte d'edera. Sia la Porta a' Pinti sia le mura sono state distrutte a seguito del recente abbattimento della cerchia muraria. Il maggior numero degli alti e vetusti cipressi che coronavano la cima della collinetta sono stati tagliati, e la bellezza pittoresca, l'atmosfera di quiete del luogo, che rendevano inclini all'esprimere il compianto per i propri amici, sono svanite. Il cimitero è ora protetto da una semplice cancellata in ferro, all'interno sono stati piantati cipressi e vari arbusti. Col tempo è nostro auspicio essi restituiscano al luogo la sua antica bellezza. Le case che si ergono in fila su tutti i lati non nascondono le montagne di Vallombrosa e le colline di Fiesole. La cura e la sollecitudine profuse dal Comune nella tutela del cimitero, ereditato per acquisto, non lasciano alcuna possibilità di rimostranze. I bianchi monumenti in marmo, accanto a ciascuno dei quali crescono rose o altri fiori, come fossero piccoli giardini, conferiscono al cimitero una rara bellezza, assai lontana dall'evocare cupe atmosfere. In primavera le spoglie mortali paiono riposare sotto una pioggia di fragranti fiori. Tra i monumenti eretti per gli illustri nomi, spiccano i sepolcri per Elizabeth Barrett Browning, Arnold Savage Landor, Mrs Trollope e la talentuosa nuora, il poeta Arthur Hugh Clough e il teologo americano Theodore Parker.
Susan e Joanna Horner, Walks in Florence and its Environs, London, 1884.

Susan Horner's diary mentions not only their borrowing the Marchese Carlo Torrigiani's book by Champollion for the design on Arthur Hugh Clough's tomb ['Susan wrote on 8th December, "the Marchese Torrigiani sent me Champollion's work on Egypt as Blanche wanted me to take a drawing from the winged figure of the Divinity for Mr Clough's tombstone." This disc, flanked by snakes is seen over the gates and doorways of ancient Egyptian temples. As the symbol of a solar deity it wards off evil and protects sacred territory from malign influences', Alyson Price],

but also that they planted a white rose from the Giardino Torrigiani on Ann Susanna Lloyd Horner's tomb ['In 1862 when the sisters left Florence with their father and their servants the Zileris they took with them a photograph of their mother's burial place, planted with a white rose bush from the Torrigiani garden', Alyson Price].

Other books, ranging from Gustave Dalgas in 1877 to the most recent publications, all speak of the Cemetery as a garden with trees and plants, the Gatehouse having been re-designed from a mortuary chapel to a gardener's residence.

Catherine Danyell Tassinari in The History of the English Church in Florence (Florence: Barberà, 1905/ London, J.M. Dent, 1905), gives the photograph by Brogi showing what seem to be orange trees in pots on either side of the path, and describes the cemetery as a most beautiful garden:

All visitors to Florence are familiar with this beautiful little garden of the dead which, since the demolition of the walls, stands isolated like a green island in the centre of Piazza Donatello, gleaming with marble and crowned with cypresses. It is an oval shaped mound encircled by a low outer wall surmounted by an ornamental iron railing, and divided by gravel paths bordered with hedges of clipped box into four grassy plots where the graves cluster thickly. In the centre, on a little plateau shaded by tall cypresses, stands the marble column presented by Frederick William IV, King of Prussia, on the occasion of his visit to Florence in 1858. . . .
The graves are all most reverently and carefully tended, and nearly all the monuments are of white marble, some of them ornamented with sculptures of real artistic merit. Luxuriant ivy, trellised roses, oleanders and jasmine cluster all about them, and an almost unearthly spirit of peace and beauty pervades the whole spot, which has besides a special interest from the number of gifted men and women who lie buried there, and whose names, familiar as household words, greet us on every side. Few can look without a thrill of emotion at the graceful marble sarcophagus, designed by Sir Frederick Leighton, with its simple inscription "E.B.B: ob 1861", which enshrines the remains of England's greatest poetess, Elizabeth Barrett Browning, who died in Florence, at Casa Guidi, on the 29th of June, 1861. Many are the pilgrimages made to her grave, as the custode of the cemetery can tell, and only a few months ago Professor Knight of Edinburgh caused a rose tree to be planted there, and an enamelled plaque to be suspended to the iron railing which surrounds the grave, inscribed with these words:

IN MEMORY OF
ELIZABETH BARRETT BROWNING
PLANTED BY PROFESSOR KNIGHT
MARCH 1905
ROSES SHALL BLOOM, NOR WANT BEHOLDERS,
SPRUNG FROM THE DUST WHERE OUR OWN FLESH MOULDERS

. . . .
To us who have followed the history of Holy Trinity Church, this Cemetery is full of associations, for here are the graves of the Rev. R.J. Tennant, whose premature death in 1842, in the midst of his labours, was so deeply lamented by his congregation; of the Rev. George Robbins, who, after many years absence, returned to Florence, and died here in 1873; of Mr Christopher Webb Smith; of Mr Horace Hall, and his brother Mr Alfred Hall of Camerata; of the indefatigable librarian of the Church, Mr Maurice Baruch; of Lady Don, whose legacy in aid of the British poor in Florence caused her name to be remembered with blessings for many years . . .

The 'Professor Knight of Edinburgh' would be William Angus Knight, Chair of Moral Philosophy from 1876 to 1903.

E. Hean Alexander, 1899

The portrait was commissioned by the University and presented to Professor Knight in 1899 by LLAs (Ladies Literate in Arts - graduates of the University's LLA course). Knight was extremely influential in the field of women's education and had been the prime author of the University's LLA scheme, which entitled women to enter for examinations, and looked forward to the eventual admission of women to full membership of the University. Knight presented the portrait to the University in 1900 and it hangs in University Hall.
Before 1827. The hill is not natural. Indeed, there are three anomalous hills in the area, the University believing these are Etruscan tombs. An early engraving shows the Porta Fiesolana or Porta a' Pinti from outside the wall before the English Cemetery was built there, the land being used for a hexagonal icehouse. The Porta Fiesolana was initially the thirteenth-century gate constructed by Arnolfo di Cambio, along with the city wall, the stone coming from the Guelf Comune razing the Ghibelline 'towers of pride' and now being used for the common defense. Later, Michelangelo strengthened the existing fortification against the Medici, in particular using this artificial hill as bulwark against the wall and gate. The hill itself, coming half way up the outside of the city wall, was formed from the city's rubbish and we often find in its soil pieces of hand-painted medieval and Renaissance ceramic ware.


In 1827 the Swiss Evangelical Reformed Church acquired that land from the Grand Duke. While still a young architectural student in 1828, Carl Reishammer designed the first version of the English Cemetery beyond the medieval city wall at the Porta Fiesolana or Porta a' Pinti. He married the daughter of Alessandro Manetti, Giuseppina, working closely with that architectural family, which was associated also with L. Cambray Digny, the architect of the Marchese Piero Torrigiani's Giardino Torrigiani 'in stilo inglese', 1817-1823. /Christophe Bertsch, L'archetto dei Lorena: Carlo Reishammer 1806-1893 (Firenze: Edizioni Medicea, 1992), pp. 12-13; Pastore Luigi Santini, The Protestant Cemetery of Florence called "The English Cemetery", Florence, 1981./ Here we see the form of Reishammer's Swiss-owned so-called 'English' Cemetery.


Between 1827-1860.

We can identify all but one of the tombs in this circa 1866 engraving. We created a box-edged path to the tombs of Walter Savage Landor, Frances and Theodosia Trollope and Isa Blagden, then found from this early engraving that it had originally existed.

Then, when Florence became capital of Italy, the architect Giuseppe Poggi destroyed her medieval walls and many of her city gates, including that at Porta a' Pinti. Working closely with Piero Garzoni of the Swiss Evangelical Reformed Church Poggi oversaw the destruction of the last remaining piece of wall against which the cemetery rested, when it was landscaped as its present oval.

Architect Giuseppe Poggi

The archives of the Swiss Evangelical Cemetery copiously document the correspondence between Giuseppe Poggi and Piero Ganzoni.

Following Poggi's demolitions of the medieval walls, we see the 'English' Cemetery with its cypress trees from the Porta San Gallo.

We have in the archives copies of photographs Longworth Powers took of the 'English' Cemetery in the nineteenth century, the original photographs belonging to the Gabinetto Vieusseux and which we may not reproduce but may consult for the original condition of the tombs. The photographs show the medieval wall as covered in dark ivy against which the marble tombs are silhouetted in their whiteness. One photograph shows only the base of EBB's tomb, the other with it completely in place. They also show that the Russian tomb in the foreground formerly had urns and myrtles.
After 1877. Next, we see Ganzoni and Poggi's architecture for the Cemetery and its Gatehouse, carried out by the gravedigger Giogi who had buried Elizabeth Barrett Browning, digging two graves for her. The center part of the Gatehouse had already been built in 1860, the two wings added in 1877. There are plants everywhere, those in the front being deciduous, including six mulberries, representing life, those beyond the Gatehouse, cypresses, a yew, a cedar, for death and eternity. (Lately these deciduous trees in the front have been replaced with six cypresses placed symmetrically, no longer with the asymmetry of an English garden, nor with the careful symbolism of this Cemetery's architectura and landscaping.) Most of the earlier cypresses on the knoll were cut down for building the Gatehouse.

This is an aerial photograph of the Cemetery, showing Poggi's plan for it, and taken before many of these trees, famed in Arnold Böcklin's and Sergei Rachmaninoff's 'Island of the Dead', were taken down:

Prior to 1905

. The very lovely photograph by Brogi shows the Cemetery as it was then, with azaleas in ceramic vases along the central path:

Then, in 1939, under Mussolini's rule, Inger Laub stayed at the Villa Donatello, then a school run by a Miss Penrose, and she painted from the arch the scene with standard roses and lilac planted behind the hedge. Only one of these has survived, though when I came eight years ago there were at least three.

Late 1960s. My father, working on a book on Elizabeth Barrett Browning that became our edition of her Aurora Leigh and Other Poems published in Penguin Classics, had this photograph taken. No longer so well kept but with box hedges and an avenue of standard roses still present.

1980s. Then all the Cemetery's plants, including its box hedges lining the paths, were cut down, all the earth covered with gravel, leaving only a topiary laurel tree above Arthur Hugh Clough's tomb, since removed also. In the above photograph we see two yew trees, of which there is now only one. Two yew trees are traditionally planted at the entrance of English cemeteries, both in reference to the two sacred trees in Jerusalem's sacred temple and because graveyards being fenced were used for the planting of yews in England, these being poisonous to cattle, but essential for the English long bow. In the earlier Longworth Powers' photographs we see that the Russian tomb on the right had had four urns and myrtles.

A cement ramp ws built up to its gate for parking cars:

In 1997 this plan was drawn of the trees in Piazzale Donatello. In 2004 many of these were cut down, including the three deciduous trees at the entrance right, one of which was a most beautiful tiglio to which people wrote poems.



The destroyed box hedge was replaced with one of laurel. The plants, which had been placed on the tombs by family members in the nineteenth century, and which were cut to the root, grew back as we see on the tombs below. Then some years ago almost all of these were rooted out and destroyed, including all but one of the myrtle bushes, from which I was able to take cuttings and plant on the Russian tombs.


Before:

aa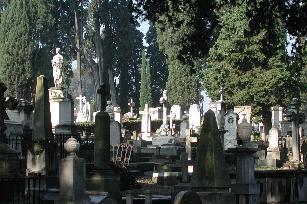 After:

Myrtle Bush/ Destroyed


* JEAN HENRI FIERZ/ SVIZZERA / Fierz/ Gio: Enrico/ Gio: Enrico/ Svizzera/ Firenze/ 19 Settembre/ 1873/ Anni 22/ 1228/ + / Jean Henri Fierz, Suisse, fils de Jean Henri, et de . . . née Locker/ [Myrtle in marble sculpture and live vegetation] HENRI FIERZ DE ZURICH/ NE A ZURICH LE 14 MARS 1851/ DECEDE A FLORENCE LE 19 OTTOBRE 1875/ LAISSANT SA FAMILLE ET SES AMIS/ DANS LE PLU PROFOND DEUIL/ 1228/ C28M

Now-destroyed Myrtle on Swiss Tomb, which is also sculpted on its marble

Jasmine/Preserved
CONTE GIOVANNI GIGLIUCCI/ ITALIA/ [Coat of Arms]/ CONTE GIOVANNI GIGLIUCCI/ PATRIZIO FERMANO, NATO A FERMO IL 18 NOVEMBRE 1844/ MORTO A FIRENZE IL 6 DICEMBRE 1906/ VIRTUTE ET FIDE BENE QUI LATUI BENE VIXIT/ C30L

CONTE MARIO GIGLIUCCI/ ITALIA/ [Coat of Arms]/ CONTE MARIO GIGLIUCCI/ PATRIZIO FERMANO/ NATO A FERMO IL 19 NOVEMBRE 1847/ MORTO A FIRENZE IL 13 GENNAIO 1937/ RECTE ET SUAVITER/ C29M
Oleander/ Finnish aristocrat's tomb, Demidoff's guest/Destroyed


*§ BARONNE AUGUSTE DE MANNERHEIM/ SVEZIA/FINLAND/RUSSIA/ Mannerheim/ Barone Augusto/ Carlo/ [pencil Finlandia (Svezia)]/ Firenze/ 19 Aprile/ 1876/ / 1353/ [Cherubim reading Scroll] ICI REPOSE/ LE BARON AUGUSTE DE MANNERHEIM/ NE EN FINLANDE L'AN 1895/ MORT A FLORENCE A SAN DONATO VILLA DEMIDOFF/ LE 18 AVRIL 1876/ AIME ET REGRETTE/ Talalay: Finlandia 1805- San Donato, Villa Demidoff 1876, reppresentante di una nota famiglia finlandese; in Italia era stato ospite dei Demidov, N° 1353, RC/ E18L

Myrtle/ Somerville's Tomb, planted by wife, Mary Somerville/Destroyed


*§ WILLIAM SOMERVILLE/ SCOTLAND/ Somerville/ Guglielmo/ / Inghilterra/ Firenze/ 25 Luglio/ 1860/ Anni 87/ 703/ William Somerville, l'Angleterre (Ledbrough, Roxburghshire, Ecosse), rentier/ DNB, GL23777/1 N° 282 Burial 27/06, Rev O'Neill/ Q410: 423 Paoli/ WILLIAM SOMERVILLE/ ELDEST SON OF THE HISTORIAN OF QUEEN ANNE/ BORN AT MINTO ROXBURGHSHIRE/ 22 APRIL 1771/ DIED AT FLORENCE 15 JUNE 1860/ GOD WILL REDEEM MY LIFE FROM/ THE POWER OF THE GRAVE 49 PSALM/ A11N(148)
William Somerville is husband of the Scottish mathematician and astronomer Mary Somerville who predicted the existence of Neptune and Pluto. Mary Somerville encouraged Ada Byron, Countess Lovelace (Lord Byron's daughter), in her pursuit of mathematics, Ada Byron and Charles Babbage creating the modern computer. Mary Somerville's bust is honoured in the Royal Society of which she was a member. She is buried in Naples' Cimitero degli Inglesi. Somerville College, Oxford, is named after her.
]


Oleander and Myrtle, Irish Aristocrats' Tombs/Destroyed


*§ WALTER BENTINK YELVERTON/ ENGLAND/ & ANNA MARIA (BINGHAM) YELVERTON/ IRELAND/Yelverton/ Bertick/ / Inghilterra/ Pisa/ 13 Dicembre/ 1837/ / 165/ Marriage recorded FO79/57 15/09/32, Rev Frederick Yelverton to Catherine Louisa Bingham at HBM, Yelverton brothers marrying Bingham sisters]/ [Coat of Arms] IN AFFECTIONATE MEMORY OF/ BENTINCK YELVERTON/ AND HIS WIFE/ THE HON.BLE ANNA BINGHAM/ F11GH/ See FFrench
The C Sector, to the top left, had many beautiful shrubs, all rooted out, one of which would flower with great yellow blooms in the Spring and dance in the wind.
The three trees marked in the Regione's essay on gardens to the right of the gate house, one an enormous and most beautiful lime tree, two, not very good, plane trees, were cut down, and replaced by the six symmetrically-placed cypresses now in the courtyard.

It is our intent, with the assistance of the Giardino Torrigiani, to restore the English Cemetery to the garden it was, and to make it visitable by all, Florentines and foreigners, as it once had been. Adults of a certain age have childhood memories of its blooming oleanders and of the wild strawberries growing on the graves.
For the last ten years we have planted irises and lavender, thanks to Nicholas Dakin-Elliott and Anna Porcinai.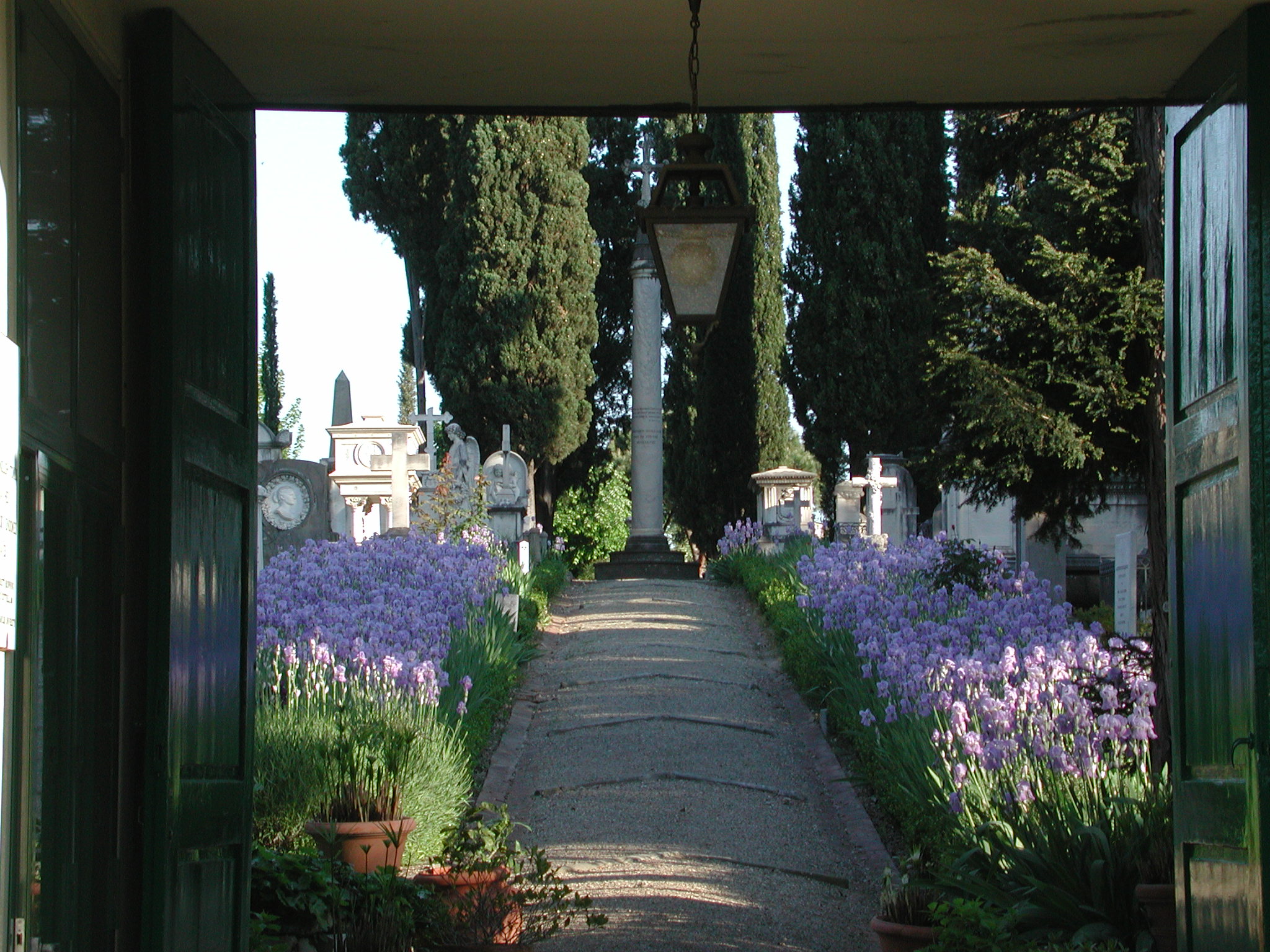 Then this year we rejoiced in two thousand daffodil bulbs, including narcissi from Sissinghurst.

Suggestions for gifts to the cemetery: roses, lavender, myrtle, rosemary, oleander, irises, jasmine, lemon and orange trees, dogwood (cornus kousa), plants and trees that neither have invasive root systems nor substances on their leaves that damage marble (such as do laurel or cherry).


Among our burials of particular interest for both poetry and gardening is that of Walter Savage Landor, who loved gardens but advocated they not be too neat, too precise. These photographs were taken on the order of Professor Daniel Willard Fiske. The Villa in San Domenico is now the School of Music.




Nicholas Dakin Elliot had New York University students plant iris bulbs from Villa La Pietra, which the Roma have replanted and replanted as they multiply throughout the cemetery, creating each Spring a glory of Florentine lilies, Dott. Vieri Torrigiani Malaspina planted pomegranates by our three poets' tombs and a box hedge to replace the laurel one of invasive roots and chemicals which stained marble, and Anna Porcinai sent us a van full of lavendar plants the Roma planted and which they harvest for lavendar and rose petal sachets to give to benefactors. Katherine Goldsmith and Horace Gibson helped with funding. Luca Canonici became so entranced with photographing the English Cemetery that he persuaded another Montevarchi friend, Marta Donati, who raises historic roses at the Occhi di Rosa Cavriglia to plant these in our Cemetery.

Thanks to Emio Lanini (https://vimeo.com/139962781), on 3 May 2016, following two devastatings storms on 19 September 2014 and 5 March 2015, destroying many cypresses and with them many tombs, the Corpo Forestale dello Stato di Pieve San Stefano planted new cypresses to replace those that were lost, the following day participating in the ceremony celebrating the new planting that restores the cemetery to its evocation of Arnold Boecklin's 'Island of the Dead' and Sergei Rachmaninoff's music composed to it
(http://www.78s.ch/wp-content/uploads/2007/11/01-sergei-rachmaninov-the-isle-of-the-dead-symphonic-poem-op29.mp3 ).

Then the Marchesa Venturi Ginori Lisci and also Carmen Alcaine, who worked for the World Bank, further came to our aid, having the standard roses replanted down the aisle, and rambling roses in large terra cotta pots, and also bitter oranges to begin a quincunx garden in the front area that had remained barren for twenty years. It has now become most beautiful.








FLORIN WEBSITE © JULIA BOLTON HOLLOWAY, AUREO ANELLO ASSOCIAZIONE, 1997-2020: MEDIEVAL: BRUNETTO LATINO, DANTE ALIGHIERI, SWEET NEW STYLE: BRUNETTO LATINO, DANTE ALIGHIERI, & GEOFFREY CHAUCER || VICTORIAN: WHITE SILENCE: FLORENCE'S 'ENGLISH' CEMETERY || ELIZABETH BARRETT BROWNING || WALTER SAVAGE LANDOR || FRANCES TROLLOPE || || HIRAM POWERS || ABOLITION OF SLAVERY || FLORENCE IN SEPIA || CITY AND BOOK CONFERENCE PROCEEDINGS I, II, III, IV, V, VI, VII || MEDIATHECA 'FIORETTA MAZZEI' || EDITRICE AUREO ANELLO CATALOGUE || FLORIN WEBSITE || UMILTA WEBSITE || RINGOFGOLD WEBSITE || LINGUE/LANGUAGES: ITALIANO, ENGLISH || VITA
New: Dante vivo || White Silence