FLORIN WEBSITE © JULIA BOLTON HOLLOWAY, AUREO ANELLO ASSOCIAZIONE, 1997-2024: MEDIEVAL: BRUNETTO LATINO, DANTE ALIGHIERI, SWEET NEW STYLE: BRUNETTO LATINO, DANTE ALIGHIERI, & GEOFFREY CHAUCER || VICTORIAN: WHITE SILENCE: FLORENCE'S 'ENGLISH' CEMETERY || ELIZABETH BARRETT BROWNING || WALTER SAVAGE LANDOR || FRANCES TROLLOPE || ABOLITION OF SLAVERY || FLORENCE IN SEPIA || CITY AND BOOK CONFERENCE PROCEEDINGS I, II, III, IV, V, VI, VII || MEDIATHECA 'FIORETTA MAZZEI' || EDITRICE AUREO ANELLO CATALOGUE || UMILTA WEBSITE || RINGOFGOLD WEBSITE || LINGUE/LANGUAGES: ITALIANO, ENGLISH || VITA

New: Dante vivo || White Silence
HISTORICAL NOTES
ON THE 'ENGLISH' CEMETERY IN FLORENCE

Near this piazza lies the old Protestant Cemetery of Florence, once beyond the Porta Pinti, and under the shelter of the ivy-covered walls, both of which have been included in the recent demolitions. The greater number of the tall old cypresses which crowned the summit of the mound have been cut down, and the picturesque beauty, as well as seclusion of the spot, which were so congenial to the feelings of mourning friends, no longer exist. It is now protected by a neat iron railing, within which have been planted cypresses and various shrubs, which it is to be hoped will, in time, restore some of its former beauty. The mountains of Vallombrosa and Fiesole are not quite shut out by the row of houses rising on all sides, and the order and care . . . leave no room for complaints. The white marble monuments, to each of which is attached a little garden of roses or other flowers, give a peculiar loveliness to this cemetery, far removed from gloom, and in the spring-time, the remains of the departed seem to repose under a shower of sweet blossoms. Among the monuments raised to those whose names are known to the world, may be mentioned Elizabeth Barrett Browning, Arnold Savage Landor, Mrs. Trollope and her accomplished daughter-in-law, the poet Arthur Hugh Clough, and the American divine Theodore Parker.

Susan and Joanna Horner, Chapter XXV, Walks in Florence
efore 1827 non-Catholics (Protestants and Orthodox), who died in Florence had to be buried in Livorno. At that date the Grand-Duke sold to the Swiss Evangelical Reformed Church the land outside the city wall next to the Pinti Gate. The French Revolution and the Code Napoleon returned to the Hebrew and Roman laws that forbade burials within cities. Exceptions were made in Jerusalem for King David and Prophetess Huldah, and in Rome for the city's founders. The words of Roman epitaphs along the Appian Way are often 'Siste, Viator/ Pause, Pilgrim'. The still Swiss-owned so-called 'English' Cemetery was closed in 1877 when the medieval city walls were torn down.
From 1827-1869 the Protestant Cemetery outside the wall at the Porta a Pinti, the Pinti Gate, itself first built by Arnolfo da Cambio and reconstructed by Michelangelo, gave this appearance.
The Cemetery's earlier tombs are neo-classic in style, garlanded columns, sometimes broken to show death in youth, with urns for ashes, or mourning widows and orphans in flowing draperies of white marble, or sarcophagi, with upturned torches, reflecting Classical burial practices, alien to Christian reality. Or they use Egyptian motifs from the excitement of Champollion and Rosselini's 1828 Expedition funded by the Grand Duke. Then, in the Victorian period, the tombs become more immediate, more modern, less escapist, aware of the word as flesh in our midst, using crosses and Scripture above clearly buried bodies. Elizabeth Barrett Browning in Aurora Leigh had noted the Emperor Trajan's pausing on the Appian Way, flanked by white marble tombs inscribed with 'Siste, viator', to redress a widow's wrongs, borrowing her image from Dante's Purgatorio X. Emily Dickinson treasured a photograph postcard of Elizabeth's neo-classical pseudo-sarcophagus, designed by Lord Leighton, with neither her full name, just her initials, nor her true portrait, but instead the figure of Poetry crowned with classic laurel. Emily Dickinson would create from this image and Aurora Leigh's text, 'The soul selects her own society'.
One is struck, when studying the burials of the 'English' Cemetery, by death's democracy, servants (even slaves and serfs), and masters, women and men, children and adults, lie here side by side. The Cemetery is Swiss, is Russian, is of many other nations as well. Its tombstones are inscribed in many scripts, Hebrew, Greek, Cyrillic, fraktura, Roman, and in many languages, including Hebrew, Greek, Russian, English, Italian, French, German, and Romansch. Almost all the European nations are represented, and also Americans, a Canadian and an Australian and Tasmanian are buried here. Perhaps the most touching monument is a fine white marble Orthodox cross to a black Nubian slave, Nadezda, 'Speranza', who was brought to Florence at fourteen years of age.
aa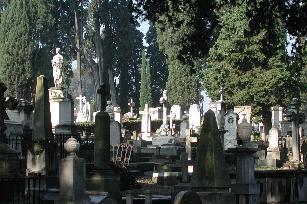 In 1869-1870, the medieval walls to the city being torn down, the cemetery was re-landscaped, as we see above, tombstones and remains re-positioned, as a kind of Père Lachaise monument, in preparation for its closure in 1877 required by the Code Napoleon which forbade cemeteries within city limits. The lighter green decidious trees, initially mulberries for silkworms, were allowed to continue in front of the Gatehouse in an English way, the contrasting darker Tuscan cypresses, English yews and a great cedar of Lebanon beyond, signifying the regions of life and death, separated by its arch, and for many years it was maintained as a garden with roses and fruit trees and rare plants, Dalgas, the Cemetery's historian, tells us. Two yew trees were planted at the entrance beyond the Gatehouse as in English graveyards, in memory of the two trees in the Temple in Jerusalem, and cherry trees were growing near the tombs of Shakespeare's descendants and the Russian Evgen Polyakov. A great lime tree, such as described in Elizabeth Barrett Browning's Aurora Leigh, gave shade to the Gatehouse. The cypresses that stabilized the artificial hill - for this was a medieval rubbish dump just outside the wall, and contains myriads of shards of hand-painted pottery - are immortalized in Ugo Foscolo's 'Sepolcri'
But cypresses and cedars
the zephyrs impregnate by pure fragrances,
perennial green leaning over the urns
for eternal memory, and precious
vases to collect the votive tears.
Ma cipressi e cedri
di puri effluvi i zefiri impregnando
perenne verde protendean su l'urne
per memoria perenne, e preziosi
vasi accogliean le lagrime votive.
and in Arnold Böcklin's 'Island of the Dead'.

Arnold Böcklin, 'Auto-ritratto'

'Isola dei Morti', Berlin
There had already been cruel separations, between life and death in general, between Catholic and Protestant here in particular, as we see with the immense 1855 sarcophagus at the entry of the English Cemetery of Robina Wilson espoused to Leopold Cattani Cavalcanti, with its bilingual inscriptions.
aa

Italian inscription English inscription
*§ ROBINA (WILSON) CATTANI CAVALCANTI/ SCOTLAND/ Catani nata Wilson/ Nobinia/ / Inghilterra/ Montecatini/ 28 Luglio/ 1855/ Anni 42/ 568/ Montecatini, Robinia Wilson Catani, Iles Britaniques/ GL23777/1 N°216, Montecatini, cholera, Burial 30/07, Age 41, Rev Gilbert/ ALLA CONSORTE DOLCISSIMA DI ANDREA E DI RACHELLE WILSON D'EDIMBURGO DONNA DI RARO INTELLETTO DI SINGOLARE GRAVITA' DI COSTUME CHE PER XV ANNI TENNE CON PRUDENZA AMMIRABILE IL GOVERNO DELLA FAMIGLIA, IL MARITO LEOPOLDO CATTANI CAVALCANTI CUI FU DELIZIA E SOSTEGNO A TESTIMONIO DEL SUO PERPETUO DOLORE, QUESTO MONUMENTO ERIGEVA, DESOLATISSIMO DI NON POTERE COME LE ANIME IN VITA CONGIUNGERE IN MORTE LE CENERI/ VISSE ANNI XLI M VII G XVIII REPENTINAMENTE MANCO' IL XXVII GIORNO DI LUGLIO NELLA INVASIONE COLERICA DEL MDCCCLV/ AVE ANIMA INCOMPARABILE, LA TUA MEMORIA SARA SEMPRE IN BENEDIZIONE FRA QUANTI AMARONO LE TUE VIRTU// TO HIS MOST BELOVED WIFE ROBINA DAUGHTER OF THE LATE ANDREW AND RACHEL WILSON OF EDINBURGH. A WOMAN OF RARE INTELLECTUAL GIFTS AND SPOTLESS PURITY OF CONDUCT WHO FOR FIFTEEN YEARS ADMIRABLY FULFILLED THE DUTIES OF HER MARRIED LIFE, HER HUSBAND LEOPOLD CATTANI CAVALCANTI, TO WHOM SHE WAS ALIKE SOLACE AND SUPPORT, AS A TESTIMONY OF HIS PERPETUAL REGRET HAS RAISED THIS MONUMENT DEEPLY SORROWFUL THAT WHILE THEIR SOULS WERE UNDIVIDED, THEIR ASHES IN DEATH MAY NOT REST TOGETHER. SHE LIVED XLI YEARS VII MONTHS XVIII DAYS AND WAS SUDDENLY CUT OFF DURING THE CHOLERA EPIDEMIC IN MDCCCLV. HAIL MATCHLESS SOUL, THY MEMORY WILL BE EVER BLESSED AMONGST THOSE WHO LOVED THY LOVED THY VIRTUES/ F3I
The 1877 separation into two cemeteries further cruelly divorced the bodies of husbands from wives, mothers from sons, fathers from daughters, especially in the cases of the Böcklin, Browning, Landor, Powers and Spencer Stanhope families.

aaaa
*MARY SPENCER STANHOPE/ ENGLAND/ Spencer Stanhope/ Maria/ / Inghilterra/ Firenze/ 23 Febbraio/ 1867/ Anni 7/ 972/ Mary Spencer Stanhope, l'Angleterre/ IN MEMORY/ OF MARY/ SPENCER STANHOPE/ BORN NOVR/ 9.1859. DIED/ FEB 23.1867/ "THE LORD IS/ MY SHEPHERD/ I SHALL NOT/ WANT. HE/ MAKETH ME/ TO LIE DOWN/ IN GREEN PAS/TURES. HE/ LEADETH ME/ BESIDE THE/ STILL WATERS"/ Design: John Roddam Spencer Stanhope / E13I

aaa

John Roddam Spencer Stanhope, Cimitero agli Allori, monumento da lui stesso scolpito/ tomb sculpted by himself
IN MEMORY OF/ JOHN RODDAM/ SPENCER/ STANHOPE/ ENTERED/ INTO REST/ AUG 2 1908/ AGED 79/ BLESSED ARE/ THE PURE IN/ HEART FOR THEY/ SHALL SEE GOD/ WE SHALL NOT/ ALL SLEEP BUT/ WE SHALL ALL/ BE CHANGED
This separation was overcome partly through the planting of laurels, for fame, for poetry, for hope, as on the tombs of Walter Savage Landor, Arthur Hugh Clough (his previously had been a topiary tree), Leonard Horner, the Countess of Strathmore and Kinghorn, and Adolfo Mussafia, and by the parents for the children, Lutie Arrighi, Beatrice Campbell Spence and Hope Hayward ('Our Hope'). Or of myrtle, for love, for faithfulness, on Russian, Swiss and English tombs, recalling Pushkin's poem of his friend buried in Leghorn (one Swiss tomb has its stone sculpted with myrtle while the living myrtle grew beside it). Or of palm, for the Resurrection, as on the tomb of Salvatore Ferretti and his wife. While Irish and Russian aristocrats had exotic oleanders planted by their tombs. Iron arches above children's tombs once bore climbing dew-filled roses. The tombs of an Italian count and his English-born wife have such an arch which flaunts jasmine, the first flowering in the Spring in this cemetery. These plants were as words in books, were as an alphabet of love. The cemetery now has 648 surviving individual and family tombs of many more burials (1,409 by 1877), of which 160 tombs need restoration, 335 need cleaning, 36 need particular scrutiny of their inscriptions, and 108 need attention to their historic iron work. Following 1877, there have been 41 burials or placements of cinerary urns. The Swiss Reformed Evangelical Church still owns the customarily-named 'English Cemetery'.
The research and restoration of these monuments in Florence's English Cemetery by nature have to be interdisciplinary. In literature these monuments manifest the genre of the epitaph, called by the Italian scholars in their essays the generic term 'epigraph'. Instead of being transmitted in the form of books and journals within sheltered libraries, they are sculpted, in the most ancient form of cultural comunication, on stone outdoors, often combined with sculpture, joining word and marble. An entire symbolic language that is both visual and verbal is being actively employed, combining stone, plants and texts. The essays that follow are illustrated digitally (employing yet a further and electronic dimension to the research and remembering of the past) by illustrations of the tombs and transcriptions of their epitaphs.
FLORIN WEBSITE © JULIA BOLTON HOLLOWAY, AUREO ANELLO ASSOCIAZIONE, 1997-2024: MEDIEVAL: BRUNETTO LATINO, DANTE ALIGHIERI, SWEET NEW STYLE: BRUNETTO LATINO, DANTE ALIGHIERI, & GEOFFREY CHAUCER || VICTORIAN: WHITE SILENCE: FLORENCE'S 'ENGLISH' CEMETERY || ELIZABETH BARRETT BROWNING || WALTER SAVAGE LANDOR || FRANCES TROLLOPE || ABOLITION OF SLAVERY || FLORENCE IN SEPIA || CITY AND BOOK CONFERENCE PROCEEDINGS I, II, III, IV, V, VI, VII || MEDIATHECA 'FIORETTA MAZZEI' || EDITRICE AUREO ANELLO CATALOGUE || UMILTA WEBSITE || RINGOFGOLD WEBSITE || LINGUE/LANGUAGES: ITALIANO, ENGLISH || VITA
New: Dante vivo || White Silence
LIBRARY PAGES: BIBLIOTECA E BOTTEGA FIORETTA MAZZEI || ITS ONLINE CATALOGUE || HOW TO RUN A LIBRARY || MANUSCRIPT FACSIMILES || MANUSCRIPTS || MUSEUMS || FLORENTINE LIBRARIES, MUSEUMS || HOW TO BUILD CRADLES AND LIBRARIES || BOTTEGA || PUBLICATIONS || LIMITED EDITIONS || LIBRERIA EDITRICE FIORENTINA || SISMEL EDIZIONI DEL GALLUZZO || FIERA DEL LIBRO || FLORENTINE BINDING || CALLIGRAPHY WORKSHOPS || BOOKBINDING WORKSHOPS



To donate to the restoration by Roma of Florence's formerly abandoned English Cemetery and to its Library click on our Aureo Anello Associazione's PayPal button: 
                THANKYOU!