MedicalHistoryapp©Julia Bolton Holloway

HISTORY OF MEDICINE IN FLORENCE'S ENGLISH CEMETERY



Ages shall honour in their hearts enshrined/ Thee, Southwood Smith, Physician of Mankind/Bringer of air, light, health into the homes/ Of the richer poor of the years to come.

It is fitting that this so-called 'English' Cemetery, still owned by a Swiss church in Florence, should present its history of medicine in an app, since it was the Swiss Jean-Henri Dunant who founded the Red Cross. leading to the Geneva Conventions, after witnessing the horror of the wounded and dying in the Risorgimento 24 June 1859 Battle of Solferino. Some of my earliest memories during WWII are of my mother editing a news letter with photographs from Germany acquired through the Red Cross of imprisoned British soldiers to be shared with their families in England, Canada, Australia, etc. In the Middle Ages and in the modern period, pilgrims and medical personnel could cross enemy lines, with the right of sanctuary that neutrality afforded them, a concept recalled by the Médecins sans Frontiers.

This guided tour will centre on the diseases from which our burials had suffered, and on the doctors buried in this cemetery, giving its history of medicine.



WhiteSilence

Death stands above me, whispering low

I know not what into my ear;

Of his strange language all I know

Is there is not a word of fear.


Walter Savage Landor

You enter first through the great gates in cast iron from the Grand Duke's foundry in Pistoia, next through the Egyptian columned arch with closed lotus capitals symbolizing death, coming to the avenues flanked by papyri and roses, given by Dr Vieri Torrigiani Malaspina. Then on your left is Sector A. This chapter will take you along three paths describing the tombs you see there, giving their inscriptions and telling their stories. This is a world before the discovery of penicillin and other antibiotics, before the world of successful surgery in sterile conditions, before vaccinations for smallpox, diphtheria, whooping cough, measles, before the draining of the Italian marshes against mosquito-born malaria.

Sector A


Click to enlarge maps

Our third tomb on our left hand side is for Robinia Wilson, the Scottish Protestant wife of a noble Catholic Cavalcanti. He laments her death of cholera.

A3/ ROBINA (WILSON) CATANI CAVALCANTI/ SCOTLAND




ALLA CONSORTE DOLCISSIMA ROBINA DI ANDREA E DI RACHELE WILSON D'EDIMBURGO DONNA DI RARO INTELLETTO DI SINGOLARE GRAVITA' DI COSTUME CHE PER ANNI XV TENNE CON PRUDENZA AMMIRABILE IL GOVERNO DELLA FAMIGLIA, IL MARITO LEOPOLDO CATTANI CAVALCANTI CUI FU DELIZIA E SOSTEGNO A TESTIMONIO DEL SUO PERPETUO DOLORE, QUESTO MONUMENTO ERIGEVA, DESOLATISSIMO DI NON POTERE COME LE ANIME IN VITA CONGIUNGERE IN MORTE LE CENERE VISSE ANNI XLI M VII G XVIII REPENTINAMENTE MANCO IL XXVII GIORNO DI LUGLIO NELLA INVASIONE COLERICA DEL MDCCCLV/ AVE ANIMA INCOMPARABILE, LA TUA MEMORIA SARA SEMPRE IN BENEDIZIONE FRA QUANTI AMARONO LE TUE VIRTU// TO HIS MOST BELOVED WIFE ROBINA DAUGHTER OF THE LATE ANDREW AND RACHEL WILSON OF EDINBURGH. A WOMAN OF RARE INTELLECTUAL GIFTS AND SPOTLESS PURITY OF CONDUCT WHO FOR FIFTEEN YEARS ADMIRABLY FULFILLED THE DUTIES OF HER MARRIED LIFE, HER HUSBAND LEOPOLD CATTANI CAVALCANTI, TO WHOM SHE WAS ALIKE SOLACE AND SUPPORT, AS A TESTIMONY OF HIS PERPETUAL REGRET HAS RAISED THIS MONUMENT DEEPLY SORROWFUL THAT WHILE THEIR SOULS IN LIFE WERE UNDIVIDED, THEIR ASHES IN DEATH MAY NOT REST TOGETHER. SHE LIVED XLI YEARS VII MONTHS XVIII DAYS AND WAS SUDDENLY CUT OFF DURING THE CHOLERA EPIDEMIC IN MDCCCLV. HAIL MATCHLESS SOUL, THY MEMORY WILL BE EVER BLESSED AMONGST THOSE WHO LOVED THY VIRTUES/

Married like Elizabeth Barrett Browning for fifteen years, she has died in Montecatini in the 1855 cholera epidemic. (John Snow, 1813–1858, found a link between cholera and contaminated drinking water in London in 1854.)The 1866 Mediterranean cholera epidemic will also affect this cemetery. As with Elizabeth Barrett Browning's tomb, this grave was first elsewhere in Sector E or F), then the body moved for a more conspicuous place for its present grand monument, which Pietro Bazzanti copies from the base of the tomb of the Cardinal of Portugal by Antonio Rossellino in San Miniato, both having marvellous lions' claws.

A5/ CATHERINE JANE (PENFOLD) BARONCELLI/ ENGLAND




ON THE FOURTEENTH OF NOVEMBER/ 1860/ THROUGH A VIOLENT DISEASE/ AND AT SIXTY YEARS OF AGE/ DIED/ CATHERINE JANE/ DAUGHTER OF THE REVEREND PENFOLD/ OF STEYNING SUSSEX/ WIFE OF JOHN BARONCELLI/ BLEST BY POSSESSION OF HER WITH HAPPINESS/ FOR THE SPACE OF YEARS XXX/ A WOMAN OF REFINED EDUCATION/ AFFABLE, INDULGENT, CHARITABLE/ HER DESOLATE CONSORT/ IN ALLEVIATION OF HIS UNREMITTING GRIEF/ THIS HUMBLE MONUMENT/ ERECTED// NEL GIORNO XIIII NOVEMBRE/ MDCCCLX/ PER CAGIONE DE UN VIOLENTE MORBO/ MORI DI ANNI LX/ CATERINA GIOVANNA/ FIGLIA DEL REVERENDO GIOVANNI PENFOLD/ DI STEYNING SUSSEX/ MOGLIE A GIOVANNI BARONCELLI/ RESO DA LEI FELICE/ PER LO SPAZIO DI ANNI XXX/ DONNA DI SQUISITA DEVOZIONE/ AFFABILE TOLLERANTE CARITEVOLE/ IL DESOLATO CONSORTE/ A SFOGO DE PERENNI DOLORE/ QUESTO UMILE MONUMENTO/ LE POSE/

Five years later another foreign wife, Catherine Jane Penfold Baroncelli, this time English and from Sussex, married likewise to an Italian husband, this time for thirty years, dies of a violent disease, again likely cholera. Her brother, Dr Christopher Rawson Penfold, a medical doctor and vintner, successfully emigrated with his wife and daughter to Australia.

Along the edge we come to three tombs for doctors:

A48/ SIR DAVID DUMBRECK/ SCOTLAND



Sir David Dumbreck Commander of the Order of Bath Crimea medal with 4 clasps Turkish medal, Crimea Order of the Medjidie

SIR DAVID DUMBRECK K.C.B./ BORN IN ABERDEENSHIRE 1805/ INSPECTOR GENERAL OF ARMY HOSPITALS AND/ HONORARY PHYSICIAN TO THE QUEEN SERVED WITH/ DISTINCTION IN THE CRIMEA WAS PRESENT AT THE BATTLES OF ALMA BALACLAVA INKERMANN AND THE SEIGE OF SEBASTOPOL, FOR WHICH HE/ RECEIVED THE CRIMEA MEDAL WITH 4 CLASSES/ THE TURKISH MEDAL AND THE KNIGHTHOOD OF/ THE ORDER OF THE MEDJIDIE/ HE DEPARTED THIS LIFE AT FLORENCE JAN 24 1876/ / UNIVERSALLY REGRETTED/ THIS MONUMENT HAS BEEN ERECTED TO/ HIS MEMORY BY HIS SORROWING WIDOW/ BLESSED ARE THE DEAD WHICH DIE IN THE LORD/ REV. XIV.15/

NDNB/Wikipedia entries: Prior to the breaking out of the Crimean War he was dispatched on a special mission early in 1854 to the expected seat of war, and traversed on his mission Serbia, Bulgaria, and part of

Roumelia

, crossing the Balkans on his route. He was subsequently for a short time principal medical officer with the army, and served with it in the field as senior deputy inspector-general, and was present in this capacity and attached to headquarters at the time of the affair of Bulganac, the Alma, capture of Balaklava, battles of Balaklava and Inkerman, and siege of Sebastopol. His rewards were a medal with four clasps, the fourth class of the Medjidie, and the Turkish medal. He was gazetted C.B. on 4 February 1856, became K.C.B. on 20 May 1871, and was named honorary physician to the Queen on 21 November 1865. On 19 July 1859 he was promoted to be an inspector-general of the medical department in Cape Town, and on 1 May in the following year was placed on half-pay and received a special pension for distinguished services. He had married, on 27 February 1844, Elizabeth Campbell, only daughter of George Gibson of Leith. He died at 34 Via Montebello, Florence, on 24 January 1876, and his will was proved on 21 March under £12,000. His widow has lent his medals from the Crimea to the sculptor for his tomb and they are replicated exactly, only in white marble, not colour. These photographs come from his descendant, Robin Dumbreck. Sir David and Florence Nightingale would have known each other.

A47/ DOTT. BARTOLOMEO ODICINI/ ITALIA/URUGUAY



Dr Odicini and his children, Uruguay Bartolomeo Odicini

This doctor, born in Genova, treated Anita Garibaldi and her starving children in Montevideo, Uruguay, and, later, Garibaldi himself after the Battle of Aspramonte. It is interesting that the two doctors, Sir David Dumbreck and Bartolomeo Odicini, are buried side by side.

A43/ VICOMTE HENRI DE LA BELINAYE/ FRANCE/ENGLAND




ICI REPOSE LE VICOMTE HENRI DE LA BELINAYE/ FILS DU MARQUIS DE LA BELINAYE/ NE A LONDRES LE 19 NOV 1799/ DECEDE A FLORENCE LE 9 IANVIER 1873/ REQUIESCAT IN PACE// A LA MEMOIRE/ DE MON EXCELLENT EPOUX BIEN-AIME/ DANS L'ESPOIRE/ DE NOTRE REUNION ETERNELLE/-/ VENEZ A MOI/ VOUS TOUS QUI ETES FATIGUES ET CHARGES/ ET JE VOUS SOULAGERAI/ MATTH. XI.28/

He was born,

19 November 1799, the younger son and third of four children of the Marquis Armand Marie de la Belinaye (d. 1836) by his wife Marie Louise Julia (1771-1859), Breton aristocrats who emigrated at the time of French Revolution. His parents were married in a Roman Catholic chapel in London and later re-married in a civil service in Paris, 15 August 1821.

He and his older brother Armand were educated in part at the French Academy, Penn, near Beaconsfield, Bucks. He qualified as a surgeon, had a Harley Street practice from 1823 to 1842, and served as physician to the French, Austrian, and Russian Embassies, as Physician Extraordinaire to the Duchess of Kent, and as surgeon to an Italian troupe of opera singers which included Giulia Grisi. During this time he dropped his title, resuming it after 1842 when he closed his medical practice, for instance, in October 1836 he received a ticket of admission to the British Museum Reading Room as "Henry Belinaye, Esq." He lived at 17 George Street, Hanover Square; later in Fulham; married before 1840; was widowed before May 1847, when he married Sarah Maunch. By the first marriage he had at least one daughter, Evelina Anne, who in 1858 married Thomas Lance. At some point Belinaye moved to Florence, Italy, where he died on 10 January 1873.

http://www.victorianresearch.org/Obscure_contributors.html#belinaye There is a 4/1851 mortgage of Northlands to him by Charles Crosbie, who is also buried in this Sector (A20).

Below Sector A's wall lie another row of tombs, of which three interest us, one because of a death by drowning, another of a doctor, the third of a patient of the Gottingen-trained Scots Dr Wilson.



Click to enlarge
AB3/ HENRY HOWELL/ ENGLAND

IN MEMORY OF/ HENRY HOWELL/ OF BIRMINGHAM ENGLAND/ WHO WAS DROWNED AT/ SAN VINCENZO TUSCANY/ 30 MAY 1876/ AGED 52 YEARS


He was perhaps a Birmingham silversmith, the Web giving the hall mark for Jonathan Howell of this firm in 1895. His tomb tells us he drowned at San Vincenzo, near Livorno, in Tuscany.
AB5/ CORNELIA (AMORY GODDARD) LORING/ AMERICA

Harvard, General Charles Greeley Loring Jr, Cornelia Loring's stepson
CORNELIA/ AMORY/ GODDARD/ LORING/ OF BOSTON/ MASSACHUSETTS/ BORN SEPT 27 1810/ DIED MAY 15 1875/


From Boston Brahmin families in America we have further information that she shared Doctors Gresanowsky and Wilson with Elizabeth Barrett Browning. See ebbdeath.html, also A109. Lilian Whiting in Kate Field adding 'Dr. Gresanowsky was a Prussian who, for political reasons, had left his country and domiciled himself in Florence, where he became one of the habitues of Casa Guidi. Mrs. Browning frequently had long talks with him as they both sat on Isa Blagden's terrace on Bellosguardo, and to Kate and her mother this liberal and cultivated Prussian became a valued friend'.) Nicholas Loring Hadden transcribed the archival letters preserved by his great great grandfather, her stepson, the Civil War General, Charles Greeley Loring Jr, who was also Curator of the Boston Museum of Fine Arts. He explains that Cornelia's first husband died in a carriage accident, leaving her to raise their son George Goddard, and that she married secondly State Senator and Harvard Overseer Charles Greeley Loring, acquiring two stepchildren, the second of whom became the wife of Asa Gray of Gray's Anatomy. Amy Lowell was at Cornelia's side during her illness, and was supported by their cousin Mrs Greenough, married to the sculptor. Amy Lowell's letters describe their earlier visit together to the 'English' Cemetery in Florence, Cornelia expressing the wish to be buried there and her persuasion of Louisa King's sisters not to have Louisa's body shipped home. Amy recounts the medical visits of Doctors Gresanowsky and Wilson (Wilson spoken of here as the ablest physician in Florence) and their careful treatment of the patient, their conclusion that it is a latent cancer, the laying out of her body dressed in a simple black silk dress with white lace collar and cuffs, her hair braided (this is still the Florentine custom), it being placed in a fine wooden coffin, with a plate on it giving her name, then cased in lead and sealed with the seal of Florence, and last its burial with both Rev Connolly and the American Episcopalian Rev Mills officiating in white robes. (Rev Pierce Connolly is buried in the Allori Cemetery, he was the plaintiff in a suit that reached the House of Lords to have his wife back after he became a Roman Catholic priest and she founded the Order of the Holy Child, a suit which he lost). Variously present at the two funeral services were Mrs Huntington, Mr and Mrs Lothrop, the Alexanders (for their son's tomb, see AB28), Mr and Mrs Perkins, Dr Gresanowsky, Mr and Mrs Richard Saltonstall Greenough, Miss Horner, Mr and Mrs Sullivan, and Mrs Erving and Miss Briggs, the last two Louisa King (AB10)'s sisters. Amy Lowell describes the beauty of the Cemetery, its profusion of roses and the many famous people buried there, including a child of James Lowell (we have no record of this burial), Mrs
HORNER
, Mrs
BROWNING
(B8),
THEODORE PARKER
(D108),
CLOUGH
(F8), many others. The General set sail from Boston for England on hearing by telegramme of his stepmother's illness, too late he telegrammed instructions she be embalmed, which was not possible. She was 65, he 47. The tombstone is very beautiful in art nouveau style and sans serif lettering.


AB6/ DOKTOR AUGUSTUS KIRCH/ GERMANIA

HIER RUIT IN GOTT/ D. AUG. KIRCH


His descendants visited the tomb of this German doctor and paid for its cleaning.
We now return to the central path to note the tombs on our right of


F8/ ARTHUR HUGH CLOUGH/ AMERICA/ENGLAND


ARTHUR HUGH CLOUGH/ SOMETIME FELLOVV/ OF ORIEL COLLEGE OXFORD/ DIED AT FLORENCE/ NOVEMBER 13 MDCCCLXI/ AGED 42/ THE LAST FAREVVELL OF/ HIS SORROVVING VVIFE AND SISTER

who dies in Florence of complications from Malaria and also, it is said, from Florence Nightingale, his relative by marriage, overworking him.

and on our left visible from the path towards the Duomo,


A109/ JEAN ELIZABETH (WOOD) WILSON/ SCOTLAND



TO THE MEMORY OF JEAN ELIZABETH WILSON/ WIFE OF WILLIAM WILSON/ AND DAUGHTER OF ALEXANDER/ LORD WOOD OF EDINBURGH/ DIED MAY 1874

Jeffrey Begeal notes that the James Lorimer Graham (E12) papers at Houghton Library include the funeral notice to take place 'Dr Wilson begs to invite his friends to be present at the Funeral of his wife, Jeannette Wilson, which will take place at the Cemetery Porta Pinti on Tuesday evening the 19 inst. at half past four o'clock, May 18, 1874', and his own note of sending a cross of white flowers to cover the coffin. Webbs have further materials on the baptisms of their six children. This would be the Dr Wilson who attends Elizabeth Barrett Browning (

B8

) and Cornelia Amory Goddard Loring (AB5). The 1874 List of the Royal College of Physicians of London lists Dr William Wilson, of Florence, Italy, as an M.D. of Gottingen University on its page 24: 'William Wilson, M.D. Gott., Florence, Italy'.


A29/ WALTER SAVAGE LANDOR/ ENGLAND




IN MEMORY OF/ WALTER SAVAGE LANDOR/ BORN 30th OF JANUARY 1775/ DIED 17th OF SEPTEMBER 1864/ AND THOU HIS FLORENCE TO THY TRUST/ RECEIVE AND KEEP/ KEEP SAFE HIS DEDICATED DUST/ HIS SACRED SLEEP/ SO SHALL THY LOVERS COME FROM FAR/ MIX WITH THY NAME/ MORNING STAR WITH EVENING STAR/ HIS FAULTLESS FAME/ A.G. SWINBURNE/



In Sector B,
Cliccare le piante per aggrandirle
B82/ SIR THOMAS SEVESTRE/ ENGLAND

SACRED TO THE MEMORY/ OF/

SIR THOMAS SE

. . .

BART

/ WHO . . . / . . .


Knight of the Portuguese Order of the Tower and the Sword for his participation as surgeon on the H.M.S. 'Confiance' at the capture of Cayenne. He and Raffles visit Napoleon on St Helena. Thomas Adolphus Trollope, What I Remember, II.146-147, describes Sir Thomas Sevestre, as an old India Army surgeon called on at the Baths of Lucca to attend a dying duellist.
B85/ THEODOSIA (GARROW) TROLLOPE/ ENGLAND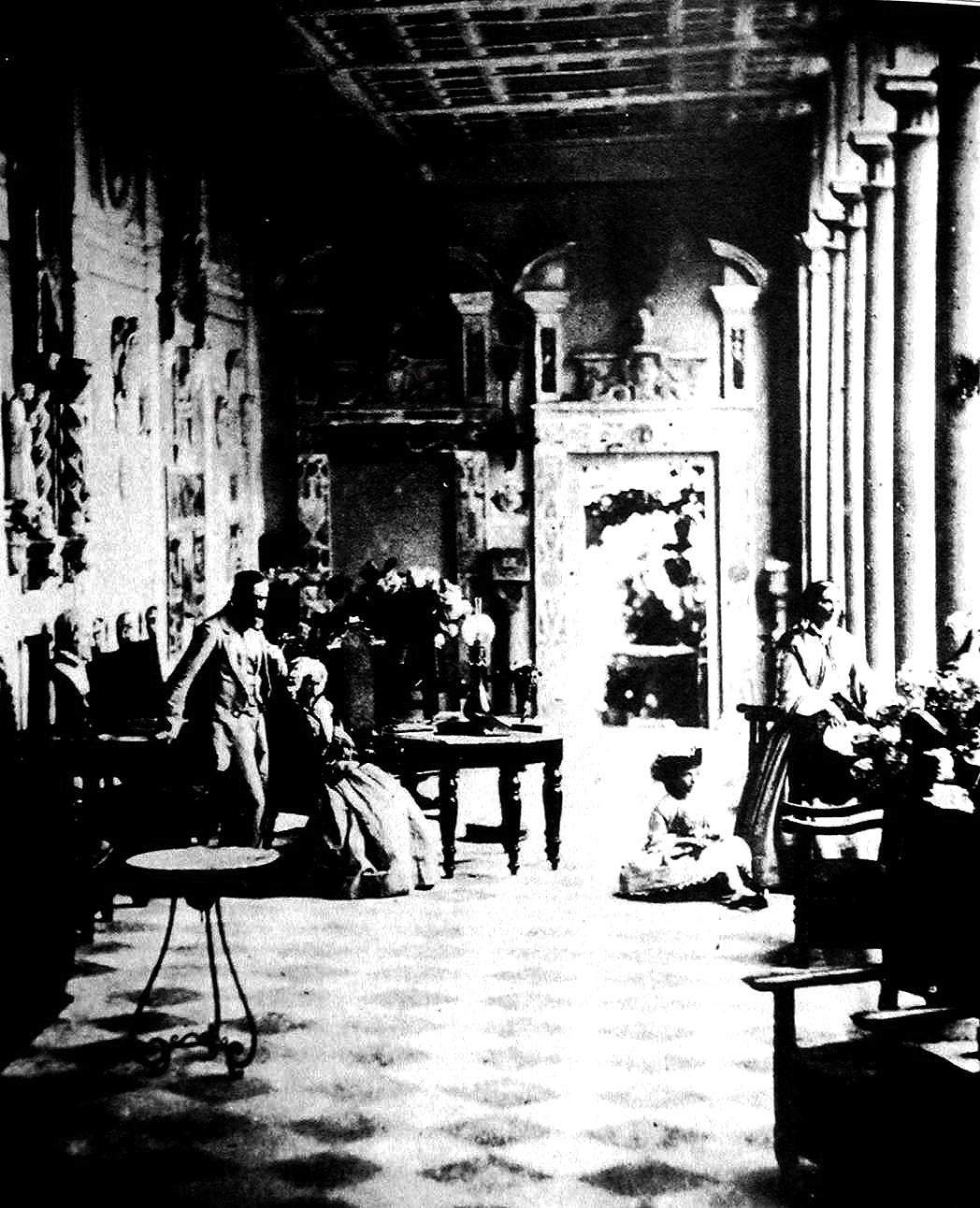 Villino Trollope, Thomas, Fanny, The day 13 April 1865/ died in this house/ Theodosia Garrovv-Trollope/
Bice, Theodosia who wrote in English with an Italian spirit/ of the struggle and the triumph of Liberty

THEODOSIAE TROLLOPE/ T. ADOLFI TROLLOPE CONIUGIS/ QUOD MORTALE FUIT/ HIC IACET/ OBITUM EIUS FLEVERUNT OMNES/ QUANTUM AUTEM FIERI MERUIT/ VIR EUGUI SCRIPTORES/ SCIT SOLUS/ JOSEFE GARROW ARMr FILIA/ APUD TORQEY IN AGRORUM DEVON ANGLORUM NATA/ FLORENTIAE NOMEN AGENS LUSTRUM/ AD PLURES DIVINAE . . ./ MENSES APRILES A.D. 1865

When an invalid child in Torquay, she had known Elizabeth Barrett, likewise a young invalid, both with tuberculosis. Meanwhile her mother-in-law, FRANCES TROLLOPE, had also to deal with rampant tuberculosis in her family, burying many members in Belgium. Pastore Luigi Santini on Theodosia: 'She arrived in Florence in 1845 with her father [B108/ JOSEPH GARROW, who is buried near her tomb], an able violinist, and her mother, who became friendly with their neighbours, the Trollopes, as a result of a visit by their mutual friend Charles Dickens. She married Thomas Adolphus Trollope and moved to the Piazza Barbano in 1848. She was a talented writer with a wonderful mastery of Italian and translated works by Giusti and G.B. Nicolini. A fanatic supporter of the cause of Italian independence, she published a history of the Tuscan Revolution in the Athenaeum'. Thomas Adolphus Trollope, What I Remember, II.150-159, 166-168, & Chapter XVIII, describes her as Florence's new Corinne; pp. 171-173.

Theodosia (T. Garrow on the title page) made a translation of Giovanni Batista Niccolini's,

Arnold of Brescia, a tragedy

, and this was published in London in 1846,

also wrote History of the Tuscan Revolution. Elizabeth Shinner (C71), her maid, is mentioned in Harriet Fisher's will, made on 10 July 1846. She wrote: 'To Eliz.th. Shinner maid servant the sum of 30£ my gold watch and whatever wearing apparel my sister Theodosia Garrow may not wish to retain'. This half-sister, C77/ HARRIET THEODOSIA FISHER (GARROW)

, is buried with

C71/ ELIZABETH SHINNER

, their maid, in Sector C.

We witness amongst many of these tombs the great affection and respect their masters and mistresses paid to servants under their roof: CHARLES CROSBIE, A20 to MARY DUVALL, A80; the friends of the late WILLIAM READER, A23 to HENRY AUSTIN, E34; FRANCES (MILTON) TROLLOPE, B80, THEODOSIA (GARROW) TROLLOPE, B85, and HARRIET THEODOSIA FISHER (GARROW), C77, to ELIZABETH SHINNER, C71; ISABELLA BOUILLON LANZONI, D29, to ANNA ROFFY, C61; SIR WILLIAM HENRY SEWELL, E58, to JAMES BANSFIELD, E59; Prince Demidoff to GEORGE FREDERIC WAIHINGER, E64; Rosina Buonarotti Simoni to MARY ANNE SALISBURY, F2. B42/ ISABELLA BLAGDEN (in this sector B), cares first for motherless Pen Browning, then for Bice Trollope on the deaths of their mothers from tuberculosis. NDNB entries for Theodosia Trollope, James Archibald Stuart-Wortley, whose grandson married first Theodosia's daughter, Bice, then Millais' daughter, Caroline. See Garrow, Trollope, Shinner, Fisher entries and the Villino Trollope photograph below, on which is placed this plaque. Thomas Adolphus Trollope composes the Latin on his mother's tomb, B80/ FRANCES (MILTON) TROLLOPE, on his wife's father's, B108/ JOSEPH GARROW, and on his wife's, B85/ THEODOSIA (GARROW) TROLLOPE.




B102A/

GEORGIANA CLEMENTINA (TULK) SLOPER/ ENGLAND/

B102BC/

ELOIS

ALICE ENRICA AUGUSTA COTTRELL/ ENGLAND/ CHARLES LEWIS COTTRELL/ ITALY/ENGLAND/






TO THE MEMORY OF/ GEORGIANA CLEMENTINA/ WIFE OF THE REV JOHN SLOPER OF WESTY/ WOODHAY

HOUSE

IN THE COUNTY

OF BERKSHIRE/

DIED AT FLORENCE APRIL 2 1854/ IN THE 40 YEAR OF

HER AGE THIS MONUMENT IS / ERECTED BY HER ONLY SURVIVING PARENT

/

IN TOKEN OF MOST AFFECTIONATE.

. .

TRUSTING TO BE

. . ./

MERITS OF THAT SAVIOUR IN

. . .

/ PRESENCE SHE NOW

. . .

EVER

. . .

/ - / THIS MORTAL MUST PUT ON IMMORTALITY

/ ALSO SACRED TO THE MEMORY OF THE TWO INFANT/ CHILDREN OF HENRY COUNT COTTRELL AND SOPHIA AUGUSTA HIS WIFE/ ELOIS ALICE ENRICA AUGUSTA DIED NOVEMBER 8 1849 AGED 16 MONTHS/ THE YOUNGER CARLO LUDOVICO DIED JUNE 18 1850 AGED 25 DAYS/ OF SUCH IS THE KINGDOM OF HEAVEN

/ 537





ALSO SACRED TO THE MEMORY OF THE TWO INFANT/ CHILDREN OF HENRY COUNT COTTRELL AND SOPHIA AUGUSTA HIS WIFE/ ELOIS ALICE ENRICA AUGUSTA DIED NOVEMBER 8 1849 AGED 16 MONTHS/ THE YOUNGER CARLO LUDOVICO DIED JUNE 18 1850 AGED 25 DAYS/ OF SUCH IS THE KINGDOM OF HEAVEN



JL Maquay, Diaries, note Cottrells cared for the dying tubercular Sloper, Webbs, that she is sister to Sophia Augusta (Tulk) Cottrell, daughter to Eleanor Augusta Tulk. The two Cottrell children (about whom Elizabeth Barrett Browning was so upset), are named on her tombstone and likely buried with her. Count Cottrell himself baptized Carlo Ludovico when he was dying but Rev Moloney told him this was invalid, writing the entry only in pencil.

Now we go down the path at right angles towards Florence's domed cathedral and see the tomb of ELIZABETH BARRETT BROWNING's childhood friend from when they were both convelescing from tuberculosis in Torquay, Devon, by the sea, their doctor objecting to their intense writing activities and carrying their inkwells out of their rooms, it being thought women's brains were weaked by intellectual endeavours.


In this Sector B are further medical doctors:

B35/ JOHN NESBIT MAXWELL/ IRELAND



SACRED/ TO THE MEMORY OF/ JOHN NESBIT MAXWELL ESQ M.D./ A.M. TRINITY COLLEGE DUBLIN/ AND/ . . . IRELAND/

HE WAS THE YOUNGEST SON AND LAST SURVIVING MEMBER OF THE/ FAMILY OF THE LATE ROBERT MAXWELL/ HE DIED AT FLORENCE ON THE 14TH DAY OF FEBRUARY 1874/ IN THE 67TH YEAR OF HIS AGE/

SUSANNA (FULLERTON) MAXWELL/ IRELAND/ ALSO HIS WIFE SUSANNAH FULLERTON MAXWELL/ WHO DIED THE 19TH OCTOBER 1876/ AGED 68/ FEAR NOT I WILL NEVER LEAVE THEE NOR/ FORSAKE THEE/ HEBREWS

Marriage notice:

'October 23, in St. Peter's Church, Dublin, by the Rev. Launcelot Dowdall, Rector of Rathfarnham, JOHN NESBITT MAXWELL, ESQ,., only surviving son of the late ROBERT MAXWELL, ESQ., barrister at law, formerly of Summerhill, Dublin, and Clonleigh, county Donegal, to SUSANNAH HAMILTON, third surviving daughter of the late GEORGE ALEXANDER FULLERTON, ESQ., of Tolkington, Gloucestershire, and Ballintoy Castle, count Antrim'. There were no children to succeed him?



B65/ EDWARD PORTEUS/ ENGLAND


SACRED TO THE MEMORY OF/ EDWARD PORTEUS ESQRE DEPUTY INSPECTOR GENERAL OF ARMY HOSITALS IN H.B. MAJESTY'S SERVICE/ NEPHEW TO THE LATE RIGHT REVD RECTOR BEILBY PORTEUS/ LATE BISHOP OF LONDON DEPARTED THIS LIFE AT FLORENCE/ ON THE 12 SEPT 1845 AGED 68 YEARS/ THIS MONUMENT TO THE MEMORY OF AN AFFECTIONATE HUSBAND A GOOD FATHER AND AN ABLE FRIEND/ IS ERECTED BY HIS DISCONSOLATE WIDOW DOMENICA AND SURVIVING ONLY SON GEORGE/
P.BAZZANTI.F


This Waterloo participant's uncle Bishop of London Beilby Porteous, of Scottish ancestry, was from Virginia, an Anglican divine deeply opposed to slavery: Wikipedia http://en.wikipedia.org/wiki/Beilby_Porteus. Edward Porteous has married an Italian wife and has only one surviving son. The tomb was badly vandalized but is now well restored and cleaned by Daniel-Claudiu Dumitrescu and Nicolai Ovrei.


B94A/ ADELAIDE DELISSER/ ENGLAND/ B94B/ DR ALEXANDER DELISSER/ JAMAICA/ENGLAND/

B94C/ ELLIS WILLIAM DELISSER/ ENGLAND


/ SACRED TO THE MEMORY OF/ ADELAIDE DELISSER/ WHO DIED JULY 18 1845/ AGED 13 YEARS//
SACRED TO THE MEMORY OF/ DR DELISSER/ DIED AT FLORENCE MAY THE 4 1844 AGED 48 YEARS//SACRED TO THE MEMORY OF/ ELLIS WILLIAM DELISSER/ WHO DIED JULY 14 1845 AGED 19 YEARS// . . .

ZZANTI.F

.


JLMaquay, Diaries 8/5/1844 'letter from P last night. Delisser died suddenly in his carriage on Saturday night' On the Web we find 'Alexander Delisser was a surgeon in London from about 1820s to about 1836. Married Deborah Crawford in London in 1823. [His widow, now named Dora Delisser, dies 12/5/1867 in Marylebone of bronchitis and enlarged heart.] They had 9 children all baptised in London between 1824 and 1835. . . There is a strong connection to Jamaica as he seems to have studied medicine under a Dr Morales there. Dr Morales married twice, both to Delisser women. There are lots of Delissers in Jamaican records, they were mostly Jewish families. . . Alexander had been declared bankrupt around 1825 just after his marriage. He seemed to be complying with court requests so not sure if that was a reason for him to take off to Florence'. Australian descendants pieced together their story. The mother had already buried their surgeon father in Florence where he had died. Later the very promising 19-year-old son, subject to headaches, also dies and there is an inquest, his 13-year-old sister falling from a window [suiciding'] the same day. The mother sends the bodies from their home in Marylebone (a Jamaican haunt in London, as with the Barrett Moulton Barretts) to lie with their father's remains and she also leaves a space for her own grave which she does not subsequently use. One wonders, would
ELIZABETH BARRETT BROWNING
, their neighbour, have known their story? Elizabeth herself almost died of grief and tuberculosis at her brother's death by drowning. Morning Post: A lone daughter survives, Agnes Isabella Elizabeth, formerly of Woburn-place, Russell Square and late of Florence, marrying at St Mary's Cheltenham, 12/2/1850. Iris Fromm, Master Mason from Bavaria, repaired this tomb, Daniel-Claudiu Dumitrescu also restored and cleaned it.
B129/ JOSEPH ANTHONY POUGET/ ENGLAND/

INDIA
THIS STONE IS ERECTED TO THE SACRED MEMORY OF/ JOSEPH ANTHONY POUGET ESQ/ BORN ON . . . OF JULY . . . AT KINGS ROAD LONDON/ DIED AT FLORENCE . . . JULY 1833/ ERECTED BY A GRIEVING WIFE . . . WHO KNEW HIM . . . FOR HIS . . . MANNER OF LIFE


This former physician in the service of the East India Company in Bombay is perhaps joined later by his widow, Maria Celestini, she having married a second time to an Italian.
MARIA (PERKINS POUGET) CELESTINI/ ENGLAND/INDIA?/ Widow of the former physician in the East India Company in Bombay, who placed his tombstone, now the wife of Signor Francesco Celestini of Florence. Rev Robbins (E101)/ Puget [Pouget]/ Maria/ / Inghilterra/ Firenze/ 6 Marzo/ 1847/ / 356/

We find on the central path in Sector B our most famous tombs:
B7B/
HORATIA AUGUSTA ROBLEY BORGHESI/ ENGLAND




ORAZIA AUGUSTA ROBLEY/ NATA IN ALDERSHOT IL V OTTOBRE MDCCCL/ CARISSIMA DI BONTA' E DI BELLEZZA/ IN FIORE D'INGEGNO ADORNA DI LETTERE/ NELLA MUSICA E NEL DISEGNO AMMIRATA/ DELIZIA DEGLI AMICI BENEDIZIONE DEI POVERI/ TOCCA APPENA AL XXIV ANNO/ DOPO SOLI XXI MESI DI MATRIMONIO/ FU RAPITA/ AL COLONELLO FILIPPO BORGHESI/ INCONSOLABILE/ QUI SICCOME BRAMASTI/ O MIA DOLCISSIMA SPOSA/ T'HO POSTO ACCANTO A TUA MADRE/ E QUI VERRO SEMPRE A RICERCATI E QUI ADDURRO LA FIGLIUOLINA NOSTRA AD ISPIRARSI PREGANDO ALL'ETERNO/ IN LEI VEDERTI RIVIVERE/ 1026 - 1244

See Robley: http://www.robley.org.uk/graves.html. B7A/ AUGUSTA JANE (PENFOLD) ROBLEY's daughter dies in Aquila in 1874 ten years after her mother's death following marrying into the Italian Borghesi family and her husband buries her here after only 21 months of marriage (she has died following childbirth of their surviving baby daughter?) Filippo Borghesi had volunteered to the University Battalion, first of the Italian army and then of the Republic, fighting for the defense of Rome. When the French restored Papal rule he emigrated, but returned in July 1859, joining Garibaldi in Sicily in 1860. In 1866 he held the command of the 26th Regiment. He eventually became Major General, retiring from the Army in 1881. Given his military importance it would have been difficult for anyone to prevent the erection of the large plain marble cross which blocks the view of the Leighton tomb for Elizabeth Barrett Browning next to it.

Next we come to

B8/

ELIZABETH BARRETT BROWNING/ JAMAICA/ENGLAND half way up the path, our most famous tomb.




E.B.B./ OB.1861//

FRANCESCO GIOVANNOZZI FECE



I have written elsewhere on Elizabeth Barrett Browning, especially in the notes to our edition for Penguin of Aurora Leigh and Other Poems, but also in the essay on her death and burial, ebbdeath.html of which the following excerpt is relevant to this virtual e-book on our tombs.
In her last letter, which breaks off unfinished, Robert halting it, we witness exhaustion (Kenyon, II.448-450).
In 1860, posing with her son Penini, she could still smile.
The terrible last photographs taken in Rome show her with emaciated deathhead, despite the crinoline and curls. In 1861, the year of her death, we see a prematurely aged Corinne in front of a painted backdrop of Rome's Colosseum (Arabella II.533). She was only fifty-five, though pretending to the even younger forty-five, and having packed into those years the writing of an epic poem longer than Homer's Odyssey, marriage, and a son. In May of that year, Hans Christian Andersen visited them, commenting on how ill Elizabeth looked (Arabella II.536). Her last poem, 'North and South', was about him, for the children played with Robert his Pied Piper of Hamelyn, processing through the rooms, and listened to Andersen's Ugly Duckling. But between these two dates, 1860-1861, is also the publication of her poem, 'A Musical Instrument'. Robert felt Elizabeth's poetic gift had ended, saying to her brother George in a letter written from Asolo, 22 October, 1889, 'the publication of "Aurora Leigh" preceded by five years the death of its writer - who was never likely to produce such another work', he being her literary agent during their marriage and following her death. But one of those last disparaged works was illustrated by Frederic Leighton (who would design her tomb) for the Cornhill Magazine and this poem, 'A Musical Instrument', is of interest as a meta-poem, a statement about her poetic craft and her marriage. It is also a poem in which Elizabeth takes up a theme she has often used before, drawing on her classical and Christian learning, on the 'Great God Pan'. Pan, we recall, is that chimaera, part beast, part man, related to centaurs, satyrs and fauns, EBB speaking of Flush as 'Faunus', and echoing Milton on the death of the pagan Gods in 'The Morning of Christ's Nativity', both borrowing from Plutarch's 'De oraculorum defectu', in her 'Great Pan is Dead', and the Hawthornes noting that Robert is the Faun, Donatello, of the Marble Faun. This is Frederic Lord Leighton's fine illustration from the July 1860 Cornhill Magazine:
And this is Elizabeth's poem, "A Musical Instrument" that it illustrates:

What was he doing, the great god Pan,
Down in the reeds by the river?
Spreading ruin and scattering ban,
Splashing and paddling with hoofs of a goat,
And breaking the golden lilies afloat
With the dragon-fly on the river.

He tore out a reed, the great god Pan,
From the deep cool bed of the river:
The limpid water turbidly ran,
And the broken lilies a-dying lay,
And the dragon-fly had fled away,
Ere he brought it out from the river.

High on the shore sat the great god Pan
While turbidly flowed the river;
And hacked and hewed as a great god can,
With his hard bleak steel at the patient reed,
Till there was not a sign of the leaf indeed
To prove it fresh from the river.

He cut it short, did the great god Pan,
(How tall it stood in the river!)
Then drew the pith, like the heart of man
Steadily from the outside ring,
And notched the poor dry empty thing
In holes, as he sat by the river.

. . .

Yet half a beast is the great god Pan,
To laugh as he sits by the river,
Making a poet out of a man:
The true gods sigh for the cost and pain, -
For the reed which grows nevermore again
As a reed with the reeds in the river.
The verse about cutting the reed evokes The Runaway Slave at Pilgrim Point and the slashing at the sugar cane by slaves with their machetes. Robert, at Bagni di Lucca, would similarly swim in the river, at the time she had shyly presented him her superlative love Sonnets - which he immediately published, the best-selling Sonnets from the Portuguese.
ELIZABETH as a child suffered agonies from tuberculosis of the spine for which the Queen's doctor prescribed the opium laudanum. Her maid Lily Wilson got her off it long enough for the successful pregnancy with Pen, though she suffered multiple miscarriages at the beginning of her marriage to Robert at the age of forty. In the end, Lily Wilson dismissed from her service and Robert administering the doses, she dies not of tuberculosis but from the opiod, her two doctors, the Polish Gresssanowsky of the indulging and enabling bedside manner, while Wilson was dead set against the addiction, arguing about her treatment. Robert blamed Wilson, but not Gressanowsky. We read in Kate Field's letter of June 19, 1861, 'I cannot help perceiving that DR. WILSON, who was called in owing to the absence of GRESANOWSKY, and who is most forbidding in physiognomy and is said by some to be a humbug, has hastened Mrs. Browning's death by resorting to a violent practice which her weak body was thoroughly incapable of enduring. He began by frightening her, telling her what a fearful state her entire system was in, - a fine way to treat an imaginative person. Gresanowsky knew her constitution, and it does seem most unfortunate that he should have been absent. Since the medical murder of Cavour, I have begun to distrust all doctors in Italy. . . .'

Behind ELIZABETH BARRETT BROWNING's tomb, six years later, will be that of

B9/ FANNY WAUGH HUNT/ ENGLAND, sculpted by her grieving Pre-Raphaelite artist husband.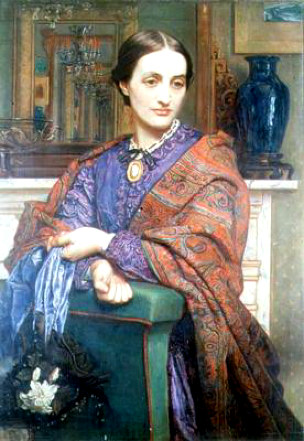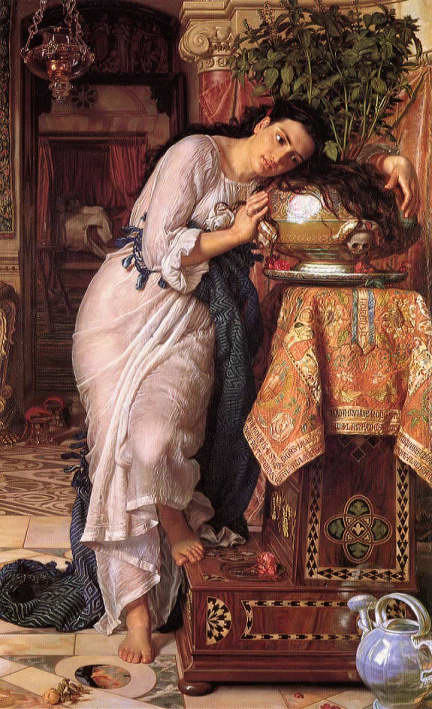 WHEN THOU
PASSEST THRO
THE WATERS
I WILL BE WITH THEE
AND THRO THE FLOODS
THEY SHALL NOT
OVERFLOW
THEE

IT IS
I

BE NOT AFRAID

LOVE
IS STRONG AS
DEATH
MANY WATERS CANNOT
QUENCH LOVE
NEITHER CAN THE
FLOODS DROWN
IT



// FANNY/ THE WIFE OF/ W. HOLMAN HUNT/ DIED AT FLORENCE DEC 20 1866/ IN THE FIRST YEAR OF HER MARRIAGE

A furher cholera epidemic forced the honeymooning Holman Hunts to not proceed on to Jerusalem but instead to stay in Florence. Thus, five years later than Elizabeth's burial another grieving husband himself sculpted his wife's tomb up in Fiesole to be beside that of Elizabeth. For FANNY HOLMAN HUNT died in Florence. Their child who survived, CYRIL BENONI HUNT (Benoni, 'son of sorrow' being the name of the dying Rachel's child in Genesis), was born at via Montebello, 22, baptised by Rev Tottenham the day of his birth, who registered it two months later, eight days after his mother's death. A silver chalice and later a silver patten in their names eventually came to St Mark's English Church from the earlier Holy Trinity Church in Florence. Fanny has died following childbirth, which happened to so many mothers buried here, from the disbelief, even by RUDOLF VIRCHOW in the statistically proved theories carried out in practice of the use of washing hands following autopsies in maternity clinics, that IGNAZ SEMMELWEISS so carefully demonstrated. The Hungarian doctor who taught medicine in Vienna and Budapest was to die in an insane asylum of sepsis from being beaten by attendants.

Beside these two tombs is a third, again from a PreRaphaelite family, the father come to Florence because of his asthma, the daughter dying of scarlet fever or diphtheria. diseases so common among the children buried in this cemetery, among them the two Cottrell babies, so many of them being named, whether boys or girls,

B10/ MARY SPENCER STANHOPE/ ENGLAND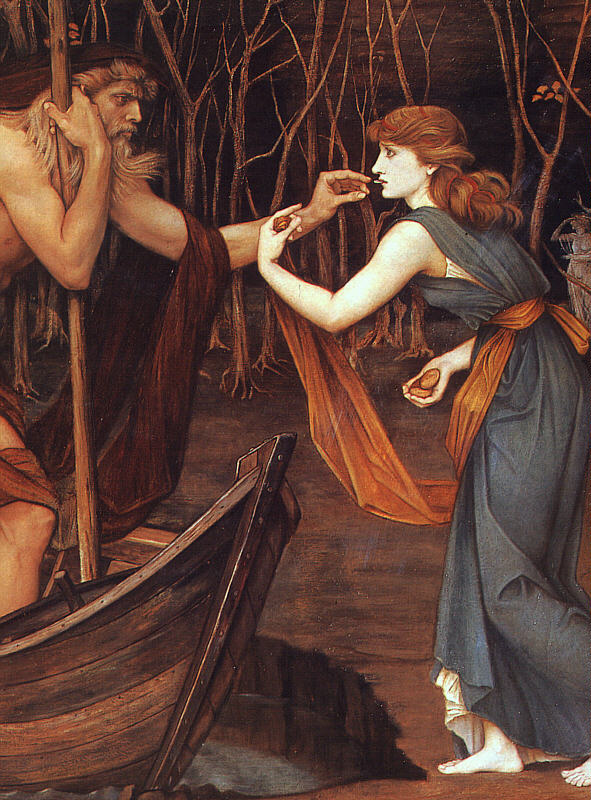 Grazia Santoni

IN MEMORY/ OF MARY/ SPENCER STANHOPE/ BORN NOVR/ 9.1859. DIED/ FEBY 23.1867/ "THE LORD IS/ MY SHEPHERD/ I SHALL NOT/ WANT. HE/ MAKETH ME/ TO LIE DOWN/ IN GREEN PAS/TVRES. HE/ LEADETH ME/ BESIDE THE/ STILL WATER"

John Roddam Spencer Stanhope (1829-1908), another of the PreRaphaelite Brethren, came to live in Florence because of his asthma, residing at Villa Nuti (Villino Strozzi) at Bellosguardo with his wife and daughter, having visited the city previously. Maquay's diary notes he fails to introduce Frederic Leighton to him. The year following that in which the Spencer Stanhopes had cared for the Hunts' now motherless child, Cyril Benoni Hunt, they lost their own seven-year-old daughter, Mary Spencer Stanhope, and the artist father likewise sculpted her tomb. The same shape of her tomb recurs in his own tomb, sculpted by himself, at the Allori, and in the plaques in the churches commemorating him in Florence and in Yorkshire. He helped build Holy Trinity, selling a Botticelli to pay for the construction of its Gothic tower, and later frescoed the walls and ceilings of St Mark's English Church. He painted Mary, his daughter, as if she had lived to be 17, not 7, as Psyche to his Charon, a work now owned by Andrew Lloyd Webber. This is a pattern we also see with the depictions in marble by Bazzanti as if 18, and by Solomon Counis, as if 22 of JEAN DAVID MARC GONIN (C106) who had died at 15 years old. Nic Peeters and Judy Oberhausen gave a paper on this family at our third City and Book international conference in Florence, gimel.html and together we visited Bellosguardo's Villa Nutti.Then we read Elizabeth Barrett Browning's translation of Apuleius' 'Cupid and Psyche' at the Cemetery's columned cross at the celebration for the National Archeological Museum's Exhibition, 'Egyptian Motifs in the English Cemetery', our Italian actress dressed as Stanhope's Psyche, photograph above: http://piazzaledonatello.blogspot.it/2006_09_01_archive.html, apuleius.html, egyptian.html, gimeld.html#peetersoberhausen, Mediatheca 'Fioretta Mazzei holdings, TAU.

Sector C is at the top left-hand of the Cemetery.


Click to enlarge


By the Cross to honour the King of Prussia we find this obelisk honouring a great doctor.
C3/ THOMAS SOUTHWOOD SMITH/ ENGLAND


Harper's Monthly engraving
In Memory of SOUTHWOOD SMITH, Physician/ who through the promotion of sanitary/ reform in the principles of which he was/ the first to discover and through other/ philanthropic and literary labours was/ distinguished as a benefactor of Mankind/ Born at Martock, Somersetshire, England/ Dec 21, 1788, Died at Florence/ Dec 10, 1861// + THEN SHALL THE RIGHTEOUS SHINE FORTH AS THE SUN IN THE KINGDOM/ OF THEIR FATHER/ MATTHEW XII v.43// [Below Joel T. Hart's sculpted portrait medallion] / Ages shall honor, in their hearts enshrined, thee, SOUTHWOOD SMITH, Physician of Mankind/ Bringer of Air, Light, Health into the home/ Of the rich Poor of happier years to come/ Leigh Hunt/




Pastore Luigi Santini tells us that 'he was

a well-known medical doctor who promoted public health reforms and good works supported by the Anglo-Florentine community. His tombstone, sculpted by John Hart, inscribed with verses by Leigh Hunt (the terse poet of early English Romanticism), is near that of Theodore Parker, many of whose philosophic ideas he shared'. He was a Unitarian minister and Edinburgh-trained physician, head of the London Fever Hospital, deeply concerned about poor housing and its connection with disease, especially for children working in mines and factories. He was colleague to Jeremy Bentham, enbalming him at his request, and escorted Lord Normanby and Charles Dickens through London's slums, teaching them about poor housing conditions and their connection to ill health. Associated with Leonard Horner, who was to have been buried in the 'English' Cemetery beside his wife, A15/
ANNE SUSANNA (LLOYD) HORNER
, in Sector A, he had B80/
FRANCES (MILTON) TROLLOPE
write Michael Armstrong Factory Boy, and B8

/
ELIZABETH BARRETT BROWNING
write Cry of the Children, both of whom are buried in Sector B. He was Octavia Hill's grandfather and guardian, raising her.

She continued his work, introducing housing reform in slums.

When we have a Roma with tuberculosis we hold alphabet school here beneath the Column and Cross out in the open, rather than in the Library. We find that Roma in Romania are forced by their poverty to live sometimes 12 to one room or 28 to two rooms, with no windows and with tuberculosis in the family, especially amongst the children, which is now becoming resistant to drugs. To install windows would be cheaper and better than to pay later for hospitals and medicines.



The University of London's 'auto-icon' of Jeremy Bentham, embalmed at his request by Thomas Southwood Smith, Bentham being the University's founder.

Sadly our next is to a tomb for a surgeon who suicided.

C99/ JAMES CRAIGIE, M.D./ SCOTLAND




JAMES CRAIGIE SURGEON/ BRIT. R.N./ BORN AT GLASGOW 1754/ DIED AT FLORENCE 1833/

THIS SMALL TRIBUTE TO HIS MEMORY/ MARKING THE PLACE OF HIS INTERMENT/ IS ERECTED BY HIS BROTHER-IN-LAW STEWART MURRAY BOT.GARD.





JLMaquay, Diaries 29/1/1833 'a Mr Craigie, English, shot himself last evening.' His brother-in-law, who buries this Scottish, not English, surgeon, laid out Glasgow's Botanical Garden, the 'Bot.Gard' of the inscription. One wonder whether Stewart Murray has married his sister or is his wife's brother, more likely the former. It is an imposing tomb, not a small one by any means. A later James Craigie Murray will graduate from Glasgow University.




C74/ 177/ IVAN IVANOVICH IVANOV/ RUSSIA/

A young doctor (26 years old) at the Imperial Russian court.




Our next Sector, D, to the right at the top of the Cemetery, has this bereaved family:



Click to enlarge

D24M/ D12A/

1195

/ ELISABETH (HARMAND) COUNIS/ SVIZZERA/

She is the wife of D13/ VICE PRESIDENTE SALOMON GUILLAUME COUNIS. Their daughter, D12B/ LOUISE LE COMTE COUNIS, is also buried with them.





D24M/ D12B/ 379/ LOUISE LE COMTE COUNIS/ SVIZZERA/

F

MATTEI

Buried with them is their daughter, who is listed in the Archives as having no profession. In actual fact, Elisa/Louise was a gifted painter like her father, her orphaned daughter Lisine being raised by her grandparents: Dizionario Biografico degli Italiani 30 (1984); Wikipedia: https://it.wikipedia.org/wiki/Elisa_Counis#Biografia.





D24M/ D13/ 657/ VICE PRESIDENTE SOLOMON GUILLAUME COUNIS/ SVIZZERA/

A painter, he was also Vice-President of the Swiss Evangelical Reformed Church in Florence. His widow was D12A/ ELISABETH (HARMAND) COUNIS (d. 1873), his daughter, D12B/ LOUISE LE COMTE COUNIS (died 1847) who are buried beside him. He paints the portrait of C106/ JEAN DAVID MARC GONIN, the Cemetery's first burial, who likely died of tuberculosis, as if he were not just 15, but 22.


Self-potrait Portrait, Jean David Marc Gonin
D72/ SIR JAMES ANNESLEY/ IRELAND


TO THE MEMORY/ OF/ SIR JAMES ANNESLEY KT/ OF THE MEDICAL ESTABLISHMENT . . .

He publishes Researches into the Causes, Nature and Treatment of the More Prevalent Diseases of India, and of Warm Climates Generally, 1841 (609 pp), with a fine engraved portrait. The Notes and Queries transcription records what was intact 100 years ago but of which most is now missing from the remaining slab fragment. This tomb needs to be repaired in the same manner that Daniel-Claudiu Dumitrescu and Nicholae Ovrei under Alberto Casciani did with that for B65/ EDWARD PORTEUS, building up the centre with bricks, then placing the marble slab sides, and last the top. The piece that is inscribed with FORT ST GEORGE, LATE PRESIDENT OF THE MEDICAL BOARD AT MADRAS/ WHO DIED AT FLORENCE/ THE 15 DECEMBER 1847 is now in the collection of inscribed marble slabs.



Many of the children born to mothers who then died of childbed fever, survived, but not in this case.

D52/ MARIA MERCADANTI/ SVIZZERA





QUI RIPOSANO IN PACELE CENERI DI MARIA MERCANDATI/ NATA TUN/ NATIVA DI REMIS IN SVIZZERA/ IN ETA DI ANNI 23 DOTATA DI VIRTU/ OLTRE OGNI CREDERE/ CHE DOPO PENOSA/ E BREVE MALATTIA/ PARTI DAI VIVENTI/ IL 29 GENNAIO 1832/ LASCIANDO DI SE MEMORIA/ IN FIGLIO DI GIORNI 15/ L'INCONSOLABILE CONSORTE/ BALDASSARE MERCADANTI/ ALLE SPOGLIE MORTALI/ QUEST'URNA POSE// PIANGE IL BAMBINO LA MADRE/ ESPRIMAMENTE COSI/ PERDEI QUEN BEN CHE SOLO/ SORGEVA I GIORNI MIEI/ PERDEI MIA CARA MADRE/ L'ANIMA DEL MIO CUOR

She has come from Thun in the Canton of Berne. She has died following childbirth fifteen days earlier, her baby, Gaudenzio following her the next year. The Russian tomb (VARVARA ARSEN'EVNA KUDRJAVCEVA NATA NELIDOVA, D80) below theirs will have a poem inscribed on it by the husband mourning his dead wife, speaking of himself as 'orphaned' rather than 'widowed', from the sight of this weeping child. The restoration and cleaning of this badly vandalized and broken open tomb was a major undertaking by Daniel-Claudiu Dumitrescu.


D80/ 609/ VARVARA ARSEN'EVNA KUDRJAVCEVA NATA NELIDOVA/ RUSSIA/

The widowed Professor Kudrjacev laments the death of his wife, speaking of himself as 'orphaned' in reference to the sculpture on the tomb of the dead Mercadanti mother and her orphaned son MARIA MERCADANTI, D52, GAUDENZIO MERCADANTI, D50. A scholar, he studied Dante.




D86/ THOMAS P. JACKSON, M.D./ AMERICA




TO THE MEMORY/ OF/ THOMAS P. JACKSON, M.D., OF BOSTON, UNITED STATES, WHO DIED IN FLORENCE/ JUNE 25TH 1854, AGED 44

Beyond the information on his tomb we have little information about him. It seems it was intended to have him shipped to America, yet later we find a record of his burial in Florence.


D87/ MAJOR ALEXANDER TOMKINS/ ENGLAND




SACRED TO THE MEMORY OF/ MAJOR ALEXANDER TOMKINS 77 HIGH/ YOUNGEST SON OF THE LATE BORGOYNE TOMKINS/ PHYSICIAN AT THE TOWER OF LONDON/ DEPARTED THIS LIFE ON THE 2ND OF NOVEMBER 1852 AGED 52 YEARS/ 494

Major Alexander Tomkins was in the 77th Infantry. A descendant writes: 'Burgoyne Tomkins (c. 1761-1836), was a physician, not a mere surgeon as his father had been. He took an MD at St Andrews and was a Fellow of Peterhouse, Cambridge, and held the sinecure post of Physician to the Tower of London garrison for over 50 years (Burgoyne's sons were officers in the Army and the Royal Navy, one dying at Waterloo, while two of his daughters married Army officers)'.

D136/

DR JOHN WILLIAMS

/

ENGLAND






IOANNI WILLIAMS LONDINENSI/ SANCTIS MORIBUS HUMANIS LITTERIS/ NATURA ET PHILOSOPHIA PRAETARO/ CUI AD MEDICAM ET CHIRUGIAM/ MILIT BRITANNIC . . ./RELICTO MEDICA / DOCTOR XXXV ANNOS PERITUM . . . /. . . AL AD AMORE/ MORBIS RAPITOS/ HONESTA MISSIONI DONATVS FLORENTIAE/ VBI LENIRE COARCTATIONIS MAGNORUM CORDIS VASORUM/ INCREMENTVM PASSVS/ DIEM OBIIT EXTREMVM/ XV FEBRVARI ANNO MDCCCXXXX1 AET SVAE LVIII/ RESVRRECTIONEM A.D.J. CHRISTO PROMISSAM EXPECTANS/ CONIVGI DILECTISSIMO PAVLA VXOR CVM LACRYMIS

He is one of our Waterloo participants. Has he instructed before his death that his tombstone carry this lengthy Latin inscription? His wife Paula carries out his desire in tears.

Now on our right hand we come to Sector E.



Click to enlarge

E1/ LOUISA CATHERINE (ADAMS) KUHN/ UNITED STATES OF AMERICA


Her husband was from Philadelphia, her father, Charles Francis Adams, U.S. Minister to Great Britain during the Civil War. In Florence the couple lived in the palace in the Piazza Santa Maria Maggiore, now the Banca Popolare di Milano. Notes and Queries placed her tomb a hundred years ago as visible in Sector E.


EI E' LOUISA


She is Henry Adams' sister. Her death from tetanus in Bagni di Lucca is described in the 'Chaos' chapter of his autobiography The Education of Henry Adams:
He had been some weeks in London when he received a telegram from his brother-in-law at the Bagni di Lucca telling him that his sister had been thrown from a cab and injured, and that he had better come on. He started that night, and reached the Bagni di Lucca on the second day. Tetanus had already set in.
The last lesson,—the sum and term of education,—began then. He had passed through thirty years of rather varied experience without having once felt the shell of custom broken. He had never seen nature,—only her surface,—the sugar-coating that she shows to youth. Flung suddenly in his face, with the harsh brutality of chance, the terror of the blow stayed by him thenceforth for life, until repetition made it more than the will could struggle with; more than he could call on himself to bear. He found his sister, a woman of forty, as gay and brilliant in the terrors of lock-jaw as she had been in the careless fun of 1859, lying in bed in consequence of a miserable cab-accident that had bruised her foot. Hour by hour the muscles grew rigid, while the mind remained bright, until after ten days of fiendish torture she died in convulsion.
One had heard and read a great deal about death, and even seen a little of it, and knew by heart the thousand commonplaces of religion and poetry which seemed to deaden one's senses and veil the horror. Society being immortal, could put on immortality at will. Adams being mortal, felt only the mortality. Death took features altogether new to him, in these rich and sensuous surroundings. Nature enjoyed it, played with it, the horror added to her charm, she liked the torture, and smothered her victim with caresses. Never had one seen her so winning. The hot Italian summer brooded outside, over the market-place and the picturesque peasants, and, in the singular color of the Tuscan atmosphere, the hills and vineyards of the Apennines seemed bursting with mid-summer blood. The sick-room itself glowed with the Italian joy of life; friends filled it; no harsh northern lights pierced the soft shadows; even the dying woman shared the sense of the Italian summer, the soft, velvet air, the humor, the courage, the sensual fulness of Nature and man. She faced death, as women mostly do, bravely and even gaily, racked slowly to unconsciousness, but yielding only to violence, as a soldier sabred in battle. For many thousands of years, on these hills and plains, Nature had gone on sabring men and women with the same air of sensual pleasure.
Impressions like these are not reasoned or catalogued in the mind; they are felt as part of violent emotion; and the mind that feels them is a different one from that which reasons; it is thought of a different power and a different person. The first serious consciousness of Nature's gesture,—her attitude towards life,—took form then as a phantasm, a nightmare, an insanity of force. For the first time, the stage-scenery of the senses collapsed; the human mind felt itself stripped naked, vibrating in a void of shapeless energies, with resistless mass, colliding, crushing, wasting, and destroying what these same energies had created and labored from eternity to perfect. Society became fantastic, a vision of pantomime with a mechanical motion; and its so-called thought merged in the mere sense of life, and pleasure in the sense. The usual anodynes of social medicine became evident artifice. Stoicism was perhaps the best; religion was the most human; but the idea that any personal deity could find pleasure or profit in torturing a poor woman, by accident, with a fiendish cruelty known to man only in perverted and insane temperaments, could not be held for a moment. For pure blasphemy, it made pure atheism a comfort. God might be, as the Church said, a Substance, but He could not be a Person.
With nerves strained for the first time beyond their power of tension, he slowly travelled northwards with his friends, and stopped for a few days at Ouchy to recover his balance in a new world; for the fantastic mystery of coincidences had made the world, which he thought real, mimic and reproduce the distorted nightmare of his personal horror. He did not yet know it, and he was twenty years in finding it out; but he had need of all the beauty of the Lake below and of the Alps above, to restore the finite to its place. For the first time in his life, Mont Blanc for a moment looked to him what it was,—a chaos of anarchic and purposeless forces,—and he needed days of repose to see it clothe itself again with the illusions of his senses, the white purity of its snows, the splendor of its light, and the infinity of its heavenly peace. Nature was kind; Lake Geneva was beautiful beyond itself, and the Alps put on charms real as terrors; but man became chaotic, and before the illusions of Nature were wholly restored, the illusions of Europe suddenly vanished, leaving a new world to learn.
On July 4, all Europe had been in peace; on July 14, Europe was in full chaos of war. One felt helpless and ignorant, but one might have been king or kaiser without feeling stronger to deal with the chaos. Mr. Gladstone was as much astounded as Adams; the Emperor Napoleon was nearly as stupefied as either, and Bismarck: himself hardly knew how he did it. As education, the outbreak of the war was wholly lost on a man dealing with death hand-to-hand, who could not throw it aside to look at it across the Rhine. Only when he got up to Paris, he began to feel the approach of catastrophe. Providence set up no affiches to announce the tragedy. Under one's eyes France cut herself adrift, and floated off, on an unknown stream, towards a less known ocean. Standing on the curb of the Boulevard, one could see as much as though one stood by the side of the Emperor or in command of an army corps. The effect was lurid. The public seemed to look on the war, as it had looked on the wars of Louis XIV and Francis I, as a branch of decorative art. The French, like true artists, always regarded war as one of the fine arts. Louis XIV practiced it; Napoleon I perfected it; and Napoleon III had till then pursued it in the same spirit with singular success. In Paris, in July, 1870, the war was brought out like an opera of Meyerbeer. One felt one's self a supernumerary hired to fill the scene. Every evening at the theatre the comedy was interrupted by order, and one stood up by order, to join in singing the Marseillaise to order.

When Henry Adams' wife, Clover Adams, committed suicide from drinking photographic developing fluid, Henry had her magnificent tomb sculpted by Augustus Saint-Gaudens, now conserved in the Smithsonian Museum, alongside of sculptures by Hiram Powers, Edmonia Lewis and William Wetmore Story:



Gaudens' Clover Adams Edmonia Lewis' Cleopatra William Wetmore Story's Libyan Sibyl

See Robert J. Robertson, Louisa Catherine Adam Kuhn, Florentine Adventures, 1859-1860'.


E82/ SELINA CHECCUCCI GARINEI/ ENGLAND/ITALY





SELINA / DI/ GIUSEPPE CHECCUCCI/ NACQUE A LONDRA/ NEL MARZO 1822// 14 APRILE 1850/ SELINA GARINEI/ VOLAVA AL CIELO / [PER?] SEGUIRE FIGLIOLETTO/ LASCIANDO INCONSOLABILE/ ELVIRA E SALVADORE/ FIGLIA E CONSORTE// SELINA CHECCUCCI/ NEL 7 DICEMBRE 1844/ NELLA CAPELLA DI SPAGNA/ ST MARY LE BONE/ IMPALMAVA IL SUO DILETTO/ SALVADORE GARINEI/ INGEGNERE FIORENTINO

Checcucci descendants: She obtained a license to marry Savaldore Garinei, an Engineer of Florence, in London, 3 December 1844, the license referring to both as parishioners of Marylebone where the marriage would be solemnized, the parents being Joseph Checchucci and E86/ LYDIA (WILDMAN) CHECCUCCI, who had married at St George Hanover Square, Westminster, London, 13 April 1809. Garinei descendant has photograph of the child, Elvira Garinei, who survived her mother's death, likely from puerperal fever.


E22/ CHARLES BANKHEAD, M.D./ ENGLAND


SACRED/ TO THE MEMORY OF/ CHARLES BANKHEAD M.D./ WHO DIED AT FLORENCE 25 NOV 1859/ AGED 91/ THIS TABLET WAS ERECTED BY HIS SON/ CH. BANKHEAD ESQRE
George IV's Physician Extraordinary, he was the physician in attendance at Castlereagh's suicide. The son who buries his father in Florence has an entry in the NDNB.
E44/ CHARLOTTE MARIA (KEPPEL BERRINGTON) BOWES-LYON, COUNTESS OF STRATHMORE AND KINGHORN, BARONNESS GLAMIS/ ENGLAND/SCOTLAND/




SACRED TO THE MEMORY/ OF/ CHARLOTTE MARIA COUNTESS OF STRATHMORE AND KINGHORN/ BORN DEC 29 1826 DIED AT VILLA NORMANBY NOV 3 1854/ THIS MONUMENT WAS ERECTED BY HER AFFLICTED AND BEREAVED HUSBAND/ THf LORD SHALL KEEP THEE FROM ALL EVIL/ YEA IT IS EVEN HE THAT SHALL KEEP THY SOUL/ PSALM CXXI/V.7

Burke's Peerage notes Charlotte-Maria, daughter of George-William Keppel, 6th Viscount Barrington, married Thomas George Bowes Lyon, 12th Earl of Strathmore and Kinghorn and Baron Glamis, 30 April 1850, dying, 3 November 1854, without issue, the Earl being succeeded by his brother Claude, the 13th Earl. She was niece of Lord Normanby, and nursed by them while dying of tuberculosis. Almost ancestress of Queen Elizabeth II, through the Queen Mother, born to the Earl and Countess of Strathmore and Kinghorn, the ninth child, of ten, of the ancient Scots family, who own Glamis Castle. Two columns of the tomb can be seen in photograph of Felicie Fauveau's sculpture for tomb of Charles Lyon Herbert (E48) in Lord Lindsay's collection.
E48/ SIR CHARLES LYON HERBERT, M.D./ ENGLAND


*


*

JHS/AMICI/H. F.

A doctor, he was created a Knight, 1836. JLMaquay, Diaries 28/12/1855 'attended Sir C. Herberts funeral at 8 this morning'. His tomb was sculpted by Felicie de Fauvau, a French Royalist sculptress living in exile in Florence. B42/
ISABELLA BLAGDEN
publishes a fine essay on Felicie de Fauveau. Its pietra serena caused it to fragment. We found one piece with the chalice and could only identify it from the photograph in Lord Lindsay's scrapbook, now in the possession of his heir, Lord Crawford, in Scotland.
E29/ WILLIAM SOMERVILLE/ SCOTLAND

Harper's Monthly engraving
Somerset House, Royal Society



Mary Somerville Ada Lovelace, Lord Byron's daughter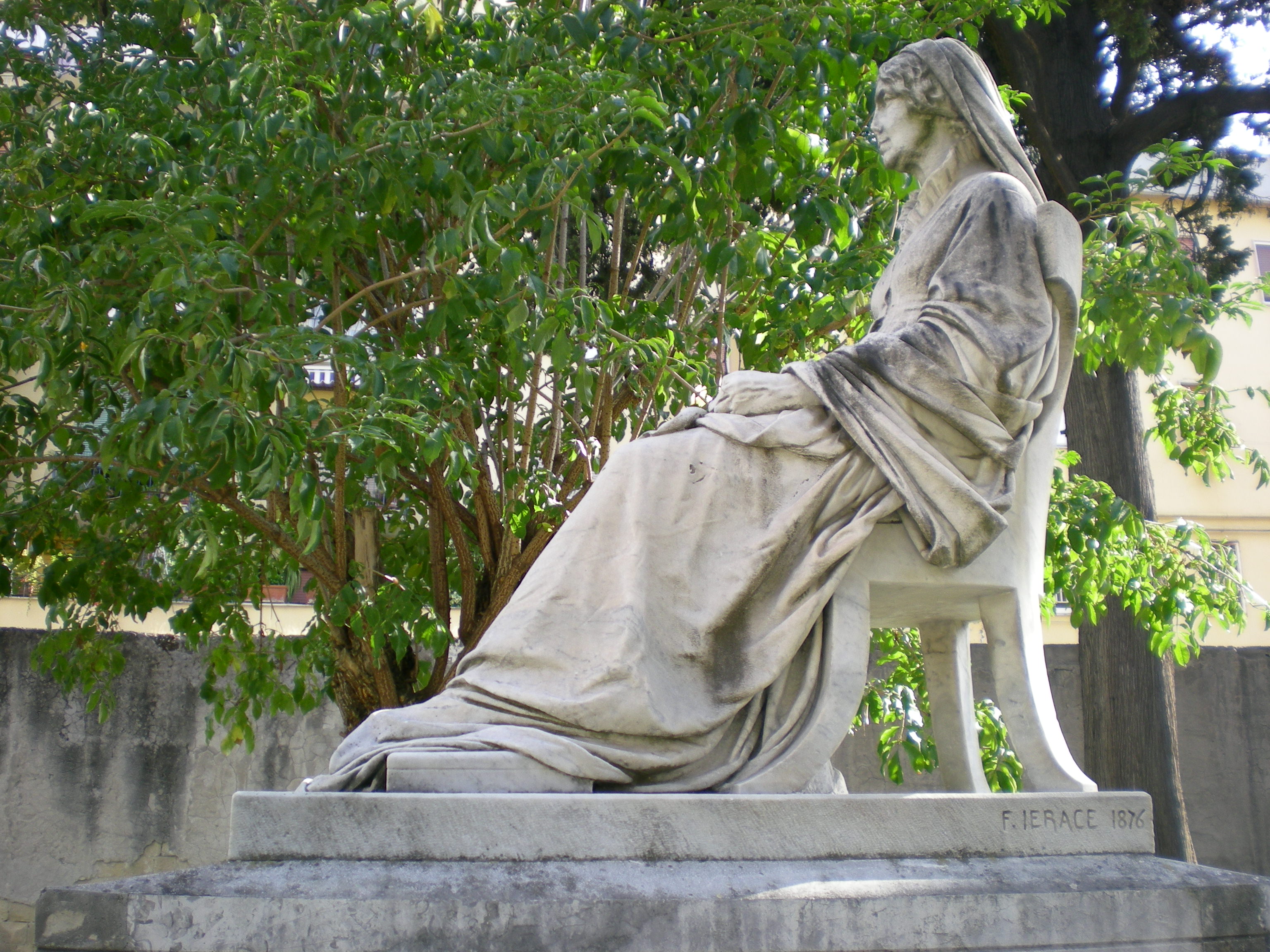 Lawrence MacDonald, Vassar, bust Francesco Jerace, Naples, tomb

WILLIAM SOMERVILLE/ ELDEST SON OF THE HISTORIAN OF QUEEN ANNE/ BORN AT MINTO ROXBURGHSHIRE/ 22 APRIL 1771/ DIED AT FLORENCE 25 JUNE 1860/ GOD WILL REDEEM MY LIFE FROM/ THE POWER OF THE GRAVE 49 PSALM

His father's death is noted in Bell's Weekly Messenger (No.1770, Sunday, February 28, 1830): 'We regret to learn that the Rev. Dr. Somerville, so eminently distinguished as the historian of Queen Anne, and for other valuable works, died at Jedburgh Manse, at a very advanced age, on Sunday last. The Rev. Doctor was the father of a Scottish church. He had assisted in the communion services in the church of his own parish on the Sabbath preceding, and apparently with no decrease of energy or zeal; but he was taken ill on the evening of that day, and continued to linger, peacefully waiting for his rest, till his departure, as we have said, on the Sabbath of the week following, much about the hour, of the evening when he was first taken ill.--At Jedburgh, on the 16th inst. after a few days illness, the Rev. Dr. SOMERVILLE, in the 90th year of his age, and the 63d in which he had discharged the active duties of a Minister.--Edinburgh paper'. British Library: Title: The History of Great Britain during the reign of Queen Anne, with a dissertation concerning the danger of the Protestant Succession, and an appendix containing original papers. Author: SOMERVILLE. Thomas. D.D. Publication details: pp. xxvii. 674. A. Strahan, etc.: London, 1798. 4o. Author of many other books including against slavery. His son, William Somerville, a surgeon in the army, eventually doctor at Chelsea Hospital, who is buried here is the husband of the Scottish mathematician and astronomer Mary Somerville who predicted the existence of Neptune and Pluto. Mary Somerville encouraged Ada Byron, Countess Lovelace (Lord Byron's daughter), in her pursuit of mathematics, Ada Byron and Charles Babbage creating the modern computer. Mary Somerville's bust is honoured in the Royal Society of which her husband and her son were made members. She is buried in Naples' Cimitero degli Inglesi, beneath her life-size figure sculpted by the young Calabrian sculptor, Francesco Gerace, who also did the medallion of her friend, A15/ ANNE SUSANNA (LLOYD) HORNER. Somerville College, Oxford, is named after her. This is the first entry in the Guildhall Register under header 'Duchy of Tuscany'. There would be space for the tomb of Mary Somerville and her daughters opposite that of Elizabeth Barrett Browning. In Naples it lacks the plaque and no one knows who she is. A project for IBM?


E54/ JOHN LOGAN CAMPBELL/ SCOTLAND/NEW ZEALAND/

This baby's Scottish father, a medical doctor, settled first in Australia, then in New Zealand, and was knighted: http://en.wikipedia.org/wiki/John_Logan_Campbell We have carefully restored the badly damaged tomb.





John Logan Campbell Mayor of Auckland

John Logan Campbell

E33/ PETER FRANCIS LUARD M.D./ ENGLAND




SACRED TO THE MEMORY OF PETER FRANCIS LUARD M.D./ SECOND SON OF . . . JOHN LUARD ESQ/ OF BLYBOROUGH LINCOLNSHIRE// WHO DEPARTED THIS LIFE ON THE 5 DECEMBER 1857/ IN THE 72 YEAR OF HIS AGE. TO ME TO DIE IS GAIN/. . . PHIL. . .

From Roll of the Royal College of Physicians 1878: 'Peter Francis Luard, M.D. , was the second son of Peter John Luard, of Blyborough Hall, Lincolnshire, Esq., by his wife Louisa, daughter of Charles Daldiac, Esq., of Hungeford Park, and was born 16th September 1786. He received his medical education at Edinburgh, where he graduated doctor of medicine 24th June, 1808 (D.M.I. de Ebriosrum malis). He was admitted a Licentiate of the College of Physicians 1st April, 1822, and settled at Warwick, where he was much and deservedly respected'. From a Huguenot family settled in England, he retired to Florence for his health. Maquay and the Luards were great friends. JLMaquay, diaries 26/12/1857 'Doctor Luard died last night after eating his dinner comfortably with his daughter and thus surviving his wife (E45/ MARY MAGDALEN (MORGAN) LUARD) exactly one month.'


E125/ SARAH McCALMONT/ ENGLAND




JESUS WEPT// BENEATH IS DEPOSITED ALL THAT WAS MORTAL OF/ SARAH/ THE BELOVED WIFE OF T. RD THOMAS MCCALMONT/ OF WIMBOURNE MINSTER DORSET/ DIED AT FLORENCE/ IN CHILDBIRTH/ AUGUST 24TH 1836/ AGED 28 YEARS/ BUT I WOULD NOT HAVE YOU TO BE IGNORANT, BRETHREN, / CONCERNING THEM WHICH ARE ASLEEP THAT YE SORROW / NOT EVEN AS OTHERS/ WHICH HAVE NO HOPE FOR/ IF WE BELIEVE THAT JESUS DIED AND ROSE AGAIN EVEN SO/ THEM ALSO WHICH SLEEP IN JESUS WILL GOD BRING/ WITH HIM 1 THESS IV.13[-14]/ AND THEY SHALL BE MINE, SAITH THE LORD OF HOSTS/ IN THE DAY WHEN I MAKE UP MY JEWELS. MAL 3.17 / BLESSED BE GOD EVEN THE FATHER OF OUR LORD JESUS/ CHRIST THE FATHER OF MERCIES AND THE GOD OF ALL COMFORT WHO COMFORT/ETH US IN ALL OUR TRIBU/LATION THAT WE MAY BE ABLE TO COMFORT THEM/ WHICH ARE IN ANY TROUBLE BY THE COMFORT WHERE/WITH WE OURSELVES ARE COMFORTED OF GOD. 2 COR 1.3[-4]//. . .// IT IS THE LORD LET HIM/ DO THAT WHICH SEEMETH HIM/ GOOD II SAM 10.12/ THE LORD GAVE AND THE/ LORD HATH TAKEN AWAY/ BLESSED BE THE NAME OF/ THE LORD JOB 1.21//

P.BAZZANTI.F

.


A Blundell ancestor founded the Blue Coat School. She is Sarah Blundell and in her portrait still possessed by the family she looks as if she steps out of the pages of a Jane Austen novel. She has married Rev Thomas McCalmont of Tarrant Crawford 17 June 1833. They were living at the Villa Medici in Fiesole when she died in childbirth, 24 August 1836, which is where later Holman Hunt will sculpt the tomb for his wife, B9/ FANNY WAUGH HUNT, who likewise died following childbirth (they didn't know to wash their hands), and which the young Iris Origo visited. Sarah McCalmont's clerical husband brings their orphan babe home to England where he is baptised 'Hugh Barklie Blundell McCalmont' in Liverpool by his relative, Rev William Blundell, whom De Quincy used to hear preach: http://dequinceyineverton.blogspot.it/2011/02/reverend-william-blundell.html.


In Sector F

Click to enlarge

we find
F51/ THOMAS WILLIAMS TROTMAN, M.D./ BARBADOES
Harper's Monthly engraving


BENEATH/ LIE THE MORTAL REMAINS OF/ THOMAS WILLIAMS TROTMAN M.D./ OF THE ISLAND OF BARBADOS WEST INDIES/ WHO DIED AT FLORENCE/ ON THE 21st OF JULY 1862/ AGED 52 YEARS/ HE WAS MUCH AND DESERVEDLY REGRETTED/ AND HIS WIDOW AND SOME OF HIS FRIENDS/ HAVE UNITED TO ERECT THIS MONUMENT/ AS A TESTIMONY OF THEIR SORROW FOR HIS LOSS/ AND THEIR REGARD FOR HIS MEMORY/ THE LORD GAVE AND THE LORD HATH TAKEN AWAY/ BLESSED BE THE NAME OF THE LORD

Genealogy of Barbadoes Families: 'Thomas Williams Trotman, born 31 July 1809, baptised 1 Jan 1812 at Christ Church. Assistant to Dr J.W.W. Carrington of St Thomas. Sailed to Liverpool, 1837. Later practised medicine in Florence. Died of typhus in Italy, July 1852. Married Elizabeth Wilhelmina Bellingham, daughter of Samuel Ffennel Esq of County Tipperaray, and his wife Frances Grenville Bindon. Her will of June 1876, then living at N° 7 Vittorio Emanuele, Florence. Died 2 March 1891. No issue'. The Ffennells of Tipperaray were likewise a medical family. Elsewhere on Web, 'Thomas Trotman. M.D. introduced hares to Barbadoes in 1842'. At this period it was not understood that typhus was caused by lice in clothing. Maquay Diaries: 14/12/1853 'up at 6.30 to attend Mrs Tolley's funeral which was very badly managed by the Crossmans (B99/
REVD GEORGE BRICKDALE CROSSMAN
) who had taken all on themselves, no pall bearers and no attendants but Gregory Trotman and myself. Old [Seymour Kirkup?] also came but had not been informed or invited. Rain continued all day'. Is Gregory a brother of Thomas who has no children. We could mention at this point Sarah Parker Remond, the Black American friend of Douglass, Mazzini and Garibaldi, who studied and practised medicine in Florence and who is buried in Rome's Protestant Cemetery. It was possible in the nineteenth century for families from what were then the Colonies to come to Europe and establish themselves with respect.

F67/ EMMA (GAMGEE) CAPEI/ ENGLAND
Harper's Monthly engraving

DISTINTA CHE FU IN SUA MODESTA LUCE/ PER VENUSTA DI FORME/ E PIU/ PER INGENUITA D'ANIMO/ TEMPERATO AD ELEVATI PRINCIPII/ QUI RIPOSA NEI SONNO ESTREMO/ EMMA DI GIUSEPPE E MARIANNA GAMGE/ CHE AFFRANTA DA LABORIOSO GEMINO PARTO/ NEL DI 15 LUGLIO 1868/ IN ETA DI ANNI 29 MESI 3 GIORNI 13/ LASCIO DISE/ NEI QUATTRO SUOI FIGLI NEL CONSORTE DOTT. LORENZO CAPEI/ E IN QUANTI LA CONOBBERO/ MEMORIA NON PERITURA/

The Italian husband, Lorenzo Capei, a medical doctor, and his four remaining children, mourn the death following childbirth with twins of his wife, the daughter of a veterinarian from Essex who had lived in Naples and Livorno. Her brother, Joseph Samson Gamgee, was an outstanding English medical doctor. Following education on the Continent he too became interested in veterinary surgery and wrote several papers, the first when he was 16. He then began medical studies at University College Hospital in London. For a period he shared lodgings with Joseph Lister (1827-1912) – later Baron Lister of Lyme Regis – the founder of antiseptic surgery. While he studied medicine, he became a Member of the Royal College of Surgeons of England in 1854, subsequently a Fellow of the College of Surgeons in Edinburgh. He worked at the Royal Free Hospital. Being multi-lingual, Gamgee travelled widely throughout Europe for further studies in Paris, Brussels, Vienna, Florence and Pavia. In Paris he became a friend of Louis Pasteur (1822-1895) and worked at the University of Paris. Gamgee worked for a period as a surgeon at University College Hospital, and then tended the wounded from the Crimean War (1853-1856) at the Anglo-Italian Hospital in Malta. (See also A48/ SIR DAVID DUMBRECK.) Most of Gamgee's professional life was spent in Birmingham. He came there in 1857 and was elected to the medical staff of The Queen's Hospital, founded in 1841. Here he performed a successful amputation of a man's leg at the hip joint. He was noted for washing his hands before as well as after performing surgery. Gamgee was interested in all hospital matters and is remembered for his great efforts to improve hospital conditions, and occasioned the building of a new hospital wing. Gamgee had a great knowledge of literature and was a busy and elegant writer as well as an outstanding speaker and hard-working surgeon. Emma's babies, at least, survive her.

As had also the babies of Fanny Holman Hunt and

Sara McCalmont.

F27/ PHILIPPINA (SIMONS) CIAMPI/ ENGLAND


FILIPPINA SIMONS INGLESE/ CON MOLTO INGEGNO E ISTRUZIONE/ EBBE OTTIMO CUORE/ MERITO' LA STIMA E L'AFFETTO/ DI QUANTI LA CONOBBERO/ CESSO' DI VIVERE IL 15 AGOSTO 1870/ DOPO LUNGA E TERRIBILE MALATTIA/ IL CAV: D. ORESTE CIAMPI/ ALLA DILETTA MOGLIE/ Q.M.P.

Her husband, Cavaliere Don Oreste Ciampi, a lawyer, who seems not to have learned English, was also an exhibiting artist. Did he have Joel Hart sculpt her likeness? Did she die of cancer? He bought parts of the Villa Puccini in Pistoia where she likely lived: 'Villa Puccini - La villa, nota con il nome di villone, fu fatta costruire da Tommaso Puccini nella prima meta' del secolo XVIII, con i guadagni che ricavo' dalla sua professione di medico, e fu modificata nel corso del tempo fino ad assumere l'attuale aspetto neoclassico. Nell'Ottocento, Niccolo' Puccini, uno dei promotori della Societa' dei Parentali ai Grandi Italiani, mise a disposizione di Filippo Pacini un microscopio con il quale il grande scienziato pistoiese condusse, proprio nella villa, le prime ricerche anatomiche e istologiche. L'ampio giardino, realizzato tra il 1821 e il 1844 per volere di Niccolo' Puccini, fu arredato con vari edifici, alcuni dei quali dedicati alla scienza: un Pantheon agli Uomini Illustri, un "Tempio di Pitagora", un monumento alla scienza, uno all'industria, un emiciclo dedicato a Galileo Galilei e una colonna sovrastata dalla statua di Carlo Linneo, alla cui memoria fu dedicato il parco. Per la sistemazione della struttura idraulica dei due laghi e dei ruscelli incarico' l'architetto pistoiese Giovanni Gambini, che in quel periodo lavorava anche a villa Celle. Emanuele Repetti definiva il giardino come un luogo «incantato che difficilmente si potrebbe descrivere come merita». Attualmente esso non si presenta piu' nelle sue forme originarie ed alcuni suoi monumenti sono scomparsi. Sostanzialmente invariato e' rimasto, invece, il Castello Gotico (o Fortezza), uno degli edifici monumentali che arricchiva il giardino e che divento', dal 1836 dimora abituale di Niccolo' Puccini. Come testimoniano accurate descrizioni ottocentesche redatte in occasione della vendita all'asta delle proprieta', la torretta centrale possedeva, oltre ad un parafulmine alla sommita' del tetto, curiosi marchingegni che secondo un'aneddotica assai diffusa avrebbero permesso a Niccolo' Puccini di non allontanarsi dalla sua camera da letto per ricevere gli ospiti: «Nella parete interna di questa camera trovansi diverse maniglie d'ottone che servano con adattato meccanismo ad aprire e chiudere la finestra, aprire e chiudere il cancello di cinta esterno ed ad altri usi oggi fuori servizio». Una divisione della proprieta' fu originata prima dalla costruzione della strada per Porretta, la nuova via Leopolda (1847), e poi dalla costruzione della strada ferrata Porrettana (1864). L'area che comprende la Fortezza, il tempio gotico, il pantheon e alcuni monumenti, quali quello a Galileo, furono acquistati nel 1867 dall'avvocato fiorentino Oreste Ciampi'. This is one among several tombs with a portrait medallion: A64

/
GEORGE AUGUSTUS WALLIS
by Aristodemos Costoli, A15/
ANNE SUSANNA (LLOYD) HORNER
by Francesco Jerace; AB7/
INA BOSS SAULTER
, by Ettore Ximenes; B4/
ELENA NIKITICNA DIK, NATA AKZYNOVA
by Fyodor Fyodorovitsch Kamensky; C3/
THOMAS SOUTHWOOD SMITH
by Joel T. Hart; D108/
THEODORE PARKER
by William Wetmore Story; D127/
JAMES ROBERTS
, by Joel T. Hart?; E12/
JAMES LORIMER GRAHAM, JR
by Launt Thompson; E9/
WALTER KENNEDY LAWRIE
by Pietro Bazzanti, F27/
PHILIPPINA (SIMONS) CIAMPI
, Joel T. Hart(?).


Also two family members of Walter Savage Landor at the feet of the sculpture of Mrs Walter Savage kneeling on their son's tomb,


F128/ ARNOLD SAVAGE LANDOR/ ENGLAND/SWITZERLAND




Trajan Wallis



SACRED TO THE MEMORY OF ARNOLD SAVAGE LANDOR ESQ./ BORN 5TH OF MARCH 1818/ DIED 2nd OF APRIL 1871// M. AUTERI POMAR 1873// M. AUTERI POMAR 1873

The figure on the tomb is Mrs Walter Savage Landor, Julia ThuilIier Savage Landor, mourning the death of her son Arnold Savage Landor whom she did not permit her husband to see while he was growing up. At the end she threw her husband out of the Villa Gherardesca in San Domenico, Fiesole, that he had given them, leaving him homeless in the streets of Florence until the Brownings took care of him, lodging him with their former maid, Lily Wilson, in Via della Chiesa. Not a happy marriage. Walter had been much in love with an earl's daughter, Rose Aymler, writing exquisite quatrains to her. She died of fever in India and is buried there with his verse on her tomb. Then he met Julia Thuillier, the pretty daughter of a bankrupt Swiss banker, at a dance in Bath and married her. Their son Arnold is described by a family member as being paralyzed with mad eyes, sounding very much like a syphilis patient. In less unhappy days she had her portrait with her children Arnold and Julia painted by Trajan Wallis, the son of A64

/
GEORGE AUGUSTUS WALLIS,
who is buried in Sector A. She spends a fortune on the son's tomb, nothing for her husband's. Walter Savage Landor's is at A29, this one for their son as far from him as she can get, with her back turned to it.


one family member a medical doctor, another, the grandson, whose death certificate when brought here from Porte Sante lists his illness as anthrax.

Behind them is the tomb of the little Russian child who seems to have accidentally died of poisoning.

F122/ PRINCESS VERA LEONIDOVNA UROSOVA/ RUSSIA




This four-year-old Russian princess buried beneath the now-felled great cedar of Lebanon comes from a family who were great friends with the Tolstoy family, Prince Leonid Dmitrievic Urosov being Vice-Governor of Tula. Princess Selene-Maria A. Obelensky explains that Vera is only distantly connected to her grandmother, Princess Orussov.

Aristotle's physician Alcmeon said that Man dies because he cannot join the end to the beginning. At the beginning of Sector F we have this tomb with its splendid Egyptian hieroglyph of the ourbouros, the serpent devouring its tail, the end joined to the beginning, from Champollion and Rosselini's book on their expedition to Egypt and Nubia,

F1/ SAXON COCKER/ ENGLAND
Urna su colonna. Marmista ignoto. Sec. XIX, post 1/1831. Ambito toscano. Urna scolpita con orobouros su colonna quadrata in marmo bianco. Pulito, Daniel-Claudiu Dumitrescu, 2012. [M: Urn: A: 66; L: 43; M. A: 16; L: 56.5; P: 56.5.]/ Iscrizione sepolcrale inglese incisa in lettere capitali e numeri arabi: SAXON COCKER/ DIED 25th JANUARY 1831/ AGED 24 YEARS/ N°. 24/ See 1828-1844/

Registro alfabetico delle tumulazione nel Cimitero di Pinti

: Cocker/ Saxon/ / Inghilterra/ Firenze/ 25 Gennaio/ 1831/ Anni 25/ 42/ Belle Arti

scheda,

1993-1997/Museo Archeologico, 2006-2007: http://www. florin.ms/egyptian.html. Chiesa Evangelica Riformata Svizzera, 1827-present.


Cocker tomb with Holt tomb behind it, Marianne Erika Raab, 2012

and which is also used on the first tomb in Sector A to Robina Wilson, which copies the Renaissance tomb in San Miniato to the Cardinal of Portugal.

We use the pieces of hand-painted pottery we find in the Cemetery as paper weights in our exhibits of rare books, here Arthur Hugh Clough's poetry with a piece of pottery painted with the crutch that indicates it belonged to a cup used by the Oblates of Santa Maria Nuova Hospital to feed their patients there, a hospital with oblates for its nursing staff founded seven hundred years ago in Florence by Monna Tessa and Beatrice's father, Folco Portinari.


Booklet and app created, 27 May 2018, Aurello Anello Books
FLORIN WEBSITE © JULIA BOLTON HOLLOWAY, AUREO ANELLO ASSOCIAZIONE, 1997-2022: MEDIEVAL: BRUNETTO LATINO, DANTE ALIGHIERI, SWEET NEW STYLE: BRUNETTO LATINO, DANTE ALIGHIERI, & GEOFFREY CHAUCER || VICTORIAN: WHITE SILENCE: FLORENCE'S 'ENGLISH' CEMETERY || ELIZABETH BARRETT BROWNING || WALTER SAVAGE LANDOR || FRANCES TROLLOPE || HIRAM POWERS || ABOLITION OF SLAVERY || FLORENCE IN SEPIA || CITY AND BOOK CONFERENCE PROCEEDINGS I, II, III, IV, V, VI, VII, VIII|| MEDIATHECA 'FIORETTA MAZZEI' || EDITRICE AUREO ANELLO CATALOGUE || FLORIN WEBSITE || UMILTA WEBSITE || LINGUE/LANGUAGES: ITALIANO, ENGLISH || VITA
New: Dante vivo || White Silence
Newest: Abbreviated Virtual Guide: http://www.florin.ms/VirtualGuide.html to the English Cemetery, in italiano http://www.florin.ms/GuidaVirtuale.html
The Stones of Florence http://www.florin.ms/StonesofFlorence.html in italiano, http://www.florin.ms/LapidiDantesche.html
Emio Latini, Daniel in the Island of the Dead, https://vimeo.com/139962781
https://once-and-future-classroom.org/the-dante-vivo-project-florence-italy/
The English and Napoleon in Florence's 'English' Cemetery http://www.florin.ms/Napoleonapp.html
Tombs associated with Slavery in Florence 'English Cemetery http://www.florin.ms/SlaveryTombsapp.html
Fanous Women Associated with Florence's 'English' Cemetery http://www.florin.ms/FamousWomenapp.html
History of Medicine in Florence's 'English' Cemetery http://www.florin.ms/MedicalHistoryapp.html



Aureo Anello Associazione