FLORIN WEBSITE © JULIA BOLTON HOLLOWAY, AUREO ANELLO ASSOCIATION, 1997-2015: FLORENCE'S 'ENGLISH' CEMETERY || BIBLIOTECA E BOTTEGA FIORETTA MAZZEI || ELIZABETH BARRETT BROWNING ||

WALTER SAVAGE LANDOR

|| FLORENCE IN SEPIA || BRUNETTO LATINO, DANTE ALIGHIERI AND GEOFFREY CHAUCER || E-BOOKS || ANGLO-ITALIAN STUDIES || CITY AND BOOK I,II, III, IV || NON-PROFIT GUIDE TO COMMERCE IN FLORENCE || AUREO ANELLO, CATALOGUE || 'ENGLISH' CEMETERY BLOG Administration of ' Cimitero agli Allori'; http://www.florin.ms/cemetery.html


CIMITERO EVANGELICO AGLI ALLORI, VIA SENESE, GALLUZZO, FIRENZE, ITALIA, 1877-

THE MODERN PROTESTANT CEMETERY IN VIA SENESE, GALLUZZO, NEAR FLORENCE, ITALY, 1877-



To Access the Alphabetical Register of the Cimitero agli Allori:






When the so-called 'English Cemetery', in Piazzale Donatello, owned by the Swiss to this day, was closed for burials in 1877, apart from the burial of ashes, the Swiss began a new cemetery, the Cimitero agli Allori, outside the city limits of Florence on the Via Senese just before Galluzzo and the Certosa. Many of the same families have burials in both places. To retrieve information on persons buried at the Cimitero agli Allori, click on the letter of the alphabet with which their name begins, for example, Robert Weidemann Browning, son of Elizabeth Barrett and Robert Browning is under 'BARRET BROWNING' in B, while his aunt, Sarianne, Robert Browning's sister, is under 'BROWNING' in that same section, B. To find the wife of Walter Savage Landor, Julia Landor, search under L. To find a sculpture of her, visit the Cimitero detto 'degli Inglesi' in Piazzale Donatello or open her entry in the Register of the Cimitero detto 'degli Inglesi'.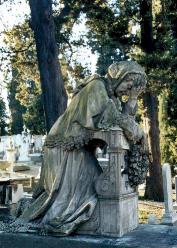 *° ARNOLD SAVAGE LANDOR/ ENGLAND / Landor/ Arnold/ [Savage]/ Inghilterra/ Firenze/ 6 Aprile/ 1871/ Anni 52/ 1127/ SACRED TO THE MEMORY OF ARNOLD SAVAGE LANDOR ESQ./ BORN 5TH OF MARCH 1818/ DIED 2nd OF APRIL 1871// M. AUTERI POMAR 1873// M. AUTERI POMAR 1873/ [Sculpted figure of grieving mother, back turned to and farthest from Republican husband's tomb, the coat of arms and the crest of a 'savage']/ M.Auteri Pomàr/ A4T(69)
To find a relation to Bettina von Arnim, Goethe's friend, search under A. To find the members of the family of the great Swiss painter Arnold Boecklin, search under B, though the burial of Maria Anna Boecklin, his seven month baby, is not found in the Allori Register, being instead listed in that for the Cimitero in Piazzale Donatello, and who was partially the inspiration for his paintings of The Island of the Dead.

Island of the Dead, Berlin
[MARIA ANNA BOECKLIN/ SVIZZERA/ITALIA/§142. Böcklin/+/ Maria Anna/ Arnoldo/ Svizzera/ Firenze/ 20 Marzo/ 1877/ Mesi 7/ 1387].


To Access the Alphabetical Register of the Cimitero agli Allori:



With thanks to Akita Noek, who opened the data files and translated them into HTML for the Web, 6 January 2003.

FLORIN WEBSITE © JULIA BOLTON HOLLOWAY, AUREO ANELLO ASSOCIATION, 1997-2015: FLORENCE'S 'ENGLISH' CEMETERY || BIBLIOTECA E BOTTEGA FIORETTA MAZZEI || ELIZABETH BARRETT BROWNING || WALTER SAVAGE LANDOR || FLORENCE IN SEPIA || BRUNETTO LATINO, DANTE ALIGHIERI AND GEOFFREY CHAUCER || E-BOOKS || ANGLO-ITALIAN STUDIES || CITY AND BOOK I,II, III, IV || NON-PROFIT GUIDE TO COMMERCE IN FLORENCE || AUREO ANELLO, CATALOGUE